When it comes to buying the best motherboard for i5 9600k, it can get a bit confusing. Even our experts had to do some extra researching to find the leading options. Even so, we have looked at each one, checked other reviews, and found our list of the best of the best.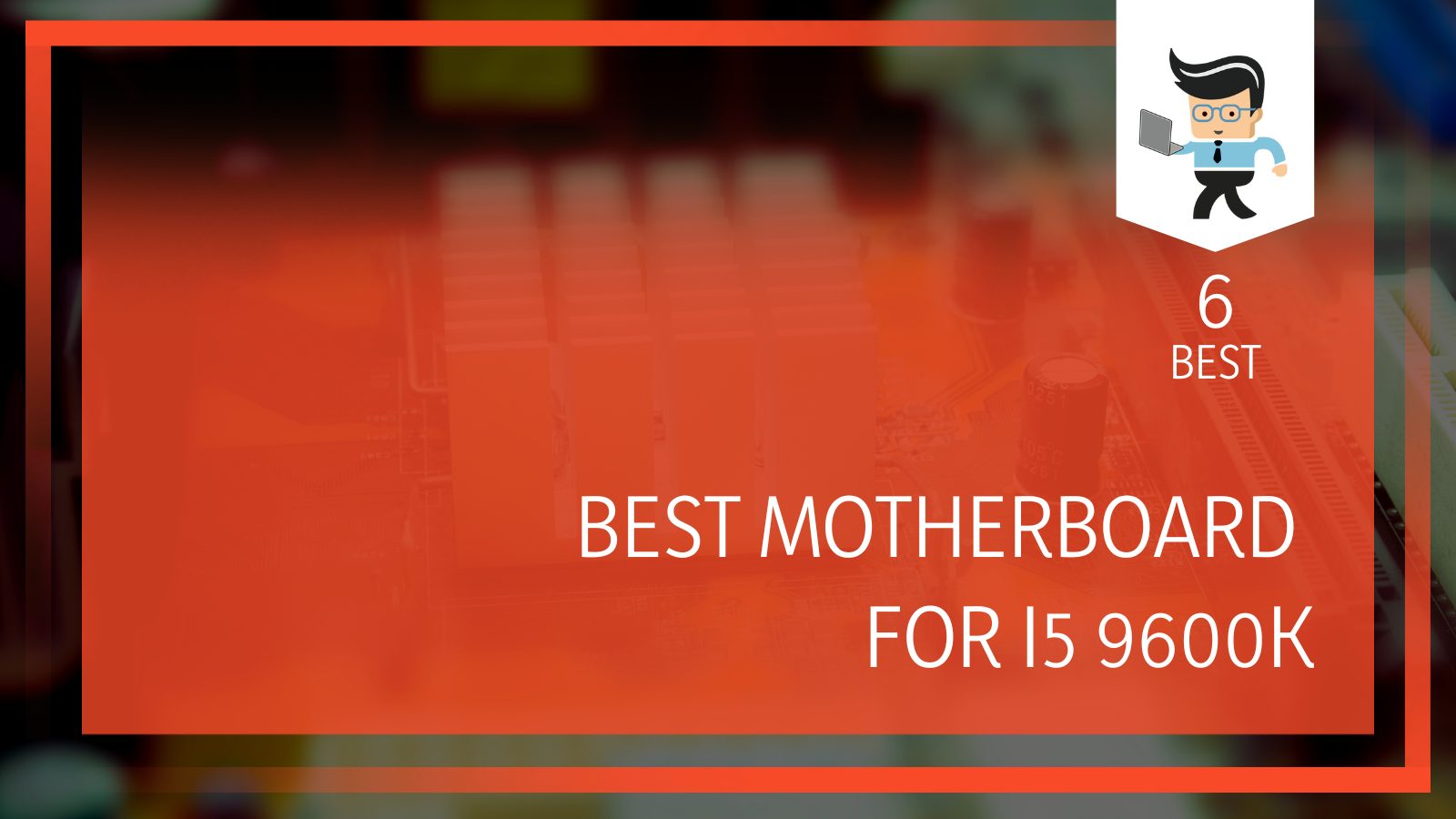 Keep reading to see which ones we chose.
Comparison Table
What Is The Best Motherboard For i5 9600k?
● Smart Fan 5 features Multiple Temperature Sensors and Hybrid Fan Headers with Fan Stop
● Advanced Thermal Design with Direct Touch Heatpipe
● Amp-Up Audio Features
● Updated BIOS
● Quality Support If You Ever Have Trouble
The Gigabyte AORUS line is known as one of the best options for any motherboard, and that is with good reason. These motherboards offer some of the best support you can get, especially for those just starting out.
The design of this motherboard is gorgeous, with amazing RGB lighting that isn't too much. It is all black and has a bit of silver. While it is basic, many people don't find it as garish as some of the other options.
This motherboard has some great tech behind it as well (as you should expect from the brand). If you plan to overclock while gaming, the 12+1 power phase design is a fantastic option. There are also two heats sinks that help to dissipate any of the heat that builds up. The heat pipe has direct contact with the MOSFETs to accelerate cooling.
The slots are backed by the industry-leading Ultra Durable Memory Armor, which helps to keep connections strong and supports speed. It will also help to PCB distortion/twisting and plate bending that is really common in gaming builds.
If you need a ton of connections, you will find them here too. They include (from left to right): the audio headers, 2 RGB headers (1 4-pin standard, 1 3-pin ARGB), TPM header, COM port header, two USB 2.0 headers, a POST code display, three 4-pin headers (2x fan, 1x pump), and the front panel headers.
Finally, this motherboard has a ton of possibilities beyond gaming. It is powerful enough to be used in content creation, for your job, and even as a daily school laptop.

These boards have long been a favorite of many builders. For those who are looking for optimal connectivity, this is going to be a great option. It is also perfect for anyone who really needs to push their boards while they are gaming. Finally, if you have had problems with cooling in the past, this might be a great place to look.
● Hands Down The Best Value For The Price On The Market
● Absolutely Gorgeous Design Features That Can Be Personalized
● Perfect Those New To Building Their Own Rigs
● Extremely Great Step-By-Step Setup Help
This is one of the best budget motherboards for i5 9600k, and it is likely going to be one of the first boards anyone mentions when you start looking for one. There are a few places you will have to supplement or do without, but overall it offers you everything that you need.
To start, the connectivity on this motherboard is great. There are tons of ports and slots. It will have plenty of choices for most users, including people who want to add a lot of accessories. Each slot is reinforced, so you won't have to worry about losing connections or having any issues there.
If you are just starting to build your own rigs, this one is worth a second look. The user manual has everything laid out in a step-by-step fashion and the board itself is really easy to use. The team at Gigabyte has some interesting insights if you do ever reach out for help or with questions.
While this is a cheaper board, it is still one of the most beautiful options. It has some cool design that is distinctive and unique, unlike many other good options. It doesn't have a ton of lighting, which some people like anyway. The lighting it does have is used in a really good way.

If you are looking for one of the cheapest motherboards for i5 9600k, this is going to be your best option. You cannot be afraid of adding some extra cooling systems to your build, because it is likely going to need it.
● Has M.2 shield
● Has A Ton Of Personalization Options Throughout
● Great RGB Lighting Features That Show Up Well On Camera
● Doesn't Have Wi-Fi
If you are looking for the best motherboard for i5 9600K that isn't going to break your budget, but you still need performance, then this is going to be one of your top choices. Overall, it has some good design, nice parts, and next level customer support.
From a design perspective, this motherboard looks far more expensive than it is thanks to some high-quality finishings. You can get it in black or in silver, though it is much harder to find the silver on the market. The RGB LED lighted areas are separately controllable, so you can have your own party.
Remember that this board was designed with gaming in mind, so you are going to see a lot of features here that support gaming, perhaps not content creation or processing.
One area that we love is the reinforced steel DDR4 slots that help to reduce tearing and strengthen connections. In fact, this motherboard is one of the strongest builds on the list, making it perfect for someone who likes to tinker with their setups.
The connectivity that you get is strong and, thanks to the dual-Turbo M.2 connection, you can reach speeds about 32 GB/s. The software is great and they've been excellent at keeping everything updated, especially the UEFI BIOS.

Another great feature is that you get the 15KV anti-surge guard and an Intel i219V chip that offers decent network connectivity. You won't have to worry about losing connection in the middle of a game.
Overall, this is a great choice for almost anyone. MSI motherboards are always great, especially because they keep everything updated. If you are a serious gamer and tend to have a problem with connections, this one is going to be worth your while.
● Great Connectivity Options, No Matter Where You Are
● A Simple Motherboard For Those Who Are Starting Out
● Some Great Audio Options For Those Who Want To Create Music Or Content
● Good Value For The Price, Depending On Your Needs
If you are looking for a simplistic board with some great details, this is a good option. It doesn't have a ton of personality, but there are opportunities to add in your own lighting features and accessories to make it feel like your own.
This is one of the cheapest motherboards for i5 9600k, but the board doesn't actually feel cheap. It has a few different colors on it, and the white portion has received a ton of praise from people who like the unique look. There are some RGB lights on the back that look great, but you won't get too many with it.
You will get three full-length PCIe 3.0 slots standard with this motherboard. However, they all come with the ASUS Safe Slot Armor Protection, which protects your build against wear and tear. If you move around a lot, this is a great choice for you.
Additionally, you won't have to learn any new layouts because the slots operate in order. You won't need to consult your manual all that often with any part of this motherboard.
If you need a lot of connectivity, you get a next level amount of USB ports. You'll get seven of them, including three USB 3.1 Gen2 Type-A, one USB 3.1 Type-C, two USB 3.0 Type-A, and two USB 2.0 ports.
You will also get two PCIe 3.0 x4 M.2 slots, one of which has support for a SATA drive. You will also get six audio ports, with five 3.5 mm audio jacks and single S/PDIF optical output controlled by a Realtek S1220A HD 8-channel audio codec. This is the best connectivity you will get in this price range (and even a few price ranges above it).
If you play games that have a ton of graphics, you will also want to give this motherboard a second glance. You will love the two-way SLI and the up to three-way CrossFire graphics card configurations.
Finally, we have to mention it again: the price on this one is unbeatable. For the amount of connectivity that you get, the flexibility it offers, and the performance you get, you won't find another like it.

Really, the only detractors are that the board doesn't look all that beautiful and the motherboard isn't Wi-Fi enabled.
This motherboard is a great option for people who don't need a board that they are going to display. It has some of the best connectivity options for building the board that you want. It also has some overclocking capabilities, even if it wouldn't be used by professional gamers.
● One Of The Best For Overclocking, Temperature Wise
● Pretty Good Value For The Price
● Some Of The Best Accessibility Options
● Often Has Discounts
The Asus ROG Strix B365-F Gaming motherboard is going to be the best option on the list for those who need to seriously overclock while they are gaming. It was designed with them in mind and every element reinforces that goal.
Of course, any board from Asus is going to be a great gaming board. You will get some of the industry-defining software that Asus offers as well as their support. If you ever have any issues with your rig, even if you aren't sure it relates back to the motherboard, their support team is going to be able to help you. Simply put, they are some of the most educated on the topic.
If you are new to building your own gaming rig, their user manual, informational videos, and support will help to ensure that you get the best results. You can find so much information out there about how to build something that is meant to last. There are whole discussion boards based on this topic.l Any realistic problem that you will face, you can answer.
Additionally, since this board is one of the most popular motherboards for i5 9600k, we've also looked at the different reviews from actual long-term users, and they are still glowing. No one really seems to regret the purchases they made. No one has mentioned anything about degradation or a decrease in performance.
They've been able to consistently overclock and stay within temperature, which is very hard to do.
If you need something that looks good, this may not be the best option just on looks alone. The board is minimalistic and simple, which is something we enjoy. You don't get anything extra here, but that is because the tech is really able to speak for itself. You get so much for the money because Asus didn't try to put lipstick on a pig with this one.
The one detraction from this board is that there aren't too many ports. The simplistic design gives you what you need, but it doesn't give you anything extra. The ports that you do get are high quality and will last a long time.
One thing to note is that this board does have really flashy, really ostentatious lighting. You can do some pretty amazing things with it, including setting a pattern of your choice.

Overall, this is going to be a great board for someone who wants something with serious overclocking potential. You will immediately feel the difference in your gameplay without having to worry about your temperature. It is even great for those just starting out on their building journeys.
● Some Of The Highest Quality Components On The List
● May Be A Little More Expensive, But Worth The Price
● Supports Sata M.2 Ssd Devices And Pcie
● A Great Option For Those Who Want To Edit Content Or Make Content
Overclocking is pretty great on this motherboard, as long as you have some accessories to help you along the way. It has some good speed for regular gamers, but those who are more competitive may need some help in pushing it.
Add some cooling systems (or at least an extra fan or two) to get the most out of it. You will need to be careful and pay attention to the temperatures, which are easily accessible.
The motherboard has some of the latest tech, including Two-Way CrossFire Multi-Graphics and 4K Ultra HD Support, perfect for those who want to play graphics heavy games. It also supports DDR4-2400 / 2133 / 2800 / 3200, and has 4 DDR4 DIMM slots with a max capacity of 64GB, which will help to reduce tearing and increase playability in heavier titles.
Our experts looked over the specs for the sound quality of this motherboard and from appearances alone, they aren't all that special. However, reviewers have been praising the sound quality of this motherboard for i5 9600k, so there is something good here. It has the best sound quality and clarity on the list, making it a great choice for audiophiles.
Overall, this is a great motherboard for i5 9600k and those who want to heavily game. You will need to pay attention to the specs and BIOS as you play, but you will also get some great results.

The GIGABYTE B365M DS3H is one of the most beautiful motherboards on our list and is also a great option for gamers thanks to its ability to overclock and its high-quality build. If you are going to be building your PC as a serious workhorse (or gaming horse) and want something with sturdy enough ports and connectors, this is it.
Best Motherboard For i5 9600k Buying Guide
When you are buying a motherboard for i5 9600k, you need to pay attention to many elements in order to get the "best." Our experts had to look deep into the different specs to see which ones were worth another look. Since it is such an important piece of the puzzle when it comes to building a computer, you need to know what a few of the terms actually mean.
When you are buying a motherboard of any kind, you want to consider the following:
This refers to the actual size of your motherboard in terms of dimension. There are many things that you need to consider when it comes to the size of your motherboard, but the primary thing to think about is whether or not it will fit into your case and in with your build.
If you have plenty of room, you will want a bigger form factor so that you can get all of the ports and connectivity that you need. If you have a smaller case or you want something that is compact, you may want to go with a Mini size.
the socket is the area of the motherboard that houses the CPU, so you need to ensure that you are going to buy a motherboard that is compatible with the i5 9600k socket, which is the LGA 1151. Some motherboards will be compatible with more than one socket to give more opportunities for diversification of your build.
The chipset is another important piece to consider when you are buying a motherboard for i5 9600k. This is what determines the different features that your board will have. These features can be almost anything at all, ranging from the overclocking support to the PCIe lanes. You need to check out the chipset before you purchase a motherboard.
Note that the 95 9600k socket only works with the Intel B365 chipset and can support a total of 64 PCIe lanes for quad SLI/Crossfire setups.
If you are looking to overclock with your motherboard in any way, shape, or form, you are going to need a CPU cooler.
You will need to have a motherboard that can support your cooling system and has cooling brackets already installed. These brackets are becoming more and more popular, but there are still going to be some motherboards that don't have them.
Of course, there are other things you need to take into consideration, this is just a small sample size.
Conclusion
If you are looking for the best motherboard for i5 9600k, then you will need to look far and wide to find something truly special. The ones on our list are the most impressive that we were able to find.
Trust our experts and choose one of the products on this list and get the best possible usage out of not only your motherboard, but the rest of your rig as well. If you're going for the best of the best, we can't recommend the ASUS ROG Strix B365-F Gaming highly enough.
If you're not a serious overclocker or you're on a budget, the Asus Prime Z390-A Motherboard will do just fine.