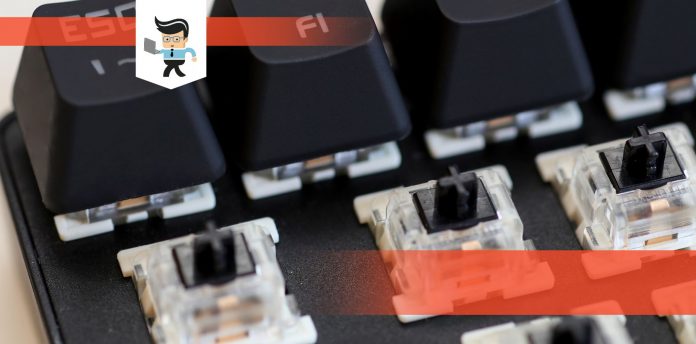 If you have to choose between the Gateron vs. Outemu switches for your keyboard, knowing what distinguishes them is key. This is because they are somewhat similar in specifications and functionalities, but they pack some unique features that can go a long way to improve your typing and gaming experience.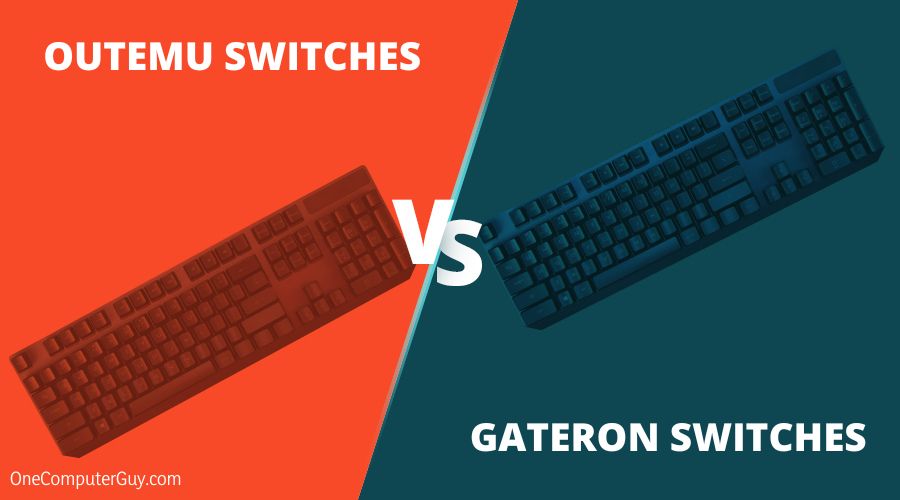 At times, it might be difficult to figure out these unique features. However, if you are keen on getting a mechanical switch that will measure up to your typing and gaming demands, we have done our bit to analyze and help you decide between Outemu and Gateron switches.
Read what our experts have to say before settling on one.
Comparison Table at a Glance
| | | |
| --- | --- | --- |
| Properties | Outemu | Gateron |
| Variant Colors | Blue, Black, Red, Brown | Clear, Red, Black, Blue, Green, Brown, Yellow |
| Highest Actuation Force | 65g | 80g |
| Lowest Actuation Force | 50g | 35g |
| Switches | Linear, Tactile, and Clicky | Linear, Tactile, and Clicky |
Outemu Switches and Gateron Switches: Which Comes Out On Top?
For any gamer, typist, or developer, peripherals are very important. Some things are often considered small but make all the difference. One of them is a key switch, which makes up a vital part of most mechanical keyboards.
Sure, keyboards used to be bland and straight to the point. That has changed over time with modern ways to customize them by innovative brands. Outemu and Gateron are two of many switches modeled after the Cherry MX series. They both offer their advantages and disadvantages.
For Outemu, one thing that sticks out is its budget-friendly appeal. On the flip side, Gateron is a more than capable brand some people believe will stand up to Cherry MX switches. Whatever the case, both offer peripherals keen keyboard users will appreciate.
Now that Cherry switches aren't alone in the market, you can choose between the Outemu and Gateron. We'll go one better to suggest you choose the latter. A careful analysis of each brand will let you know the ideal one to use.
1. Gateron Switches
Pros
• Durable switches
• Very fast key execution
• Exceptionally smooth
• Long-lasting build and design
Cons
• Noisy
Chances are that you're already familiar with the growing popularity of the Gateron brand. These are your go-to switches where you can't get Cherry options or want a suitable alternative. They also boast exceptional smoothness.
This is one advantage those who have to type and play games will love. Gaterons are just as useful for gaming and development purposes. This is evidenced by several colors reaching up to six in number. Each of them has its purpose and functionality.
On the whole, the Black and Red variants are better suited for gaming. Green and Blue will be handy for typing, particularly if you're always faced with many documents.
The Gateron Browns are most suitable for both gaming and typing. This way, you enjoy playing top-notch games and typing up your documents. Overall, switches from Gateron are simply great replicas of the Cherry MX switches. They are cheaper, too.
2. Outemu Switches
Pros
• Fairly priced
• Loud and crisp sound
• Good tactile feedback
Cons
• Can develop a shaky feel
• Not fit for the long-term
One thing every Outemu switches review will state is how they're great on a budget. However, don't let their price deceive you. They have a nice feel and can take on a lot of tasks, including regular ones like typing.
The fact is these switches are mostly resorted to because Cherry MX switches are more expensive. While Outemu is an exact clone of Cherry, the same can't be said for its performance.
Users have often complained about how shaky they become. However, they make the keys consistent and tactile, at least. You do have to be prepared for the crisp and loud experience that comes with the tactility.
If the price is a sticking point for you, using them will save you some money. Which is the best they offer? Many seem to agree that the Blue Clicky switch from Outemu is the best. It does offer some kind of value considering what you pay for it.
The switches aren't as durable as Cherry's and Gateron's options. Some parts don't quite duplicate the way a typical Cherry would function.
In line with the above information, it's obvious that Gateron is a better alternative than Outemu. Considering the price to performance ratio, the latter can serve you well.
On the whole, quality and design strength make Gateron stick out. It's a brand with different alternatives which can suit your needs and match your budget.
Outemu vs. Gateron Switches: Comparing the Features
The main difference between Outemu and Gateron switches is, Gateron switches are more durable, built to last longer and have a lower actuation force compared with Outemu switches.
To determine the better brand of the two, certain features and specifications like durability and activation force are important. Let's take a look at them.
– Durability
While both switches are suitable for multiple uses, the Gateron switch is much more durable. It will last for a while and won't give your keyboard that shaky feel. This is the case with Outemu's because they can wobble within a limited time.
Even if they're cheap, this will be annoying, especially if you have to change switches. When you type or game, you sure do not want to settle for less, and Gateron's durability makes it the better option in that regard.
– Longevity
With most Gateron switches reviews, it's obvious they're built for the long term. Yes, both switches are billed to register, at most, 50 million keystrokes. We can't say the same for Outemu's even if they have the look of a Cherry. Perhaps their fair prices are an indication they won't last as long.
Switches from Gateron will last for a good number of years. Further, pounding the keys of your Outemu only seems to draw its end date closer. Gamers who play actively will understand this feeling.
– Key Activation Force
The actuation force for both switches is similar along some lines, but the Gateron stands out with the lowest actuation force many gamers and typists will appreciate.
The Outemu has its lowest set at 50g, which is still high. Gateron has all the options you need including a 35g and 80g actuation force.
– Key Travel Distance
They both pack a healthy 4mm travel distance across all their switch variants. As such, there's no winner here.
– Tactility
While they both offer tactile sounds, we'll opt for the Gateron variants. This is because, along with the smooth feel, the switches promote keycap stability. What's more, even with loud, clicky sounds present on both, the Gateron simply offers more.
Factors to Consider When Buying a Switch
Along with these keyboard switch differences, here are some factors to consider before you make a final decision:
– Travel Distance
You have to consider how far your fingers have to go with each keypress. This will influence a lot of things, including how accurately you type. Also, your speed while typing or gaming will be served by a switch with the ideal travel distance.
– Actuation Type
Outemu and Gateron switches come with different actuation types. As such, you can choose any model that is most suitable for your specific keyboard demands. While the options available include linear, clicky, and tactile switches, we'll suggest a linear switch if you own a mechanical keyboard.
– Longevity and Durability
A switch that combines durability and longevity is a must-have. Changing switches regularly will leave you tired and with a dent in your pockets. Always consider how long-lasting a switch is and how it's built to handle the pressure applied.
– Spring Force
How do you press your keycaps, very hard or lightly? If you're heavy-handed, consider a switch that can take your hits. One with the ideal spring force will protect your fingers and help you act faster. Also, springs are responsible for returning the switch back to the neutral position.
What you can do is have the switch tested before paying for it.
– What You Need it For
Ultimately, you're going to buy a switch that suits your needs. If you're an avid gamer, a switch to help you get the best response is necessary. The same goes for any other function you'd want to perform on your keyboard and computer.
Frequently Asked Questions
1. Which switch is perfect for gaming?
Many users often wonder which switch is perfect for gaming. The fact is, as clones, they're both an imitation of the line of Cherry MX switches. If you game a lot on your Gateron mechanical keyboard, a Gateron switch isn't a bad idea. Sure, Outemus are good alternatives but not quite there in terms of quality.
2. What are the actuation point and actuation force in a switch?
The actuation of a switch is when it is pressed and subsequently recognized by your computer. While the actuation point is how far down the key must be pressed for a response.
The actuation force is the pressure applied while pressing the keys.
The lower the number for both force and point in a switch, the easier and faster it is to get a response after keypresses. For example, Outemu mechanical switches have 50g as its lowest actuation force.
Conclusion
With both switches used for different purposes, telling them apart isn't as easy as it sounds. However, we feel that Gateron switches are much better considering their overall impressive performance.
While the Outemu switch is more tactile and has a crisp sound, the Gateron switch comes out on top when it comes to durability, key activation force, and tactility.
If you're on a tight budget, getting an Outemu is a no-brainer. They perform well on games and typing of documents, but you should consider paying more for Gaterons since they're more durable and long-lasting.