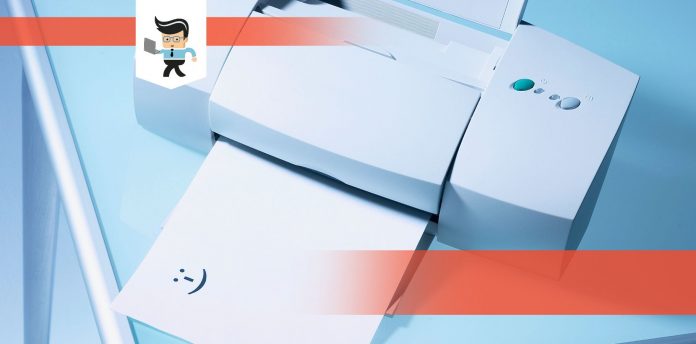 In this printer review, we compare the HP 8710 vs 8715. Everyone knows the HP brand for its outstanding quality printers. They both share similar features, but there are differences. The difference may determine which printer is right for you.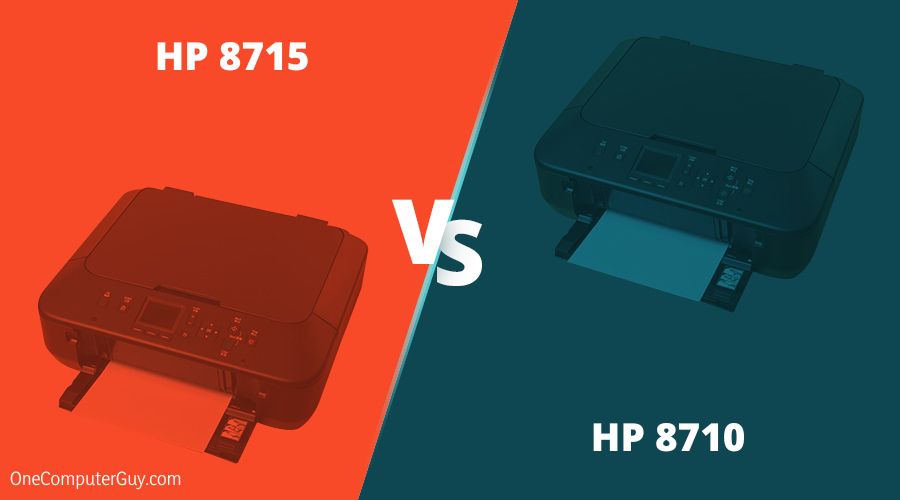 Product
Key Specifications
HP 8715

Borderless printing
Color touchscreen
Wireless connectivity

HP 8710

Borderless printing
Color touchscreen
Removable print head
Pros:
• Automatic Document Feeder
• High print resolution
• Duty cycle 30,000 pages per month
Cons:
• Non-removable printhead
This all-in-one printer review covers the document feeder, the resolution, and the duty cycle. HP 8715 has an Automatic Document Feeder feature. It allows you to load several pages into the printer. The feeder then prints, scans, or faxes your document. It eliminates the need for feeding the printer by hand, one page at a time. This feature is a must-have for an office printer. It's the best option if you want to save people's time and energy.
We measure print Resolution in dots per inch (dpi). This printer's output resolution is 1200×1200 dpi in black. For colored, it is 4800×1200 dpi. This resolution is pretty good. It is to prevent the faint, blotchy images that are hard to read and understand.
The duty cycle is 30,000 pages per month: the highest amount that you should print per month. Staying within this limit can prevent overworking the printer and causing malfunctions.

The non-removable printhead has the potential to be a setback. This component helps transfer ink onto the paper. In inkjet printers, there is always the possibility of ink tank complications. With a non-removable printhead, it can be way harder to fix these complications. This feature is not very cost-effective.
Pros:
• Removable Printhead
• Print from mobile devices
• Wireless connection
Cons:
• Can only print on plain paper
• No memory card
This HP OfficeJet 8710 review starts off with an explanation of the importance of a removable printhead. A removable printhead is very useful for printers with an ink tank. If there is an issue with the ink tank, the printhead is easy to remove. You can replace the faulty tank with a new one. Without this feature, you might have to buy another printer because of that one fault.
The hp smart app allows you to print and manage printing from your mobile devices. That's right. You can print from your smartphone, laptop, or tablet. Working on the go has never been easier thanks to the 'print anywhere' option. You can send an image or document from your gallery, emails, or file straight to your printer. You don't even need to be near it.
Even when you are near the printer, you have connectivity options. You may connect via USB. Or, you can use a wireless connection. This feature makes the printer very easy to use. The functions are easy to grasp with the help of the HP smart app.
The use of plain paper is standard for various documents. But having the option for glossy, matte, cardstock, etc., is always lovely. Unfortunately, with inkjet printers, plain paper is your only choice. We do love a good glossy finish when printing a picture. But, you won't get that with an inkjet printer.

Unlike other printers, this model has no memory card slot. The many remaining functions should compensate for this minor inconvenience.
Compare HP Officejet pro 8710 and 8715
The main difference between HP Officejet Pro 8715 and 8710 is, HP 8710 comes with a removable printhead while HP Officejet Pro 871h does not. Still, they are both multipurpose printers. They are part of the HP OfficeJet Pro 8700 series, so there are many similarities.
– Print Speed
We measure print speed in pages per minute (ppm). The lowest print speed of a good printer is 10 ppm (color) and 20 ppm (black). These printers print up to 35 ppm (color and black) when in draft mode. In ISO mode, they print up to 18ppm (color) and 22 ppm (black). A fast printer improves productivity. It reduces the time spent on printing.
– Scanning
The software that comes with your printer is essential to know. The Optical Character Recognition software is the perfect workplace convenience. It allows you to scan pages with text and then convert it into a document. You can then open this document with any word processing software such as Microsoft Word. You can even edit the page after scanning!
The business benefits that come along with this feature are many. But to name a few, you will get:
• Faster data retrieval
Manual extraction of information is very time consuming and causes unnecessary exhaustion for employees. These printers eliminate that task.
• Improved accuracy
Oversights are bound to occur. We are only human.
• Increased (physical) storage space
Electronic storage of documents is better than keeping hard copies. It lessens the number of pages you need to print and store.
• Text-searchable documents
Every office should complement its filing system with this feature to make it modern. Sorting through drawers and folders is never ideal. Finding a document by typing in a search bar is what every office in the 21st century needs.
• Disaster recovery
In the event of an uncontrollable hazard, you can recover the files from the drive or cloud where you backed them up. You can't do that with physical documents.
– Copying
Productivity is a priority in business. Unlike home use, time-saving is crucial for business use. These copiers have you covered. We measure the speed of a copier in copies per minute (CPM). The highest rate when using black ink is 30 CPM. When using colored ink, it's 27 CPM. This speed should be adequate for home and work use.
– Faxing
The fax memory tells you how many pages you can scan and hold in memory while transmitting other documents. The fax memory for these all-in-one printers can hold up to 100 pages. This function is necessary for businesses or organizations. So we know that speed is essential. The fax speed indicates that you can send a page can in under 5 seconds. The resolution is 300×300 dpi. Yes, it is much less than the print resolution, but this is high resolution for faxing.
Winner!
This article sought to compare HP Officejet pro 8710 and 8715. The HP OfficeJet Pro 8715 put up a good fight. It is a superb multipurpose printer that fits into a low budget. The features and size are pretty much the same as the HP 8710. Both weigh only 11.52 kg and stand about 12 inches tall.
The size is excellent for mobility: you don't need to confine it to one fixed location. It comes in handy for contemporary workspaces where things are always changing. But the removable printhead is what makes the HP OfficeJet Pro 8710 champion.
Conclusion
If you want your money's full worth, the 8710 is the one for you. Such a simple feature makes all the difference. Without it, you could face many expenses due to little faults. We recommend the HP 8710 to any buyer looking for a low budget all-in-one printer.
It is super convenient and has a pretty decent design. You can print, copy, scan, and fax in good quality. Save time, and money. Affordability never looked so good. If the non-removable printhead is not a dealbreaker for you, the HP 8715 is a good buy as well.