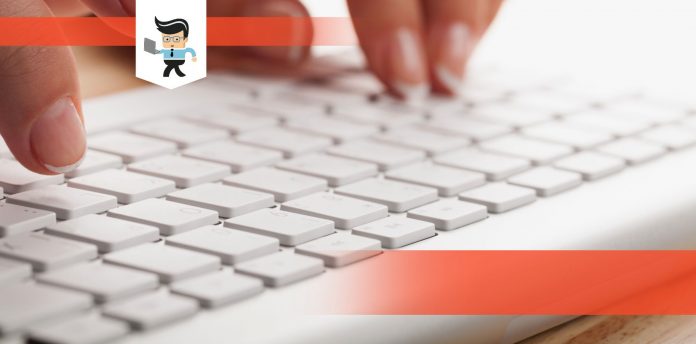 Are you having a hard time deciding which is the better keyboard between K400 Plus vs. K400 Logitech keyboards? It is quite okay, as these keyboards share similar features and come with a variety of attractive benefits.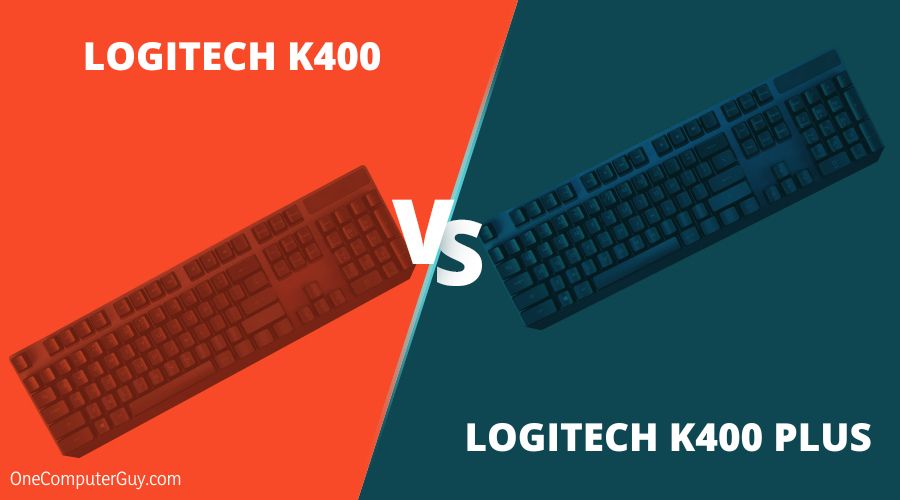 However, they each have some slight differences, especially in the areas of specialty keys and portability.
Having accessed the features of both Logitech keyboards, we are here to help you make a more informed choice while offering the major similarities and differences between both devices.
The table below shows the differences between the K400 and K400 Plus mechanical keyboards.
| | |
| --- | --- |
| K400 | K400 Plus |
| Weighs about 581g with its battery | Weighs about 390g with its battery |
| Has 40 ×15 × 3.4cm dimension | Has 35.4 × 14 × 2.4cm dimension |
| The touchpad measures up to 3.5 inches | The touchpad measures up to 3.5 inches |
| Has 12 months (2 × AA) battery life | Has 18 months (2 × AA) battery life |
| Limited hardware warranty is three years | Limited hardware warranty is one year |
Logitech K400 Plus and Logitech K400 Mechanical Keyboards – Which is Better?
Logitech K400 and K400 Plus mechanical keyboards are almost the same with regard to features such as big touchpads, brilliant designs, and other excellent capabilities.
When you consider these features, it may be difficult for you to make your choice, especially when you have little or no knowledge about their functions.
The K400 and K400 Plus Logitech keyboards are unique, having various properties such as excellent design, wireless control capability, and durability. Hence, these mechanical keyboards are the top choices for both gamers and regular typists, as they improve their gaming and typing efficiency.
Even though both the K400 and the newly designed K400 Plus has a lot of similar features, they also bear some distinctive features. We will discuss these features below:
Pros:
• Brilliant Design
• Strong Battery Life
• Built-in touchpad
• Wireless Control and Easy plug and play
Cons:
• Compatibility issues
• Smaller keyboard dimension and less battery life compared to the K400 plus
The K400 keyboard has a compact and sleek design that will fit snugly on any surface. Its compact nature helps you save space, as the keyboard can be stored vertically.
As a bold and bright-colored mechanical keyboard, K400 offers you the needed comfort and convenience when typing. With the play, volume up/down, and mute buttons located at the top of the keyboard, you can easily control your media activities without affecting the function layers.
The K400 keyboard's battery gives a year battery warranty because it has two pre-installed AA batteries. It also comes with a save power switch which allows you to conserve power when the keyboard is not in use.
With its 3.5-in large, built-in touchpad, the K400 keyboard allows you to navigate and control almost all computer icons, even without a mouse. The touchpad's left- and right-click buttons allow multi-touch navigation and enable you to scroll both vertically and horizontally.
One of the best things about the K400 keyboard is its wireless ability. The Logitech K400 pairing wireless connection range can reach as far as 33 feet, thanks to Logitech's onboard 2.4 GHz wireless connection support. You can easily navigate through your laptop functions right in the comfort of your sofa.

Since this keyboard doesn't come with the stress of wire connection, you only have to plug the unifying Logitech K400 receiver into a USB port to begin using and enjoying your K400 mechanical keyboard.
With this wireless receiver, you can connect to about six compatible wireless devices, including all Logitech devices.
It is important to note that the K400 mechanical keyboard only supports the Windows Operating System. If you work on Chrome or Android Operating System, you may want to look elsewhere for the right keyboard.
The Logitech K400's dimensions come at 5.35" ×13.9" × .94", but this small size can come in handy for users who prefer smaller mechanical keyboards.
Pros:
• Large Dimensions and beautiful design
• Wireless Connection
• Integrated Touchpad and modernized arrow keys
• Longer battery life
Cons:
• No USB extender
• Weighty
K400 Plus has larger dimensions when compared to the K400, thus providing larger keypad buttons to work with. It is a modern mechanical keyboard with smaller-sized up and down keys and a more prominent shift button.
It offers support for a wireless connection, as the Logitech K400 plus Bluetooth has a range of about 33 feet, which is good enough for gaming and office work. It also works well with unifying USB receiver from Logitech. If you already have Logitech products, this is a good option.
This keyboard comes with a brilliant touchpad design. It has a yellow stripe across its buttons, which makes it presentable and adds a sober feel to it. The K400 plus keyboard has a touchpad with left- and right-click buttons integrated into it, which means there is no need for a mouse when using this keyboard.
At 3.5 inches, the touchpad provides ease of access to volume buttons located above the keyboard. Hence, it makes the keyboard convenient and great for entertainment, including all sorts of gaming activities and other general purposes.

It comes with a battery life of 18 months, which is longer than that of the K400 model. K400 Plus keyboard also has a switch that will help conserve power when you are not making use of the keyboard.
How to Choose the Right Mechanical Keyboard for Your Computing Needs
The main difference between K400 and K400 Plus is, Logitech K400 Plus is a universal option, as it is compatible with Chrome, Windows, and Android operating systems while K400 is smaller and lighter, making it easier to use.
There are some things you need to consider while trying to buy the right mechanical keyboard.
Know the Common Terminologies
One of the critical aspects of buying a mechanical keyboard is getting used to the terms used by manufacturers. Here are some commonly used keyboard terminologies:
• Bump:
this is the substantive response received when you press a key. It lets you know your keypress is "registered" before getting to the bottom of the switch.
• X percent keyboards:
the percentage determines the size of a keyboard and its features. For instance,
— 75% means a layout that is miniature and has function keys.
— 65–70% means a "layout" that is miniature and has arrow keys making a total of 66 keys.
— 60% indicates a keyboard of 60 or 61 keys without function key row.
— Tenkey means a board of full size and has a number pad.
— Tenkeyless shows a board with a full size but doesn't have a number pad.
• Click(y):
The noise a switch makes while you click on it.
• Feels:
A physical switch that a keyboard uses. It includes buckling spring and scissor switches.
• Travel distance:
The distance between a rest key and a pressed key.
– Decide the Major Use
Mechanical keyboards usually have switches according to your specific tasks. Some switches, for example, have short travel distance to enable you to click faster while others need full depress to actuate the key.
Gamers often go for the keyboards with full depression to avoid pressing the wrong buttons accidentally.
– Carefully Choose Switches
Switches are very crucial, as they play an essential role in your mechanical keyboard. You will need to know what you want in your mechanical keyboards such as the travel distance, the desired bump, and even the level of noise you can tolerate.
This factor will help you choose right. There are lots of switches available, but take a look at these common ones:
• Cherry MX blue:
This type of switch has short travel distance, which will help writers type faster and reduces finger fatigue. It actuates around the Midway and has a bump that lets you know you have registered a key.
• Cherry MX brown:
This switch also has short travel distance and actuates halfway, just like the blue. However, it is quieter, and that makes it an excellent option for the office.
• Cherry MX black:
Gamers usually appreciate this switch type because it gives an audio and tactile response.
• Cherry MX red:
This switch also actuates Midway, but it does not have a bump. It gives a smooth feel and is easy to use.
Final Thoughts
Both K400 and K400 Plus mechanical keyboards have great features which make each of them unique, but K400 Plus seems to have an improved design and looks more aesthetic with longer battery life.
Notably, the K400 Plus is compatible with more operating systems aside from Windows. K400, which happens to be a great choice if you are using Windows OS, also seems to work well for some other operating systems, but it is not as versatile as its bigger counterpart.
While they share almost the same technical features, the absence of a USB range extender might be the deal-breaker for anybody looking to get the K400 Plus.