The EVGA B1 vs B2 discussion can leave you confused if you're trying to buy an EVGA PSU and seeing these tags for the first time. Both tags represent standard power supply certifications, however, there are subtle differences that set them apart.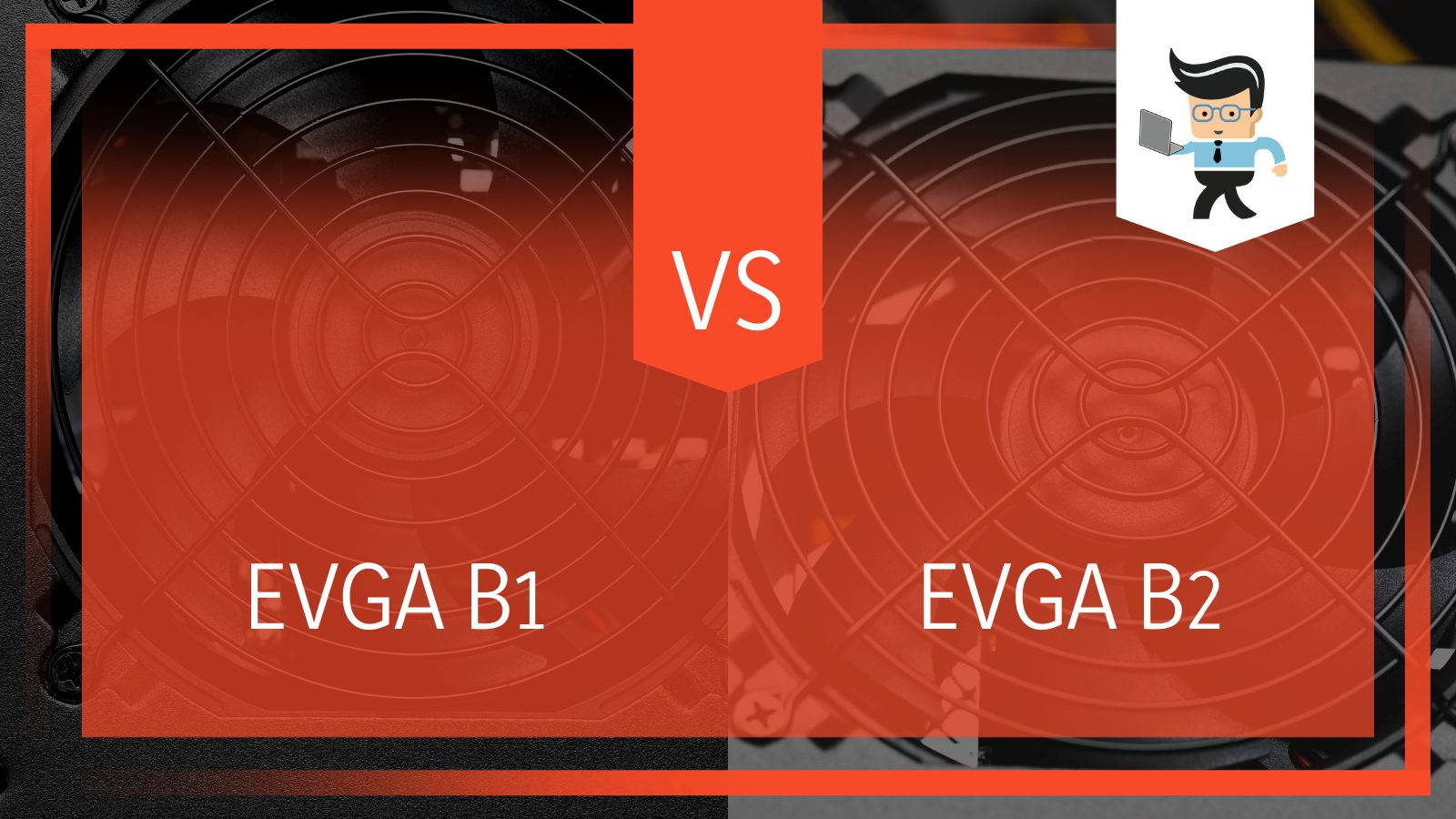 In this comparative guide, we'll be breaking down the differences between these two power supply standards, thereby helping you understand the right one to choose for your rig. Without further ado, let's get into it!
EVGA B1 vs B2 Comparison Table
| | | |
| --- | --- | --- |
| Features | EVGA B1 | EVGA B2 |
| Modularity | Non-modular | Semi-modular |
| Rail Type | Multi rail | Single rail |
| Durability | Not the best | Decent |
| Voltage Regulation | Good | Very reliable |
| Warranty | Three years | Five years |
| Compliance | 120mm Sleeve bearing fan | 140mm Double ball bearing fan |
| Operating Temperature | Up to 104 degrees Fahrenheit | Up to 122 degrees Fahrenheit |
What Are the Differences Between EVGA B1 vs B2?
The main difference between EVGA B1 vs B2 is that the EVGA B1 power supply is a non-modular PSU while the B2 PSU is a semi modular power supply unit. Also, the B2 has a better build quality than the B1 and is more reliable as well.
What Are the Characteristics of EVGA B1?
The EVGA B1 PSU is an 80-plus Bronze certified unit that features a non-modular cabling design, multiple rails, and two PCIe connectors. You can connect up to two PCIe socketed cards or two single PCIe socketed VGAs to this PSU.
– Features
The B1 PSUs are pretty similar to their BT predecessors. They come with a sleeved cable, ceramic fuse, and 18-gauge wire. The main thing that sets them apart from the BT series is the increase in amps and wattage. Some of the important factors of the EVGA B1 power supply unit include the features below.
– Operating Efficiency
The EVGA B1 PSUs offer more efficiency than their BT counterparts, with the B1 providing up to 85 percent efficiency while the BT series gets stuck at 82 percent. The B1 also has two 120mm sleeve bearing variable-speed fans that work round the clock.
There's no EVGA eco mode on this PSU, which means that you get no low load or idle load mode that stops the fan when its functionality is not needed. The output power cables are sleeved and hardlined, and thanks to their operating temperature, you're sure to get better efficiency than what you'd get from the BT series.
– Voltage and Operating Temperature
Unlike the BT series that have no Chinese or Taiwanese certifications, the EVGA B1 series are certified in China (CCC) and Taiwan (BSMI). The reason is most likely a result of EVGA changing from 110 volts to 220 volts of usage.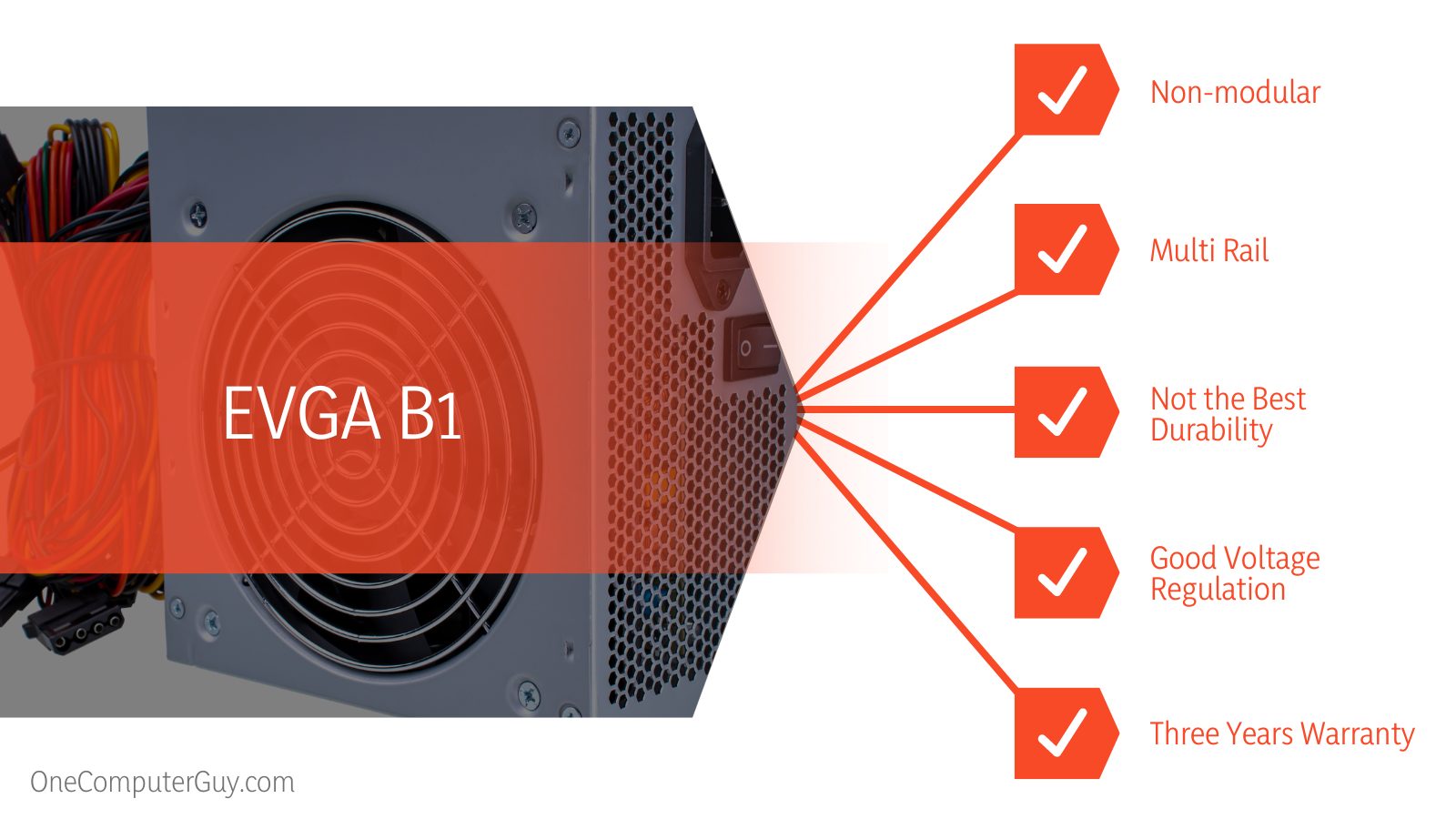 Also, the operating temperatures between both series are different with the B1 series having a temperature of 32 degrees Fahrenheit to 104 degrees Fahrenheit while the BT series is endowed with a 32 to 86 degrees Fahrenheit operating temperature.
Since temperature is one factor that affects the way a PSU works, the B1 series offers better performance than the BT series.
– Power Protection
The EVGA B1 comes with multiple power protection technologies. These power protection technologies include Under Voltage Protection, Over Power Protection, Over Voltage Protection, Over Current Protection, and Short Circuit Protection technologies, which are all similar to what you have on the BT series.
However, the B1 also features Over Temperature Protection, which is something you won't find on the BT.
Note that the Over Temperature Protection embedded in the B1 automatically trips the power off if it feels like the temperature you're getting would be dangerous to the stability of the PSU as well as its components.
– Rail Type
The EVGA B1 is a multi-rail type of PSU. It supports 3.3V, 5V, -12V, 12V, and 5VSB. With that said, you'll probably need to deal with the con of multi-rail PSUs when using the B1. What this means is that you would be limited in the amount of power a rail can supply.
For instance, you may be unable to utilize the entire power of your 12V rail on a single connector because multi-rail designs often reduce the amount of current passing through a specific amount of cables through multiple Over Current Protection points, which is a technology installed in this PSU.
What Are the Characteristics of EVGA B2?
The EVGA B2 is a PSU that's modeled after the Super Flower Golden Green platform and comes with a Bronze 80 plus certification, having a better performance when compared to the EVGA B1 series. The voltage regulation on the B2 is also better than what you get on the B1 units.
– Features
The EVGA B2 series is more reliable and durable than the B1 series thanks to its build quality, better capacitors, and fully sleeved cables. Also, it comes with a five-year warranty while the B1 series comes with three years warranty.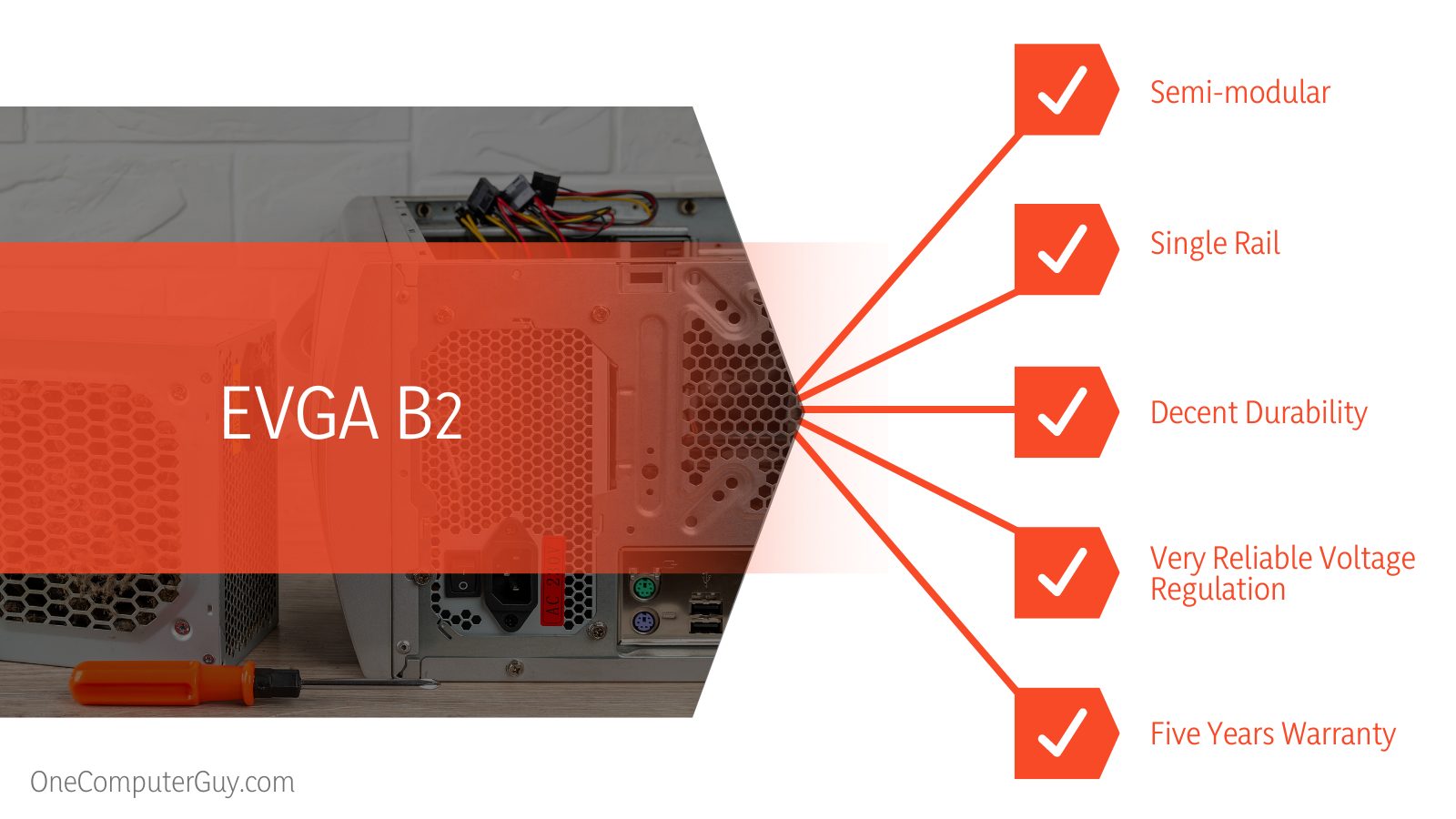 The EVGA B2 features a variety of elements that make it better than the B1. These features include the following.
– Operating Temperature
The EVGA B2 series has a higher operating temperature than the B1 series. The operating temperature runs from 32 degrees Fahrenheit to 122 degrees Fahrenheit, which translates to better performance and more time before it gets heated up to the point that it becomes dangerous for your PSU, video cards, and other PC components. It's compatible with Crossfire and SLI combinations as long as you purchase one with enough power.
For instance, the EVGA Supernova 750 B2 750W would work well for most builds but won't provide enough power for Crossfire or SLI combinations. The EVGA Supernova 850 B2, on the other hand, would work better for SLI combinations.
Keep in mind that having a higher PSU capacity doesn't always mean that you'd get a higher wattage output, which would, in turn, lead to a higher electricity bill. There are cases where higher capacity PSUs offer more efficiency than low capacity power supply units due to the fact that aren't utilizing the full percentage of their maximum load.
– Operating Efficiency
The EVGA B2 has an 80-plus Bronze rating. While they may have the same rating as their B1 counterparts, they provide better efficiency. You're likely to get an efficiency level of 84.4 percent at maximum load, 86.82 percent at 50 percent load, and 84.59 percent at 20 percent load.
As we mentioned earlier, the EVGA B2 PSUs are based off of Super Flower Golden Green products. However, they had to be reduced to the bronze rating to help keep the PSUs in the budget category. Even with the downsizing, these units provide better performance than their B1 counterparts.
Besides their increased efficiency levels, they support DC to DC VRMs, which allows them to generate minor rails such as +5V and +3.3V. The voltage regulation on the B2s is better than what you have on the B1 and thanks to all their capacitors being 105C, reliability is also exceptional.
– Power Protection
The EVGA B2 series also comes with the same protection technologies embedded in the B1. You get everything from Over Voltage Protection and Over Current Protection to Under Voltage Protection and Over Power Protection.
There's also a Short Circuit Protection embedded in the B2 series to help keep your PSU and system components as safe as possible. The B2 series also includes free power on self tester to help you test your power supply.
– Modularity
The EVGA B2 series is semi-modular. This means that you can remove some of their cables if you won't be needing them and add them back when you feel like using them.
With this modularity, you'd be able to create the ideal cable management in your system, which in turn provides you with a better aesthetic and efficient airflow. If you're looking to get a fully modular PSU, the G2 series, such as the EVGA Supernova 850 G2, are some of the best you can consider.
– Rail Type
As we mentioned earlier, the EVGA B2 series are single-rail PSUs, which means that you can utilize the total output of their +12V rails without having to worry about the Over Current Protection tripping off. No matter your build configuration, you'd be able to utilize the highest amount of power output of the 12V on a single connector.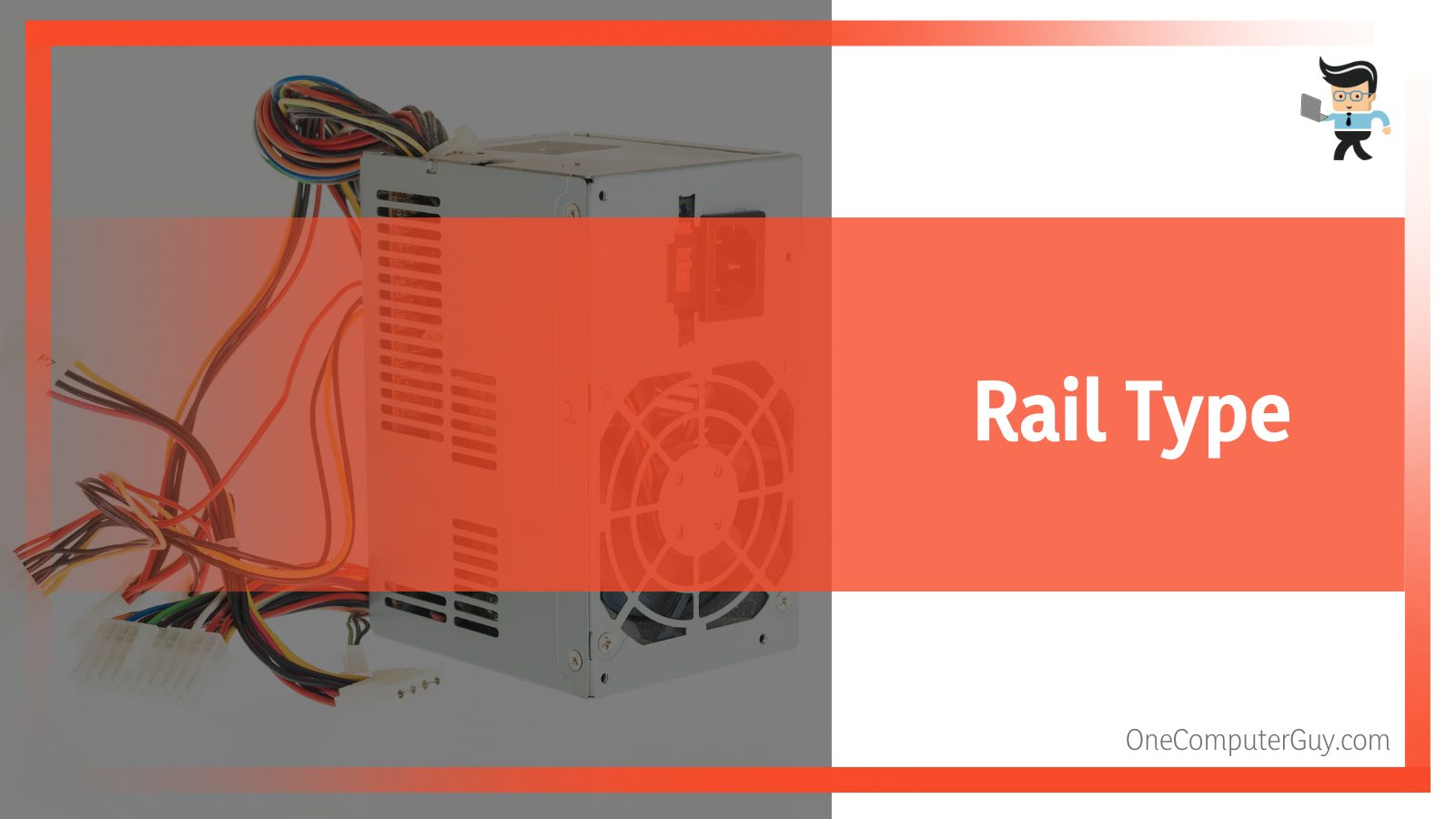 Note that multi-rails are designed to offer the best protection while single rail units are geared towards performance. Many people prefer to utilize single rail units to avoid accidentally tripping the OCP technology, especially if they have a heavy overclock.
When you use a multi-rail unit like the B1, you may be unable to use the full power of your +12v if you have a poorly configured MR even if your 12V has up to 1000W. With that being said, there are now many modern multi-rail PSUs that allow you to utilize the full potential of your unit.
– Durability
The EVGA B2 is designed with better materials than its predecessor. It feels more sturdy and reliable and comes with better components and technology. Also, the 140mm double ball bearing fans are bigger and more efficient than the sleeve bearing fan of the B1.
Conclusion
So which one of these PSUs should you choose? While both are budget PSU types, we'd recommend that you choose the B1 if you're looking for a power supply unit to use for a short period of time.
The reason is that it isn't as reliable or durable as the B2 and you would need to upgrade in a short while. On the other hand, if you're looking for more stability, better durability, temperature control, and safety control — all at a budget price — the EVGA B2 series are some of the best options you can choose.