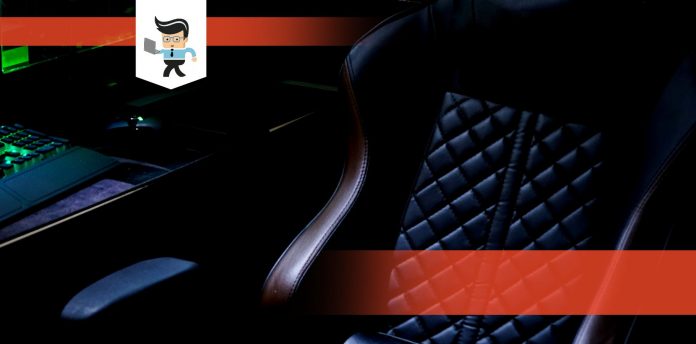 If you're thinking of getting a gaming chair, consider reading a DXRacer sentinel review. It will help you spot critical points that make the chair every bit reliable. Besides that, you get to learn about its advantages and disadvantages.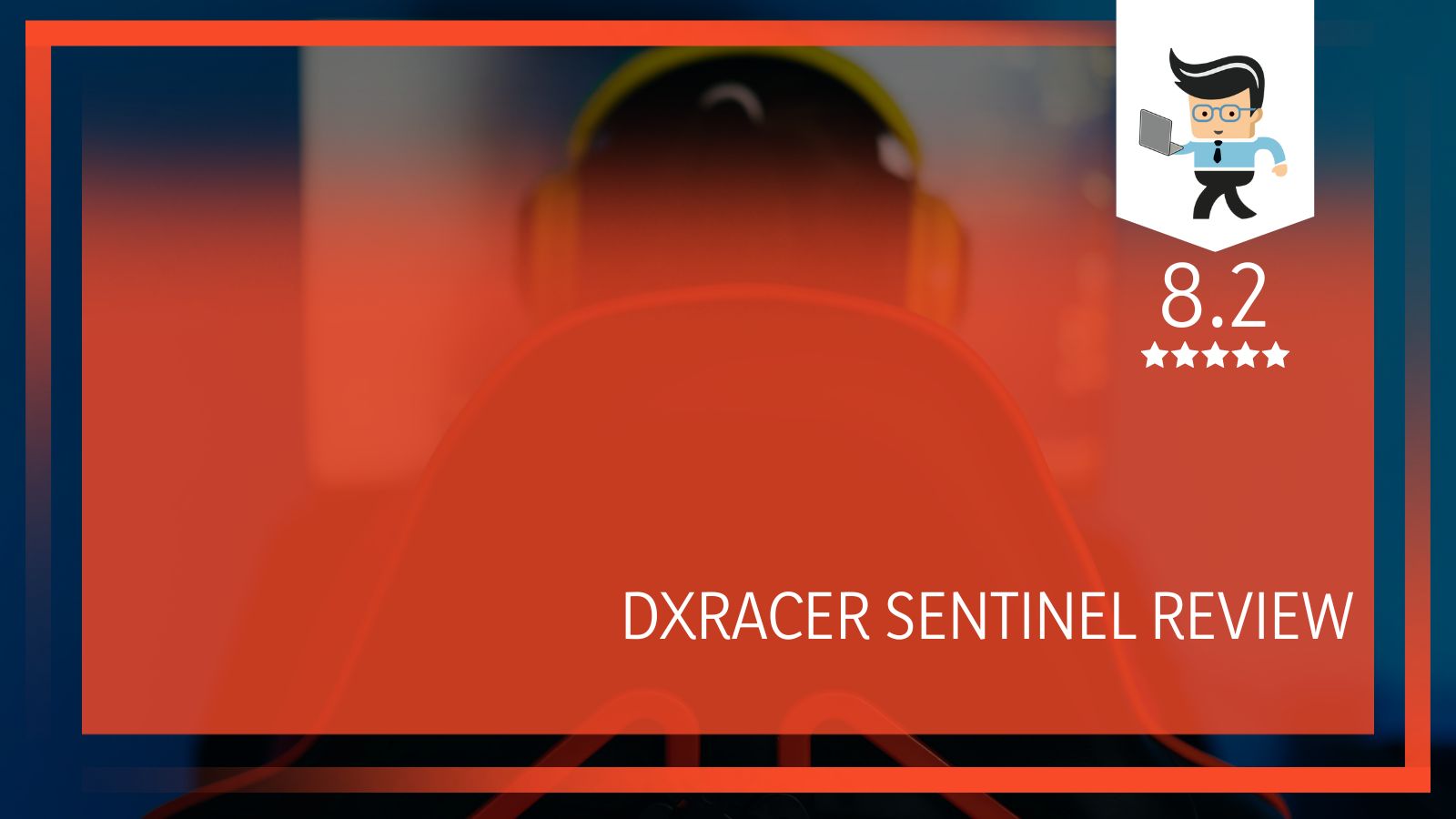 That way, it's easy to settle on having it in your game room.
DXRacer Sentinel Review: Specifications Table
| | |
| --- | --- |
| Specs | |
| Brand | DXRacer |
| Model | Series OH/SJ11/NR |
| Max weight | 350 lbs |
| Frame | Metal |
| Armrests | 4D |
| Foam | High-density cold |
| Mechanism | Multi-function tilt |
| Support | Head, lumbar cushions |
DXRacer Sentinel Series Review
DXRacer Sentinel Key Criteria
PROS
Ergonomic design
Adjustable arms, flexible back
Wider seat, breathable material
Strong base and frame
CONS
Heavyset base and frame
Questionable armrests
DXRacer is a popular gaming chair and doesn't need any introduction. In many ways, they have managed to create different office and gaming chairs for a growing number of users. A lot of people, including gamers and enthusiasts, use them. Why?
The simple answer remains that nobody wants a crappy chair to work or game with. Moreover, professional gaming has left a significant impact on the market and how it has grown. For this reason, DXRacer and other top brands command respect and attention for their chairs.
One of these DXRacer gaming chairs includes this DXRacer Sentinel Gaming chair. Streamers and gamers who spend long hours in their chairs will love this chair. It's a chair designed with a racing pattern that leaves you feeling super-fast and superb. You can put that down to the evolving landscape of trendy chairs with attractive styles.
We have checked the Sentinel and discovered that it's a chair worth using. Perhaps you need some convincing with the kind of ergonomics it boasts and other features. Well, you can expect a combination of valuable materials, including wide aluminum at the base.
For the frame, you get metal that sets the tone for this heavy chair. Other parts like the arms, back, and recline tilt work overtime to keep you comfortable. Adequate support is an essential factor to consider. DXRacer throws in additional pillows and lumbar support that protects every part of your posture.
The chair also features a foam that's very receptive to your body. When you get up from the Sentinel, the chair immediately gets back into shape thanks to the quality. It's all built to last for a long time.
An in-depth look at the features and capabilities of the Sentinel below will give you a clear picture.
If you want an aesthetically appealing gaming chair that great style, protection, and total support for all gaming activities, choose the DXRacer Sentinel.
Top Specs and Highlights
A DXRacer gaming chair review is never complete without some product highlights. No matter the season, it's always a good time to upgrade your gaming rig. That includes making an upgrade on your seat options.
Whether you run a computer setup or have consoles and screens, you'll want the best in the business. DXRacer Sentinel is the name you want to remember because of the sheer number of features on it. This chair takes up a basic look but still has what it takes to last a long while.
As part of the competition, the Sentinel boasts comfort and design. As such, it guarantees users a customized gaming chair experience tailored to meet their requirements. It's more like a special edition you can tweak to your tastes. Moreover, a chair like this can only boost your performance.
Here are some features and highlights to watch out for:
– Configuration and Setup
When you get the DXRacer Sentinel, you'll be amazed at the sheer size of what you have to set up. Not to worry, there are many supporting materials to help you get things right. However, it will take some time, and you might need a hand to help you out.
You can assemble the base and put the wheels on the gas chamber that goes into the base while there are screws to attach the bottom to the backrest. It's pretty much the same thing with other parts on the chair.
On the whole, you have a building or set up a process that's easy when you understand what to do. It's all simple, but some of the pieces come heavy. That's expected for a chair that can hold more than 350 lbs of weight. When done, you'll notice you have a very steady and sturdy chair.
– Design and Covering
The dx racer sentinel is a massive and tall chair. It will take up some space no matter where you keep it. That makes it more convenient for taller and bigger users. However, the wide seat means a lot of people can find some comfort sitting on it.
You'll find that the chair feels very sturdy and a bit minimalist when you sit on it. The padding comes across as great, tight, and hard enough to provide adequate support. There's nothing uncomfortable about the hard foam surface.
The chair won't 'force' you into any position. Once it's the right size for you, you'll have the room to work with. We have also mentioned that since it's big, you'll have enough space thanks to the wide seat and high back.
Also, unlike other DXRacer chairs and series, the Sentinel uses a combination of PU leather and mesh. All of the chairs come with the same seat design and a similar backrest shape. Its ergonomic design fits the curve of your spine.
– Extra Support
The Sentinel comes with additional pillows to give you some increase in the level of comfort. Depending on the type of chair user you are, the pillows may not do well for you. They come with good stitching, material, and fluff. The lumbar pillow is firmer than the pillows. You'd have to use them for long to limit the thickness.
The headrest pillow has a softer look. Thankfully, it's removable so that your chair doesn't get crowded with all the additions. It will give protection to your neck and upper back.
Overall, the chair material looks impressive and feels good and smooth to the touch. You'll have fun with the backrest, which feels slanted when at an angle.
– Ergonomics
When making adjustments, don't forget that you can also tilt and recline this chair. Using such an ergonomic feature helps you relax in between sessions or work. The thing is, adjusting the Sentinel can feel a bit like a hassle. It's not automatic like you have on some other top brand.
The Sentinel is built to lock in each position with a slight tilt if you want. As such, you can choose to lock the tilt or leave it free. Even the pressure needed to tilt comes adjustable.
We observed that this specific model of DXRacer has limited recline ability, though. That's why it's odd not to have a particular range or degree of recline listed. However, the tilt and slight lean provide enough points for relaxation.
– Armrests and Positions
It makes sense to talk about the Sentinel armrest because it's one of its main features. All gaming chairs need arms for support. Since this is a big chair, many users will have to adjust parts to suit them. To that end, the armrest here comes adjustable in four different directions (4D).
While the armrest provides a base to set up arms and even protect your elbows, we feel the material needs an upgrade. That's because the 4D adjustments have a clunky feel.
You can move them in several directions, including side to side, forward and back, and up and down. When pushing them, they sound like they could come off, and the parts often stay stuck.
Some gamers like to have their arms angled more, but with the DXRacer Sentinel, that's hard. You'll struggle to get that right angle without the armrests. A contributing factor is the side ridges of the chair which would hit you right in the elbow. It will do that with the colored piping that traces the ridges of the chair.
That won't happen if you're much smaller and you won't have to make a bow forward with your arms. Overall, the armrests are okay and better than those on some major brands.
– Mobility
The chair has a weighty feel, but moving it takes minimal effort. Whether you're on a carpet or something smoother, the chair smoothly transitions from point-to-point, and any adjustment is made with ease. For those who want it for gaming, the chair can handle all types of movement and seating. For example, if you play at the edge of your seat, staring directly at the screen, you won't feel stressed. The same goes for a laid-back approach which takes minimal movement,
– Base
The base of this DXRacer Sentinel comes with a 27.5″ Wide Aluminum Base. As such, don't expect that part to rust any time soon. Even if you use this chair outdoors, the aluminum will not get damaged.
In addition to that, you get 3-inch casters that further strengthens the core of this chair. With both, you can relax comfortably and enjoy the chair for the long term. It also helps that the casters are non-marking variations. To that end, they won't leave lines along your floor, carpet, or other surfaces.
Frequently Asked Questions
1. Is the DXRacer Sentinel the right chair for me?
The DXRacer Sentinel gives off a better value than other gaming chairs in its range. There are many improvements to it, too. If you want the specs it offers and have what it takes to get it, don't hesitate. It will give you a balanced and comfortable feel when gaming or relaxing.
The chair will also encourage you to sit up straighter than before. Thanks to a great high back to give your back and curves adequate support. To adjust, pull back the lever and lean backward to play at a relaxed angle.
Even if the chair has a little stiff feeling, that's because of the firm, sturdy, and supportive materials. Other than that, you'll love it.
The chair is a perfect fit if you want a reliable option for your back. It's also flexible enough and has all those cool additions to keep you comfortable.
If the pillows don't work a treat, you can always ditch them for lumbar support. At least, it helps that you can exchange one for the other or take out both if you don't need them.
2. What makes DXRacer different from other chair brands?
DXRacer first began as a luxury car seat manufacturer and has since then branched into making chairs. As such, it's only standard that they have an excellent level of experience and expertise in chair making.
Moreover, they're knowledgeable on ergonomic designs and specifications gamers find appealing. With such knowledge, they've gone on to create reliable chairs users can spend hours sitting on.
They're one of the best out there other upcoming brands look up to. With capable chairs like the Sentinel, there's no reason to doubt their capacity. Besides that, their chairs have a 'racing' look to them. As such, you'll feel you're in the driving seat of a fast-moving sports racing car.
Conclusion
In the end, this chair gives a lot of impressive features and quality to make it a top choice. From the sturdy material components to the supportive foams, well-thought-out angled positions, parts, and other features, the DXRacer Sentinel is a solid option.
As such, it will give you a good time anywhere and a luxurious gaming session with its comfortable style.
You're getting value for the protection your body and posture get. However, before getting one, check the guides provided by DXRacer to see what fits. That's why you'd know whether you have to make adjustments or not or whether to go for a different gaming chair.
Whatever the case, always go for a chair that won't hurt your chances of staying safe and enjoying any activity.