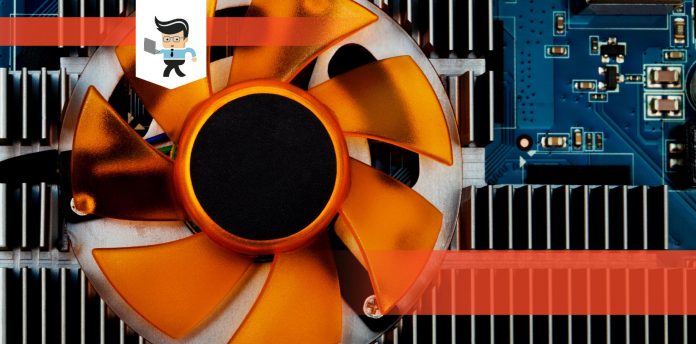 Our Cryorig H7 vs H5 head-to-head comparison article features two typical, compact, and zero-interference CPU coolers that deliver impressive all-round performances. They're both safe choices for users willing to add some cooling dimension to their rigs and systems.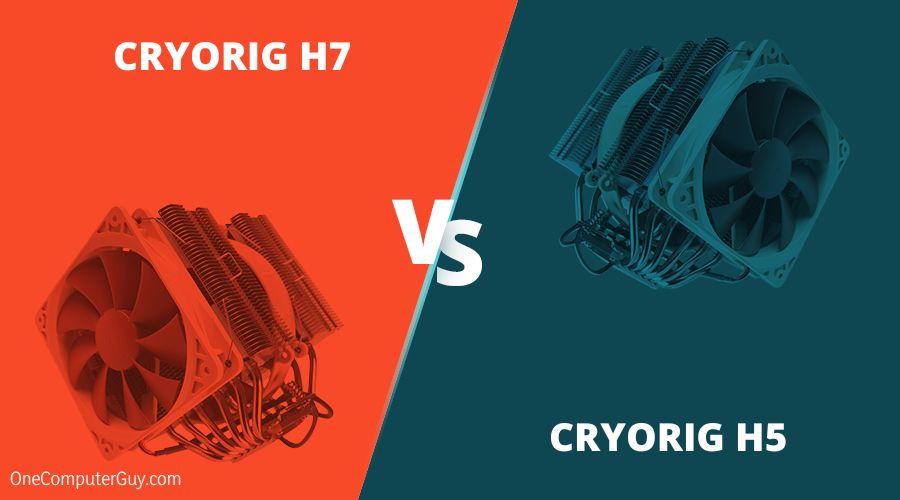 We all know how hot things can get while playing games online or doing some intensive work via your computer. With these two cooling options, you can spend more time on your computer. However, they're not without drawbacks and quality features, which you will discover in this article as you read on.
H5 vs H7: Key Specifications at a Glance
Product 
Key Specifications 
H5

Model: H5 Universal
Cooling Method: Air
Compatible Devices: Desktop
Noise Level: 14 dB
Fan Model: XT140
heatpipes: 8

H7

Model: H7
Cooling Method: Air
Compatible Devices: Desktop
Noise Level: 14 dB
Fan Model: QF120 Balance
heatpipes: 6
Cryorig H5 vs H7: Upgraded Cooling Options for an Avid Computer User
When it comes to components that can improve the working capacity of your rig, the age of the technology doesn't matter. To that extent, the Cryorig brand was founded in 2013. But the number of quality products in their lineup makes up for the short span of their existence. That's because they make the most fantastic rigs possible, with stylish designs and an aesthetic appeal.
We have observed that, when it comes to the design, Cryorig's coolers have a distant resemblance with typical industrial options; however, they have better looks. For example, the H5 and H7 cooling options are very popular with users, especially those on a budget.
Cryorig includes essential components which increase the efficiency of a computer. A good example is adding more fins to the stack or going with thicker fins to boost output.
The H7 and H5 also come with many tricks to boost the design of a tower cooler. What's more, while Cryorig's coolers may look typical at first glance, under closer inspection, it's apparent there is much more to them than initially perceived. With our review, you'll be able to appreciate the qualities of both, and which one you should buy.
Pros
Excellent build quality and aesthetics
It's straightforward to install
Mostly silent
Cons
Not as efficient at cooling
We start this Cryorig H5 review by stating how much of a fan it has. The XT140 fan inside is an all-black component of this cooler and carries the Cryorig logo in the center.
It measures about 5.5 inches x 5.5 inches x 0.5 inches, with a 0.5 inches in thickness. As a result, the width of the cooler is kept to less than 4 inches and won't cover any ram slots.
The cooler itself is beautiful, and we give Cryorig full marks based on their design. Also, the range of features on offer makes it an easy choice coupled with its sleek, simplistic, and clean look.
– Build and Design: Clean and Fancy-Looking
You get a white plastic cover at the top of this cooler that hides some features, including heatpipes. At least, it's a nice touch considering many coolers don't have this capacity. Under the cooler, you also get matching covers so that it has a universal appeal.
In the H5, there's a "Hive Fin" technology. It adds to the appeal of this device and does well to boost its performance.
According to the brand, these fins compress the air, thus making it move through the fins faster while increasing the heat dissipation from the CPU. Not many users have heard about this technology, but getting the H5 means you can test it out yourself.
A severe complaint of many users that use large coolers is that the coolers overhang RAM slots meaning that you have to use a low profile RAM. There is no such worry with the 0.5 inches fan on this cooler because you have plenty of room to use a large RAM.
– Installation: Easy Methods
There's hardly anything stopping you from a simple installation process here. It's an excellent tower to put together, and many reviews attest to that fact. According to Cryorig, it uses a "MultiSeg" quick-mount system.
The system consists of a backplate that you add to the motherboard, after which you add just two mounting bars and screw the two mounting screws connected to the cooler into these bars.
These screws are included in the package, and Cryorig attached them in a way that ensures you don't lose them. You'll have everything fitted in minutes.
– Performance: Beefy Specs for the Most Demanding Operations
The Cryorig H5 specs make this device all the more worth using. The fact is that Cryorig has spent a good deal of time designing this product so that customers have an excellent cooler.
So how does it perform?
At stock with the processor under 100 percent, we witnessed temperatures of over 90 F. Other coolers might over more, as the H5 doesn't outperform them on stock, but it does its bit.
As far as overclocking goes, it is quite the device to have since it offers a 48-degree delta temp at 100 percent load. While that doesn't feel amazing, the performance is acceptable. Moreover, your CPU won't have any problems running these temperatures.
– Sound: A Quiet Performer
With sound, you'll need a tower heatsink that doesn't give off an awful noise in your computer. With a decibel reader, we realized that the cooler is very quiet, and the 5.5 inches fan doesn't make much noise at all.
The Hive Fin technology accompanying this cooler also doesn't create any extra noise when the air passes through it.

– Overview
The Cryorig is indeed new to the market. However, the H5 delivers a device that's more than competent and efficient at keeping your CPU cool. The look and build are great already, coupled with the Hive Fin technology and thin fan.
It's perfect for users who want a tower that fits with any RAM. Besides, installation is a breeze, and it performs adequately, even more than higher-priced options.
Pros
It uses the Hive Fin technology
Cools with increased airflow
It doesn't take much to put together
No RAM clearance issue
Cons
Our Cryorig H7 review showcases a tower cooler that's wide-reaching in capabilities. Further, Cryorig uses the Hive Fin technology, where the leading edges of the fins are bent into a honeycomb pattern. When air flows through this section of the cooler, the design squeezes down in size. As a result, there's increasing airflow.
Cryorig inputs a copper page at the device's base and arranges the pipes in a "Convex-Align." With that, the pipe at the center is lower than the two outer pipes to help the pipes reach maximum efficiency.
– Build and Design: Nice-Looking and Sharp Design
Cryorig H7 specs are worth a second look immediately when you take the device out of the box. Cryorig makes it in such a way that it's ready to use as soon as you get it out. That's because the fan, with its anti-vibration pads on either side, comes pre-installed. The fan has chipped fine, which helps to simplify the H7's performance.
Cut-outs in the frame that allow the fan to pull more air are visible. When you take out the fan, you'll have a clear look at the Hive Fin layout, which is part of the front section of the design. According to Cryorig, it's built this way to remove disturbances and increase the airflow.
You get a flat edge at the back, which offers peaks and valleys to support a second fan, offering the fans more room to build pressure. We can also see that the pipes are offset as they run through the fins and are not all kept in a straight line.
– Installation: Smooth and Efficient
The Cryorig H7 installation is as smooth as it gets and allows for unlimited height to the spreaders when completed. You'll find that the wire clips are close and won't press against the nearest stick. Much like the H5 above, you won't hassle much to put it together.
– Performance: Gives You a Good Run
The Cryorig H7 overclock is a rule to check out its performances. This cooler will slide down a bit on performance when it overclocks with the fan running at full speed.
However, the H7 does its best like most compact coolers and will perform better than many more prominent and more expensive options.
– Sound: Doesn't Give Noise Issues
Along with the Cryorig H7 benchmarks, we noticed that the QR120 fan spinning at 1000 RPM produced next to no noise.
That's great, even though the cooler gives off 31 dB of noise. The fan receives more voltage coupled with a reporting speed of 1600 RPM, seeing the noise level increase to 50 DB. That's still bearable in comparison with other cooling options.

– Overview
The H7 is an ideal budget option for users that need a functional and efficient cooling device. It performs well, has next to no sound, and offers a unique fan and heatsink.
H7 vs H5: Head-to-Head of Key Specifications
The main difference between H7 and H5 is, H5 performs better in dealing with heat thanks and it has the XT140 fan, while H7 goes over 50dB on serious overclocks.
Heatpipes and Sinks
Winner: H5
When it comes to a crucial component and feature like heatpipes, you need a cooler that dissipates heat very quickly. That's why we have chosen the H5 here because it performs a little bit better in dealing with heat thanks to its eight heatpipes and larger heatsinks.
Fan
Winner: H5
Although both offer excellent fans, we think the H5 does well because of its much thinner and stronger version. The XT140 fan also has no business with any RAM inside the CPU. That's one of the reasons why the H5 has a more universal appeal than its counterpart above.
What's more, the Cryorig H7 RAM clearance isn't as convincing. However, the H7 still performs well with just one fan.
Sound
Winner: Both 
When it comes to sound, we have a consensus about both cooler's performances. That's because they both register 14dB noise levels depending on the activity and overclock speeds. However, the H7 is known to go over 50dB on serious overclocks.
Cryorig H7 vs H5: Final Thoughts
You've reached this part of the article because you want to know which of the two Cryorig CPU coolers is better for your rig and offers more cooling capabilities, as there's nothing quite like getting the right parts to complete your rig.
We'll choose the H5 Universal because it does better than the H7 coupled with the eight heatpipes it has. The H7 has six heatpipes and a lesser heatsink.
Overall, Cryorig is an exceptional brand you can count on, and the H5 Universal cooler is proof of that.