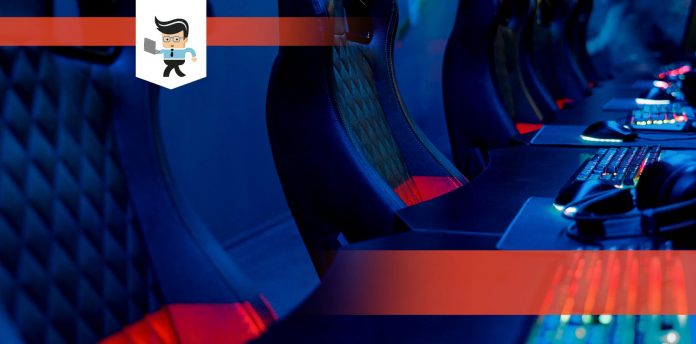 A vegan gaming chair represents an excellent option whether you play for extended periods, work from home, or work long hours at the office. These chairs are much like regular gaming chairs but use materials that are less harmful to animals without sacrificing comfort, utility, and convenience.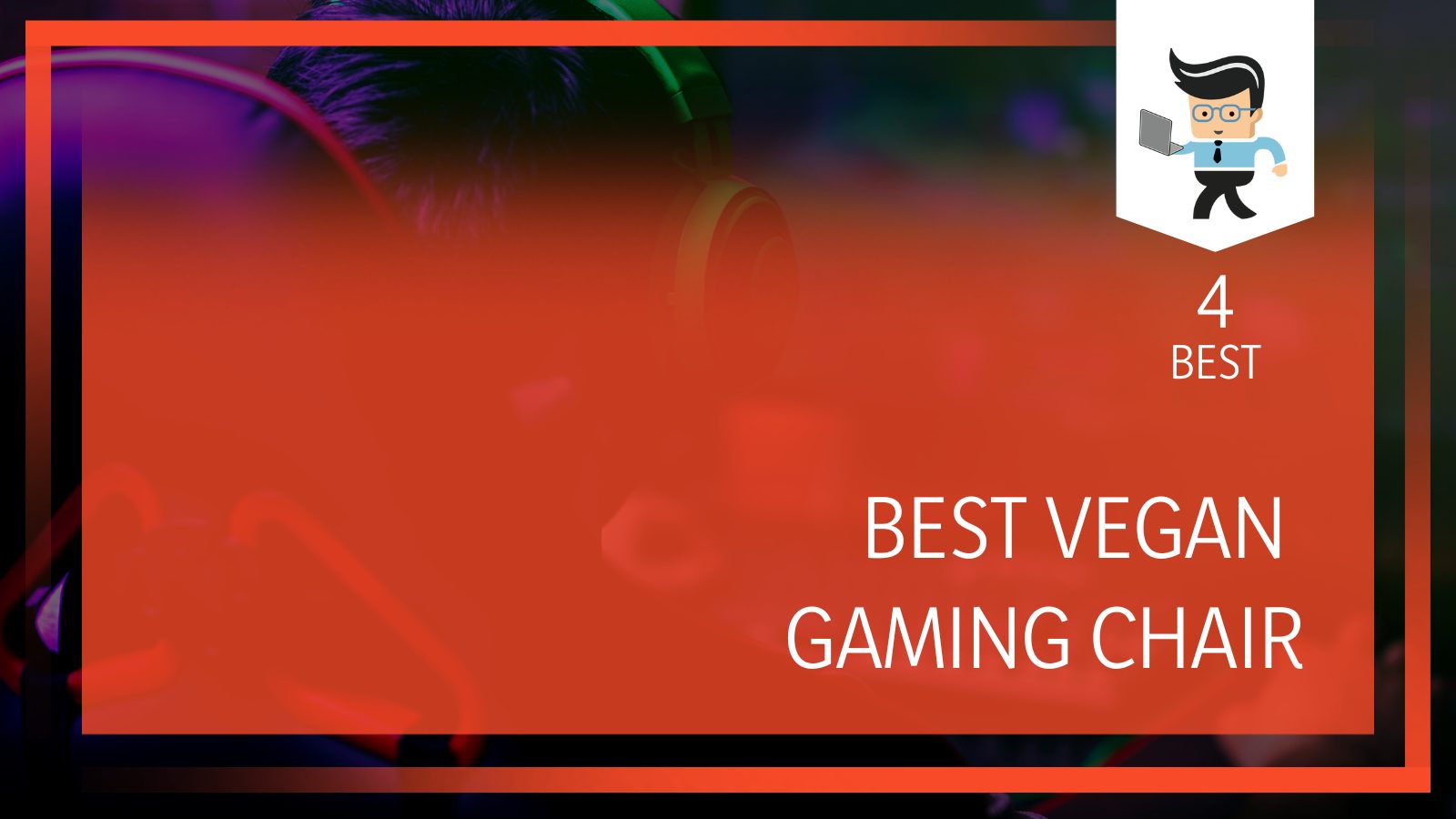 For every gamer looking to make their gaming session truly immersive and enjoyable, away from the lackluster, butt-hurting experience from using generic chairs, our team has gone above and beyond to make a list of the top leather-free gaming chairs available right now that will give you the edge when gaming or relaxing.
With these four vegan options on display, you have top ergonomic chairs designed to provide the highest level of comfort possible. Read on as we get right to the full scoop of it! 
A Look at the Key Specifications
Product
Key Specifications
Techni Sport High Back

Material: Synthetic Techniflex fabric

Frame: Steel, metal

Max Recline: 150 degrees

Max Weight: 250 pounds

Ergonomics: Headrest, Lumbar

Dowinx Gaming Chair

Material: PU leather

Frame: Alloy

Max Recline: 180 degrees

Max Weight: 350 pounds

Ergonomics: Massage, lumbar

Luckracer Gaming Chair

Material: PU leather

Frame: Metal

Max Recline: 180 degrees

Max Weight: 350 pounds

Ergonomics: Footrest, lumbar

PatioMage Gaming Chair

Material: PU leather

Frame: Metal

Max Recline: 180 degrees

Max Weight: 300 pounds

Ergonomics: Back, height
Top Alternatives to Real Leather
If you're reading this article, the chances are high that you spend a lot of time playing games or working every day. In line with that, it's only normal that you'd spend a great deal of time sitting down, which can get very uncomfortable. Things will get worse if the chair you sit on adds no value to your experiences.
You need to maintain the perfect posture since you're in the chair for extended periods and in-game most of the time. That's something well-constructed gaming chairs can help with. A generic chair isn't just plain uncomfortable, but it can hurt your butt and damage your back in the long run. Using a super comfortable chair can change that narrative.
Perhaps you haven't heard of a vegan chair before. Well, it's nothing new because such chairs still have a lot in common with modern and conventional gaming chairs. To that end, we have put up this short review of the best in the business.
Note that the best vegan chairs are made from faux leather and other textile materials. For example, some manufacturers use polycarbonate vinyl, EVA foam, and other Phthalate-free and BPA-free materials for their gaming chairs. For this reason, these chairs stand out with ergonomic designs and are often available for budget gamers.
The market is flooded with gaming chairs, so it's challenging to find the ideal vegan chair. Even if some chairs use animal-free materials, you have to take a closer look. That's why we are here to help you. Four of the best get reviewed here, but you still get some relevant information to help you decide the right model for your lifestyle. Read on!
Best Vegan Gaming Chairs:
We found that many gaming and office chairs don't use genuine leather, but that doesn't make them vegan. For the chairs you're about to read about, they contain no parts from animals.
Pros
 

Synthetic materials and quality upholstery

 

Sport and race car design

 

Adjustable parts

 

Smooth-rolling casters leave no marks
Cons
 

It feels light on features
Techni prides itself on being on a mission "to provide the ultimate gaming experiences through next-level quality, comfort, and design." That's not a wrong statement from a brand that has created this faux leather gaming chair.
Since no two persons are the same, the Techni Sport chair has a sturdy seat and back design equipped with soft molded foam to cater to users within the 250 pounds limit. The chair is equipped with various adjustable and customizable features, including for the lumbar and neck area. Also, you get some freedom to decide on the height you want, which helps if you use different desks or platforms.
Relaxing after a long time playing games is also possible. The chair is designed and constructed for performance-based experiences. Techni also optimized this chair to bring more comfort and protection to your body posture.
– Material and Cover: Stylish and Durable
The material here is of particular interest since the Techni Sport racing chair is a vegan one. To that end, there is a TechniFlex fabric with white stitching details across the chair. As part of that, you get a height-adjustable memory foam seat that contributes to your gaming experience.
– Ergonomics: Built for Comfort and Convenience
Ergonomics is the theme of this chair, and it showcases that with a high back sporting a resemblance to a sports car interior. Along with that, gamers get an adjustable headrest and lumbar support cushions.
– Mobile and Adjustable: Swivel and Relax Any Time
We like that you can swivel and roll this chair round. The rolling feature helps you move it around without hassles. Also, this modern chair has a heavy-duty reinforced large steel base with a double wheel. Again, two-inch casters from below help you move anywhere without leaving marks on your surface.
When you swivel around the 360-degree axis, you can recline at 150 degrees with the back mechanism. That way, you receive the high-performance comfort necessary for intense gaming sessions.
– Height and Tilt Control: Level up in Style
Thanks to the pneumatic seat height adjustment, you can use the height and tilt control to level up to your platform. It provides enough seat height adjustment range and tilts with a tension lock mechanism. As a result, it provides comfort along with adjustable armrests.

– Overview
If you want a gaming chair with the latest race car design and adjustable parts for gaming, this Techni cloth gaming chair will come in handy. The attention to detail and pneumatic seat makes it ideal for gamers looking to take their gaming experience to the next level.
Pros
 

Multifunctional ergonomic design

 

Durable and eco-friendly construction

 

For gaming and office alike

 

Massage and tilt function
Cons
The Dowinx vegan leather gaming chair comes across as one of those chairs with a robust and excellent design. It gives you a good feeling sitting on a plush and comfortable chair. When you have a comfortable experience, it's easy to perform at your best.
There's a massage feature on this chair that gives your lumbar area some much-needed protection. The chair deals a lot with tailbone pain which arises from sitting for too long. Besides, the massage function is simple to operate, just like the other adjustable features on this chair. It's a fantastic chair and more than served the purpose for gaming and other regular uses.
– Ergonomic Design: Built With You in Mind
As an ergonomic chair, this chair comes with lumbar support for users who deal with back pain. Also, the chair includes a lumbar pillow for fatigue to your waist. In support, you get a headrest pillow that gives your head and neck some balance when you lean back.
There is a high-density foam coupled with a linkage armrest design on this chair. There's a USB cable power supply for the massage function to drive by a USB port on the computer, car, power switch, and power bank.
If you sit for a long while, this is the best masseur for you. All over this vegan chair, you get a vintage leather style.
– Top Comfort for Every User
User comfort is part of the process when gaming chairs are concerned. It's at the top of all considerations because gamers play for extended periods. That's why this Dowinx chair features a high back to deliver maximum comfort to users.
The foam and seat cushion provides ample support thanks to the winged back. With it, you get multi-point body contact to share the pressure and save your spine along with the lumbar and massage support.
In addition to that, you can lean your legs to more comfortable angles with the bucket seat design. Also, the side wing frame has been thinned and contains more soft filling.
– Multifunctional Chair: Get Moving in Style
This chair is multifunctional for various reasons. First, the 360-degree swivel feels so natural and helps you spin on your axis. Then there are the smooth racing caster wheels to give you a mobile feel across different surfaces.
The recline feature is a necessary part of modern gaming chairs. To that end, you get between 90 to 180 degrees recline here for working, gaming, reading, or napping. Again, Dowinx includes a 20 degrees rocking and retractable footrest for your relaxation.
– Sturdy and Eco-friendly: Safe to Use
We love the fact that this chair is safe to use, thanks to its eco-friendly design. The other materials used also make it a pretty sturdy and durable chair that will last for a very long time.
The stated weight limit is 350 pounds which the chair's sturdy frame can take without any hassle. What's more, the chair's cover features quality hand-sewn PU leather and ten inches of high-density comfy foam that is just as skin-friendly as it is durable.
There is an upgraded LANT gas cylinder and mechanism to ensure the usage of the chair.

– Overview
If you want a vegan chair with a host of adjustable features, this chair will appeal to you. It's perfect for users who have back pain and need a comfortable gaming chair.
Pros
 

Features linkage armrests

 

Provides ergonomic support with additional cushions

 

Includes a retractable footrest for rest

 

Perfect for gaming or office use
Cons
 

Takes some time to assemble.
Luckracer is a brand that's still finding its feet as far as gaming chairs are concerned. However, this particular model fits a lot of uses gamers can put it to. For example, the base gives off good movement and swivels. The furniture finish is leather which does a lot for the environment.
According to the Luckracer brand, it is committed to giving pro gamers the best gaming chairs. As such, the brand's chair is designed to improve your gaming experience along different lines and dimensions.
– Ergonomic Design: Keeps You Comfortable Always
This chair keeps you gaming for long periods because of its comfortable and ergonomic design, including free lumbar support. With it, back and waist pain is limited. You also get a headrest pillow for this broader and thicker gaming chair.
The same thick profile appears in the armrests, which have an ergonomic shape to them. Also, the arms have a linkage design to make your hand more comfortable. That way, a lot of fatigue is released when you play for a long time.
The footrest is ideal when you feel like putting your feet up to rest or optimize your gaming position.
– Materials: Friendly and Reliable
The materials used here are of high quality. For example, Luckracer uses a solid integrated metal frame and an international standard gas lift mechanism. That way, the weight limit of 350 pounds feels just right.
With the covering, gamers get skin-friendly PU leather with a high-density thick sponge inside. Also, a 5-point steel base with heavy-duty, smooth-rolling casters gives you some mobility.

– Overview
This chair is perfect for gamers who want a model for broad applications. It's a chair sporting multiple ergonomic features to help you play for prolonged hours.
Pros
 

Easy assemble

 

Smooth and durable covering

 

High-quality materials

 

Flexible and ergonomic
Cons
While PatioMage is quite new to the gaming chair scene, it has shown it meant business right from the start with a pretty decent vegan chair that provides great comfort and convenience for all users. 
For starters, the chair's material components are of high quality, and they are flexible enough to be used for a wide range of applications, much like a non-leather gaming chair. Read on as we touch upon some of the chair's most prominent features. 
– Ergonomic Build: Strong Frame and Comfortable Padding
Like other top-notch gaming chairs, you get a strong metal frame here designed to protect a comfortable seated position. That way, you have a comfy base and can play games or work for prolonged periods.
Following the frame, you get a thick padded back and seat, which increases the comfort levels of the chair.
– High-quality Materials: Durable and Easy to Clean
This PatioMage chair is designed with quality materials. For example, the covers are made of smooth PU leather, durable, and easy to clean. Moreover, PatioMage states that this chair features a sponge material to enable users to sit for long hours.
There's a heavy-duty base and smooth-rolling casters underneath to give you a mobile arrangement. The base is also strong enough to support a weight limit of 300 pounds.
– Adjustments: Multifunctional Chair
This gaming chair has a recline feature that goes between 90 to 180 degrees. It also helps that you can lock it in multiple positions and use the lock feature.
You get armrests you can adjust and be flexible with in terms of support to the elbow. That makes the chair suitable for different desktop heights. Further, you can use the 360-degree swivel to grab something close by. We like that the smooth-rolling wheel is also wear-resistant to protect your floor from scratches.
– Wide Applications: Ideal for a Raft of Uses
PatioMage makes this chair the perfect choice for working, studying, and gaming. It also sports an attractive and exciting car racing style, making it an ideal blend for your game room or modern office.
The chair is simple to assemble and comes with all the hardware you need and the following directions.

– Overview
This chair is an excellent choice for gamers who want a quick look, easy assembly, and multiple adjustable functions. It helps that you can use it for gaming, at work, or to lounge.
Buying Guide for Vegan Chairs
Suppose you're in the market to acquire a new gaming chair; we have prepared this short guide to help you know the essential features you need to look out for before you make the purchase.
While some of these features have been emphasized in our review above, it is still important that you pay attention to the subtle details that can add value to your overall gaming experience.
Here are three vital features to look out for:
1. Ergonomics
A chair with ergonomic features is designed to help gamers maintain the proper posture and support for their movements. Such chairs minimize back pain, as well as improve gaming reaction time.
Some top characteristics of gaming chairs include:
 

High-level adjustability

 

Comfortable padded parts

 

Lumbar, neck, and back supports

 

Curved backrest to protect natural curve of your spine

 

Adjustable armrests and footrests

 

Reclining and tilting backrest
These qualities are essential for a proper posture and contribute to your overall gaming experience.
2. Build Quality
If you intend to use your chair for a long while, the build quality is an essential factor to consider. A chair will last longer with solid parts and means you don't have to spend more on an upgrade or new one.
Consider the following:
 

The type of materials used

 

How the cushion is filled

 

The make and structure of the chair's base
Cheap materials will make your chair wobble, which makes the chair less durable. You have a sturdy and long-lasting gaming chair with a thick base and structure made of metal, steel, and aluminum.
3. Weight Limit
The maximum weight allowed for the chair you want is essential. Depending on your size, you must pick a chair that fits your profile.
Conclusion
The truth is, your chair is an important part of your gaming setup, and having a gaming chair you can rely on in your home and workplace sure helps to keep you comfy and healthy in the long run. 
If you are looking to get the best experience, we have touched upon what you need to look for in a gaming chair and review the top leather-free gaming chairs available right now. The best chairs for vegans have a unique way of sourcing materials that don't impact the environment and animals. These chairs have quality materials to boost your gaming performances, keep you safe and comfortable for extended periods. 
From our review, we think the Dowinx Gaming Chair is an excellent addition to your rig. There are a couple of adjustable features and general, user-oriented features and components that make for a refreshingly subtle touch on your skin all through your gaming sessions.