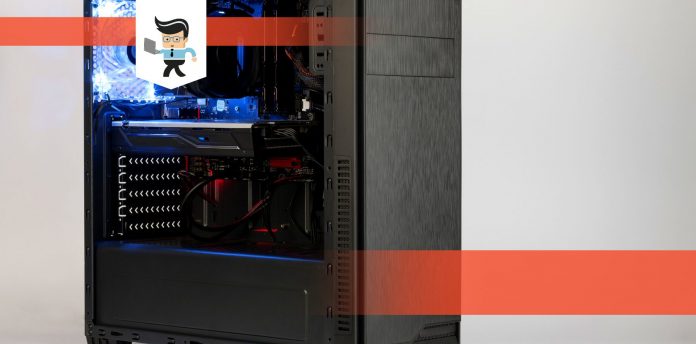 Are you looking for a portable computer case? When choosing, you should look at computer cases with handles. Why? PC cases with handles are convenient to carry around They're great for gamers and anyone else who needs portability.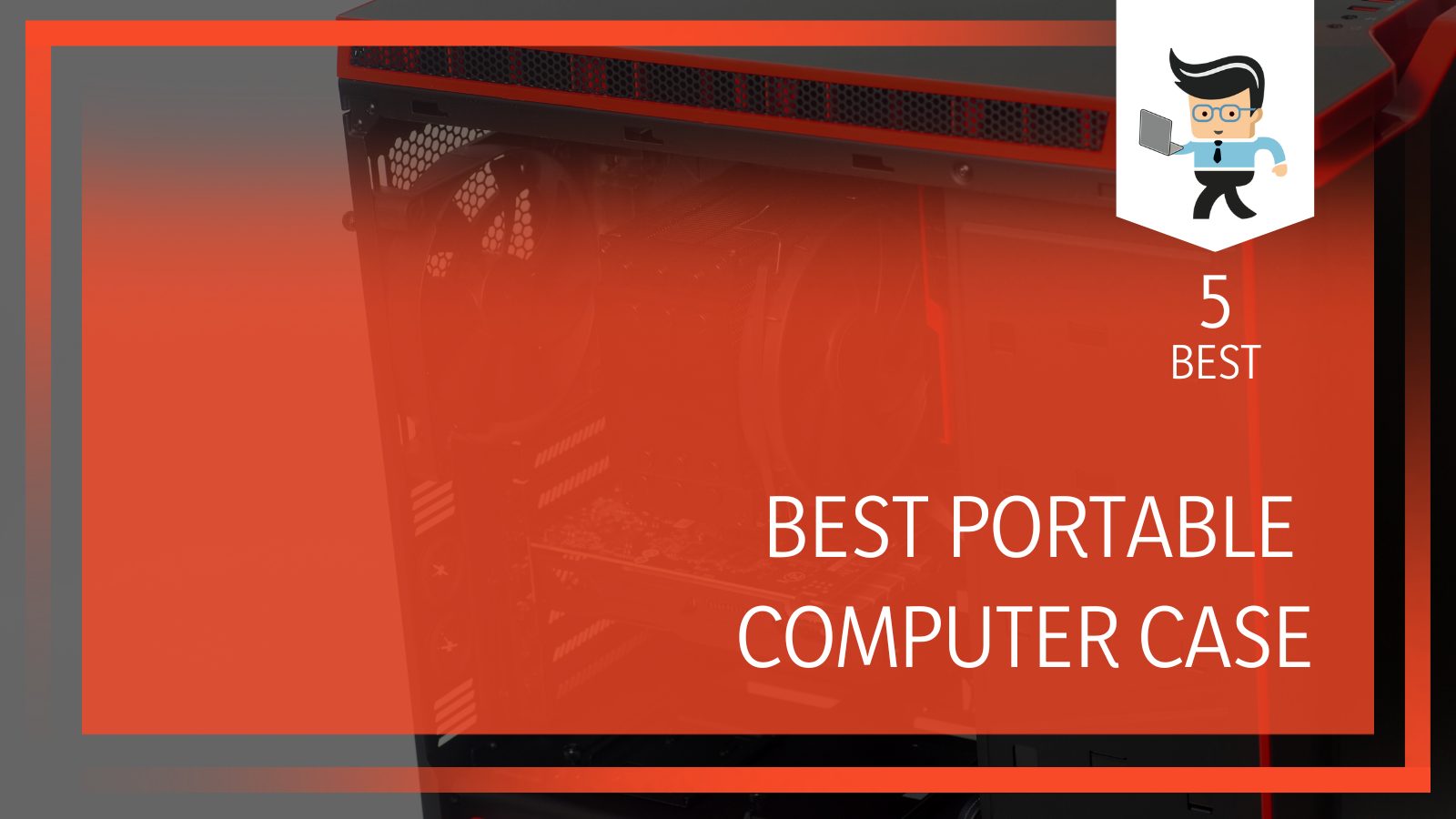 You also need to know the cooling type, weight, limitations on installation, and build. Here we show you some of the best brands, such as Cooler Master, SilverStone Technology, Lian Li, and Cougar.
The table below lists some essential key specifications of portable computer cases.
5 Best Portable Computer Case – 2021 Review
Pros
● Spacious
● Easy to build
● Great support
Cons
● Dust filters located on the bottom, so you need you to tip the system over
● The latches on the chassis do not have a locking mechanism
● No opening or added functionality on the shroud
The Cougar Panzer has dimensions measuring 21.89 x 10.4 x 24.1 inches and weighs 8 lbs pounds without any installs. This case is a light one. It has a good design and many people seek it out.
One of the fantastic features of the Panzer Max is its powerful cooling system. It has four water cooling radiators.
The Panzer Max also can support up to eight cooling fans – the most for any PC case of caliber. Enthusiast builders might choose this case for this reason alone. According to Cougar, the design is "military-style," and the case is "easily moldable."
These features ensure that the case allows proper cooling and airflow throughout. Because these cases allow airflow, the components within the case would not overheat. Because they can't overheat, they can function.
The fans also have a control switch that you can use to adjust their speed.
The second benefit is the hook for the user to place headphones.
The third benefit of this portable computer case is the handles. The PanzerMax features two handles at the top left and right corners. These handles allow the user to transport the case from one area to another.
Panzer made this case stand out. Although they designed it to have a military-style look, this does not take away from it. This case is one that can switch things up. You can use it to look professional and keep it neutral with its military design. Or you can outfit it to look bright and flashy with the installation of LED lights. It gives the user an option on what display they may want their case to give off.
This case also has a keyboard tray loathed at the top of the chassis. This tray is to free up desktop space. It also features four USB plugs.
The covers and vents located on all four sides are also easy to remove.
There are eight expansion slots in total.
The chassis drive bay has
• Two x 5.25-inch drive bays
• Two x 3.5-inch drive bays
• 4+2(converted from 3.5-inch drive bay)
The following highlights some of the restrictions to take note of when building this PC case.
The most fans that you can install is eight.
The chassis can hold graphic cards as long as 15.35 inches / 390 millimeters.
The tallest CPU cooler height allowed is 6.69 inches or 170 millimeters.
The PSU length accepted by the case goes up to 8.7 inches / 220 millimeters.
The motherboard type is Mini-ITX/Micro-ATX.
The PSU works with a standard ATX PS2.
Features located on the IO front panel;
• Two USB 2.0 and two USB 3.0 slots
• Audio x 1 / Mic x 1
• Fan Controller

The Cougar Panzer Max is available for sale on Amazon. It is a robust case with a sturdy military design, which can be both professional looking and playful. It brings you the desired freedom you need when designing your computer case system. It features plenty of space for components and superb cooling capabilities.
The Cougar Panzer Max is a gaming case for gamers. It's also a case for overclockers, modders, and professional level computer lovers. If you're one of these people, it's likely that you're looking for portable gaming PC cases, so the Cougar Panzer Max is a great choice for you!
Pros
● Low cost
● Lightweight
Cons
● Poor cable management
● No included fans
SilverStone manufactures the Mini-ITX slim form factor computer case. The brand uses plastic and reinforced steel in its construction.
A vertical foot stand supports the chassis, which reduces the chances of the case tipping over and sustaining damage. This feature reduces your worry if someone or something knocks into it.
One of the most critical features for some users when looking for a portable computer case is its handle. The Silverstone ML08B-H has a built-in handle.
This Mini-ITX case has two x 2.5" drive bays (depending on which expansion card you use, you will end up with one extra 2.5" or 3.5" space).
The case also has a Slim optical 12.7mm or 9.5mm x 1 external drive bay. It has 9.5mm compatibility, which is limited to tray type.
The cooling system of the case does not include fans or radiators. Although it does not carry any fans, you'll find vents located at the side and rear of the case. On the side, it has vents over the CPU and motherboard and also the expansion area. The passive exhaust vents are at the back of the case.
An expansion card is present in this case. The limit on the expansion card installed is 13 inches long and 4.78 inches in width.
The limitation for the CPU cooler is 58mm.
The power supply of the Mini-ITX ML08B-H is compatible with SFX & SFX-L.
Features located on the I/O front panel;
USB 3.0 x 2
Mic x 1
Audio x 1
Because of its slim form factor, you can position the case in a variety of different positions.

This case is also available on Amazon. The SilverStone Technology Mini-ITX slim form factor computer case is simple. Although small, it is easy to assemble. The case features enough space to install a 13" graphics card. The drive cages are tool-less to enable quick assembly. The case has a smart layout that utilizes the space given.
This case can operate as a compact portable desktop case with a vertical orientation. Or you can use it in HTPC, which is horizontal orientation. This case is for anyone who wants a slim, sleek PC on their desktop.
Pros
● Tempered glass side panel
● Ultra-compact dimensions
● Low weight
Cons
● No pre-installed fans
● Panels may come off.
The Lian Li TU-150WX is a black aluminum mini-ITX computer case.
The market leaders TU100 and TU200 inspired this case. They have now improved its handle. The handle is now retractable and can almost disappear into the chassis. This retractable handle leaves room for the top panel.
The case handle in the Lian Li TU-150WX allows for added ease of portability. This handle now makes transport of the case less challenging for the user.
The Lian Li Company manufactured this case with longwearing materials such as aluminum. They also used tempered glass and steel.
The second benefit of this case is the presence of cable routes. These cable routings are very beneficial to the user. They help to remove the appearance of a cluster of wires. It also helps with the regulation of good airflow within the case. You can hide these cables on top of or behind the motherboard tray.
The third benefit is the 3.0 mm tempered glass side panel window. This glass provides added visibility. It's easy to look through the window and see what is happening within the case.
This case has a push to lock mechanism for panel installation.
It also has a dust filter.
The case has motherboard compatibility with both Mini-ITX and Mini-DTX.
Although the case has space for a fan, there is none pre-installed by the manufacturer. If you take it upon yourself to install one, you will find allocated places at the front and the back of the case. Both slots can hold 120mm fans. On the floor of the case, you can install two 120-mm fans.
The case has three expansion slots.
The Lian Li TU-150WX has an internal drive bay.
Internal drive bay: One 2.5 inch (located on the motherboard tray)
One 3.5/2.5 inch (internal, cover)
The case can support a graphics card length of up to 320mm. The tallest CPU cooler height accepted would be 165 mm.
The power supply of the TU-150WX case from Lian Li is compatible with standard SFX/SFX-L.

Features located at the front I/O panel include;
• 1 x USB 3.1 Type C
• 2 x USB 3.0 Type A
• 1 x Per Audio In/Out
You can buy this case on Amazon.
The Lian Li TU-150WX Black aluminum mini-ITX computer case has the space to support a 320 mm graphic card. It features a retractable magnetic handle, and is compatible with ITX and ATX motherboard systems. This case is for persons who want a stylish and modern design.
Pros
● Good cable management
● Small profile
● Easy to build inside
Cons
● Mounting a 3.5''HDD may be awkward.
● Acrylic window, not tempered glass
● The front does not have any place for air intake.
This case is an attractive one with four handles. The remarkable feature of this case is that the handles are also removable, which is pretty revolutionary. The presence of these handles makes portability less of a challenge.
The case showcases a full acrylic side panel. This feature makes visibility of the items inside the chassis possible.
Cooler Master manufactures its Master Box Q300P Micro-ATX from hard plastic and steel, and the case features motherboard support for Micro-ATX as well as Mini-ITX. You can position this case with either a vertical or horizontal orientation.
The Cooler Master Q300P Micro-ATX has a total of 4 expansion slots.
External drive bays: One 3.5 inch HDD drive bay
Internal drive bays: Two 2.5 inch SSD drive bay
An overlooked benefit of this case might be that the Cooler Master Q300P also supports ATX PSU.
The second benefit of this case is the inclusion of two 120mm RGB LED fans. You will find these 120mm RGB LED fans pre-installed behind the front panel of the case. Another positive is that an RGB controller (which comes included) runs these fans.
You would also find a 1 x RGB Splitter w/4 pin adapters.
The case supports GPU's up to 14.2 inches long and also supports CPU Coolers up to a limit of 6.2 inches tall.
Features located at the I/O front panel include;
• 2 x USB Type-A (USB 3.1 / USB 3.2 Gen 1)
• 1 x 3.5 mm Input audio connection
• 1 x 3.5 mm Output audio connection
You can position the I/O panel at up to six different locations, with three options on each side of the case.
You can set up this cute little box in any orientation that you desire. Its shape is unique – a complete square, which is unusual in a market full of rectangular cases. The unibody handles in both the top and bottom of the Q300P serve two purposes. They provide enough air exhaust and easier handling.

This case has one significant drawback. It does not have a place for air intake in the front, which affects the thermal system on the inside.
The power supply support is bottom mount, ATX PS2
The Cooler Master MasterBox Q300P case is one of the best-reviewed on this list. It supports Mini-ITX and Micro-ATX. It also has an I/O panel that you can adjust to your preference. This case is one of a kind and has plenty of positive reviews from its users. Cooler Master markets this case to gamers and creative builders.
Pros
● Tempered glass side panel
● Case handle
● Good airflow
● Installation is easy
Cons
● No built-in lighting
● Fans not included
Like the Lian Li TU-150WX, the market leaders at TU100 and TU200 inspired the Lian Li TU-150WA Silver aluminum mini-ITX computer case. . The handle is the most improved feature.
Although this may seem simple, the handle is magnetic and retractable. This feature makes it easy to bring the Lian Li TU-150WA to places such as parties and events. You can also take it to computer type tournaments.
The second benefit of this case is that it optimizes airflow throughout the PC case. This case can support A CPU cooler that measures 165 inches in height and a total of four 120mm cooling fans.
The case has a 120mm fan mounting at the front and a 120mm fan mounting at the rear end. It also has two 120mm fan mountings on the underside.
The case also features a GPU above these cooling applicators. This unit keeps the graphics card in the GPU cool. This cooling of the graphics card guarantees that it is operating at the required rate. It also ensures that it is performing its functions.
This particular case can support a GPU that is 12.6 inches or 320 millimeters long.
The third benefit of the Lian Li TU-150WA Silver aluminum computer case is its storage capacity. This well-designed case makes it possible for its user to install a 2.5 inch SSD or a 3.5 inch HDD beneath the top.
With the CPU, you can install a cooler up to 6.5 inches tall. You can also add a 12.5-inch long graphics card into the TU150 mini-tower case.
The case also features a single 2.5 inch SSD on the motherboard tray. This location means you can see it through the glass panel of the case.
You should keep in mind that the Lian Li TU-150WA silver does not contain any external drive bays.

The Lian Li TU-150WA case will support Mini-DTX and Mini-ITX.
Features of the front I/O panel
• Two USB Type-A (USB 3.1 / USB 3.2 Gen 1)
• One USB Type C (USB 3.1 / USB 3.2 Gen 1)
This case is available on Amazon.
The Lian Li TU-150WA Silver aluminum mini-ITX computer case is excellent. This case is spacious, contains a smart storage layout, and has good cable management.
This product is for persons who are looking for a stylish and modern computer case.
Buying Guide
Here are some key features to know:
● Weight:
a portable computer case with a low weight is easy to carry and transport from one area to another.
● Dimensions:
Knowing the measurements of the portable computer case is essential. The dimensions should be those that can fit the size and components you would be putting inside the case. Larger dimensions generally mean that you can place more equipment in the chassis.
● Cooling type:
Liquid coolers are useful because they generally outperform air coolers. But this outperformance should not be the only determining factor when it comes to choosing between these two. You should also know if the components in your case get heated and overheated fast. If not, then you won't need a liquid cooler. It would be safe for you to go ahead with the air cooling computer case.
Why Get a PC Case?
PC cases do not have a direct influence on the performance of your computer. Yet, they are vital to shield the computer parts from dust and spills. They also assist in keeping it at the correct temperature. They do so by delivering airflow through the openings on their sides.
Another primary function of cases is the help users in the building or transformation of PCs. They can also act as an interface. Thus, getting a PC case is not only a benefit but in today's world, it's also a necessity.
Best Portable PC Case
Choosing the best portable computer case may be a difficult task for some. In addition to listing the products in the table above, we also want to educate you. We want to ensure that you know some of the primary essential features that a computer case needs.
When looking for the best portable gaming PC case, the presence of a handle should be the first thing you seek. The handle creates a means for added portability. It makes moving the case around easier.
Your portable PC case should be big enough to fit all the essential parts. Although large, it should also be lightweight. Being lightweight is another benefit as it makes the case easy to carry around.
Conclusion
Buying the best portable computer case can prove itself to be a challenging task. We have reviewed these computer cases with a fine-tooth comb. We are confident that they'll meet your budget and needs. The feature we focused on the most when providing these reviews to you was their portability.
If you haven't yet made a choice, then we would recommend the Cooler Master MasterBox. This brand has shown great potential with its other products. We know that you will have the same experience with this option because it is attractive and well designed.
If the Cooler Master MasterBox does not appeal to you, then the next best option would be the Cougar Panzer Max.