Some of the most popular cases on the market today come from NZXT and one of the most common comparisons people make is the NZXT s340 Elite vs s340.
The s340 is the original choice that so many people fell in love with, but what about the Elite? Are there any differences between the two? Is the Elite actually all that Elite or is it just a more expensive option that doesn't truly deliver?
| | | |
| --- | --- | --- |
| | Nzxt S340 | S340 |
| Dimensions  | 200 x 432 x 445 | 203 x 474 x432 |
| Release Date | 2014 | 2018 |
| Materials/Colors | Steel, plastic (Black, white, black and blue, black and red) | Tempered glass side panel, Steel, ABS plastic |
| Form Factors | Mini-ITX, micro-ATX, ATX | mini-ITX, MicroATX, ATX |
| Ports | Front panel Power, 2 x USB 3, stereo, microphone | I/O Ports: 1x Audio/Mic; 2x USB 3.0; 2x USB 2.0; and HDMI with VR Support |
| Filters | Extras Removable dust filters | Front (Included) and Bottom Rear(Included) |
| Cooling | 2 x 140mm/120mm front fan mounts (fans not included), 1 x 140mm/120mm roof fan mount (120mm fan included), 1 x 120mm rear fan mount (fan included); CPU cooler clearance 161mm | Front: 2x 140/2x120mm / Top: 1x 140/120mm (1 x 120mm FN V2 Fans Included)/ Rear: 1x 120mm (1 x 120mm FN V2 Fan Included) |
Similarities
When comparing the NZXT s340 and the s340 Elite, there are a few things you need to know about their similarities. This will help you to determine whether or not you even want to continue to compare these cases.
The first thing you need to know is that both the NZXT s340 and the s340 Elite are mid-sized towers and they have the same dimensions – measuring in at 474 mm high and 432 mm long. They both have similar designs in that they have large, transparent side window panels that allow a glimpse into the inner workings of your machine.
If you want to show off your build, they are great options. For gamers, it is important to note that they can support up to 280 mm radiators at the front of the case and they have two slots for 120 mm fans, with one being at the rear of the case and the other at the top. Both also have a full-length PSU shroud that contains two hard drive bays.
It should also be noted that the design is popular not because it is artistic or beautiful, but rather because it is a minimalist design that won't steal the show from lighting or other features. It also has a cable management cover to help with hiding the cables and organizing everything on your gaming desk.
– NZXT s340: Why You Should Consider It
If you are thinking about getting the NZXT s340, there are some reasons you may consider it over the Elite model. The first reason is that it is about $20 cheaper than the Elite. This may not seem like a lot, but some people need to save money wherever they can. You also want to check to see if it is on sale, as this one tends to have sales or discounts more often than the Elite.
Another reason to pick this one is that there are six different color options available when you purchase. Now, not all color options are available for all people at all times – some of the bolder colors go out of stock more often than the simplistic colors. There is also a Razer theme option that is gorgeous and will help to make this otherwise minimalist case a lot more interesting.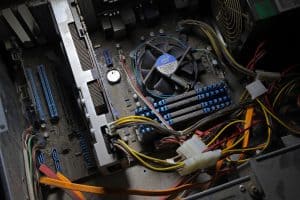 For installation, there are two thumbscrews to remove the side panel, which makes it easy to access the inside of the case if you ever want to make changes. Another great feature is that the case is about 1 kg lighter than the Elite, so you won't have to worry about weight limits with smaller desks or if you move your rig around frequently. Mechanically, it is a sound rig that doesn't have any significant quality options.
Some people have reported problems with the paint as it is very susceptible to scratches – in particular, the matte black. You will have to be careful when using it and when cleaning it, as some people had issues with certain cleaning compounds eating away at it.
Overall, there are a few problems too that you might want to consider. To start, the  NZXT S340 lacks 5.25″ device mounts that can help with optical media devices. If you want to install those, you will need to look elsewhere. It was designed to be compact, so you don't have a ton of room here. As far as appearances go, some people will love it and some people will hate it.
This is the plainer version, and if you like everything but the appearance, you may want to consider the Elite.
– NZXT s340 Elite: Why You Should Consider The Newer Choice
Many people will just go for the Elite because they think it is upgraded and better quality without even looking at the specs. And for $20, it seems almost silly to not pick it. However, there are some specific reasons why it may be the best option you could make. To start, it is a lot more durable. The tempered glass panel is strong and doesn't seem to get as many scratches. As gaming rigs to get shifted and moved, you should definitely consider it.
Another reason gamers should consider this option is because it has an included magnetic puck that sits anywhere on the case and is ideal for keeping headsets and VR headsets organized. Of course, you can stick anything you want on it, that is just the suggested usage.
As far as equipment goes, the Elite has one more SSD slot at the PSU shroud, which is near the front of the case. This will give you more options when using it. There are a total of four USB ports at the top of the case, which is double what the s340 has. Additionally, there is an HDMI port at the top front for easy VR access and other usages.
At the back of the case, there are cable straps that are stronger and better at organizing the cables than with the regular s340. In general, it is just a more user-friendly option.
Of course, there are a few problems that you should be aware of as well. The primary problem is that the front panel seems to be incredibly difficult for most people to remove. Thankfully, the paint doesn't scratch as easily on this one so you can use a bit more force.
Another issue that some people have noted is that the magnetic puck seems to attract a ton of dust, so you will have to be extra careful when trying to keep it clean. Finally, some people have issues with adding hard drives after everything has been installed, so you may want to plan your case well.
NZXT S340 vs NZXT S340 Elite – What Is The Best Option For Most People?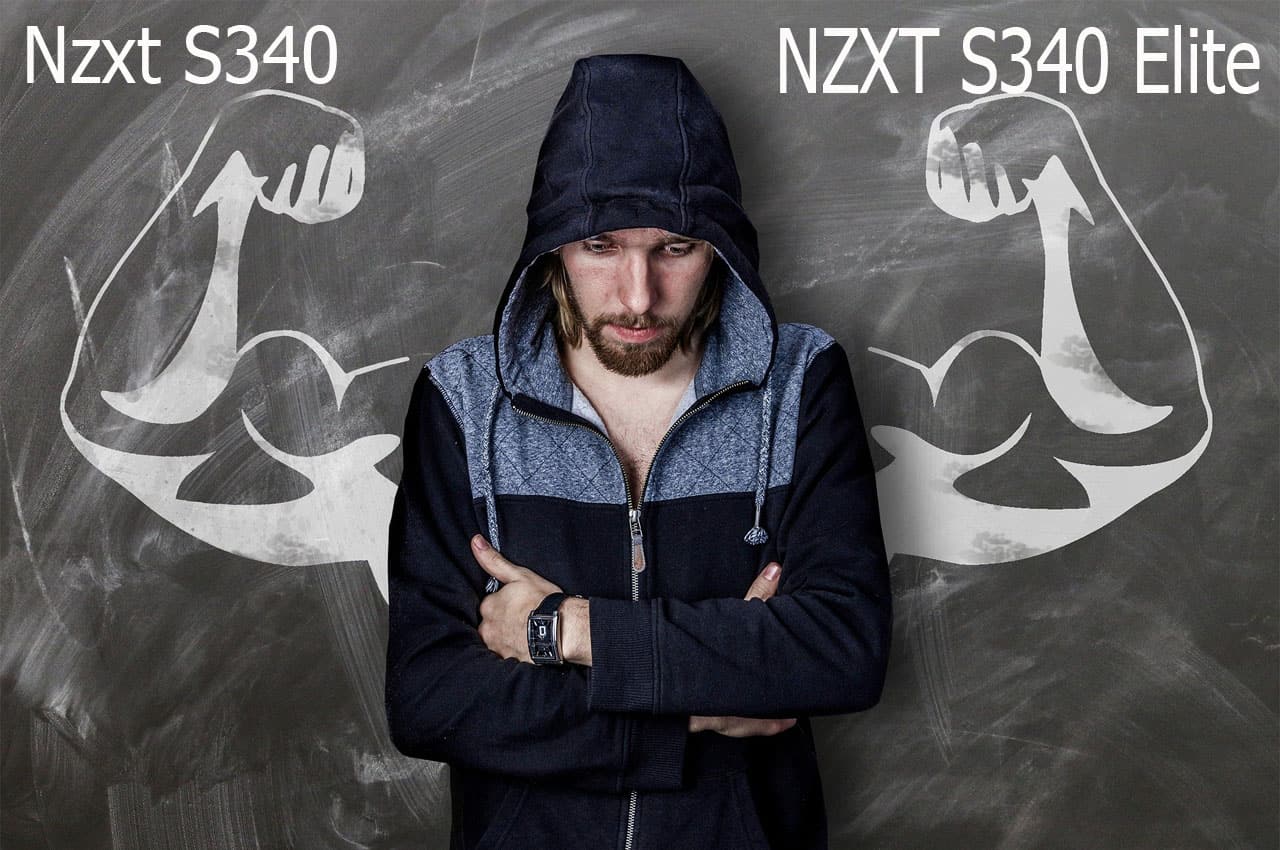 If you are looking for the best case overall, the extra $20 for the NZXT is clearly warranted. You can even get it on sale and get it for a closer price. In our opinion, the tempered glass side panel is enough to justify the costs. It looks so much better and higher quality.
The magnetic puck is a great feature as well, it just may not be used by everyone who buys the case. Of course, an additional SSD bay and more USB ports make it almost a no-brainer.
The standard version is still a good case, but it just doesn't have as much personalization opportunities. It is a standard case that will deliver what you need, but it won't go above and beyond as the Elite does.
In Conclusion, Get The Elite If You Can
Overall, you want to get the Elite if you possibly can. However, you really cannot go wrong with either choice. If you are careful and don't move your case around, or it doesn't get bumped, you won't need the tempered glass side panel, even though it is standard today.
Eventually, you will have to replace the s340 case much more quickly because it just doesn't have the scratch resistance.