Getting the best office chair under 500 is worth the thought alone. However, the question remains—which is the ideal one for you? Let this review unveil the specifications and characteristics of the best options around. Read on!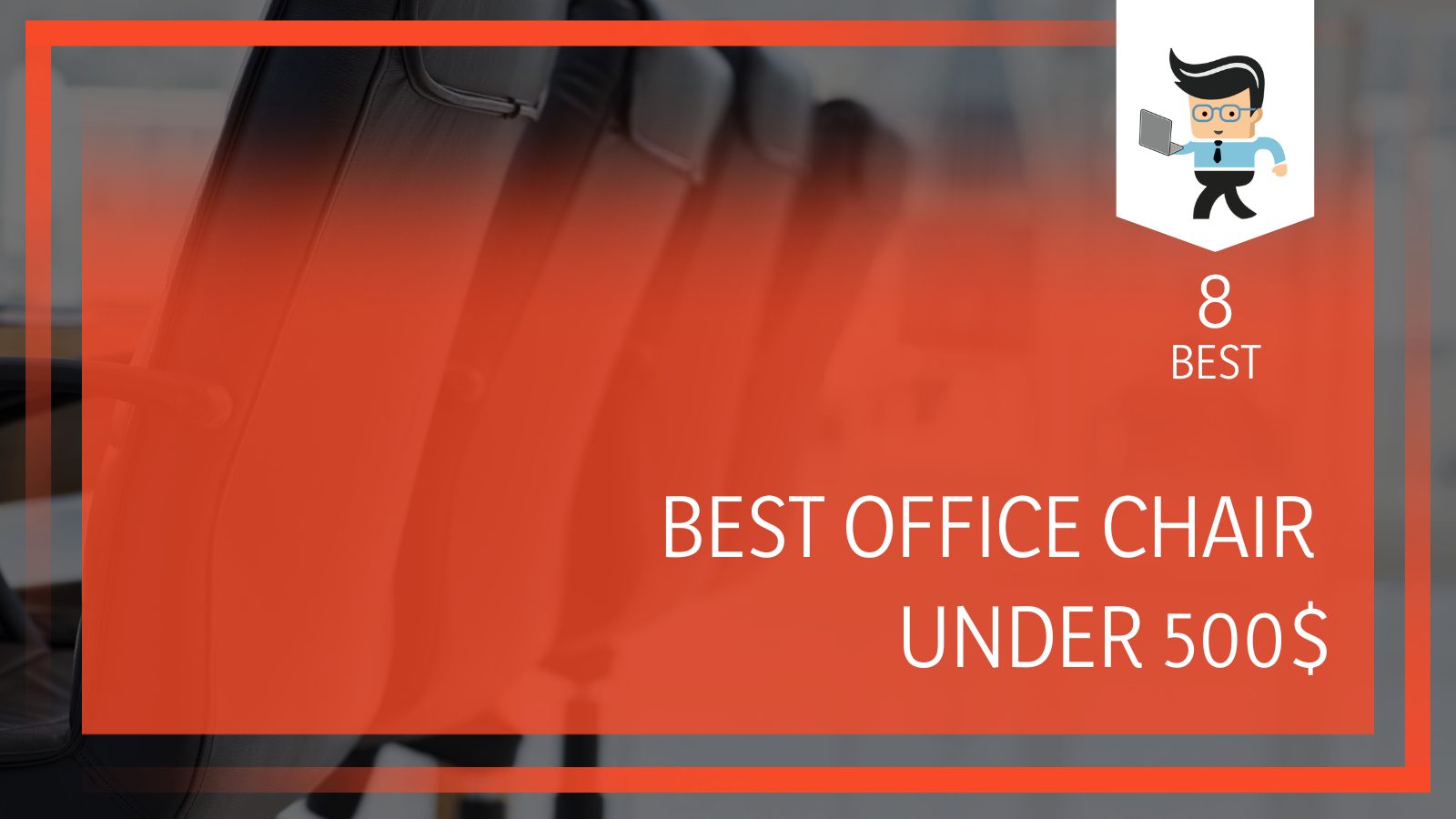 A Brief Specifications Table for the Best Office Chairs Under 500
| | | | | | | |
| --- | --- | --- | --- | --- | --- | --- |
| Models | Adjustable  | Material | Max. Recline | Support | Armrests | Max. Weight |
| | Yes | Metal & PA Nylon | 140° | Lumbar  headrest | Yes | 300lbs |
| | Yes | Mesh & PU padding | 130° | Backrest | Yes | 300lbs |
| | Yes | Mesh, nylon | – | Lumbar & backrest | Yes | 265lbs |
| | Yes | Mesh, leather | 135° | Lumbar, back, cushions | Yes | 300lbs |
| | Yes | Leather | 155° | Lumbar, neck, backrest | Yes | 250lbs |
| | Yes | Breathable fabric, leather | 120° | Lumbar, back | Yes | 200lbs |
| | Yes | Bonded Leather Upholstery | Yes | Backrest | Yes | 225lbs |
| | Yes | Breathable mesh back | No | Lumbar, neck, backrest | Yes | 400lbs |
Best Office Chairs Under 500: Our Top Picks
The best office chairs under the $500 range should offer you many features that come with high-end chairs. There are a couple of top brands like Hbada you can get, and still. Have a few hundred dollars to spare in your pocket.
Being in the office for hours at a stretch means you more or less live a sedentary life. That's bad for your health and wellbeing. As such, we've decided to write this review that includes the best chairs with essential specifications.
In this guide, we compiled a list of the best eight office chairs that don't cost more than $500. You'll be glad to know that they all have ergonomic functions that give you the best durability, safety, and style.
Pros
• Strong steel construction
• Sturdy footrest
• Layers of foam padding
• Rocking motion
Cons
• No external pillows
This chair does look a bit odd for its design and style, but it provides enough features to compensate for that.
There's a full recline feature reaching 140-degrees coupled with a retractable footrest that can put you to sleep. This footrest is firm and comfortable, with a width of 14-inches.
Also, there's a segmented backrest in that it provides support in three key areas. That being the lumbar, middle, and head area.
What you get is ample protection with a backrest that is up to 33-inches long. The spring backrest is such that it perfectly fits your spine, prevents back pain, and keeps your body functional.
The backrest, much like the seat, features layered of high-density and resistant foam. With the length and size you get, this chair is perfect for individuals measuring five to six inches tall. The upholstery comes from scratch-proof PU leather that is not only soft but also durable.
We mentioned that you could also adjust this chair or recline. With a 21.7" wide and 23.2" deep seat, it will be comfortable for regular and plus-sized adults weighing up to 300 lbs. You can also adjust for height from 15.7" to 21.65" off the floor.
A comfortable seat and armrest also make up parts of this chair. The seat has embedded a 3-inch high-density foam with W-shaped & waterfall-edge design. It provides a more extensive support area and disperses pressure on the hip and thighs.
Also, there's a durable metal-core armrest on this chair. It has bigger, thicker, and softer concaved padding, which provides you more comfortable arm support.

The metal back and unique mesh enhances the ergonomic appeal of this office chair. With metal and PA nylon back, this Ticova has a much stronger bearing capacity than other ergonomic mesh chairs with PP plastic.
The mesh here is highly elastic and breathable and enables long hours of relaxed sitting. However, if you want to sit in this chair for more than eight hours, getting an external pillow is necessary.
This chair is an excellent option if you want a sturdy frame made of steel and other strong materials. You'll find the chair well-built and easy to use, and with all the necessary support in place.
Pros
• Many adjustable features
• Ergonomic and long-lasting
• Top-notch performance
• Strong materials
Cons
• Lengthy assembly process
Like the first chair revived here, the Ticova ergonomic chair comes with lots of flexible options. Sure, for cheap office chairs, you wouldn't expect so many capabilities. However, this chair is good enough to make this list.
Let's start with the seat and recline feature, which can be adjusted for height from 16.5" to 20.5" off the floor. Moreover, the seat has a 3" contoured high-density foam. To enjoy this foam to the fullest, you're encouraged to sit deep into the chair. Again, the foam here is firm, but you'll be comfortable sitting for long hours.
If you tend to move a lot on chairs, you'll appreciate the rocking motion here and the fact that you can recline to douse tension.
As part of being adjustable, you can control the ergonomic headrest's height and angle with just above five inches of up or down movement and a 135-degree tilt. The arms here are also ergonomically designed with a concave top surface, and The chair can move up or down within range.
This model of Ticova will be nothing without lumbar support. You can move it down, up, or even pushed in or out. That way, it fits your spine's outline and provides strong lower back support while you work.
The mesh here is a breathable one with a strong tensile strength that provides relaxed and comfortable back support. You can have long hours sitting relaxed without a sweat.
Getting this chair together takes some doing, though.

That is because it has a lengthy assembly process that can reach between thirty minutes and one hour. Some of the casters are difficult to click in place, and you might have to use a rubber hammer to set things right.
The instructions are clear and will set you on the right path. After all, an office chair that has these capabilities aims to help you function effectively.
This model is great for people who need a cheap chair with all the modern ergonomic chair trappings. Getting this chair is a good value deal.
Pros
• Easily adjustable parts
• Safe and durable
• Easy assembly
• Smooth and quiet mobility
Cons
• Short on quality features
The Halter Executive is one great management office chair. It comes designed as a home office desk chair that provides maximum comfort. To that end, it comes with a lumbar support and mesh seat. That way, the chair helps you prevent back pain and encourages a better posture. As such, it's perfect for long hours of work, gaming, and studying.
For material, you get a breathable and modern mesh seat. There is a wheel feature custom with the mesh material to let air circulate freely. That way, any user of the chair is kept cool and comfortable. Besides, the armrests and lumbar support are easily adjustable to help you stay focused on any task you want to perform.
It's all about being comfortable with the long hours spent on this chair. You'll experience a smooth gliding and quiet mobility that gives off a 360-degree swivel through a nylon caster. With the wheels, you can roll across the floor or carpet with ease while still seated.

The halter chair is safe and comfortable to put together. There's a durable and robust gas lift that supports a max weight capacity of 265lbs. The chair meets all the safety standards you can think of in a bid to keep you comfortable.
Want a chair that's easy to assemble, doesn't cost much and has good features? This chair is the best option for you.
Pros
• Breathable and comfortable
• Multiple adjustable features
• Reliable, ergonomic design
Cons
• Not enough features and capabilities
The Noblewell chair is ergonomically designed with a backrest that takes after the shape of the human spine. The design supports your back and neck so that you can maintain the correct seating position. Also, such an arrangement helps you ease pressure on your posture.
There are multiple adjustable features here. You have an independently adjustable headrest, lumbar support, armrests, and cushions. All of them help to achieve a multi-level height adjustment to suit different users and body types. Moreover, you can recline this chair to a max angle of 135-degrees with the tilt adjustment.
This office chair under $500 uses a breathable mesh design to prevent sweat and heat accumulation. Besides, the high-density native sponge cushion is also soft and breathable.

Add the casters and air rods, and what you get is a chair that can take about 300lbs weight load without instability. Apart from promoting safety and stability, silent casters also protect the floor.
There's always more to expect from a cheap option. However, this chair will suit you perfectly if you're after the necessary experience such a chair guarantees.
Pros
• Height adjustable seat and mesh back
• Affordable
• Great design
Cons
• Meager weight capacity
• It has some cheap parts.
The Dada Ergonomic Office Chair is one of the most professional office chairs under 500. It comes with many features that you can associate with high-end chairs, along with an extremely affordable price tag.
What you get is a breathable mesh fabric, height adjustment, 155-degree recline, and an eye-catching design. Not all chairs can boast about being less expensive and great-looking at the same time. That makes it a good fit for any home office or workspace.
This Hbada product has an adjustable height ranging from 40.8-inches to 44-inches, coupled with an adjustable seat in terms of performance. Unfortunately, you can only adjust the seat height on this chair's high back version and not the regular version. However, this chair has an impressive recline at 155-degrees, which is the best for the shape of your spine.
The Dada Office Desk Chair comes with a breathable mesh fabric. The fabric and mesh design work in tandem to reduce back pain that can begin in your lower back. The built-in padding support system also offers excellent neck and lumbar support to users.
The value this chair brings is further enhanced when you learn that it's not just a great computer chair. Gamers can also use it to improve their performances. It's cheap, but the weight capacity for this chair stands at a modest 250lbs. That is very low and a little drawback considering the other features on offer.

There's also the question of building materials used to set up this chair. We think some of them are cheap. Perhaps that's all in a bid to ensure the lower the cost down. What you can do to have the best possible time on this chair is get more seat cushions. They're portable and extremely comfortable options to add to this Hbada chair.
If you want a chair with the trappings of critical features that are very much within your budget, give this chair a shot. You can always make adjustments from top to bottom.
Pros
• Good range of ergonomic features
• Deep tilt backrest
• Simple design
• Ample support
Cons
• Unsuitable for bigger individuals
The Gabrylly Ergonomic Office Chair is the pretty standard office chair. Sure, it does have a slight makeover, but it's one affordable office chair with suitable alterations in ergonomics. It also has a basic look and appeal, unlike other brands reviewed before it. However, that should take nothing away from the chair's overall performance.
There are some significant features here, like the ergonomics, which offers the support you need. Although there aren't as many top-quality features here, it still uses the four critical points for support and comfort in the long term.
First of all, you get to experience support via the backrest, which has enough curve and lumbar support to help you stay in good shape. The seat also has an angle to help relieve pressure from your hips. Also, you can adjust the headrest and lean back without worrying about your neck. There's no point getting an office chair if it can't protect vital areas like your back and neck area.
This Gabrylly chair also features a 120-degree tilt. Users can relax or switch to another angle that helps them perform better in the workplace. You also get a padded armrest that flips out of the way when you're not using it. Not bad, considering you don't feel much of the impact on your pocket.
The Gabrylly chair further is all the more standard with the covering of high-quality mesh. What this does is keep your chair cooler. A cool chair means a less abrasive surface for you and fewer chances of sweating while you work.
You also get a string base with grip points for your feet alongside a 360-degree swivel. This feature is beneficial to help you face any direction without so much stress.
In terms of size, it fits a lot of people with different characteristics. However, it's not a chair you want to describe as "for large people." The fact is there's a more expansive, deeper seat for larger individuals.
It's a chair that comes recommended for people who are either 5 foot 8-inches tall or shorter. Considering that this chair comes with a headrest, not many people will be able to use it. Other than that, this chair provides enough comfort and support.
Even though the arms being attached to the backrest seems odd. Again, the padding needs more attention.

To take advantage of this chair, you have to be the right height to access the full features and adjustments. While the features aren't much, it still has the standard parts you'd expect from a chair that doesn't cost much.
If you want an office chair with a great appeal, classic look, and functional elements, this Gabrylly chair will fit your settings.
Pros
• Solid design
• Top-quality build and materials
• Durable and comfortable
• Nice swivel and mobility
Cons
• Low weight capacity
• Not enough ergonomic parts
If you're after the best office chairs for less than 500, you can't do much better than the AmazonBasics. Firstly, Amazon is a recognizable brand, but the chances are that you've never heard about this chair. Well, you're in the right place.
AmazonBasics is an executive chair that is great-looking for the value and price attached. This chair features a bonded leather and PVC upholstery. As such, you get a classy and robust look at the same time.
The thing with bonded leather is that it makes cheap items have a better experience and sophisticated touch. However, it's not that great for chairs you want to last very long. Then again, it's inexpensive and made of recycled materials. This chair is a budget-friendly option but comes with a padded seat and back. These are contoured cushions that provide support and comfort.
The armrests are padded to give off a nice touch. However, we dare say that it needs more because the padding here still has a hollow feel after a while. In addition to that, there's a simple but effective pneumatic handle beneath the chair.
It allows you to adjust the height between 41.34 and 45.08 inches. With your weight removed from the chair, you'll go up. While sitting, you can also make adjustments that take you further.
The AmazonBasics also has a 360-degree swivel and mobility. As such, users get to enjoy moving across their office space or quickly turning around to face any direction without having to stand up.

Nylon casters for part of this chair and offers a durable and smooth method of movement while you're seated. Besides, there's a tilt and tension knob if you want a stationary position or a rocky feel.
If you're in the market for a sitting option to replace your office chairs and want a quality option, the AmazonBasics Executive High-Back chair could be a great fit.
Pros
• Nice breathable mesh back
• Excellent width and chair depth
• The superb base weight allowance
• Lumbar support and customizable parts
Cons
• No back tilt
• Can't customize arms
This Sadie Big and Tall Office Chair is one of the best office chairs for under 500 dollars. Perhaps that's because it's created to suit a particular target audience. One of the main features that stand out about this ergonomic office chair is that it is massive and tall.
Some would argue that its target audience is those who are on the big side. That's because some of the negative reviews it gets are from smaller users who haven't taken the dimensions seriously.
The stated dimensions of this chair include a seat that's 22-inches wide and 20.9-inch deep. There should be plenty of space for larger users to sit back and relax a bit as they work in line with that. Besides that, the width means that users shouldn't feel too cramped in by the armrests.
Another big positive of this big and tall chair is the max weight it can take. To that end, there's a 400-pound weight capacity on the strong base.
The base's design is pretty standard for a regular office chair, just like the other parts. The five-point star base with casters will help you Glide around. Whether that's between the desk or in a little distance, you'll find that it moves without hassles.
The added strength means that most buyers will find this chair a great option. Also, it's very much a should durable option you can use for a very long time. Another benefit to users is the additional comfort provided in the backrest.
We all know how important it is to have adequate resistance and structure to protect your back and spine. That is why the Sadie office chair has both a mesh and a lumbar support system in place. With the mesh, you have breathability to keep you cool during a long or warm day.
On the flip side of things, the lumbar support is adjustable to fit your personal preferences. From what we've seen, users can get comfortable here for long shifts of work. Without too much trouble, it's easy to set up and get going with the tasks you have.
However, it's not without flaws like many chairs before it. For starters, it doesn't have more adjustment options to help users further tweak things. Sure, the lumbar support comes with the adjustability, but there aren't too many other examples across the chair.
For example, there's a glaring absence of a tilt mechanism to the backrest. That's a massive pull for many users who would love nothing more than reclining while they work.
On the part of the armrests, more could've been fine. For example, many office chairs have more expansive freedom of movement to go up and out. Not with this chair, though. That's why users will feel somewhat pinned in. Not to mention that users might also struggle to use this chair with a keyboard.

Set up is okay provided you understand the assembly instructions. You'd want to follow the exact process so that you don't encounter problems along the way. We will recommend this chair for those who want a lot of room while sitting. Smaller users won't like the extra-large seat and other dimensions.
This chair would indeed be many times better with more features to customize or adjust. However, if you're on the big or tall side, and love a bargain, get this office chair.
Why Opt for an Office Chair Under 500?
Sitting, as simple as it sounds, can affect anybody the wrong way. That's the case, mostly if a person lives a sedentary lifestyle. Desks jobs pose serious health risks that can be mitigated with an office chair.
Such a chair, like those reviewed here, will help you maintain a good posture while sitting. Besides, the chairs here are ergonomically constructed to minimize the impact of prolonged sitting on your body.
A good office chair will also stop any misconceptions you have over the dimensions of a chair. That's because a mismatch can cause a lot of pain to your spine and other body parts. But a good office chair will increase the safety and productivity of staff in your office.
Buying Guide for the Best Office Chair Under 500
Office chairs are not just part of the décor anymore. The fact is all offices need them because of what they add in terms of quality and protection. As such, if you're out for a new office chair, check out the following things to look out for:
– Lumbar Support
A good office chair should ordinarily protect your lower back and spine. You need all the support you can get to keep you safe. Some of the best ones, including those here, will even have adjustable lumbar support that allows them to fit the chair to their lower back.
Practical lumbar support is essential because it prevents back strain that can worsen and become sciatica, a condition that can be debilitating.
– Customizable/Adjustability
Many office chairs come with features and capabilities that are adjustable. Some of them include a height and arm adjustment; however, there are other essential adjustments you need to look for when shopping for an office chair.
The best office chairs have up to five or more adjustments, with some having up to 14 different adjustments. Lumbar support, arm width, height, back seat width, and height are some of the components that should be adjustable. Others have tension control, tilt and recline mechanism, and swivel functions.
– Wheel Base
A wheelbase is an integral part of any chair. However, a wheelbase won't take to all environments and surfaces.
For example, there are wheels meant explicitly for carpet. Rolling is great to help users prevent strain, especially when trying to reach across for something. Users can also use it just to glide around.
– Swivel Base
Does the chair you want to have a swivel base? All office chairs should move freely to allow for easy access to various parts of your office desk. If the chair doesn't swivel without hassles, arm fatigue can is a real possibility when you have to overstretch to get an item.
– Fabric
Whatever fabric you use, it mustn't encourage a sweating pattern. As such, the material should be breathable to prevent the chair from becoming hot and uncomfortable after long hours of sitting in it.
It should also have enough cushion support for the person sitting in it. You shouldn't feel the base of the chair through the cushion.
– Width and Seat Depth
It's common knowledge that the longer you sit in a chair, the more stressful the experience will be. That's true, especially if the chair doesn't have the proper width and depth that fits your physique.
An office chair ought to have enough width and depth that supports any person comfortably. For depth, the ideal situation is the ability to sit with your back against the backrest and knees about four inches away from the chair seat.
– Price
No matter the item you're after, you'll most likely have to pay for it. Buying an office chair is no different. You must have a price point that fits your budget. If it doesn't, consider other options that might still pack the features you want.
Frequently Asked Questions
1. What is the Best Office Chair Under $500?
All the eight chairs featured in our list are excellent choices in the 500 range. They give you superior ergonomics and quality you won't find on lower-end chairs.
However, choosing the right chair from these excellent choices comes down to your specific requirements and preferences.
If you're out for an office chair to suit your needs, we consider the Hbada, and Ticova is a good option. They're the best if you have a 500 dollar budget and should be your go-to choices for comfortable chairs.
They further boast excellent materials like mesh and leather, while breathable fabrics help you stay cool.
In the end, choose a chair that complies with all your requirements and is designed explicitly for posture issues that you experience and minimize the damage from prolonged sitting.
Conclusion
If you've got $500 to pay for an office chair, you should do so without hesitating. Perhaps you want something that packs all the trappings of a modern-day chair. You can always save up to get one.
What you can do is make sure it's possible to make standard adjustments, including seat depth, tilt tension, lock, and neck rest. Even armrests come in handy when you have to move your arms or seat properly.
We found the Nobleware here very comfortable for all-day office use, thanks to its supportive parts, including lumbar support and several cushions to protect you. What's more, it can handle weights of about 300 lbs while you can recline on it and relax after a long day at work.