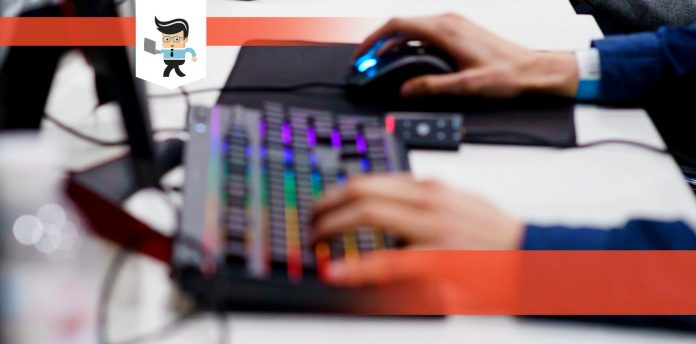 With the best mouse for Fortnite, you'll have a tool that sets you on the right track to be dominant playing this uncomplicated game. There are a few buttons that are necessary for the game, but you still need to focus on building and switching weapons.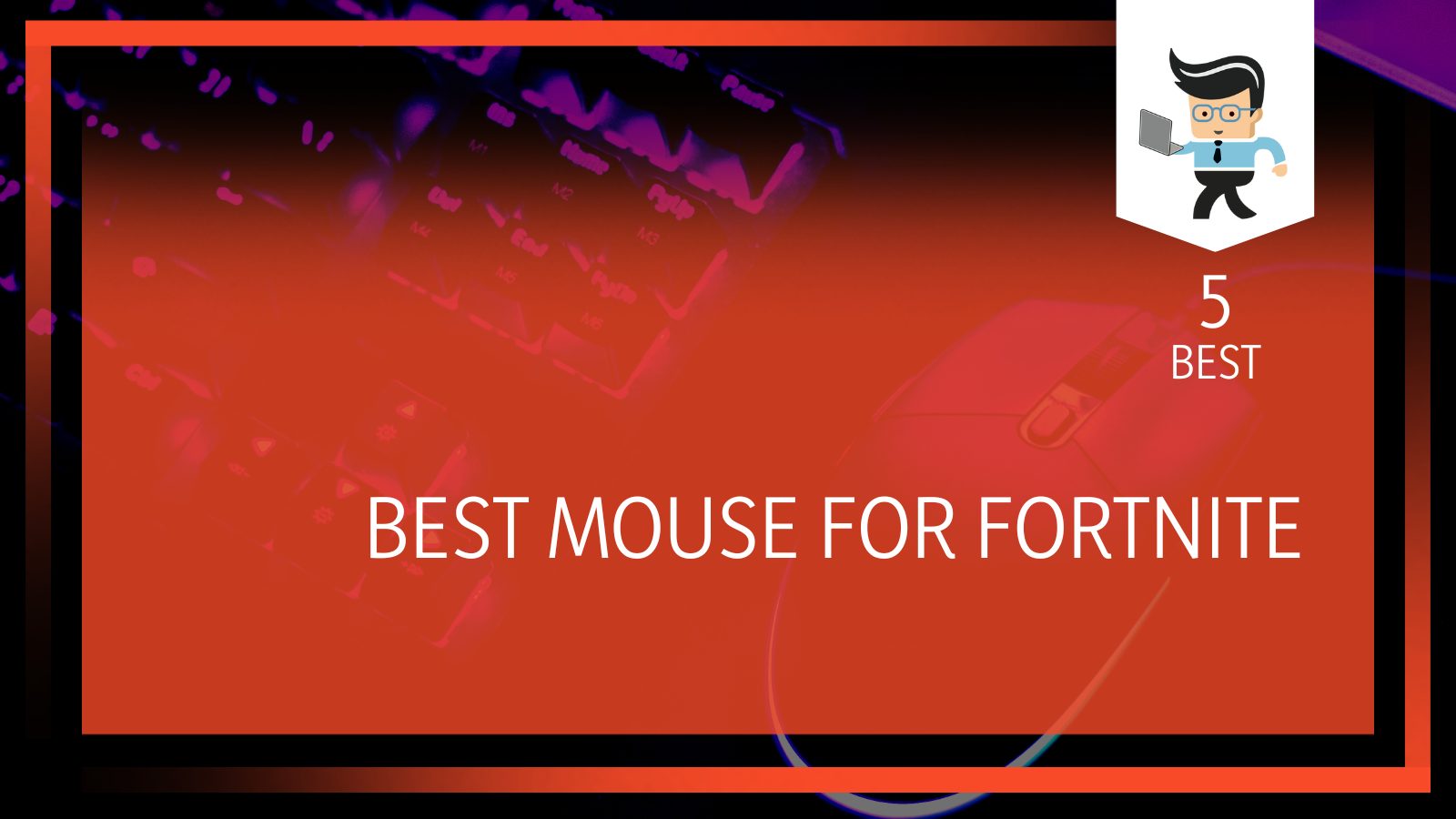 For this reason, you'd need a mouse with excellent characteristics like side buttons and solid internals.
To that extent, we have come up with five of the best options boasting superior features and capabilities.
Fortnite Mouse: The Key Specifications Outlined
Products 
Key Specifications 
Logitech G502 HERO

Connectivity: Wired
DPI: 100 to 16,000
Buttons: 11
Sensor: Hero

Razer Mamba

Connectivity: Wireless
DPI: 100 to 16,000
Buttons: Eight
Sensor: 5G Advanced Optical Sensor

Corsair M65 RGB Elite

Connectivity: Wired
DPI: 18,000
Buttons: Nine
Sensor: Six-Axis Gyro

Redragon M908 Impact

Connectivity: Wired
DPI: 100 to 12,400
Buttons: 19
Sensor: Pixart PMW3327

ASUS ROG Spatha X

Connectivity: Wired/Wireless
DPI: 19,000
Buttons: 12
Sensor: Optical
Best Gaming Mouse for Fortnite: Top 5 Review
With the release of Fortnite, many gamers have spent many sleepless nights playing this game. The update to Battle Royale game mode has seen the game become more popular with spectacular gaming scenes and engaging battles.
However, beginners and pro gamers alike have one thing in common, and that's the need to play the game with the best gears possible. As a result, peripherals like mice, monitors, pads, and other devices feature on any gamers desk.
Our review is more concerned about the mouse quality and performances, hence our list of the top five Fortnite mice.
Choosing a mouse for gaming, like any other application, varies from one person to another. There's no one-size-fits-all, but at the same time, some mice are far from ordinary.
If you want to have the most convenient time playing Fortnite battles, continue reading this review for five of the best mice:
Pros
Multiple customizable buttons
Adjustable weights
Quality indicative LEDs
Top-notch sensor and gaming performance
Cons
A bit narrow for large hands
The Logitech G502 Hero is a high-performance wired gaming mouse that makes absolute sense to have if you're a Fortnite gamer. It's a sound and upgraded model from the wireless version you've got every reason to have, such as a new sensor and customizable features.
The build and design of the mouse feature a sharp, angular look, which makes it a little odd. Also, expect more buttons than the typical mouse and an overall quality outlook.
Design: Neat and Angular
With this G502, you have a model that isn't so moved away from the previous version and the features it contains.
We noticed that it's still dark, angular, and very much designed to fit the gaming arena. That's why Logitech combined a matte black plastic for the primary buttons and grips and put glossy plastic between the mouse's different sections and extra buttons. The matte plastic will help users hide any hand grease or prints while the glossy plastic exposes it.
This good mouse for Fortnite sports a shiny, metallic, and notched button for the scroll wheel. You also get a button behind the scroll wheel, which toggles the notched scrolling coupled with pronounced clicks.
That means you can toggle the mouse with infinite scrolls, which lets the wheel spin freely for more than ten seconds. If you're reading a lengthy document, the scroll wheel will help you go over it fast.
The mouse's build is strong enough with two buttons to the left or the primary click, which hangs over the edge. Further, you get customizable RGB lighting for the DPI indicators and the Logitech G logo.
The two lighting zones are placed in great locations, so they're visible between your thumb and index finger when you're holding the mouse. However, many gamers dislike that the DPI indicators don't stay lit by default.
Overall, we like the button placement and that you can distinguish the three thumb buttons by feel. From the design, the G502 Hero isn't as comfortable for large hands but is thin on the side with grips that won't give you much traction. If you're a claw gripper, it will provide a good feeling with a nice heft.
Performance: Built for Fortnite
The Logitech G502 Hero features a 1,000Hz polling rate and 1ms response time – the benchmark expected from a proper gaming mouse. That's why you'll find it hard to notice any shortcomings while the Hero sensor helps the mouse shine.
Part of the performance of this sensor includes flawless tracking with a DPI range from 100 to 16,000 supported on this mouse. Besides, gamers will enjoy a max tracking speed over 400 inches-per-second and max accelerations over 40Gs.
For the switches underneath the buttons, you'll get a responsive click with little actuation force, which is enough resistance even when you mistakenly press any of the buttons. Do not forget Logitech's customization software. It's easy to use on this mouse, and you can go ahead to personalize the multiple buttons here.
A game like Fortnite will benefit from the number of buttons here so that all your movement options are easy and within reach.
Also, you can add lean left and right with a flick of the middle scroll to enable some advanced maneuvers that would be harder with the game's default controls.

Overview
This is a brilliant-performing mouse with flexible and customizable options, both for the buttons and the weight. That's why it's an absolute steal for Fortnite gamers who get a higher max DPI and max tracking speed.
Pros
Quality and reliable sensor
It has a rechargeable battery
Supports wired and wireless connections
Cons
Slight problems with grips
The Razer Mamba is a quality mouse with the right specs and features to make it a Fortnite favorite, such as a high DPI and RGB lights.
Design: Comfortable With Attractive Appearance
If you want great value, this Razer mouse is worth considering for gaming, thanks to its wireless and wired or 2.4 GHz USB Type-A dongle connection. But those side grips can present a slippery angle to your gaming needs.
For the design, we realized that the Mamba doesn't move too far from other mice in the Razer lineup. It has seven programmable buttons, including the primary mouse buttons that use mechanical switches, two side buttons, and two more under the scroll wheel. There's one more inside the scroll wheel itself, while the mouse also has a slight contour.
It's a right-handed gaming mouse with two-zone RGB lighting that adds a bit of style to the design. The RGB lighting supports up to 16.8 million colors, which shine well enough. Other than that, the Mamba doesn't depart from the typical Razer look and profile.
Performance: Built for Gaming
If you spend prolonged hours playing engaging games, you'll want this mouse in your corner. Razer equipped the Mamba with a 5G Advanced Optical Sensor that supports up to 16,000 CPI with 450 IPS and 50G acceleration.
As you'll see, the sensor is accurate, much like other Razer mice, and it will keep pace with frantic flicks across the entire width of your Fortnite mouse pad. It will respond well to fine motions and give a reliable performance irrespective of your DPI setting.
Activating the buttons is not a problem. You'll find that the primary mouse buttons, side buttons, and CPI switches will give off a satisfying click when pressed. The mechanical switches underneath the buttons are billed to withstand up to 50 million clicks. They'll stand the test of time before getting worn out.
When it comes to the wireless connection, the mouse relies on a 2.4-GHz dongle connection. According to Razer, this feature is a proprietary Adaptive Frequency Technology that gives the Mamba Wireless stability for wired connection.
However, you'll need some period to come to terms with the wireless capabilities of the mouse. Gamers with a claw or fingertip grip might find the Mamba Wireless more comfortable to use than others.
Features and Software: Smart and Fast
Razer is a top-quality mouse, and like other mice in its lineup, the Mamba relies on the Razer Synapse 3 management software. This software saves custom profiles to the device's onboard storage and the cloud.
Also, the Synapse software can be used to set the five different CPI profiles for cycling through. Moreover, gamers can assign functions to the mouse's seven programmable buttons, modify the 1,000 Hz-by-default polling rate, and more.
The Mamba also has RGB lights, but unlike the Logitech above, the lighting here is manageable with the Razer Chroma, which supports up to 16.8 million colors in two zones. One beneath the scroll wheel and one in the Razer logo on the palm rest.
If you have other Razer peripherals that support Chroma, you can make those LEDs stay in sync with them.
Battery Performance
With the Razer Synapse, you can tell the Mamba's battery life and modify its power settings. You can decide when the device goes to sleep mode using options one to fifteen minutes for the fire setting.
The second setting involves the Wireless Low Power Mode, which lets you decide when the mouse should enter an eponymous state with options between 5 to 100 percent.
According to Razer, this mouse can give you about fifty hours of gameplay on a single charge! That's awesome for Fortnite players, and you can leave the RGB lighting on. After playing, you charge the batteries with the included MicroUSB cable.

Overview
The Razer Mamba is worth consideration as a top gaming mouse, not just for Fortnite players. Its specs, design, and features combine to make it a worthy choice for keen gamers. You get to swap between wired and wireless options and enjoy the long battery life.
Pros
Has tilt gestures for more macros
Responsive and durable
Fast 8K polling rate
Cons
FPS and MOBA gaming just got easier with this mouse with the latest tunable pointers and a couple of Top-notch features. When you sight this device, you're confronted with an aluminum frame, eight programmable buttons, and protruding thumb shelf.
An 8K polling support and a grip texture combine well to give you a Quickstrike click technology Fortnite players need. Also, you get programmable tilt gestures and DPI reaching 26,000 compared to the Elite's 18K.
Design: Squat and Comfortable
Many users and reviews attest to the quality of the squat design on this mouse, and it fits your hand well with a little lightweight experience. It also helps that you can adjust the mouse using the additional weights provided.
You might not need the additional weights because you'll still have a good level of control over the device. However, if you feel you need to anchor the mouse, then go ahead to place each of the six pieces in various positions at the bottom of the device.
At the bump of the main body, gamers will notice a pronounced bump that works well to ensure the short length of the mouse is comfortable. From its look, it will suit a medium-sized hand best, and even if yours are pretty large, expect a relaxed gaming experience.
The thumb rest sits at the left-hand side and is covered in a grippy rubber that makes sweeping gestures so that you have more control without your thumb sliding off.
For the panels, they jut out from the side of the pointer itself, like on previous models, but it's still solid and durable. If you want the wired model of this mouse, you'll get a thick braided cable that won't drag, but the cordless variant is still a gamer's dream.
Features: Extensive Specs
Corsair is the brand you can always count on for an extensive range of features and specifications. To that end, you'll like the Quickstrike mouse click technology underneath each main button, which gives you a super-fast actuation and a shorter travel.
That's why the clicks are spring-loaded with no distance between the actual button and the OMRON switches. As a result, you get a soft click that's twice as fast.
Further, this Corsair M65 features a six-axis gyro motion sensor hidden away inside the mouse. If you're familiar with Corsair's iCue software, this won't be hard to notice. But you can map the left, right, backward, and forward tilts to the custom media controls and keystrokes.
What's more remarkable is that the macros are fun to play around with. That makes for much customization coupled with changing the center of gravity through the three options for weight placement.
Performance: Speed, Control, and Balance
If you want a mouse with a fine balance between speed, control, and just enough weight, this Corsair is a good fit. It's great for games like Fortnite, including the 97g for the wired model and 110g for the wireless variants.
The most vital point of the M65 is its balanced performance, unlike some of the mice here. In particular, it has a perfect lift-off which gives gamers a responsive process and quality movements.

Overview
Who should buy this Corsair M65?
If you're a regular gamer and want a mouse that makes the best out of rubberized textured surfaces, you'll like the overall experience of this mouse. You can assign macros and alter the weights of the mouse.
Pros
Programmable Buttons
RGB lighting options
Strong cable
High and fast DPI
Cons
Issues with the mouse's grips
This is one of the solid gaming mice for Fortnite, which comes designed with many buttons. There are nineteen buttons in total, and the best part is that eighteen of them are programmable using the software from Redragon. Download the software from their website or the link provided with the mouse.
DPI Levels: Fast and Sensitive
The Redragon M908 will support DPI levels ranging from 100 to 12400. That means you can tweak the settings depending on the applications you put it to using the dedicated DPI buttons. Also, the lights help you indicate the level of DPI you're operating on.
On this mouse, you get five default levels and a minimum DPI of 6200, but all that can change when you increase it to 12400 using the mouse's software. From our observations, the DPI here makes the mouse more effective and sensitive for many operations.
Design and Shape: Nice Look and Feel
You get stylish and convenient aesthetics on this device coupled with an excellent RGB lighting system, even though things can get hard setting them up. It's also a claw grip style mouse with a sheer size that makes it uncomfortable for small hands. Expect a six feet long braided cable that's rigid all through your favorite activities and intensive Fortnite sessions.
Gamers have the option to increase the mouse's weight when they add 8 x 2.5 grams depending on their needs. These additions are placed in the chamber under the mouse. When the mouse is heavier, you get a more stable and balanced device to play Fortnite with.
We have mentioned that you get up to nineteen buttons on the Redragon M908, including seven main buttons and twelve MMO side buttons.
These can be programmed to perform various functions like the dedicated MACRO button on top of the left-click key you can set to Rapid Fire. You can set MACRO using the setting available in the software. Besides, all the buttons are plastic and durable.
Sensor: Optical and Fast
The Redragon M908 works with a 1000 Hz polling rate, 30G acceleration, and high-precision Pixart PMW3327 Optical Laser Sensor – all that combines to give you a very nice setup to rock on your gaming rig.
We like the overall speed and sensitivity of the mouse since Fortnite players get a well-balanced experience on the default settings. If you don't like how the mouse is set for you, you can customize many options.
Performance: Efficient and Meets Expectations
Even though this mouse has been referred to as a budget option in many quarters, you can't help but appreciate the performance it produces. You can set up several macros, adjust the sensitivity of the mouse, and enjoy the fast response times after setup.
It will perform well when you play FPS games like PUBG and open-world games like Gears of War or GTA, and if you love Fortnite, this mouse sure appeals.
However, we noticed a slight mechanical issue for some buttons that sometimes squeak. Also, the device comes with a glossy material that can get your hands sweaty after prolonged use. Barring all that, the mouse will perform well for many applications.

Overview
The mouse is an exciting prospect for Fortnite players looking to build a fast career on the winning side. It has an appealing glossy finish and a fantastic software UI you can use to make worthwhile changes.
Pros
Many customizable buttons and features
Big-framed and perfect for palm grips
Push-fit swappable switches
Wired and wireless alternatives
Cons
Cumbersome frame for some players
With the Asus ROG Spatha X, gamers can enjoy a wireless mouse that comes with a clear and distinctive look featuring a matte black plastic body and sharp angular lines.
Also, it has multiple bright RGB lighting zones coupled with a right-handed shape featuring a thumb and pinky rest. We like the six-button side button cluster and two additional top-mounted buttons that appear on the left-hand side of the left-click button.
The connections you can make via this mouse make it worth having because you can swap between wired charging cable or using the wireless receiver feature. It's a low click latency mouse with a consistent sensor featuring an adjustable DPI and CPI. The lift-off distance is low enough, like many gaming mice out there.
Design: Functional and Ergonomic
The ROG Spatha X's design looks off at first glance, but it will comfortably fill many users' hands. It does have a dull feeling with twelve programmable buttons and an effortless ergonomic design. That makes gamers want to go on playing Fortnite for extended periods.
What's more, this Spatha X gaming mouse features a 19,000 DPI optical sensor that can work on different surfaces without any fault whatsoever.
The lower settings of the device are also better for multiple surfaces coupled with several customization options for macros and button assignments. LED lights are custom backlight colors gamers can set according to personal preferences.
At the left side of the Spatha X, you get a USB Type C that allows you to connect the device to your preferred peripheral. There are two thumb buttons and a DPI button that you can assign to a single press or double-click on the other side.
What's more, the device has adjustable weights on its shaft, making it customizable for any user.
Performance: Top Value and Responsive
If you're looking for quality mice for Fortnite, the ROG Spatha X has to feature as one of the best. It offers quality responses, an aggressive design, and a concave shape.
The mouse also features the correct number of buttons and can connect to your PC through Bluetooth. It's designed for regular gamers seeking speed, balance, and control that gives them a competitive edge.

What Makes a Fortnite Mouse?
Fortnite is a simple game that makes do with multiple buttons. That's why you'll need the best mouse to enable you to build fast and switch weapons at favorable speeds. Even when you're in a rush, an excellent mouse will help you have an advantage, especially with dedicated side buttons.
As for shooting games you'll be playing for extended periods, you need a mouse that favors your grip style and hand side. That way, you'll be comfortable. Other features include a small to moderate weight because you'll be doing a lot of movement with the device.
Fortnite also requires a mouse with quality and adjustable DPI. The polling rate and response time should also give you an upper hand against your opponents. In addition, the lift-off distance is a determining factor for playing nf games.
It plays a role in how high the mouse will perform when you lift it in the air. Lift-offs seem simple for many users, but for Fortnite gamers, it's a vital part of the process.
Conclusion
When you're searching for the best mouse to play Fortnite, it can be a little tricky choosing from the vast number of devices featuring top specifications and capabilities. As a gamer, you'd want the best DPI's, speed, per second responses, quality grips, and much more.
You can have all of that when you settle on any of the mice models in this review. We like the Logitech G502 HERO. It's an excellent choice for Fortnite, has multiple programmable buttons and macros. It's a worthy choice, just like the other mice in our review.