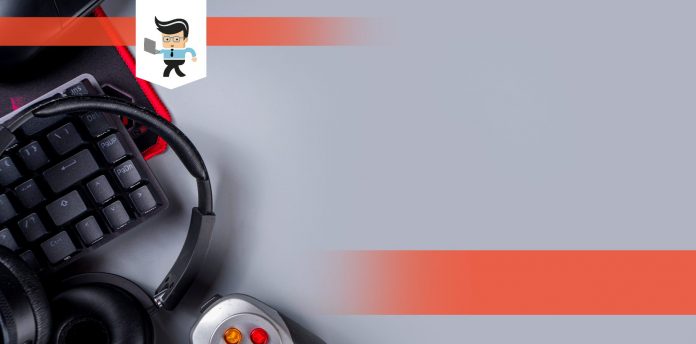 What are the best headphones for large ears? If you have bigger ears, you know just how hard it can be to find headphones that work. If you are gaming and you wear gaming headphones, they can often squish your ears down.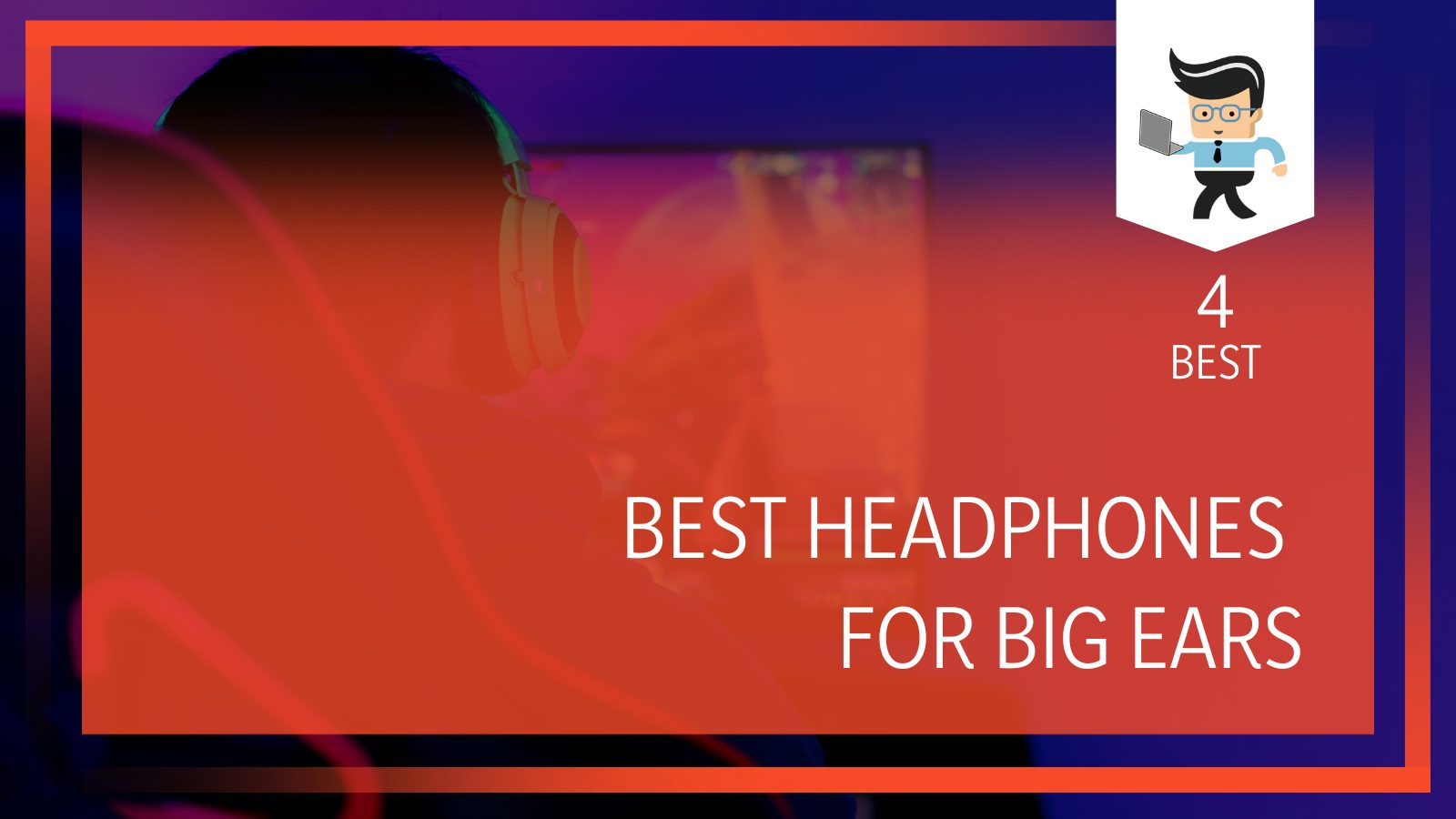 While they may be comfortable for a little bit, they eventually start to get too hot, too tight, or they slide around and you can't really hear anything. In intense gaming situations, this can be a detriment to your performance.
So what can you do? Are there actually over-ear headphones that are good for people who have big ears? Or will you be relegated to wearing earbuds all the time? Fear not, there are some headphones that cover your whole ear that are great for people who tend to have larger ears.
Comparison Table
Best Headphones For Big Ears
If you are looking for the best headphones for large ears, you need to do some research. Much of your research will depend on things like sound quality and construction, but of course, you also need to think about comfort.
We suggest you start with these options:
– Tech Specs
Weight: 24.64 ounces
Ear pad size: Inner (70mm x 50mm) outer (120mm x 100mm)
Frequency range: N/A
The Bose QuietComfort 35 is one of the best products from one of the most highly regarded audio companies in the world. These headphones have earcups that are great for big ears, but they come in at a considerable price point.
One of the reasons we love these headphones is that they are wireless, so you don't have to worry about pulling or rubbing that can make headphones uncomfortable. They are a bit older, but reviews from longtime users show that they hold up.
The audio quality is, of course, superior. The sound is true, rich, and won't hurt your ears if you need to keep them on for a long time. The bass is fantastic and the details don't go missing. If you play games that have soundtracks with varying tones and musical styles, this will be a good option for you.
If you are willing to pay more, you will be able to find a better audio quality, but that's only suggested for those who work in music.  There is also an active noise cancelation feature that will help you to game in peace and quiet.
The microphone on this pair of headphones is really great as well, so you will be able to talk to people on your team while you are gaming.
In terms of looks, they come in black and silver. While the design is simplistic, it is actually beautiful and quite classic (if that matters to you). The earcups have soft padding that feels good and looks good, it doesn't look like elephant skin when it starts to lose some pliancy.
The headband doesn't have a lot of padding, so these don't really look like stereotypical "gaming" headphones.
Some things to consider include the battery life, since these are wireless headphones. You will get up to 20 hours of battery life via a rechargeable lithium-ion battery. A few people have complained that these headphones don't do anything "new," and for the price point, they think they should.

In the end, the Bose QuietComfort 35 II is a great audio solution if you are willing to pay this price. These headphones don't go on sale all that often.
– Tech Specs
Weight: 10.6 ounces
Cable length: 1.5m
Wireless: No
If you are looking for more budget-friendly headphones for big ears, you want to take a second look at the Philips SHP9500. Some of the lower-quality headphones from Philips have put a bad taste in the mouths of people who care about music, but these are really great as a value option.
The audio quality is highly accurate and the level of reproduction is somewhat startling for a pair of headphones at this budget. You will lose some of the bass quality, however. If you are used to headphones that have good bass or you play a lot of games that have rock soundtracks, you might want to look elsewhere.
The sound really is quite rich, however. The open back design helps that, but it does eliminate the noise cancellation, so you cannot really use these in louder areas. For the audiophiles, the impedance is 32 ohms, the sensitivity is 101 decibels, and the frequency response is 12-35,000Hz. This is quite a competitive range for the price.
The design uses a 1.5-meter cable, which is a bit of a disappointment. You will be able to wear them and game, but you won't have much movement, which can be difficult for people who have large ears that stick out. The double-layered headband is comfortable and helps to eliminate some of the chafing that can occur.
With the open-back design, you won't have to worry about heat buildup or sweat after using these headphones for hours.
In the end, Philips is a company with a name that you absolutely know already and they have released some of the best budget headphones in all categories on the market today. They have a lot of experience in building products that will work for a large number of people.

The Philips SHP9500 are excellent budget options for those who have been struggling to find a pair of headphones for big ears. They are affordable, comfortable, and have some good audio reproduction which means you are going to be getting a pretty good deal. The only real problem is the lack of bass.
– Tech Specs
Weight: 28.8 ounces
Ear pad size: Inner (70mm x 70mm) outer (130mm x 130mm)
Frequency range: Frequency range: 10 to 39,800 Hz
Another company that is known for their audio quality is AKG. The K702 is a great choice that comes with extra large earpads, which makes it a great headset for large ears. There will be plenty of room in here. Coming in at a middling price point, it is a good option for someone who is just trying out gaming headsets for the first time.
The design comes after extensive work from AKG on their design and what their phones look like. These are thinner and don't really have as much padding as some of the other options on the list. They are still comfortable, however, and the headphones are lighter as a result.
The earcups do have a good amount of breathable padding that eliminates moisture and heat. They are much, much larger than most of the other headphones on the market today. The open back design helps with the audio quality (more on that next) and makes the sound more all-encompassing.
However, you won't be able to block out outside or ambient noises. The headphones come with a 3 meter detachable cable that is great for home use and the fact that you can detach it makes it great for storage and a clean desk look.
The audio quality is superb, among the best in the industry. AKG acoustics has been granted nearly 1,500 patents in audio technology. You can get notes across the 10-39,800 Hz frequency range, which means you won't miss out on anything.
Some things to consider before buying include the fact that there is sound leakage, which will be a problem for those who really want to be immersed. The bulky design makes them a bit more difficult to travel with if you are going to move around to game with friends or in competition.

Overall, the AKG K702 headphones are a premium choice if you need comfort for bigger ears. They are more expensive,  but they are high quality and will last you for a long time.
– Tech Specs
Weight: 24.64 ounces
Ear pad size: Inner (60mm x 60mm) outer (130mm x 130mm)
Frequency range: 15 – 35,000 Hz
Another great pair of headphones for big ears is the beyerdynamic DT 770 PRO. They were actually designed for music fans, but they have been used by gamers for quite some time now.
They are extremely durable and while they may not be the best looking, they have an extremely reasonable price point. These headphones work really well for big ears because they are lightweight and won't heat up your ears.
They have large earcups that will give you the space for larger ears, especially if your ears tend to stick out from your head a bit. The padding is soft and supple, so you won't get any rubbing.
The audio quality is why so many people stand by this brand and these headphones in particular. The design is a closed back, which means that it isolates the sounds you are hearing and blocks out outside noises.
If you play games that have a ton of bass in the soundtracks, you can adjust these headphones accordingly. They have a frequency range of 5 – 35.000 Hz, which isn't one of the biggest ranges, but it is competitive.
In terms of looks, there are two different color options for these phones (black and gray). They come with a cable that is 3-meters long, which is probably going to be enough for most gamers, but it isn't necessarily long.
Some things to consider include the fact that the cord cannot be replaced or switched out if you do need a longer option. This particular model is so popular that it also tends to be more difficult to find.

In the end, the beyerdynamic DT 770 PRO is a great pair of headphones for larger eats. They offer a combination of good audio and comfort that will allow you to use them for many years. Just remember to clean that soft padding!
What To Look For In The Best Headphones For Big Ears
If you are a hardcore gamer, you need to know that you need headphones. Not only can the noise of gaming impact the people living in your home or near it, you are missing out on many different sounds that you probably want to hear.
If you already have a pair of headphones, you know that many of them haven't been designed for people with big ears.
Gaming headsets have been created to make your life easier, and as they become more popular, people will have more options.
Gone are the days when you can choose this one pair of headphones for your choice if you have ears that stick out from your head or big ears.
Headsets can offer easy, all-in-one solutions that will give you the sound quality you need and sometimes have a microphone so that you can talk to the people with whom you are gaming.
So what should you look for in a pair of headphones for big ears? Let's break it down:
1. Comfort Is King
Headphones aren't always going to be comfortable. When you play games, you move around, sweat, and just cause friction between any pair of headphones. How your headphone fit over your head is one of the main things to consider.
If you are playing for a long period of time, you want to get a headset that is secure and doesn't move. Consider double bands or headsets with padding around the top. Another thing you want to think about is how much heat gets trapped in the headphone cups. Look for materials that are breathable and allow the air out.
Finally, consider the overall weight of the headphones as headphones that are too heavy can give you sore ears, a headache, or even neck pain.
2. Isolation
With gaming, you sometimes need to pay attention to sound quality. This often goes back to the seal, which helps with isolation. If your headphones have poor isolation, it can really change what you hear and what you don't. You want to have as much isolation as possible.
Look at the size and material of the headphone pads to estimate what the quality of that seal maybe. Sometimes, there will be foam pads that need time to mold to the shape of your ears. Even so, I'd look into bigger foam that will be able to make a tight seal for a long time rather than something that isn't as bulk.
Something else to consider is whether or not you will wear glasses while you game. Some pads will have slits built-in for the arms of your glasses or you can supplement with your own.
3. Quality Of The Materials Used
Most gaming headsets are made out of thick plastic, and often it is quite cheap. It is important to find a headset that is sturdy and will take some pulling or dropping.
If you can find a pair that has a metal or wire frame, they are going to be better. If you are stuck with plastic, you will want to find something that has enough range of movement to adjust to the shape of your head. If you want to find a pair of headphones that is all plastic, make sure that you have the padding that will make them comfortable.
Even so, all plastic options are far more likely to snap in half. Then again, all metal options, like many of those from Beyerdynamic, aren't always comfortable. You will have to make some concessions here and there.
4. What Do You Need In  Microphone?
When you are gaming, there needs to be some communication with other people. Often, the microphone is overlooked when people are looking for a gaming headset, but it really shoulnd't be – it should be something you take into serious consideration.
A bad microphone will limit the number of people you can play with because they don't want to talk to someone who sounds like they are coming through a tunnel. The mics won't be the best mics ever, but you should look for something that has different settings that you can adjust.
Personally, I'd look for a headset that has a detachable mic so that you can take it off when you aren't using it. Or at least look for one that you can move out of the way so it isn't in your line of vision.
5. What Does The Headset Look Like?
Now, if you tend to be vain and want a headset that is good looking, there are some better options and some not so great options.
If you are the type of person who is going to film yourself playing games or you want to look good while doing it, there are certain headphones that you should consider more than others.
Manufacturers haven't always paid attention to what those headphones looked like, but increasingly they are doing that. Some headphones will have a smoother fit, higher quality materials, different colors, lights, and more. You can personalize your headphones and make them your own.
It is hard to find a decent pair of gaming headphones for big ears. It is even harder if you are trying to look within a certain budget. You will need to spend more money than you'd think, but you don't need to break the bank right away.
Instead, ease yourself into process by trying out a lower-priced option and moving up from there. Headphones tend to last a long time (if you are careful and you don't step on them), so think of it as an investment.