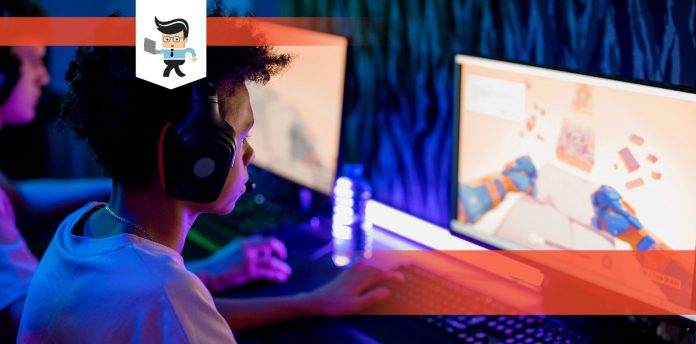 There are a plethora of headphones available for purchase which claim to be the best for gaming, but there are also plenty of excellent non-gaming headphones for gaming.
However, with such a huge selection to choose from, it can be daunting to choose which one is right for you.
In this article, we've done the hard part for you by compiling this list comparing four of the best options. Just pick one of these, and you won't be disappointed!
| | | | | |
| --- | --- | --- | --- | --- |
| | Audio-Technica ATH-AD700X | Beyerdynamic 459038 DT 990 PRO | Samson Technologies SR850 | Sennheiser HD280PRO |
| Comfort | Standard Comfort | Extra comfort | Standard Comfort | Standard Comfort |
| Sound Profile | Clear mids and natural sounding highs and lows | Dynamic sound range with boosted highs and lows | Dynamic range with natural sound through frequencies | Passive ambient noise reduction |
| Physical Profile | Lightweight and slim profile | Standard bulk and heft | Bulky | Compact design |
| Construction | Standard | Very strong | Standard | Lighter than standard |
The 4 Best Non-Gaming Headphones for Gaming
The best headphones for gaming don't necessarily have to be labeled as "gaming headphones." In fact, you can choose a non-gaming headphone set for quite a bit cheaper without having to give up much in the way of quality sound.
On top of that, many non-gaming headphones offer superior comfort and audio due to being designed with music producers or other audio professionals in mind. Here are the best options we have found.
Pros
Clear midrange sound
Comes with ¼" adapter
Wing support for comfort fit
Cons
The Audio Technica ATH AD7000X Audiophile Open-Air headphones are ideal for long gaming sessions. They are lightweight and designed for your comfort. The 3D wing support system ensures that they fit comfortably and firmly on your head, while fully covering your ears. The wings automatically adjust to your head, letting you get on with what you really care about: experiencing exceptional sound.
The audio produced by these headphones is clear and natural sounding. These headphones allow the treble sounds to stay treble, but they don't skimp on the bass frequencies. Even the midrange audio comes through clearly. The directional audio is great, allowing you to feel fully immersed in your audio and visual experience.
The headphones also come with a ¼" adapter. This gives you a lot more options for hardware when considering your audio source. It ensures that, no matter what your needs are, these headphones are versatile enough to handle them. While the cable is not removable, and therefore cannot be replaced if damaged, it is well-constructed and built to last.

The auditory performance, paired with the comfortable design, will allow you to wear them all day without issue, making these an excellent choice for anyone looking to round out comfort with exceptional audio quality.
Pros
Durable construction
Soft, replaceable ear pads
Strong highs and lows
Cons
Higher priced
Hard wired cable
These Beyerdynamic 459038 DT 990 PRO open Studio headphones are a great pick for anyone interested in hearing every sound frequency available to them. The headphones bring out the bass and treble of your audio clearly and without distortion.
However, the middle frequencies can get lost, and therefore may not provide the most natural-sounding audio. Regardless, the boosted bass and treble create a v-shaped audio profile that is sure to blow your ears away (in a good way!).
While the cable is hard-wired and can't be easily replaced if it is damaged, the headphones are well constructed overall. The main housing is plastic, but don't let that fool you. This German-made polymer blend is more than durable enough to keep these headphones from breaking arbitrarily. Short of throwing them down the stairs, they will last you an extremely long time.
Meanwhile, the ear pads are made of soft velour. They cup your ears gently and provide a snug but comfortable fit. The cushion creates a tight seal to keep the audio experience in and the outside world out. The soft material can also sit on your ears for hours without causing any soreness.

These headphones offer a lot of sound in a well-constructed form factor. If you're looking for a durable set of headphones that will boost the bass and treble, this is the choice for you.
Pros
Dynamic frequency range
Self-adjusting headband
Velour ear pads
Inexpensive
Cons
Semi-open design can lead to leakage of sound
These Samson Technologies SR850 Semi Open-Back Studio Reference headphones are a great choice for the ultra-budget conscious consumer. However, the lower price doesn't mean a low-end audio experience!
With proprietary 50mm drivers, these headphones can channel nearly any sound you can think to put through them. The highs are crisp, yet light and airy. The midrange frequencies come through clearly, but capture the subtle changes in sound. The bass is punchy and full of depth. This dynamic range means these headphones respond well to many and various sounds, whether it's the revving engine of your Mario Kart vehicle or the sounds of battle from the latest Call of Duty game.
The fit is very comfortable, and the headphones sit in place without issue. The self-adjusting headband helps keep everything snug on your head, while the velour ear pads cushion your ears softly. You can easily wear them for hours without feeling fatigued.
The semi-open design can lead to sound leakage, which is a downside. If you're worried about ambient noise getting in the headphones, or other people hearing what you're listening, it may not be the best choice. However, this semi-open shape also allows for a dynamic audio experience and gives the headphones their range of sound.

These headphones offer a great, dynamic audio experience and won't crush your ears if you wear them too long.
Pros
Up to 32dB reduction of noise
Warm, natural sound
Collapsible design for portability and storage
Cons
The Sennheiser HD280PRO headphones are great for anyone looking for a compact design without sacrificing audio quality. In fact, many features of these headphones create a superior sound than many other headphones on the market.
The warm, natural sound of these headphones will immerse you in whatever audio you're experiencing. They have a very linear sound, meaning that, no matter what you're listening to, the sound will remain as it was intended through the bass, mids, and trebles. Even at higher volumes, there is no distortion in any of the frequencies.
However, you won't need to turn the volume up too loud to listen through these headphones anyway. The soft, comfortable, around-the-ear ear pads cut down on ambient noise up to 32dB. The passive noise cancellation means you can enjoy your audio in noisy environments without blowing out your own eardrums in the process. Even while the form factor is built to collapse, it allows the sound to remain firm, creating a wall of audio while blocking the outside world.
The collapsible design allows you to pack these headphones into a bag when you're on the go, or put them in a drawer for storage at home. Even the earpads swivel to allow the headphones to be folded in on themselves. With these, you can obtain superb audio quality no matter where you are.
The chord can be a bit bulky. It is made of a heavier material, and the length is intended to allow you to be further from your other hardware. However, it also means you have the flexibility of movement while still getting access to excellent sound. Plus, the heavier cord construction means there is less chance of the cables twisting and snapping, thereby forcing you to make another purchase in the future.

These well-rounded headphones are flexible in more ways than one. For anyone looking for a storage-friendly set of headphones that offer crisp audio from bass to treble, these are the best choice.
Considerations when Buying Non-Gaming Headphones for Gaming
There are a lot of benefits to searching non-gaming headphones compared to constraining your search to just gaming headphones.
There are also quite a few things you need to consider when looking at buying non-gaming headphones for gaming, particularly when it comes to the physical sensation of wearing the headphones, the sound they produce, and how long they will last you.
When looking to purchase, keep these things in mind:
Obviously, you want comfortable headphones no matter what you're doing. However, when it comes to gaming, you will probably find yourself spending hours wearing your chosen headphones. If the headphones squeeze your ears or pinch the top of your head, you can find yourself losing the joy of spending your time immersed in the game.
Around-the-ear pads are generally better than on-the-ear pads because they will fit more comfortably over a long period of time. The
the headphones will be. Soft materials mean your ears won't feel trapped even by around-the-ear pads.
Each headphone is going to have a slightly different sound. You will need to determine how important a particular sound profile is to you. Some will have a natural sound, attempting to simply amplify a "naked" sound profile that mimics real life. Others will amplify the treble frequencies or the bass frequencies to get a more "produced" sound.
Many times, boosted highs and lows will mean that middle frequencies get lost, covering up some of the more subtle audio experiences. You will need to determine which sound profile you prefer and tailor your choice to that.
Some headphones are bulky but have a great sound which makes that bulk worth it. Some headphones have quality sound but are able to pack it into a lower profile that doesn't sit awkwardly on your head. Often, it's a matter of subjective preference and head shape. If compact headphones that fit on your ear and fold up are your top priority, you may find that you have to give up some durability or a little bit of audio range.
However, you might find that even while a pair of headphones immerse you in sound, they just feel too bulky and heavy on your head. The best headphones make their presence unknown. You want to almost forget you're even wearing them. The bulkier headphones are, the less subtle they will feel on your head and the more you will notice them during gameplay. You will need to determine how important that is for your particular needs.
Do you need headphones that can take a beating, or do you treat your things with delicate hands? You know your own tendencies with regard to how "beat up" your stuff gets. You'll need to determine how important construction is for you when choosing your headphones.
A more durable design will last longer, especially if you tend to drop your headphones a lot or throw them on your desk after a gaming session. Stronger plastics and bulkier, heavier construction materials are used to get the most life out of whatever headphones you purchase. However, if you find you're not that rough with your things, you may not have to pay much attention to the kinds of materials from which your new headphones are constructed.
Final Thoughts
Between fit, construction, sound profile, and audio quality, there is a lot to choose from when purchasing headphones for gaming. Any of the headphones listed offer quality sound without busting your budget. All of them offer a comfortable fit and quality sound through all frequencies, ensuring you can be immersed in gameplay for whatever length of time you desire.
We think the best bang for your buck is the Audio-Technica ATH-AD700X Audiophile Open-Air Headphones. They aren't the most expensive pair of headphones on this list, but they are the complete package when it comes to comfort and audio quality.