The difference between headphone and headset is very subtle and is quite overlooked most times. Even though both devices serve the single purpose of listening, one of them has a slight upper hand but is also used by specific professionals at a specific time of the day or night.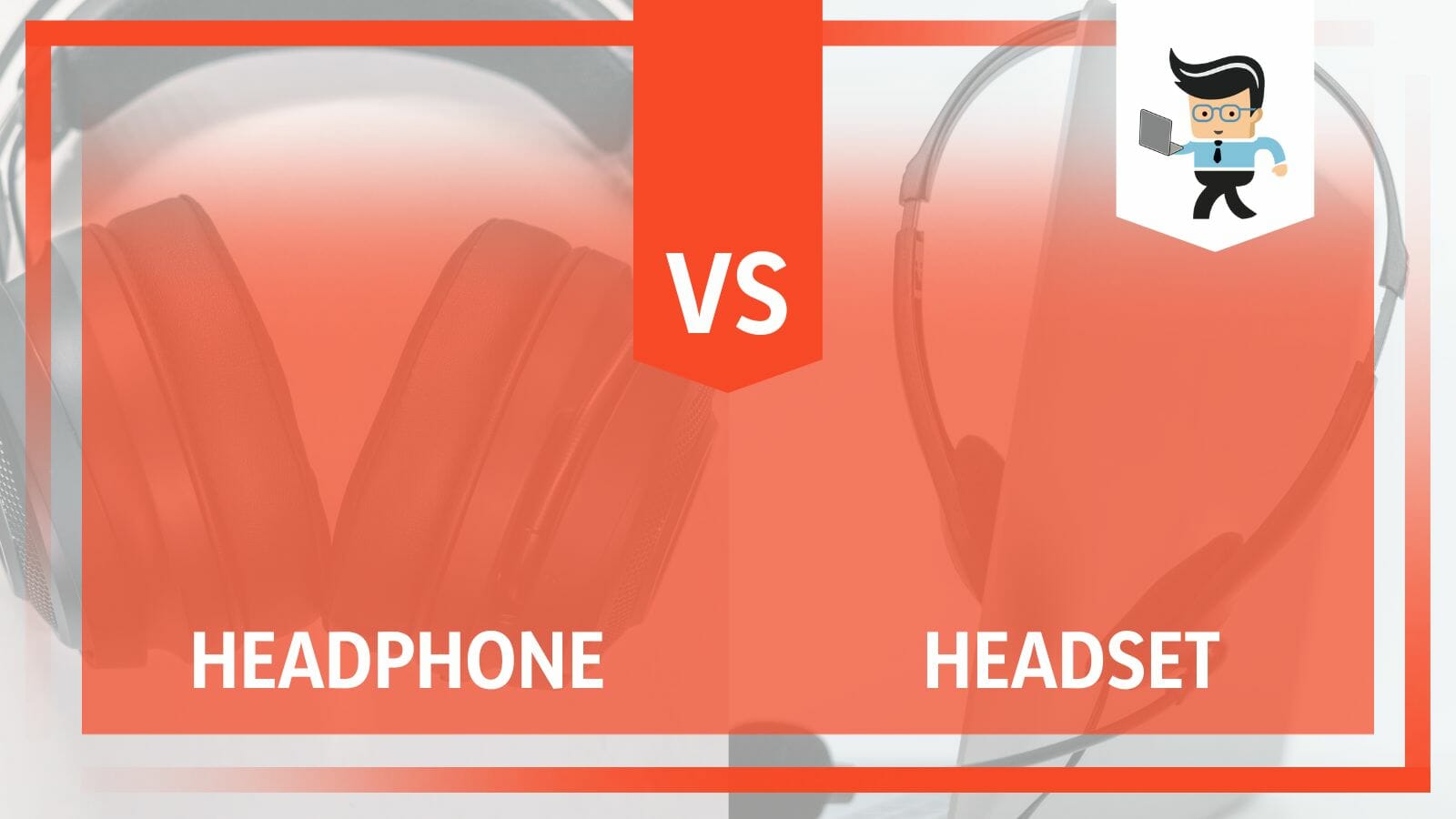 In the market today, you will find hundreds of choices for both headphones and headsets, but which one is the best for you and your needs? In this article, we will discover everything there is to know about headphones and headsets while making you a pro in choosing the right device that is perfect according to your lifestyle.
| | | |
| --- | --- | --- |
| Features | Headphone | Headset |
| Design  | Generic | Generic with a Microphone |
| Active Noise Cancellation  | Yes | Yes |
| Microphone  | No | Yes |
| Types | In-ear, Over-ear, Closed, Open, Wireless, Truly Wireless, Wired | In-ear, Over-ear, Closed, Open, Wireless, Truly Wireless, Wired |
| Price Range  | $50-$3000 | $50-$2000 |
| Famous Brands  | Beats by Dr. Dre, Apple | Jabra, Xbox, Logitech |
| Best Feature  | Sound Quality | Microphone |
| Best In the Market  | Sony WH-1000XMA4 | Razer BlackShark V2 |
What Is the Main Difference Between a Headphone and a Headset?
The main difference between a headphone and a headset is that
a headphone does not have a built-in microphone
while a headset does. It is that simple. The headset has an additional protruding piece of equipment from the rear end of the headphone which is a microphone.
In the market today, there are countless options for all types of headphones and headsets that you can choose from. It is actually amazing to see how many different designs are currently being made.
The latest innovation would have to be the truly wireless earbuds that serve as a headphone and also as a headset because they have built-in microphones.
The use of headphones has skyrocketed in the last few years and the main reason behind it is that these devices are fashionable and they look quite cool in aesthetics.
Other than that, with the advent of working from home culture, people have opted for the use of headsets for a more profound communicating experience and also on some levels, professionalism.
Whatever the reason, headphones and headsets have become an important part of our lives and most of us often confuse the two terms. Here, we take a look at the two terms, their features, and some additional information that will help you in understanding the devices better.
What Are Headphones Best Known For?
Headphones are best known for their amazing sound quality and their chic designs. All the great companies and celebrities endorse or are associated with one or more headphone-making companies because lately, this has become a very booming business. There has also been a huge improvement in these devices.
Companies like Sony, Xbox, Logitech, and many more have come out with great-looking and sounding headphones for a whopping set price. But these prices do not stop the fanatics from buying the headphones that they are attracted to.
The headphones are also very famous among students of all ages, whether it is for studying, entertainment purposes, or exercise. It has become a necessity. Media has also portrayed it as an undying necessity so people have no choice but to give in to their impulses and buy them.
While investing your money, it is very important to make informed decisions that will prove to be great in the long term. For this purpose, the following is an extensive take on headphones and some of their mostly looked-upon features so you can choose better.
– Design
The design of a headphone is quite generic. Over time, headphones and their designs have only become minimal and that is probably a very cool update. Headphones do not have those adjusting threads hanging out or the chunky buttons anymore.
Presently, the aesthetic of a headphone is very subtle to look at with minimal designs and a sleek finish.
The design of the ear muff has also changed from the generic circular shape to a broad oval — to better grip the ear — and noise cancellation, which is a very interesting and ever-evolving feature in the headphones.
Some of the headphones also offer touch sensors which allow the user to perform certain functions by touching gestures and without having to open the phone, tablet, or laptop to actually perform it.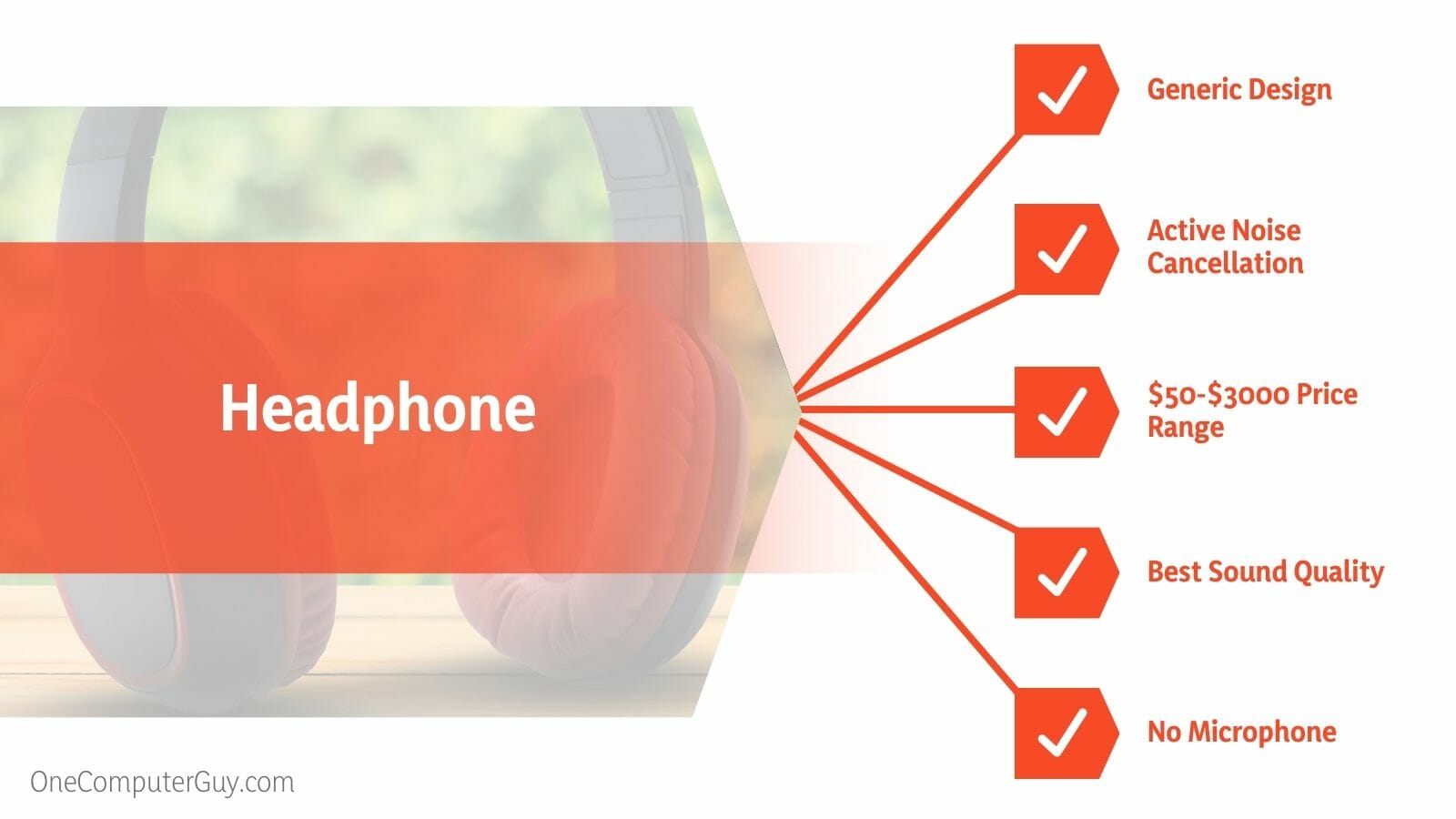 – Types
There are many types of headphones currently present in the market based on their designs. Some go all over your head, some are purely wireless, and some have a wire coming out of them so it is basically a lot of choices. Here, we take a closer look at some of the most basic types of headphones:
Wired: These headphones have a wire and a headphone cable that plugs into your primary sound device. You do not need to charge them as the cable serves as a source of power when connected as well.
Wireless: Wireless headphones have a built-in audio jack in which you can plug your cable coming from the device or just use the headphones as it is, but they might require charging prior to using them without any cable connection.
True Wireless: Truly wireless headphones do not have any sort of cables coming out or going into the device. They do not have any sort of audio jack and run solely on charging and the trusty Bluetooth connection. This may be a problem for some people who like to use their headphones all the time and do not have the time to charge their headphones. Nevertheless, this is one of the most hyped techs right now and surely there are many positive reasons behind it.
Circumaural: These are normally called the big chunky headphones or the headphones that go over the entirety of your ears. These headphones have ellipsoid ear pads that offer great noise cancellation and sound quality. Because these headphones are larger in size and cover the entire ear, they can be heavier on the ear and sometimes feel uncomfortable.
Supra-aural: These type of headphones only covers the ear and not the surroundings. It has a pad that presses firmly on the ear. If compared to the circumaural headphones, they have lighter weight and offer lesser sound quality.
In-ear: In-ear headphones might not be for everyone as they are smaller in size and are inserted into the ear canal. They may be irritating to some users and do not fit properly for others.
Open-back: These headphones have an open back of the earcups. They are not really the best when it comes to noise cancellation because due to the open earcap, sound may leak from them.
Semi-open: These headphones have a semi-kind of situation. They are neither fully open from the back nor are they fully closed. There is no correct and technical term for such headphones except for semi-open.
Closed-back: The last type of headphones is the closed-back headphones that have a closed back of the earcups so no sound leaks out of them. They make a great choice for noise canceling headphones.
– Benefits
The benefits of a headphone are many. The reason behind it is that headphones are a very versatile device even though they are used for the single purpose of listening to audio but the range of people and professionals that make use of it is amazing.
The biggest benefit of headphones is surely in the entertainment sector, where people use them to immerse themselves in personal entertainment and pleasure.
People have found comfort in listening to music and control their anxiety better by indulging in their own personal space while in a public spot. Other than entertainment, headphones or their look-alikes called earmuffs are heavily used for the safekeeping of the eardrums in cases where outside noise could damage them.
All in all, there are countless benefits to owning a pair of headphones and it is not a trivial detail.
– Best Headphones in the Market
The best headphones in the market right now are the Sony WH-1000XM4, and rightfully so. They have amazing sound quality and a sleek yet sophisticated design, which makes them very high-end.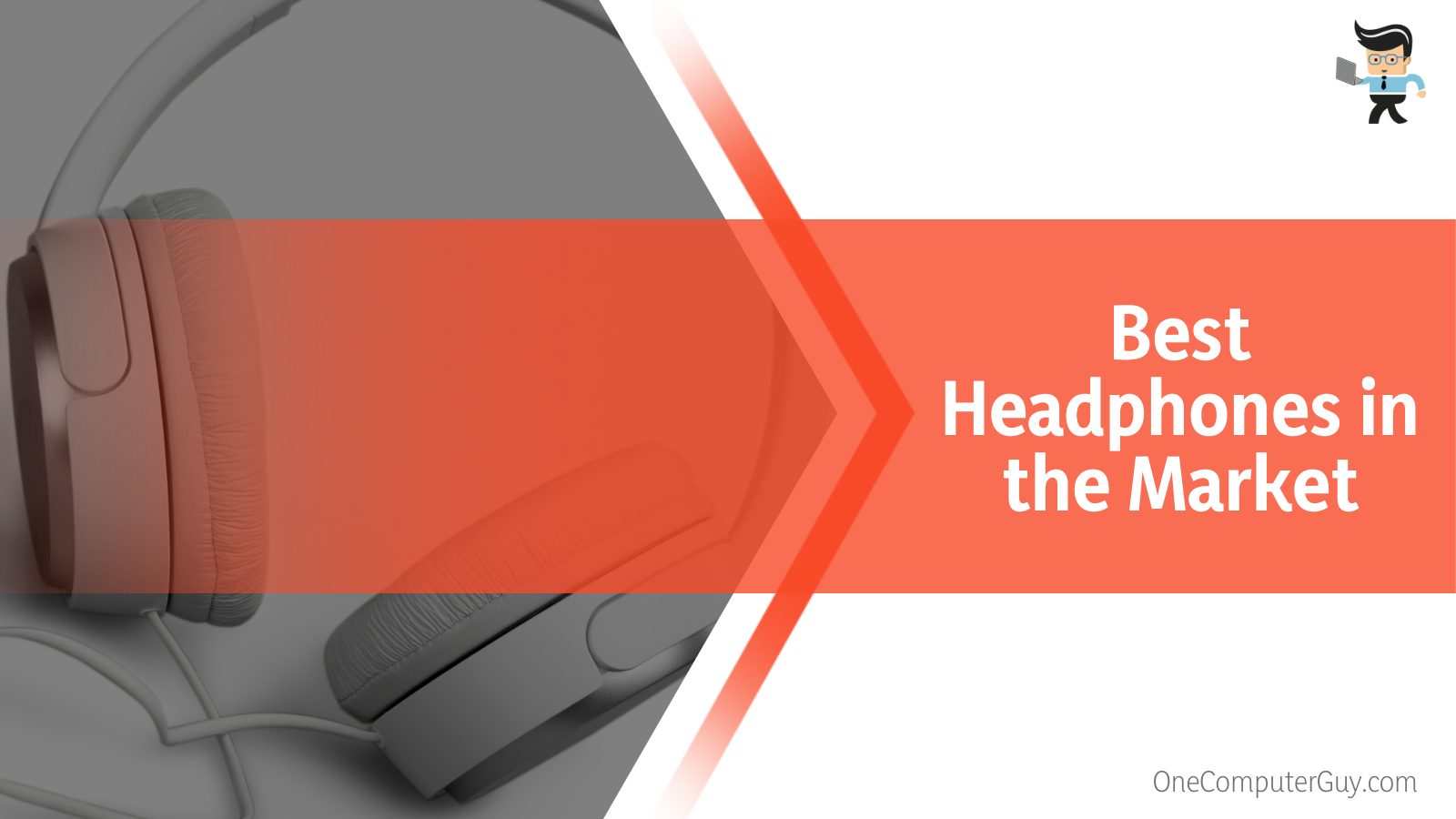 Another important selling point for these headphones is that they offer great noise cancellation and also multi-point pairing. The only downside to them is that they are not water-resistant.
The second best headphones out there are the Cambridge Auto Melomania 1 Plus, which are lightweight earbuds with exceptional sound quality and battery life. After that, we surely need to talk about the Sennheiser Momentum 4 Wireless that are aesthetically very minimal but are jam-packed with various high-end qualities to offer.
– Headphones vs Earbuds
The most essential difference between the two devices is their size. Headphones are a lot chunkier and bigger than earbuds, which are substantially compact and lightweight.
There are also many differences when it comes to price range, design, usage, and benefits. Earbuds are great for outdoor activities or exercises while headphones are great for personal entertainment and pleasure.
Choosing between the two devices is more of a personal preference question. It is for certain that both are incredible in their own ways.
What Are Headsets Best Known For?
Headsets are best known for having both microphone and headphone qualities in one device. They are very popular among communicative professionals. Nowadays, there are many different choices in the market where you can choose a headset according to your personal preference.
Headsets are best known for providing all that the headphones provide, in addition to a microphone that can be used in various ways. Headsets have been around since way before the common headphone was known because wired handsfree was dominating the market for use in personal entertainment.
Headsets have a tad bit different design and aesthetics than the headphones but are equally popular.
Here, we talk about all the features of headsets that will provide a deeper insight into the device and why it is a great choice for certain people and their work.
– Design
Just like normal headphones, headsets also have a semi-circle structure but there is only one addition, the protruding microphone. The microphone is mostly attached to the right earcap of the headset and is adjustable.
Some might say that it makes the aesthetic look of a headphone ugly, but a necessity is a necessity. Most headsets come with an attached microphone but in some cases, they can be toggled off and on as you please.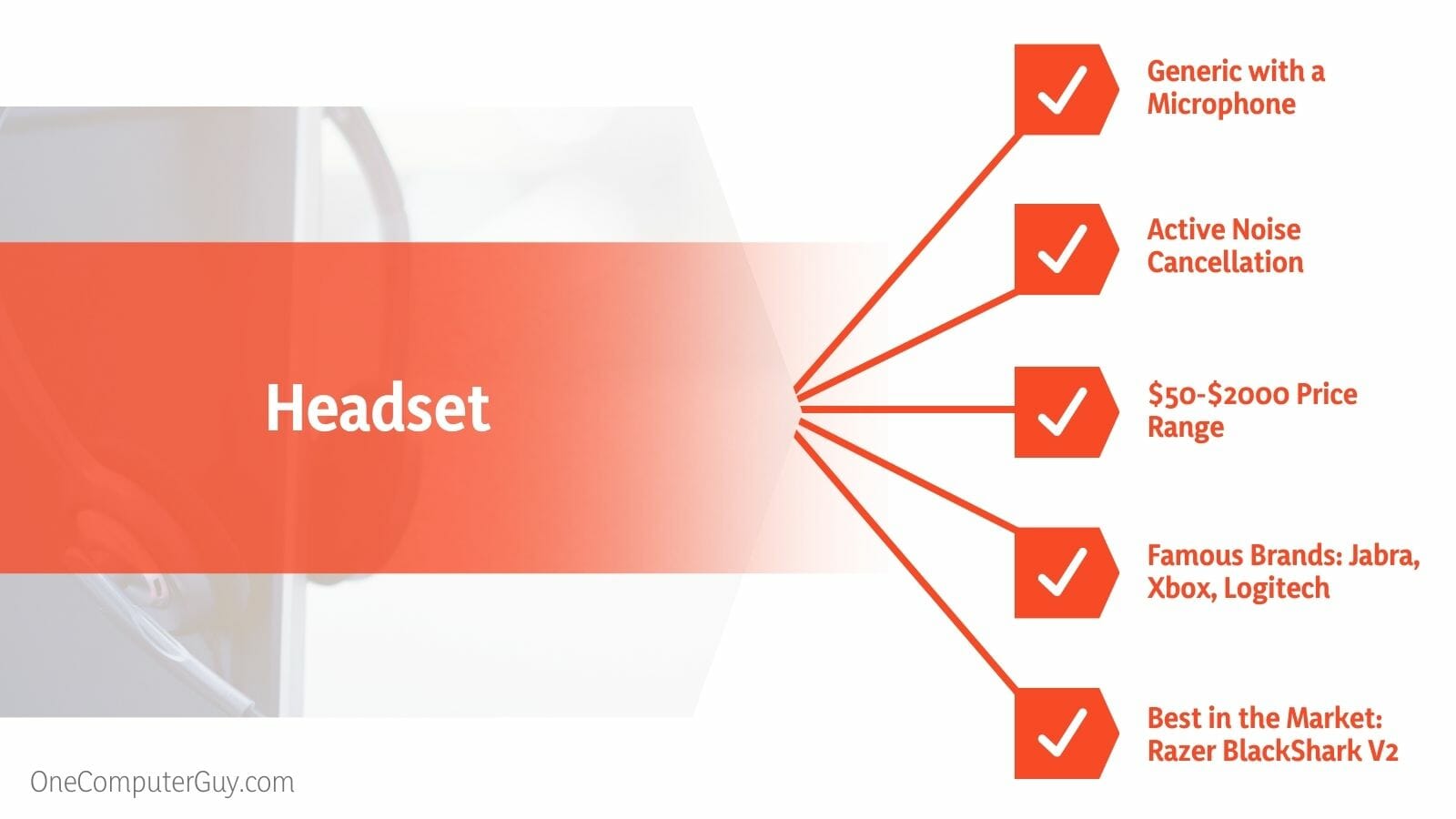 – Types
Headsets have the same types as headphones, but only with the addition of a microphone. Here are its types:
Wired
Wireless
Truly wireless
Circumaural
Supra-aural
In-ear
Open back
Semi-open back
Closed back
All of these come in various colors and aesthetics so you have a great variety to look at and choose from. One of the other important features of a headset is that active noise cancellation is not a very big concern here as it is for headphones.
– Benefits
If you talk about the benefits of a headset, they are surely more professional in the sense than a pair of headphones. Headsets are generally used in an office setting where communicating is of utmost importance.
With the advent of people working from home, the sales of headsets have seen an upward trend.
Other than office settings, game players indulge in the use of headsets because communicating with your team players is crucial in winning a game. So it is visible that headsets and its microphone are vital for communication, whether in the offices, in gaming scenarios, or even when it comes to recording audio of any sort for any purpose.
– Best Headsets in the Market
The best headsets in the market right now are the Razer Blackshakr V2, which are in their own space. They are a great set of headsets when it comes to gaming or even work-related problems.
They work great and are wired so there is no issue with charging them. The second best headsets out there are surely the HyperX Cloud Alpha Wireless headsets that offer a great battery life and an unmatched sound quality in the set.
– Headset vs Earbuds
Earbuds have changed the game when it comes to headsets. The small-sized earbuds offer great sound quality and some noise cancellation as well, but the introduction of a microphone has made them some of the best-made techs yet.
However, people still very much believe in the use of headsets over earbuds because they seem more professional and there is the advantage of no prior charging. So choosing between a headset and a set of earbuds is purely a personal choice.
Another interesting comparison is of earbuds vs Bluetooth headset. While they offer the same communication and characteristics, the biggest difference is the size. Earbuds are placed inside the ear while the Bluetooth headset sits firmly on the ear. A great example of a Bluetooth headset is the Plantronics Voyager 5200 or the Jabra Stealth.
FAQ
– Should I Use Headphones or Headsets While Exercising?
You should use headphones while exercising, and the best headphones to use are the JBL Reflect Aero TWS, which are truly wireless earbuds that come in great colors with great sound quality and are built well. They are sweat-resistant and have three flapped grips.
They also have great battery life and sit firmly in your ear. They are also aesthetically pleasing and would go great with your working out attire.
– What To Do if I Break the Microphone of My Headset?
If you break the microphone of your headset, there is nothing you can do about it because the wire is probably broken and you cannot connect them again.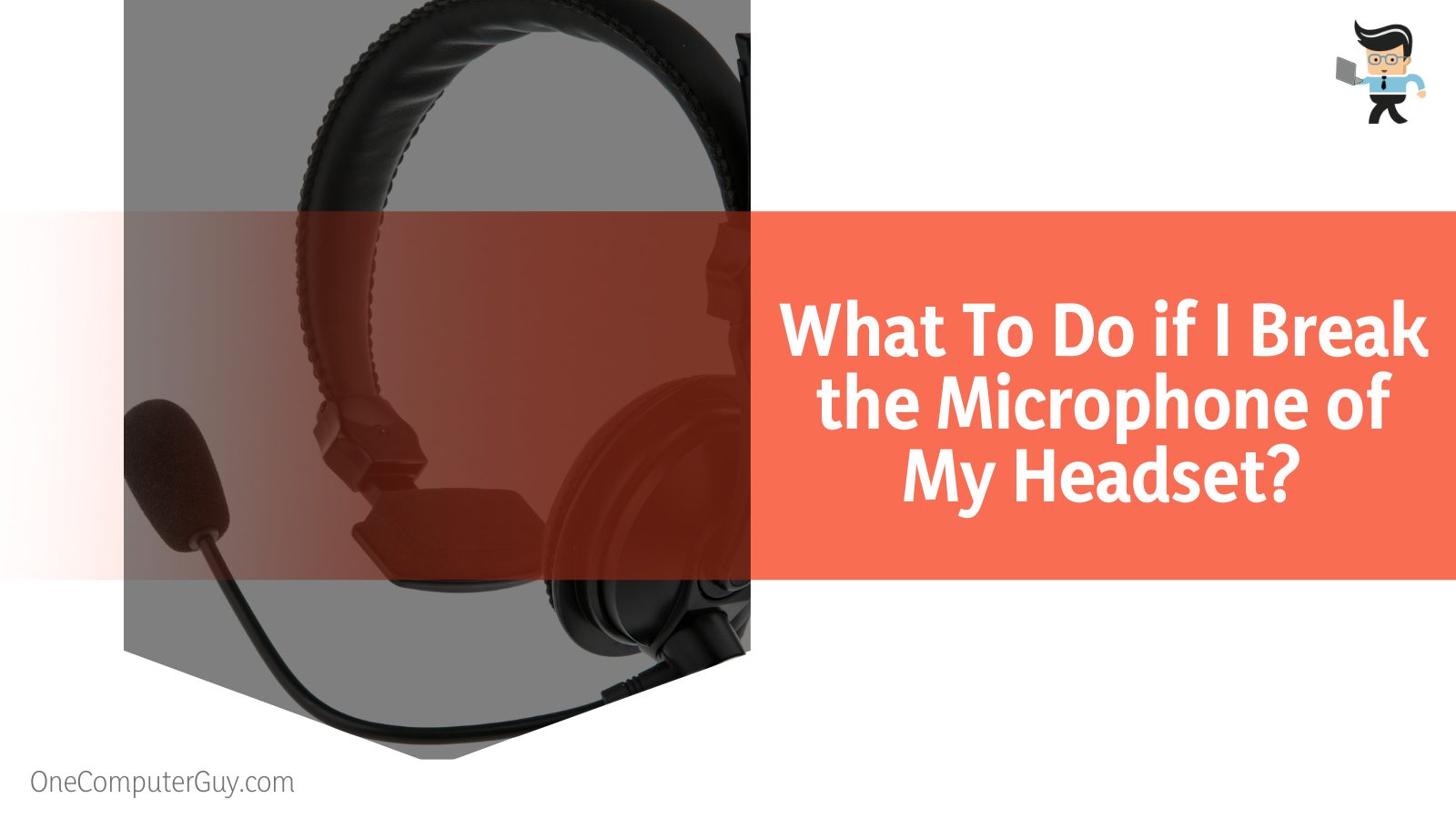 In case the wire is still intact and only a small piece of the plastic is broken, you can still use it.
Conclusion
We have discussed a lot of ground on the similarities and differences between headphones and headsets. We are sure you can positively tell them apart now and make an informed choice if given one.
The main difference between a headphone and a headset is that a headphone does not have a built-in microphone while a headset does. The best headphones in the market right now are the Sony WH-1000XM4 as they have an amazing sound quality and a sleek yet sophisticated design, which makes them very high-end.
The best headset in the market right now is the Razer Blackshakr V2, which are are a great set of headsets when it comes to gaming or professional work. The small-sized earbuds offer great sound quality and some noise cancellation as well, but the introduction of a microphone has made them some of the best-made techs yet.
We hope that you found everything that you are looking for and more in this complete guide. Happy Shopping!