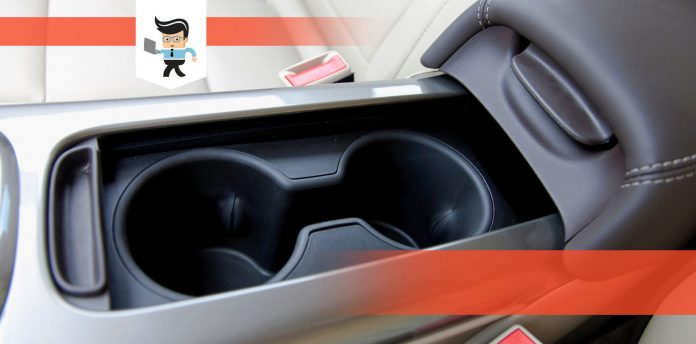 A gaming chair with cup holders is an excellent idea if you drink a lot while playing your favorite games or doing some serious work. That's because it's quite the bother to get up to reach out for something to drink while struggling with some activity.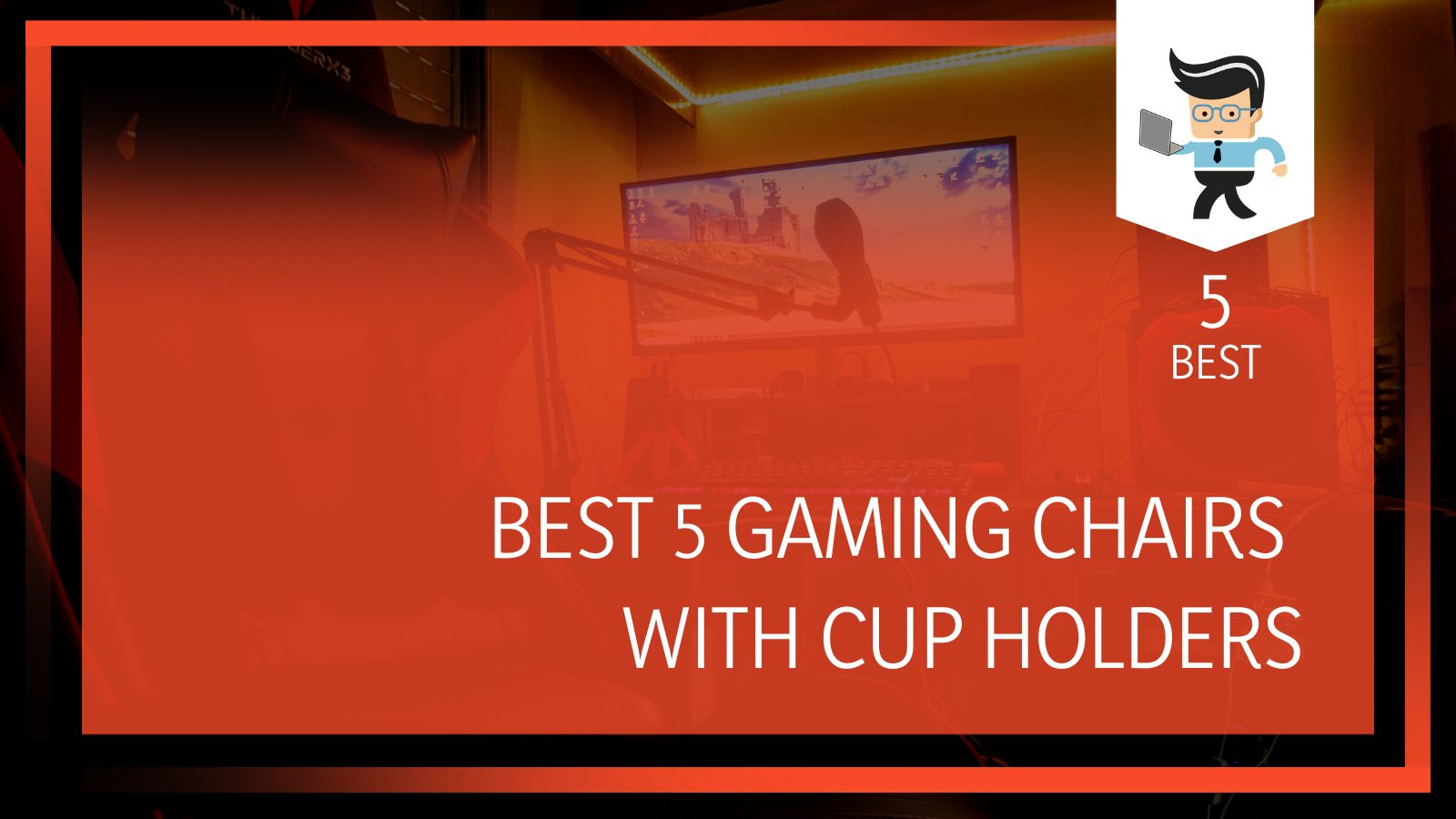 However, there are quite a number of options to choose from that could potentially offer the much-needed flexibility, comfort, and convenience of a gaming chair with cup holders.
Our team has put the best models to the test to help you determine which gaming chair with cup holders is most suitable for your gaming setup. Let's get to it! 
Key Specifications
Product
Key Specifications
Powerstone Recliner Chair

Material: Faux leather, sponge

Frame: metal

Recline: 90 – 140 degrees

Max weight: 264.5 pounds

Ergonomics: Massage, footrest

Respawn RSP-900

Material: Leather

Frame: Metal, plastic

Recline: 90 – 135 degrees

Max weight: 275 pounds

Ergonomics: Headrest, pillow

Merax Gaming Chair

Material: PU leather

Frame: Steel, metal

Recline: 90 – 135 degrees

Max weight: 275 pounds

Ergonomics: Headrest, lumbar

Depointer X Gaming Chair

Material: Leather, sponge

Frame: Alloy steel

Recline: 90 – 135 degrees

Max weight: 275 pounds

Ergonomics: Lumbar

Massage Video Gaming Chair

Material: PU leather, sponge

Frame: Strong Iron

Recline: 90 – 140 degrees

Max weight: 264.5 pounds

Ergonomics: Headrest
Gaming Chairs With Cup Holders: Important Accessory or Out of Place?
It's a well-known secret that gaming chairs are an investment. That's the case if you want to take the world of gaming or streaming by storm. Moreover, it's no longer expected of enthusiasts to operate on regular desks and chairs.
You need something with pomp and style. To that end, gaming chairs are here to stay and provide the proper comfort and back support for long hours of sitting. Now, cup holders form part of the mix to make your time spent playing or working more productive and comfortable. You no longer have to leave your comfort zone for a drink of your favorite beverage.
Get your bottle of water, coffee, and other drinks right where you want them while playing engaging games. Without such parts, immersive games could leave you dehydrated without you knowing. We have put together this list and review to help you identify the best model for your needs for this and other obvious reasons.
We already know that the chairs here have cup holders included in their build. However, the chairs have more to offer when you take a closer look at them. Without much ado, here are five chairs that rock cup holders you can get used to.
Best Gaming Chairs With Cup Holders
Pros
 

Strong and durable materials

 

Up to eight massage modes

 

Ergonomic chair with cup holder and side pocket

 

Perfect for gaming and reading
Cons
 

You can't adjust the seat height
With this Powerstone recliner chair with cup holders, you get a very ergonomic model and boasts some unique features. We have marked it out as comfortable because you can recline the chair to find your sweet spot.
– Premium Size and Material: Smooth and Relaxing
The best chairs often sport the best materials. This Powerstone chair does its bit with premium materials. For example, you've got high-quality PU leather and a resilient sponge to give you excellent experiences.
The cover is breathable, water-resistant, and at the same time, easy to clean and maintain. Having a seat with ideal dimensions is a positive. It means you get to enjoy the chair and keep it for a long time.
– Comfort: Adjust and Customize Your Chair to Suit Your Posture
We mentioned how ergonomic this chair is and the recline feature that helps with that. Well, you can recline the back from 90 to 140 degrees to find the most suitable angle for gaming or resting. You also get to swivel around your space to pick anything within arms reach or when you operate multiple screens.
With the reclining back and the extendable leg rear, you can put your feet up and relax. That way, if you feel pressure on your legs, you can raise them and chill.
– Massage Mode: Choose From Eight Convenient Options
The massage features a vast improvement on this chair by Powerstone. Such a feature helps with relaxation and good blood flow. We all know how the body gets when you play or work for extended periods. The chair has four massage spots to cope with that and fatigue. From this four, you have two on the back and two on the lumbar areas.
In addition to that, you can tweak things with eight massage modes to help you. That way, you can adjust massage strength and positions depending on your needs, while the headrest pillow can relax your neck.
– User-Friendly Design: Includes Cup Holder and Side Pocket
A chair with essential accessories makes every time using it worth the while. Powerstone includes a cup holder and side pocket for your immediate needs. With the side pouch, you can store your controller, phone, and notebooks. However, you can't adjust the seat height.
The built-in cup holder appears in the left armrest and is convenient to place cups.

– Overview
The Powerstone chair is durable and comfortable for a lot of functions. If you love pouches, cup holders, and a relaxing massage feature, this is your chair.
Pros
 

It has a recliner form factor

 

Built with removable side pouch and cup holder

 

Extendable footrest

 

Removable headrest and segmented padding
Cons
The Respawn RSP-900 is a racing-style chair with cup holders and ranks as an exciting choice for gamers. That's because some consider it as one of the best gaming chairs for Xbox One. Besides that, you get about five color variants while some quality materials hold the chair together. Among such materials, leather and metal figures are the most prominent.
– Continuous Surface: No Hooked Wires
There's a continuous surface here with independent controls. What this means is that the chair features a footrest without open spaces. That way, wires won't get caught in between to cause some discomfort. However, the joined surface still operates by itself so that you have total control over your gaming experiences.
– Enjoy Your Favorite Drinks Without Stepping Out of Your Chair
Stopping your game to get much-needed fluids for your body won't only stop your flow but might cost you some concentration. To that end, a cup holder comes with this gaming chair. What's more, Respawn includes a side pouch that hangs off the left arm so that you have your controllers close. Also, the cup holder is fixed into the left arm. This means no pausing to refuel anymore.
– Recliner: Optimized for Comfort and Convenience
Gamers can recline with confidence because Respawn gives you a 135-degree recline coupled with a 360-degree swivel base. With these features on the chair, you get sturdy support for the extendable footrest and reclining back. That way, your only job is focusing on your opponents.
The materials also help to contain the maximum weight capacity of 275 pounds. Moreover, you get more comfort from the plush removable headrest pillow and segmented padding for the ultimate experience.

– Overview
This is a functional gaming recliner chair that lets you optimize several parts for more comfort and output. It's an ideal choice for smaller gamers looking for cup holders and a relaxed frame.
Pros
 

Features two cup holders

 

Reclining feature with dense seat padding

 

Adjustable headrest and lumbar support

 

Features removable pouches
Cons
 

Average build construction
Some chairs come with cup holders attached to either arm of the chair. This Merax gaming and computer chair comes with two cup holders.
It's strong enough, thanks to the integrated metal steel frame. For covers, you get PU leather which gives it a sleek look. Again, the chair's seat is padded with a dense, thick sponge to provide optimal comfort.
Merax makes this chair with two color variants to choose from. However, the features make for an interesting read even with the limited color options and might have what you want.
– Ergonomics: Less Fatigue and More Energy
The chair is designed with a reclining feature between 90 to 135 degrees. All you have to do is set your recline angle and proceed to lock it so that the seat's backrest does not bounce back.
In addition to that, this Merax chair comes with an adjustable headrest and lumbar support that ensures a correct sitting posture during your gaming sessions. It's crucial your back and natural posture stay the same even after prolonged periods of sitting.
With a 360-degree swivel feature and infinite locking positions, you have a safe and mobile way to play games and develop a comfortable pose. The chair also comes with a max bodyweight capacity of 275 pounds.
Still, under ergonomics, you get an adjustable headrest and lumbar support for a more relaxing time. It sure helps to have more help when the chair's features don't do enough to protect you.
– Cup Holders and Side Pouches: Total Convenience
The cup holders are convenient and placed within reach. With both, there's no excuse or need to get up from your chair. For example, you can have water on one side and your favorite juice on the other side.
The pouches also work a treat. They appear on the side and are removable when you don't need them or move some items. With two of the pockets hanging off the chair, you can store your game controllers and headphones within your reach.
– Continuous Play: Only Stop to Rest
Comfort is vital for gaming. The seat covers, padding, upholstery, and additional pillows see to that. That way, you only have to stop for a rest or a little nap.

– Overview
Hydration is a crucial requirement for gamers who spend a lot of time sitting down. If you need to take fluids at intervals, you'll love the cup holders on this chair. It also helps that you can store things in removable pouches.
Pros
 

Nice furniture finish

 

Contains ergonomic features

 

Quality fabric with racing style

 

Easy to put together
Cons
 

A bit awkward and uncomfortable
The Depointer X gaming chair features a cup holder. It's constructed with premium materials to give you the ideal lumbar and neck support you need. Also, you can make some customization to parts like the back if you want adequate rest or a sweet spot to game with.
– Materials: Strong Frame and Nice Finish
You get a good furniture finish from Depointer on this chair. That leans towards the chair is perfect for a variety of spaces. You can leave it in your sitting area or up in your room in your gaming space. Also, the integrated alloy steel frame and high-density thicker sponge make it the ideal chair for gaming.
– Ergonomics: Recline and Lock
An ergonomic chair and seat make your experiences worthwhile. To that end, this chair lets you find your optimal position by reclining between 90 to 135 degrees. Once you choose your favorite position, use the infinite locking positions to stay out. That way, you don't get sudden jerks.
Along with the recline feature, you can swivel on the chair's axis at 360 degrees. As such, you can have multiple screens you can turn around to use or pick up an item on a closed platform. Besides that, this X model is covered with PU leather you can clean without hassles and is fade-resistant.
– Weight Capacity: Ideal and Comfortable
The chair has paddings of memory foam so that you don't sink in while you sit. It promotes your sitting posture with the backrest for that purpose while the weight capacity sits at a comfortable 275 pounds.
– Cup Holders: Stay Hydrated Without Moving an Inch
Coming to the main feature of this X gaming chair, you get a suitable cup holder to hold your glasses containing beverages. Imagining never having to get up for a cup of coffee or some water.

– Overview
Suppose you love a chair that's easy to assemble. This Depointer X chair appeals. It provides a comfortable back and reclining feature coupled with a cup holder to keep your drinks.
Pros
 

It comes with a Bluetooth feature

 

It has a recline and massage function

 

Premium multifunction and ergonomic chair

 

Features a cup holder and side pouch
Cons
 

Bluetooth feature needs work
A massage video gaming chair with a cup holder like this model is an advantage. The chair comes in different color variants, and the manufacturer includes several performance-boosting features. For example, you have a solid base to swivel around in one spot. That's important for pro gamers and regular enthusiasts who run multiple screens. You can operate them without having to leave your seat.
The chair is covered with plush materials that give the chair a luxurious look. In addition to that, this chair comes with a couple of extra features so you can sit without issues. In particular, the recliner feature helps you put your leg up and relax.
– Comfortable Seat: Relax and Play
Having a comfortable office chair is excellent, and this chair can work for that purpose. It reclines back between 90 to 140 degrees. Also, the padding helps to give you a comfortable feel all through its use. 
Apart from finding the most suitable angle for your back, the 360-degree rotating design allows the chair's direction to be changed as you wish. As such, the chair is perfect for use in entertainment, living, or family room.
– Quality Accessories: Ease of Use
We know you can use this chair to take a nap when you're all tired and ready to rest from any activity. However, the accessories on offer mean you can do much more than that.
First, there's a cup holder you can use to keep your glasses. That way, you can always have water and other liquids nearby. Besides that, the attached side pouch can be used to store your handy stuff like keys, controller, phone, notebooks, etc.
We like that a cup holder at both sides provides a convenient way to place your drinks when necessary.
– Massage: Relax Your Body and Muscles
As if the recliner feature wasn't enough, this chair has a massage function. It comes with two massage spots to help you relax your body and waist muscles. Both massage spots are located in the lumbar region and feature six massage modes. What's more, you can adjust the massage strength and positions to meet different needs.
– Sound: Top Quality Bluetooth-Enabled Speaker
A gaming chair with Bluetooth speakers has an excellent ring to it. The speaker's design, SNR 60dB, features two hours of charging time and four hours of playing time. Can you imagine the immersive experience? Well, we can because this chair is compatible with your smartphone, computers with Bluetooth function, Xbox, and other Bluetooth-enabled devices. The Bluetooth connection is not compatible with PlayStation.
The sound you can generate will only serve to improve the gaming atmosphere. Again, you can use the chair to watch movies.
– Premium Function: Get the Best Gaming Experience
This video gaming chair is covered with PU leather and covers made from a high-density sponge. For the frame, you get a robust iron construction to provide a multifunctional gaming chair that is durable and stable for long-term use.
The maximum bearing capacity of this gaming chair stands at 264.5 pounds, which is suitable for many people.

– Overview
This chair packs a lot of features for a wide range of users. It's ideal for gamers who appreciate the total package, including a cup holder, recliner, Bluetooth connection, massager, and much more.
Mini Buying Guide
When you want a chair with a cup holder, you have to note other features that make the chair worth it. To that end, consider these factors before buying such a gaming chair. 
1. Comfort
Comfort is non-negotiable because it often determines how healthy you remain in the long run. It's great that your gaming chair has a cup holder, but that will count for nothing if you're not comfortable. Make sure the chair is comfortable with an excellent padded seat and back.
2. Recline Feature
It helps that many modern gaming brands make their chair models capable of tilting or reclining. You can always take a drink of your favorite beverage from the cup holder before going ahead to rest. It's ideal for lounging and helps your back a lot.
3. Ergonomics and Maximum Weight Capacity
Ergonomics increase and improve your comfort levels. You're not going to get ahead of your opponents when you're constantly adjusting your butt or back. Moreover, ergonomics help to improve your posture and the kind of support you get. When you're out for a chair with cup holders, check out for ergonomic features that enable you to relax.
Always ensure the max weight of the chair can contain your body size.
4. Additional Features
Additional components don't have to overwhelm the gaming chair itself, but some are important enough to have around. A cup holder is one of such additions because it helps you reach out for that essential hydrating drink without having to leave your seat.
A removable headrest and other pillows also help you enjoy optimal support and comfort. Your back and body must maintain their natural form.
Another addition is a footrest. Whether they're built-in or removable, you can stretch out your feet for ultimate comfort.
Massagers also make quite the difference. If you find a gaming chair with a cup holder and a massage function, you have a perfect combination.
Conclusion
Whether you're a gamer, streamer, or regular user, the chances are that you spend a big part of your day sitting down. When you have to get up for food and beverages, it is much more challenging to concentrate on the game or task at hand. For this reason, it's essential to have a cupholder, pocket, or pouch attached to your chair.
You'll have a convenient time with such holders where you can place items and beverages. From the chairs here, we feel that the massage gaming recliner chair makes more sense. It has various features and capabilities that make it a pleasant choice, including a massage function and Bluetooth connection.