With the best monitor for GTX 1070, there is so much you can accomplish because the GTX 1070 is an amazing graphics card that needs a compatible monitor. You'll enjoy many privileges, including the latest gaming technology in modern monitors like these.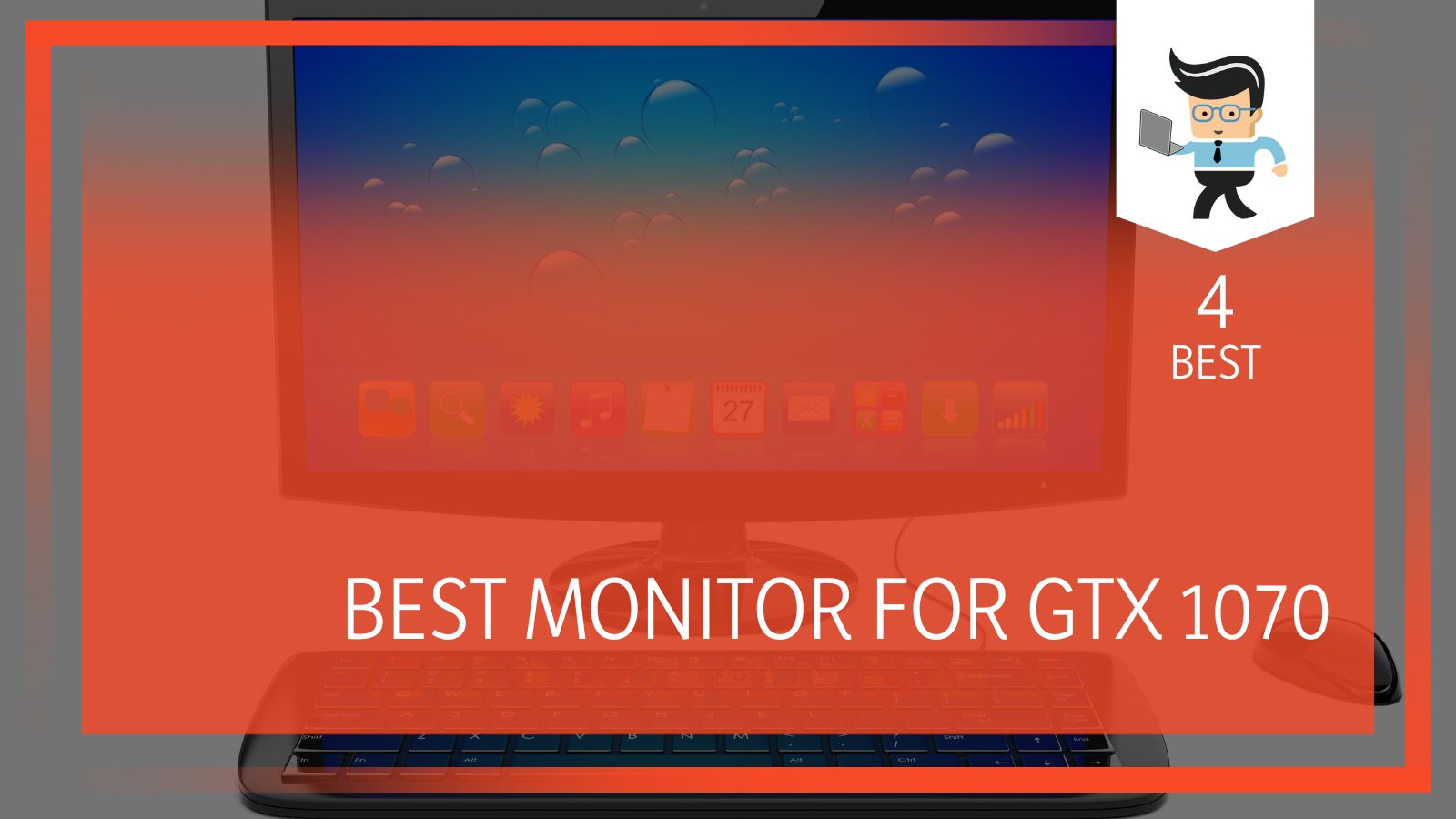 However, the issue with getting the perfect monitors is that there are so many different varieties that it is easy to become confused about which one is best for your needs. If you're searching for a decent monitor for your NVIDIA GTX 1070, this guide will prove helpful and save you the stress, so read on!
Comparison Table
Product
Details

Best for low to midrange gamers
Delivers uncompromised performance
Delivers flexible adjustability

Best for budget gamers
Astonishing overclocked refresh rate
Fast response time

Best for all types of gamers
Low input lag and superb response time
Good reflection handling

Best for midrange gamers
Has high refresh rate
Exceptional response times
The 4 Best Monitors for GTX 1070 Product Reviews
You need a worthy and compatible display with an excellent graphics card like the GTX 1070, but a monitor that can work well with the GTX 1070 isn't easy to come across, thanks to many variations. That will leave you on the lookout for the best one that fits your requirements.
Therefore, our expert tech team has put up these four top choices to assist you, including their benefits and drawbacks. Aside from that, we also discuss the products' prominent features and what they have to offer in your setup.
Pros
Lightning-fast 144 Hz refresh rate
Multiple connectivity options
Compatible with many devices
Top build and features
Cons

With the distinction of being labeled a gaming monitor, there's so much to appreciate about using this display. What's more, it carries a GTX 1070 dual monitor setup tag.
As a gamer-inspired monitor, the BenQ XL2411P was built and designed to provide extensive ergonomics for many users. As a result, it has a 90-degree pivot, +/- 45-degree swivel to the left and right, and -5-degree/20-degree tilt. You get up to 130mm height adjustment and 100x100mm holes for the VESA mount.
The monitor's frame is specially designed to reduce any form of reflection. So if you're in a well-lit room, there's no need to worry about your screen distorting your views. Besides, the monitor has a matte anti-glare coating.
For connectivity, there are connector ports, such as the Dual-Link DVI, DisplayPort 1.2, and HDMI. However, the 144Hz refresh rate is only supported over DisplayPort and DVI. You'll find a headphone jack as part of the monitor even though there are no built-in speakers nor USB ports.
The BenQ monitors are known for their high-quality motion blur reduction technology, which efficiently eliminates motion blur. This Zowie XL2411P is no different and can deal with perceived motion blur and ghosting for CRT-like motion clarity. However, note that the screen's maximum brightness will reduce when this feature is enabled.
Compared to previous models, the ZOWIE XL2411P 144Hz monitor offers the Color Vibrance feature. The feature allows you to quickly change and tweak the colors to your liking with up to twenty different preset levels depending on your game.
Additionally, the Black eQualizer feature increases visibility in dark gaming scenes, making it easier for you to spot enemies hiding in the shadows. Also, the monitor has pre-calibrated picture presets, including two FPS modes, one RTS mode, and three customizable Gamer profiles. The Display Mode also comes in handy when scaling an image to different aspect ratio/screen size formats.
The BenQ ZOWIE XL2411P 24-Inch monitor is based on a standard TN panel with a 350-nit peak brightness. It also has a 1,000:1 contrast ratio and dithered 8-bit color depth of about 16.7 million colors. The full HD screen resolution is an incredible spectacle with 1920×1080 pixels. As a result, reaching high frame rates quickly on your GPU is possible while still offering a solid pixel density on a 24-inch monitor.
For top-notch gaming experiences, an excellent input lag is significant. That's what you get with the BenQ ZOWIE XL2411P's input lag which amounts to less than 4ms. Along with the rapid 1ms response time speed and 144Hz refresh rate, you're set for fluid and immersive, fast-paced gameplay. The low input lag means you get an instantaneous reaction to your commands since the quick response time eliminates ghosting and trailing of fast-moving objects. On the whole, the performance is one fit for professional competitive gameplay.

Overview
With faster response times, limited input lags, and different modes to set up your preferences, the BenQ ZOWIE XL2411P is worth having. It's the ideal companion for gamers who appreciate great images and displays.
Pros
Excellent response time
Lag eye care technology
Appealing colors
Fast refresh rate
Cons
Can lose image accuracy at an angle
No USB ports

In an attempt to design a worthy monitor for GTX 1070, some brands come up with complicated products that leave you wanting more. However, the Asus TUF Gaming monitor carries a curved screen that focuses on the essentials rather than fancy features or designs. It's laser-focused on gaming and the needs of gamers who want a monitor that boosts their experiences.
The Asus TUF has three video inputs, including a pair of HDMI 2.0 ports for consoles and a DisplayPort 1.2 for high-speed PC gaming. There are built-in speakers for users who prefer to have sounds blaring around them. If you prefer headphones via the built-in headphone jack, that can work too. The monitor also supports HDR10, a standard more commonly found in TVs than gaming monitors. Some of your Xbox and PlayStation consoles will recognize the VG32VQ as an HDR-capable display, and many monitors won't give you that.
The Asus TUF is Curved, but at 1500R, the weight is light, and viewing angles are excellent, with just a hint of color washout at extreme angles. It stands on a solid pillar sitting on a polygonal base, which keeps the heavy panel in place with no wobble. Another thing is that you can adjust the monitor's height, tilt, and swivel, but there's no rotation.
You can locate chunky buttons on the monitor easily since they're packed close together but have alternating heights. The OSD menu follows that and is easy to navigate, including different picture settings and game enhancement features. Also, users can create and save up to about four personal picture profiles.
You get a VA panel with a native 1440p resolution and a decent enough 3,000:1 contrast ratio. The screen is bright enough with punchy and vibrant colors. You can use some picture profiles known as GameVisual to adjust contrast, saturation, and Shadowboost for different application genres. If you want it for gaming, the Cinema Mode will give off a vibrant output without crushing the darks.
Sporting a refresh rate of 165 Hz (it also supports 144 Hz), gamers won't care about its appearance and speakers. The responses are excellent, and Adaptive-Sync games run well at higher frame rates. Furthermore, this Asus monitor has a proprietary Extreme Low Motion Blur or ELMB Sync tech, which works in tandem with Adaptive Sync to remove any blurring.

Overview
The ASUS TUF Gaming Curved monitor is an excellent display for playing all sorts of PC and Console games. While it's ideal for gamers, it will also be a good fit for personal and business use.
Pros
Excellent color accuracy
Exceptional low input lag
FreeSync/G-Sync compatible
Appealing 3-Side virtually borderless design
Cons
No USB ports
Low contrast quality

If you want a good monitor for GTX 1070, this one from LG is a good start. It has a display based on an IPS panel with wide viewing angles, 1ms response time, and 1440p resolution. Also, this monitor has a native wide color gamut support resulting in more saturated colors, especially reds and greens.
With the 1440p resolution, you're assured of crisp details and plenty of screen real estate on 27-inch-sized monitors, thanks to the ideal pixel-per-inch ratio of ~108 PPI. It eliminates the need for any scaling. The contrast ratio will hardly go above1,000:1, meaning that blacks won't be as deep as that of VA panel displays. We noticed that the response time could be slowed, leading to blurs, but if you want good image quality and fast pixel response, the IPS here is recommended.
You get many useful features on this monitor that make it excellent for gaming, such as the Black Stabilizer, which improves the visibility of objects in shadows. There's also a Crosshair (custom crosshair overlays) and pre-calibrated picture presets on this monitor. For these features, navigation through the OSD menu is smooth. The button placement and operation usher in an intuitive, well-organized menu.
The design is ultra-thin and has a 3-Side virtually borderless design with a sturdy stand and decent ergonomics. Users can adjust the height, tilt the monitor, and use the 100x100mm VESA mount compatibility. However, the monitor's stand won't swivel to the right or left, and you won't find RGB lighting of any kind on the monitor.
Connectivity options include the standard DisplayPort 1.4, two HDMI 2.0 ports, and a headphone jack. Both DP and HDMI support 144Hz at 1440p, respectively, but if you enable FreeSync, the refresh rate is limited to 100Hz over HDMI. There's no USB hub here.
The LG Ultragear is one of the fastest IPS panel monitors with a 1ms (GtG) pixel response time speed, preventing ghosting in fast-paced games. The specified 1ms speed can be achieved when you set the response time overdrive option to "Faster" in the OSD (On-Screen Display) menu. With this option, you won't get overshot or visible trailing behind fast-moving objects.
Furthermore, the input lag has an imperceptible delay between your actions and the result on the screen. The monitor is certified as G-SYNC compatible by NVIDIA, meaning that FreeSync will work without issue with compatible NVIDIA GPUs.

Overview
With the refresh rate and display, this monitor performs well running some intensive applications. It's designed for gamers with fast-paced games and other personal uses.
Pros
Excellent gaming performance
Curved appealing display
Color-accurate
Good contrast
Cons

Acer is not a brand that needs any introduction, and with the Nitro XZ270U, you get a monitor that fits your needs. It's a curved zero-frame display with WQHD resolution that delivers impressive viewing angles. The stunning, crisp, true-to-life colors come alive with the rated 2560 x 1440 resolution. As a result, it allows you to enjoy High-Definition entertainment in the comfort of your home.
The wide-view angle technology on this gaming monitor for GTX 1070 enables you to share what you're viewing on your screen with friends and family. Also, the colors stay true no matter your viewing angle. Another positive is the 100,000,000:1 contrast ratio and rapid response time. With those features, your games, work, and movies are smooth and look as epic as possible.
However, a lot has to do with the game's frame rate, which is determined by your graphics card instead of the fixed refresh rate of the monitor. Simply put, it gives you a serious competitive edge. For extra connections, you can use the DisplayPort or HDMI cable jack.
Still on the quality of this monitor, during intense activities like gaming, the 165 Hz refresh rate gives you an ultra-smooth viewing angle. However, you'll enjoy faster frame rendering and lower input lag to make better decisions. Furthermore, you won't experience any screen tearing while the 1ms response time equates to a great time gaming or running other intensive applications.
While you get the best in-game gaming experience irrespective of the game, there's no effect from smears or ghosting. You won't miss out on any event or gaming action, thanks to 27 inches of glorious 2560 x 1440 (16:9) curved WQHD resolution to work and game with. It's an entirely immersive experience where you can put yourself into your games in ways you have never experienced before.
Another aspect you can enjoy is the sound capability. There are two speakers if you prefer a surround sound feel. Otherwise, you can use a headphone jack to personalize your experience.

Overview
The Acer Nitro XZ270U is a top-quality monitor that will persevere through intensive applications. We recommend it for avid gamers who love speed and an engaging display.
Buying Guide
The BenQ ZOWIE XL2411P 24 Inch 144Hz Gaming Monitor is one of the best monitors you can get for GTX 1070.
– Benefits of the BenQ ZOWIE XL2411P 24 Inch 144Hz Gaming Monitor
The BenQ ZOWIE XL2411P monitor provides extensive ergonomics for many users. The BenQ monitors are known for their high-quality motion blur reduction technology, which efficiently eliminates motion blur. In addition, it increases visibility for games that have dark scenes.
There are many reasons why a reliable monitor is essential for your GTX 1070, including:
Having uninterrupted quality display while performing different activities or running some intensive applications.
The best monitors will present faster response times, refresh rates, and minimal input lags.
Flowing from the benefits above, getting the best monitors in the market means you have to watch out for key features, such as:
– Display
The better the visual, the higher the resolution, and with anything less than 1080p, don't expect the beer deck your GTX 1070. In many situations, a 1440p resolution with a 144Hz and above refresh rate is essential. The fact is that more Hz is better than some displays sporting 75 Hz. You'll get better reaction times and a reduction of latency playing games.
– Connectivity
Connectivity is essential, especially if you want to make extra connections to more displays or devices. The standard connections you can make on many modern monitors for gaming are a DisplayPort and multiple HDMI to link to computers.
Other synchronization mechanisms useful to minimize stuttering in games are G-Sync and Free-Sync options. They both work fine for GTX 1070 owners. Additional features for connectivity include built-in speakers and audio ports for various applications. If you can get a USB-C compatible monitor, that's fine as well.
Final Words
Having a range of GTX 1070 multiple monitors to choose from is an advantage, and all the products reviewed here are exceptional in different ways. Whether you want high-end displays, HD capabilities, multiple connectivity options, and more, you'll find the one that works for you.
Our review team has decided to choose the best one among the list, and we noticed that the Acer Nitro XZ270U and BenQ ZOWIE XL2411P have remarkable similarities. We will stick to the BenQ ZOWIE XL2411P monitor as its fantastic display, ergonomics, and capabilities make it gamer-centric, and it also has the best refresh rate and responses.