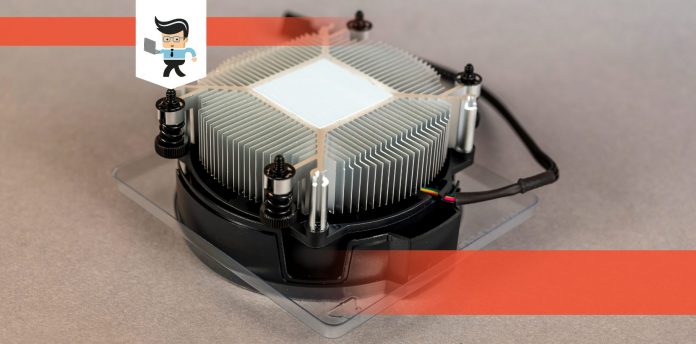 You know you need a 140mm radiator fan for your computer case, but there are so many models available on the market, where do you start?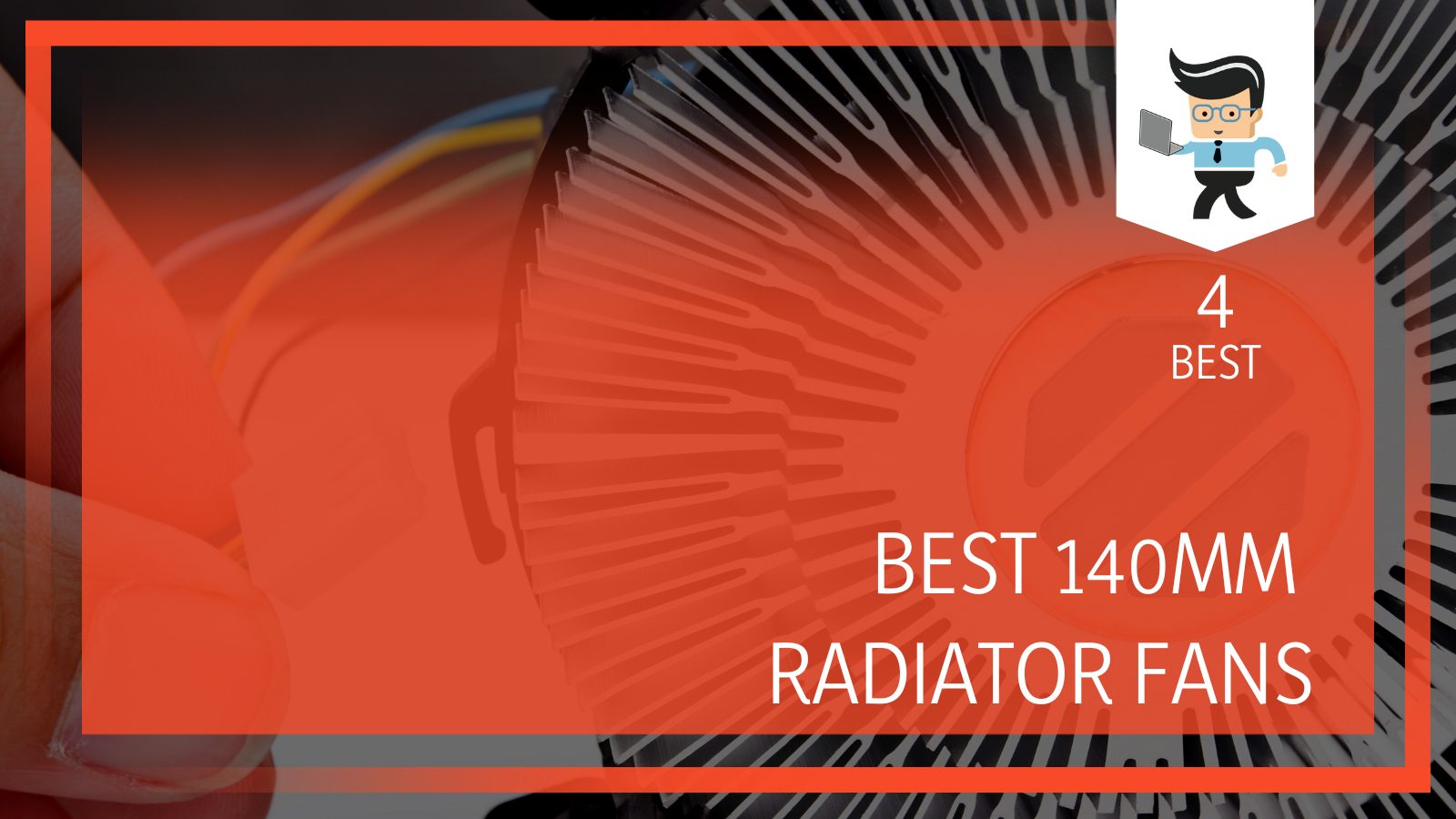 You want something that won't make a ton of noise while you're working or gaming, and you don't want to have to replace it any time soon. Make sure you chose the right fan by checking out the reviews below for offerings from Noctua, Antec, Thermaltake, and Corsair.
Best 140mm Fan for Radiator
The Noctua NF-A14 Industrial PPC 3000 PWM is absolutely one of the best high quality radiator fans you can get. It offers the Noctua standard for quality, from the packaging to the design everything is top-notch, and you are guaranteed to have the longevity and durability expected from something that calls itself an industrial model.
All of this, and it offers over 150 cubic feet per minute of airflow that far outstrips all the competition. Read on to learn more about the Noctua and its competitors.
Pros:
RGB lighting
Designed to reduce noise and turbulence
Cons:
Fans are vital to PC function because air must flow through the case. Most cases already include fans, but they may not be enough for the demands of your system.
If you get into water-cooling then you are going to want to get fans that are specifically made for water cooling, or have a high static pressure. Well Thermaltake has you covered with their new Riing LED RGB fans.
These fans are made specifically for a PC radiator fan setup and feature an LED ring that goes around the frame of the fan, giving you 256 multi-colored options so you can integrate their look with the rest of your build.
To achieve maximum static pressure in all applications, the wind blocker frame is designed to work with the Concentrated Compression Blade`s (CCB) pressure mechanism by directing airflow towards the middle section of the blade. This reduces the blade`s noise and vibration, creating a perfect balance between power and sound.

Unfortunately, at only around 50 CFM, the Thermaltake fans leave something to be desired if you are looking to purchase a high flow radiator fan.
Pros:
Rubber bumpers at corners
Designed to reduce noise and turbulence
Clear packaging to see what is inside
Cons:
Airflow is dependent on voltage and is under 50 CFM
Not stellar as either a case fan or CPU fan
Antec TrueQuiet 140 is available in a transparent package. Through it, you can see the entire structure of the fan from the front side and all of the additional accessories and the full technical specifications are on the back side of the package.
And again here we have the typical Antec TrueQuiet futuristic design. there are 4 rubber bumpers, one on each corner of the frame made to "kill" any vibrations and keep the fan working at extremely low noise level.
This model offers a semi-transparent black propeller with 9 averagely angled blades, and special attention should be paid to the blades' shape. On the outer side of the blade there are dents made to reduce the turbulence when the air is passing through and reduce the noise level of the fan.
Antec TrueQuiet 140 is powered by a long white 3-pin cable and connector and regulated with additional switch with two positions – Low 500RPM and High 800RPM attached to a second cable coming out of the fan. Both cables are not detachable and are made to provide nice and quiet operation.
This fan can be run at four different voltages, which offer different performance specifications, but it is an important note that at all the test voltages, the fan is completely silent.
| | | |
| --- | --- | --- |
| Voltage | Revolutions per minute | Airflow (in cubic feet per minute) |
| 5V | 390 | 17.8 |
| 7V | 510 | 25.3 |
| 9V | 645 | 33.9 |
| 12V | 795 | 42.9 |

The Antec TrueQuiet model offers very decent performance at maximum speed with a bit low static pressure level but it is completely silent. It is a model made to be used only as a case fan supporting the airflow inside every modern case with 140mm fan slots and it is not really suitable to be used on a CPU cooler since it is working at somewhat low revolutions per minute.
Pros:
RGB lighting
Magnetic levitation bearings
Cons:
Settings must be managed in the BIOS for full control
Corsair has employed some nifty technology in its new range of ML fans. The bearings that support the rotors on the motors use Magnetic Levitation and for the rest of this review, the shorthand "ML" will refer to the fans.
While "Magnetic Levitation fans" is cool to say, it's a bit much every time, and "Maglev" is a trademarked term as you might have guessed from the famous trains.
Corsair created a lot of hype about ML as it allows the fans to spin much faster than typical fans using technology like hydraulic bearings. Where we typically expect a 120mm/140mm fan to max out at 1,400rpm-1,600rpm, in the case of ML120 the range is 400rpm-2,400rpm and for ML140 the figures are 400rpm-2,000rpm.
In the new line of ML fans, the changes go far beyond the location of the LEDs. The frame uses a different construction that feels considerably more sturdy and rigid than previous fans, the motor support is a different shape and there is a pronounced radius where the air flow leads towards the rotor tips. ML is a hybrid fan that can replace either the AF (Air Flow) type of thin bladed case fan or the SP (Static Pressure) type with wide blades typically used in a PC radiator fan setup.
Each fan has a 60cm cable with a 4-pin plug and requires 12V PWM power to function correctly. In the package you will find four mounting screws and two tiny cable ties that help to keep things tidy.
With the larger Kraken X61 cooler the NZXT FX140 fans operate at 900rpm and 1,600rpm while the ML140s run at 600rpm and 1,400rpm.
The most logical way to use these fans is to plug them in and set the control software or BIOS to manage the business, which means they are likely to operate 200rpm or so slower than your existing fans.
Corsair ML fans do not change the world, however they are an interesting move. The new magnetic levitation bearings may not be relevant for the majority of users, although they make a neat hook for marketing purposes.

The design of the fans is good and the use of a hybrid design that can replace SP and AF models is welcome. The styling, construction, colors, airflow and LED layout all work well. In an ideal world Corsair would upgrade H100i and H110i with the new ML fans and life would be generally improved.
Pros:
Efficient, low wattage
Airflow is above 150 CFM
Extremely quiet
Cons:
Spin faster and louder than other Noctua fans.
Noctua introduced two new fan product lines, the industrialPPC and redux fans. The NF-A14 industrialPPC (Protected Performance Cooling) fans are a sophisticated version of the popular NF-A14 fans.
The industrialPPC fans are not in the usual color scheme that we have come to expect from Noctua but instead in a new black and brown color scheme. The industrialPPC fans are designed for, you guessed it, industrial heavy-duty applications.
Noctua has constructed them entirely from fiberglass-reinforced polyamide. In addition, they are water and dust proof, which makes the industrialPPC fans an ideal choice for highly demanding applications.
The NF-A14 industrialPPC fans are designed to be case fans but that doesn't mean we can't run them on a CPU cooler and make them high performance radiator fans.
The Noctua NF-A14 industrialPPC fans come packaged in a high quality box that uses the same color theme of Noctua's industrialPPC fan line-up. Noctua is hard to beat when it comes to packaging, and the packaging of the industrialPPC fans has that premium feel to it. The majority of the fans on the market come in a cheap plastic box, but Noctua ensures their packaging is just as good as the product itself.
The NF-A14 industrialPPC fans with three-phase motors are up to 10% more efficient than the standard NF-A14 fans when it comes to power consumption. The standard NF-A14 requires about 2.25W to run at 2000RPM whereas the NF-A14 industrialPPC version requires only 2.0W to run at the same speed.
The second biggest difference is the material that Noctua has used on the industrialPPC fans. Noctua's standard fans are made from fiberglass reinforced PBT while the industrialPPC fans are made entirely from fiberglass-reinforced polyamide.
This material is much more durable, can withstand temperatures of up to 140 degrees Celsius and makes the fans even more break-proof. In short, these are over-engineered PC radiator fans.
Noctua's NF-A14 iPPC-3000RPM PWM is one of the only fans that moves 159 CFM airflow. The NF-A14 iPPC-2000RPM PWM fan on the other hand moves 108 CFM airflow which is still a big difference over the stock fans that come with the NH-D15 that move 83 CFM airflow.
Since these fans spin a little bit higher than the NF-A15 PWM fans that come with the NH-D15, they are also a little bit louder.

You can feel the extra noise from the industrial PPC fans over the NF-A15 PWM fans, but it's not a deal-breaker and they are incredibly quiet fans for radiator in addition to being a very high flow radiator fan. Anything below ~40 dBA is considered to be silent and the industrial PPC fans stay well below that.
Conclusion
The clear leader in airflow, noise rating, and durability, if you want the best 140mm radiator fan for your PC build, then you need to go with the Noctua NF-A14 iPPC.
Made from premium quality materials and designed to last in high-stress industrial environments, you can't get a better model of fan to complete your machine.