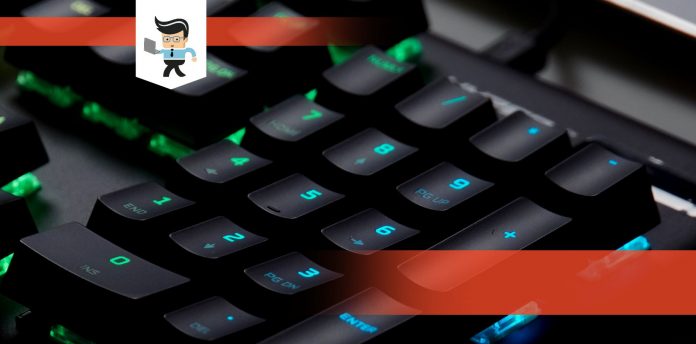 The Ducky One 2 vs. Ducky One is a very close comparison from every indication, as they both feature some high-quality design and top features. Things can get even more tricky when you have to settle for the best between the two Ducky keyboards.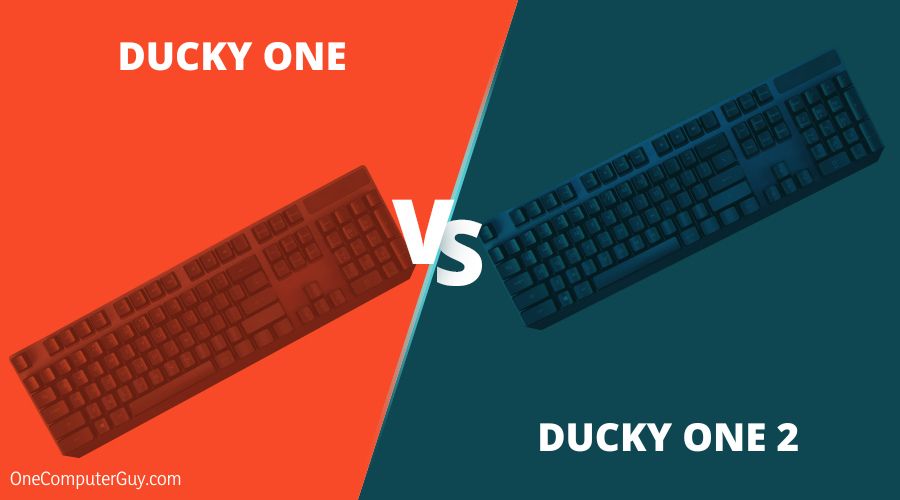 That is why you need to have a detailed understanding and a solid presentation of information about these two products before you make the purchase.
In this regard, we have come up with a comprehensive comparison of both products. In the end, you'll appreciate how similar and different they are, and learn which model is better.
Ducky One vs. One 2 Mechanical keyboards comparison table
Properties
Ducky One 2




Ducky One
Appearance

ABS body
PBT plastic Keycaps
Stainless steel
Clamshell frame

Matte finish
Translucent legend prints
ABS body material
Sandblasted key finish

Backlighting
YES
YES
Cable length
1.8m Type C USB, detachable
1.5m detachable micro USB
Anti-ghosting, N-key rollover
YES
YES
Media and dedicated volume control keys
YES
YES
Dedicated software drivers
NO
NO
Head-to-Head Comparison of the Ducky One 2 and Ducky One Keyboards
Ducky is a very popular mechanical keyboard brand. At least, the sheer number of people who vouch for them say so. However, among the varieties of products in the Ducky stable, the Ducky One and Ducky One 2 make up the best two, with each having their individual differences.
Before we proceed, it is important to know that the One 2 is more of an upgrade on the One. However, they both come with some nice specifications, including the modern backlight spec that comes with modern mechanical keyboards.
Similarly, both keyboards come with ABS and PBT frames and keycaps to guarantee durability and longevity over a long period of time.
Ducky One and Ducky One 2 keyboards have room for some of the best switches in the market, including some variations of the Cherry MX switches and other top brands. As such, the build quality, alongside other important factors like N-key rollover, enhances your overall performance and helps to prevent anti-ghosting.
Without further ado, here is an in-depth outline of both products, and we will begin with the Ducky One keyboard review.
Pros
Durable, comfortable ABS sandblasted double-shot keycaps
RGB multiple backlight options
Exciting build and design
Even lighting across keycaps
Cons
Hard to take advantage of programmable macros or keys
Perhaps you have a Ducky in your hands and are waiting to flip it open. If that's a One, the first thing you will notice is a micro USB port rather than a connector.
We think there's a perfect reason for this: micro USB cables are a bit easier to find than mini USB ones. This means you get to pick what to use with your One.
Another thing is the cable doesn't have any sleeving. Instead, it comes with gold-plated ends that can be plugged into your keyboard and PC.
The keyboard is a thin bezel frame coupled with a translucent green case that doesn't follow the norm of black cases in the market. Don't worry, though. It's still easy on the eye.
The keycaps are black and come with a matte finish. It also features a backlighting system, which makes the legends easier to see when you turn them on.
We need to point out at this point that the keyboard doesn't come with any driver. If you desire a mechanical keyboard with a wide range of drivers out of the box, you might want to look elsewhere.
If you are ready to let that slide, there are enough built-in features to make that fact seem irrelevant. This is because the keyboard itself handles everything, whether that's microprogramming or taking on custom lighting.
There are thick rubber feet to hold it in place. This way, you can game or type with assurance your keyboard won't fall off. With three tilt levels to choose from, you can also get some level of comfort.
The keyboard's backlighting is pure white and has up to seven modes of brightness and six modes of backlighting. The best part? You can turn them off completely and make some customizations while you're at it.
This will appeal to users who can get a bit irritated by the lights.
The keys make a lot of sense with their sandblasted make and ABS double shot. The legends won't fade or acquire your fingerprints. With Real Cherry MX Brown Switches here, quality is top-notch.
As a result, gaming, typing, development, and much more will move on smoothly. It also has an N-key rollover.
If you bottom out, there's that satisfying sound and tactile feedback associated with mechanical keyboards. In all, this is a great keyboard to have, considering the features and things it is capable of.

Pros
Extensive on-board functionality
USB Type C connectivity
Great build with awesome double-shot legends on thick PBT keycaps
Durable and long-lasting
Cons
On-board functionality takes some getting used to
An ideal Ducky One 2 review is incomplete without bringing up a few unique and distinctive features compared to the other product. Here, the bezels are smaller, but there's some flair to be had from the standard clamshell case design.
Add to that the thick plastic case employed by Ducky, featuring a steel plate to provide good structural integrity. As a result, there's simply no flex anywhere on this keyboard.
Also, this keyboard features four-color indicator LEDs located at the top-right corner with four extra keys dedicated for volume control alongside the calculator keys.
Unlike the other product, this model has four rubber pads at the corners. These pads will provide the needed friction to keep your keyboard in place on any surface and prevent scratches.
The Keycap layout is compatible with a vast number of replacement keycaps even though it comes ready with its own custom set installed.
Ducky has been known to use Cherry MX Switches, so it's not out of place on the One 2 model. From MX Brown switches to MX Red, Black, Blue, or Silver, you have a wide range of options. However, there are no LEDs linked to the switches on the non-backlit version.
On the software side of things, the Ducky One 2 takes after the other model. The keyboard doesn't have any dedicated software driver support, as all its functionalities are very much hardware based.
More so, it's important to note that there's a better executable file to help you update the keyboard's firmware. With this file, you can alter the brightness of the indicator LEDs in seven different steps.
The Ducky One 2 also comes with a full N-key rollover, which helps with anti-ghosting. This is particularly useful for most gamers and users who have to do a lot of combinations on the keycaps.
Final Verdict
The main difference between Ducky One and One 2 is, Ducky One 2 has very durable and sturdy Keycaps with a textile feel, making your typing experience a joy, and it comes with inset USB Type-C port, while Ducky One stands out in terms of appearance.
Are you looking for a keyboard from the Ducky brand that does more than meet your immediate needs? Both mechanical keyboards are set to give you just what you ask for. However, it's a reality that one of them has to be superior to the other.
The mechanical keyboards comparison between the One and One 2 will cover key specifications and features. Some of them are unique to both, while there's a clear upgrade in more than one aspect. Read on!
– Appearance
Considering the One 2 is an upgrade on One, you'd imagine it was difficult to settle for the former in terms of appearance.
The fact is Ducky couldn't have done better than the translucent green case. It's more than a deviation from the normal black since it also has the thinnest bezels.
The construction design and overall body material is ABS plastic. There are thick rubber feet to stop the keyboard from sliding beyond comfort, too.
The One 2 also makes use of a thick plastic ABS and PBT material which keeps things sturdy. There's also a hint of steel and pads under to keep the keyboard in place. Mind you, this keyboard also comes in two main colors: black or gray.
However, we feel the overall look of the first Ducky stands out in terms of uniqueness.
– Keycaps
The keycaps for the One are still black and come with a matte finish. Of course, it is very durable and sturdy, but the fact that you can barely see without the backlight is one drawback.
Yes, it does happen with other keyboards, but this seemed too pronounced. Further, the keycaps of One are ABS double-shot and are sandblasted to add some doggedness. However, we feel this isn't enough to trump the Ducky One 2's.
The One 2 versions, like the Skyline One 2, have similar custom-colored stock keycap sets and even cases to match. Keycaps are matte gray cases that match the general frame, but the Enter key is blue. Moreover, it doesn't feature only ABS plastic but also PBT. This makes it all the more strong and long-lasting.
Four extra keys on the One 2 are dedicated volume control. (The One has this feature, too). There's also the fact that Ducky uses the OEM profile with the One 2's keycaps. As a result, there are slanted rows and concave surfaces on the top.
Further, both keycaps may be compatible with backlighting, but the One 2 is more of a custom fit and hence, much better.
– Typing
Ducky keyboards are generally great for typing, so this was a bit of a close call. We'll stick with the One 2, though, because typing on it is amazing. You'll experience a nice feeling tapping up keys with the MX Brown switch underneath.
They give off cool tactile feedback just before the keys actuate. Spacing is great no matter the version of the One 2. Mistakes will be fewer while you get to achieve more potency and accuracy in typing.
– USB Port and Cable
USB cables and ports should be as convenient as possible. This way, you don't have to change your entire keyboard because of them. The Ducky One has a micro USB port that's also fit for detachable cords, but this is quite limited, especially if you want a quick option.
As for One 2's, this is not the case. They have an inset USB Type-C port in the middle. This also comes with three cable-routing options. You can choose to go straight upwards from the middle or directed to either side. At least, there are nubs to keep the cable steady.
Type-C ports are very fast for data transfer and other power needs.
– Switch Options
Both mechanical keyboards are known to have quite the selection of different switch types. The best thing with mechanical switches is that you can change them at any time without the need to solder them. You have access to virtually all the Cherry MX lineup: MX Red, Blue, Brown, Black Silent Red, and Silver. They could also be linear, tactile, or clicky switches.
– Software Drivers
Most users still can't understand why Ducky doesn't have drivers to install with. Sure, there are many built-in features, even though it takes some time to understand, but both keyboards could have done with external help. As it is, everything takes place on the keyboards.
Macro programming, customized lighting options, and more are found on the keyboard. What even makes it a little worse for the One is that macros programming is extremely difficult to do on the keyboard. This is not the case with One 2, though, because it's easier.
Users believe that Ducky, should it want to extend the range, needs to invest in making a proper GUI that can manage all peripheral settings on their keyboards.
– LED Lighting
This is another area Ducky got it right because many of their keyboards are well-equipped with RGB lighting. These are great and help to give some class to the One and One 2 models. In addition, they improve visibility in the dark.
As for the Ducky One keyboard, the brightness levels are great and accompanied by different modes.
Both of them also let you turn off the lights. It sure feels great basking in the lights and doing some work or playing an engaging game. Further, Ducky made it all worthwhile by aligning numbers and symbols above the LED. This allows every legend to be backlit nicely.
Frequently Asked Questions
1. Is a Ducky great for gaming and typing?
A Ducky mechanical keyboard represents high quality for anyone who wants one for gaming or typing. It's that good because the manufacturers built it to last, with most of the best features and specifications you'd expect from the best mechanical keyboards.
Performance-wise, their responsiveness is almost second to none while gaming. This includes the One and One 2, but with newer models like the HyperX, gaming and other activities will get more interesting.
2. What's the main difference between the One vs. One 2?
Both of them offer very similar features. Firstly, the One is the older design and has a micro USB port. The One 2 uses a USB-C port. Apart from that, most things about the two models are more or less the same thing. However, we recommend that you go for the newer model, the One 2. It represents what's new and is fit for a raft of uses.
Conclusion
This article has done its bit to tell you all you need to know about the Ducky One and One 2 keyboards. You're now armed to choose to suit your needs. You can make both keyboards completely yours by using excellent customizing options.
Further, the ABS plastic frames they both have mean they will last long. However, the One 2 still slightly leads for the inclusion of PBT and steel in some key areas.
As for switches, there's little limit to what you can do because you have a lot of options to choose from. With the Cherry MX switches leading, there's nothing you can't accomplish with your Ducky keyboard.
Lighting is great, and you have several lighting options, modes, and the option to assign keys. Before deciding on the best choice for you, take into consideration the onboard controls which lack the direction of a software driver.
Neither of these has that, but they more than make up for it with many features you can use the keyboards to control.
We advise that you go for the current model since it's an upgrade on the first one. This way, you're not quite missing anything from both.