It's a no-brainer checking out our Arozzi gaming chair review when you want the ultimate comfort-based chairs. The fact is that quality gaming chairs boost your performances and give you all kinds of protection and advantages.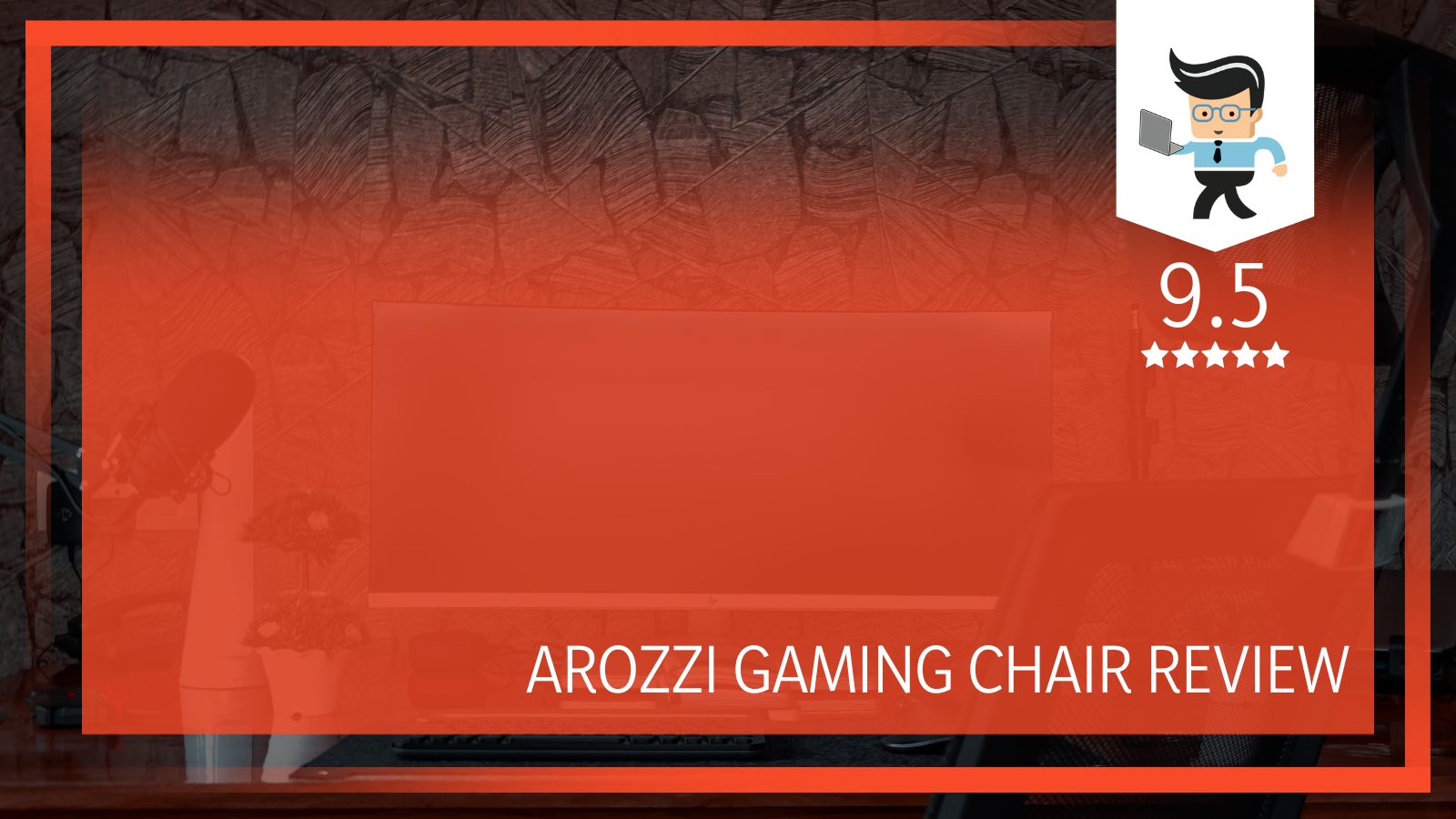 Chairs from Arrozi carry a healthy mixture of style and substance to deliver models you can count on. For this reason, a lot of gamers and even enthusiasts will take the time to go through the Arrozi gaming chair collections in search of the perfect model that will match their lifestyle and help boost their gaming performance.
If you're one of those, our team has put this article together to help you determine just exactly which model works best for you. We have brought out the best ones and everything you need to know about them, including their top specifications, features, and drawbacks. Read on!
Arozzi Gaming Chair Review: A Look at the Key Specifications
Products
Key Specifications

Material: Pleather
Frame: Metal
Adjustable: Height, tilt
Max recline angle: 180 degrees
Max weight: 360 pounds

Material: Textile
Frame: Metal, steel
Adjustable: Armrests, height
Max recline angle: 145 degrees
Max weight: 231 pounds

Material: Pleather
Frame: Metal, steel
Adjustable: Head, arms, lumbar
Max recline angle: 180 degrees
Max weight: 231 pounds

Material: Pleather
Frame: Metal, steel
Adjustable: Lumbar
Max recline angle: 12 degrees
Max weight: 190 pounds
Arozzi Gaming Chairs: Taking a Closer Look
There are many reasons why gaming chairs are in demand, but it is largely because they help many users have a comfortable base to work with.
When playing your favorite games or doing some paperwork at the office, you need a quality chair that will adapt to your needs and offer solid support for your posture and movement while sitting.
Arozzi has stepped up with a good number of its models reviewed every day. Searches bring out results of their chairs equipped with racing profiles and other fantastic features that will add comfort and convenience to your daily gaming activities.
Moreover, these chairs come built to cover all budgets, body types, and personal specifications. The chairs boast a lot of ergonomics in keeping with the standard of the gaming chair industry. However, the experience of each Arozzi model differs from chair to chair. That means users of all heights, weights, and needs can find a suitable model for different uses.
Arozzi is a brand that offers feature-packed chairs even kids can use. The Inizio, Vernazza, Milano, and Computer/Office chair will give you extensive capabilities to work with. On solid bases and materials, you get comfortable foams, paddings, and coverings. Also, it helps that a couple of models here have breathable fabrics to stave off the heat. That helps when you spend a lot of time sitting in one position.
Let's jump into it then; here are four of the best Arozzi chairs available for you.
Arozzi Gaming Chair Key Criteria
PROS
It's an ideal chair for heavier users
It has excellent recline angles
It comes with an extra pillow for your head
You can choose from five lockable tilt positions
CONS
The padding is very dense
It is prone to heat
It's a nice touch to start things off with one of the best models under the Arozzi lineup, which brings us to the Arozzi Vernazza WT gaming chair.
For starters, the chair comes equipped with features that will enhance its durability and functionality, thanks to the maximum support and comfort on offer for those who are part of the big-sized group because of its sheer bulk and massive frame.
For this reason, it's built to give heavy users the perfect cushioning, height level, and backrest to match when gaming, sitting, or relaxing. That way, you get a high platform to support your back and reduce muscle strain at all times.
– Support: Get the Load Off
You get ample support on this Vernazza chair. It's a requirement for gaming chairs to take over 90 percent of your body weight. Well, you can have that here coupled with two large support pillows added to keep you comfortable. With the pillows, you can adjust and improve your position according to your needs. What you don't want is a bad posture you can't fix. As such, you can kickstart your gaming journey with an excellent chair like the Vernazza.
– Firm Foam and Dense Paddings for Solid Support
The Vernazza has a reputation as the densest foam in the Arozzi lineup. Sure, that helps when you have to sit for extended periods. It also means you can play games for the whole day without feeling jacked. However, it doesn't mean you can't take breaks in between sessions. It's essential to do so when you consider that the dense foam can generate some heat.
– Adjustable Armrests: Keep Your Arms Comfortable
It's typical of an Arozzi ergonomic gaming chair like this one to have adjustable armrests, which allows you to get all practical when you make adjustments to all directions. That's necessary because engaging in games or work situations means you have to change spots per time.
To that end, the Vernazza lets you adjust the arms up and down, left and right, or front and back. Also, with such adjustments, your chair will fit under any desk with your arms assuming a natural position on the desk.
– Frame and Covering: Solid and Stylish
You'll love the ultra-wide design here, which gives you more room to operate. Then there's the high seat back and the pillows we mentioned above. All of them combine with the soft and luxurious pleather upholstery to cover the lightweight metal frame.
Additionally, there's a very high density, cold-molded foam for extra durability. Some users might have a problem with how tough it gets.
The solid frame is built to hold up to 360 pounds at the maximum.
– Recline: Enjoy Your Laid-Back Moments in Comfort and Convenience
Perhaps you want to take a little nap or play games at a more relaxed angle. You can do that here, thanks to a max recline angle of 180 degrees.

– Overview
This Vernazza chair is ideal for big and tall users who want a solid and high back chair. It's fit for game spaces, offices, and more.
Pros
It comes with a breathable fabric
You can rotate or height-adjust the armrest
It comes with extra headrest and lumbar pillow
It is a strong and durable chair
Cons
Light seat cushion
Material scratches after a while
Like many pro gamers and seasoned gaming chair users out there, it's normal to want a model that keeps you cool all day. That's what the Arozzi Inizio offers and more. The fact is that a big problem with artificial leather upholstery is the lack of ventilation the material allows. You get a lot of heat building up, which can leave you all stuck up or sweating.
Well, as far as this Arozzi chair review goes, the Inizio model has a soft and cooling fabric. Also, it's not much different from the Milano model, with only the fabric showing a clear distinction. A fabric material like the one here is comfortable and lets you sit for a prolonged period. What's more, such a material beats leather when it comes to coziness.
– Padded Armrests: Adjust the Height to Fit
You'll like the armrests here because they feel like an upgrade from the norm. They're padded and two-directional in design which means you can adjust the height or rotate them sideways. As a result, you've got a tool you can change to match or increase your efficiency while gaming or working.
Armrests adjustment is a crucial requirement to protect your elbows and prevent you from curving your wrists. That way, it doesn't hurt punching your keyboard for extended periods.
– Recline: Take a Nap or Achieve a Relaxing Angle
It wouldn't be an Arozzi model without a means to set the chair back and relax. Some gamers even use the feature while playing engaging games.
Besides that, you can get some shut-eye, after which you can get back to business. To help with that, you've got a 145-degree recline feature, rocking function, and solid metal frame.
– Pillows: Get More Comfortable
It's a significant part of the Arozzi brand to include some pillows or pads for more comfort. To that end, the Inizio comes equipped with two soft support pillows. One is a lumbar pillow for your lower back, while the other is a headrest pillow. The latter supports your neck and head.
While you're seated, you can use the rocking function to tilt back and forth for up to 12 degrees.

– Overview
The Inizio chair is suited for long hours of use. That's why it will interest users who spend extended hours playing games or sitting behind a desk.
Pros
It's a good mix of style and comfort
Has adjustable parts and functions
Recline and tilt provides relaxation
Ergonomic design
Cons
Like other Arozzi computer chairs, this one is ergonomically designed for long hours of use. Its padding is good enough, and you get adequate support for your back and adjustable armrests for different users.
– Robust Frame: A Mixture of Lightweight Metal and Steel
This chair comes in subtle colors and materials designed to keep you going for extended hours. In addition, you get PU leather that provides comfort while the upholstery gives off a beautiful design.
– Foam: Strong and Resilient
The foam of any chair you need must provide enough comfort and protection for your posture. It's essential so that you don't have long-term health issues from a bad chair. As a result, the foam here takes seconds to get back in shape when you get up.
– Adjustable Ergonomics: Relax and Rock
Along with the adjustable headrest and lumbar support pillows, you get to adjust the height of the armrests. Sometimes, you've got to rotate the arms to match a particular function. Moreover, it helps protect your elbows and always keeps your arms in a solid position to keep playing or working.
The recline and rocking features will add more comfort when you have to rest or take a nap. Either way, it's a feature optimized for gaming and workspaces.

– Overview
This Arozzi chair is built for smaller users who want many adjustable components to match their ambition.
Pros
Height-adjustable lumbar pillow
Has padded armrests
It has a solid frame and base
Excellent foam
Cons
It has no tilt lock function
It suits only smaller individuals
As an Arozzi racing-style chair, the Milano offers many excellent features for all kinds of users. It's a chair with a design that's optimized for gamers. Also, you get an upgraded base and castors that look great and will last longer. You can always take advantage of the 360-degree swivel function to face any direction while playing games or within your workspace.
– Weight Capacity: Just Enough for Smaller Individuals
At 190 pounds, the maximum weight of the Milano chair is sizable enough for much smaller people. However, it comes with quality parts, including a padded lumbar pillow designed to support your lower back. Users can also adjust the lumbar pillow's height by pulling the straps up or down. That way, they can use it in a way that fits the curvature of their spine.
– Comfortable Foam: Sit With No Hassles
We have mentioned the word comfortable a lot in this review. However, the term describes the high-density cold-cured foam on this Milano gaming chair. The foam will prevent users like you from sinking into the seats. A healthy posture is a paramount consideration if you live a sedentary lifestyle.

– Overview
The Milano chair is ideal for shorter and lighter individuals. It also affords them the chance to make subtle adjustments to the height and recline function.
Mini Arozzi Chair Buying Guide
Design: This is often the first consideration. The Arozzi lineup has similar designs and follows the race-car seat theme. It's a bucket seat design so that your legs are closer to the center to promote an upright posture. However, you have to make do with less wiggle room for your legs.
Weight Capacity: Get a chair for your size. That's why Arozzi makes them for different categories of weight capacity. If you're small, use the Milano. On the flip side, the Vernazza here is for much bigger users.
Fabric and Upholstery: With the Arozzi chairs accessories such as mice and footrests, you'll need a covering to sit for long extended periods. All the chairs here offer different variations, with Pleather being the most dominant. It's easy to clean and retains no stains.
Other fabrics are more breathable and offer a relaxed setting.
Conclusion
The gaming chairs reviewed above are different in small ways, but they have some things in common. That includes ergonomic parts for the arms, back, seat, and more. Arozzi does well to present a lineup that cares for your posture and varieties to match your budget and personal requirements. Besides, they're all easy to put together.
All the chairs here sport a mixture of steel and metal frames. At the same time, you get quality fabrics overall, and you can take our word for it and choose one of the products on this list and get the highest possible performance and convenience during every gaming session.
However, we think the Arozzi Vernazza offers more thanks to its large build, robust design, and other excellent features. Its high back and extra pillows give you more comfort and adequate support for your posture while playing games or doing some work.