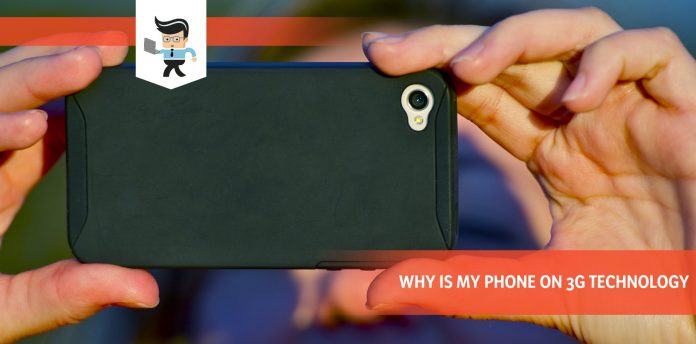 When the question, "Why is my phone on 3G?" starts bothering you, your device is probably having a network choke. This can be incredibly frustrating, especially if you need to surf the web.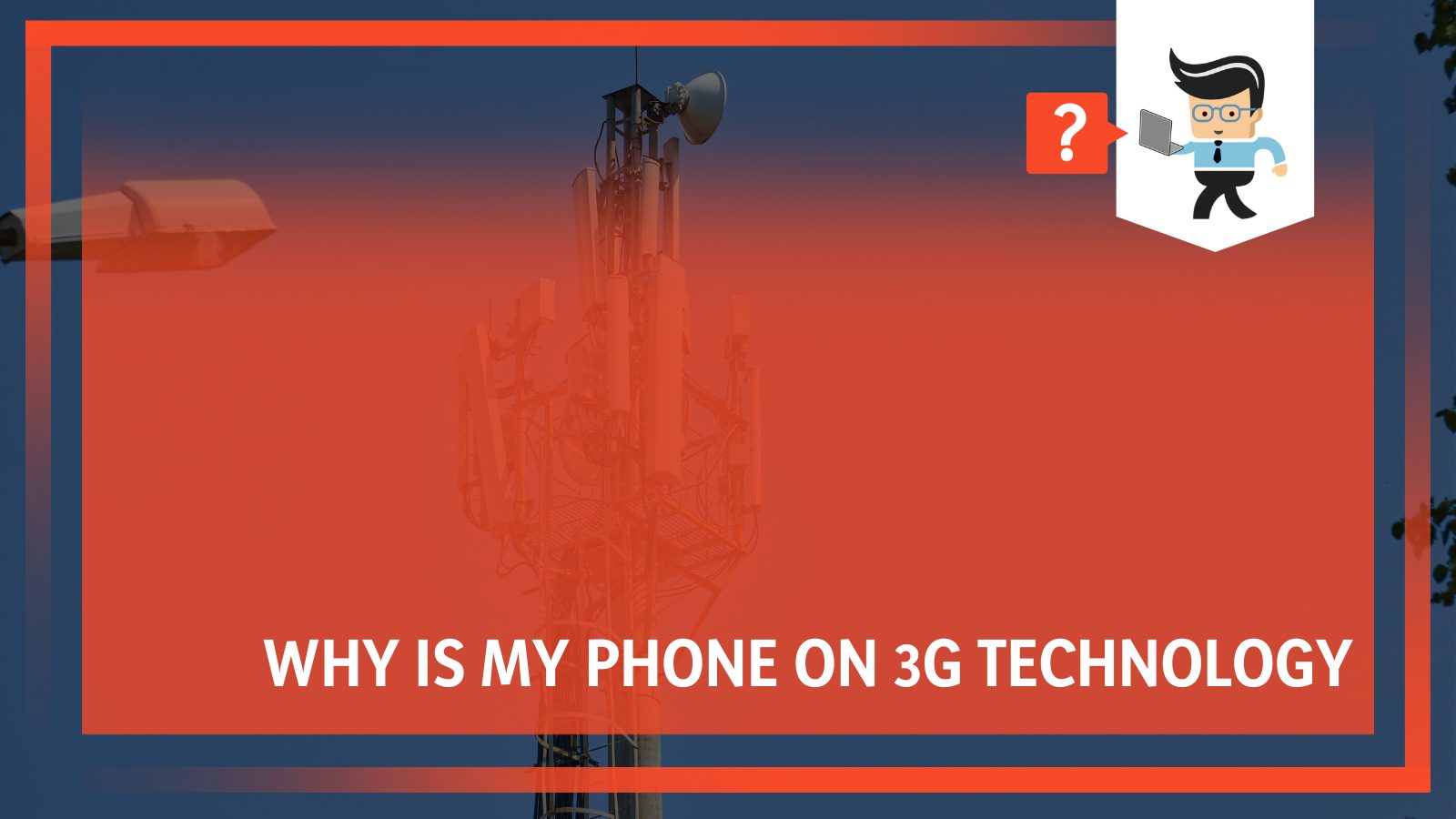 In this complete guide, we will tell you why your phone may be stuck in 3g and how you can solve it. 
Why Is My Phone on 3G?
Your phone may be on 3G because you are in an area that does not support 4G or 5G networks, your sim card is not 4G ready, your phone is not compatible with 4G, or your device has hardware defects.
Let's look at the possible causes of this issue in detail. 
– Handset Is Set to 3G
If you have been tampering with your phone's settings as of late, you might have unintentionally changed the network settings, so check to make sure you are not operating on a 3G network.
However, in some instances, your phone may automatically switch to 3G technology for some reason. Notably, a phone can switch from a higher network technology to 3G to save power. 
4G technology typically consumes more power due to higher network attraction and usage. Mobile phones have network capability settings that allow them to switch to a suitable network based on the current situation.
Therefore, if your phone battery is low or you are in an area with poor 4G network coverage, the phone will automatically downgrade to a 3G network.
So if your phone keeps switching to a 3G network, check the settings.
Checking the Network Type
Here is the procedure to do this:
Select the Apps icon on your phone's desktop and go to Settings.

Tap on Tethering & networks and choose Mobile networks.

Tap on Network mode. This will unveil a list of available network technologies based on your device type and region, so you can get 2G, 3G, 4G, and 5G. Again, most phones offer a chance to automatically change the network types based on several factors.

To enable 3G, tap on GSM / WCDMA auto

. However, to enable 4G, select GSM/WCDMA/LTE auto.
Alternatively, you can follow this procedure:
Dial *#06# to get your IMEI number.

Go to www.imei.info, enter the IMEI number, and tap on "check." This action generates a report; go to the LTE section and check the frequencies your phone can use.
If you see a 3G symbol at the top left of your screen but your phone supports 4G, it could be you are in an area that doesn't have 4G capability. Your phone should display a 4G symbol or LTE (on Verizon) if you are in an area with 4G support.
Check the network indicator bar at the top of your phone's screen when browsing for a cellular signal. This gives you an idea of the network type you are using. The simplest fix to this issue is changing your phone's settings from 3G to 4G. 
Android phone: Settings>Network Settings>4G/only 4G.
iPhone: Settings>Cellular>Cellular Data Options>Voice & Data>4G.
– Location Only Supports 3G or 2G 
If 4G is unavailable in your locality, your phone will automatically switch to the best available network, in this case, 3G. Therefore, area network capability plays a critical role. The capabilities of network providers significantly vary. While some may have a higher reach, others may struggle even to offer decent 3G network coverage.
All smartphones have an inbuilt feature that allows them to switch to the available network automatically. That's why you see a network bar on your phone displaying 3G, even when your phone is LTE or 4G ready. Therefore, when your phone constantly shows a 3G network, the problem could be network coverage.
To fix this issue, you must first ensure that your area does not support 4G. So call your network provider for details about the network coverage in your area.
If the provider confirms that they do not have 4G coverage, do one of the following:
Move to a location that supports 4G: While this may seem irrational, it is worth trying, especially if your job needs better internet speeds. Settling in a postal code that supports 4G

will allow faster download speeds, higher voice quality, higher bandwidth, and faster access to the internet, social networks, and streaming sites.

Buy a network booster: A network booster can help boost the weak signal to acceptable levels. Therefore,

buy a powerful booster

and install it on your building or in your car to help amplify the signal. This way, your phone will get better reception and service.
– 4G Incompatible Phone
You cannot access 4G if your mobile phone is not designed to support the 4G network. In this case, the mobile device will remain in the 3G network state. It is probably so if you have an old mobile phone or a modern cheap device. Such phones may not be compatible with 4G.
Remember, 4G was first used in December 2009 and spread to other places at different rates. Sadly, some regions still cannot support 4G. Therefore, some phones sold in these regions do not support 4G.
If you happen to have such a phone, you are stuck with a 3G network. Simply put, your phone will switch between 2G and 3G networks. Before you purchase a phone, check its specifications to see if it is compatible with 4G.
If you already have a phone that does not support 4G, upgrade to the latest model. Some brands offer trade-ins where you will give them your old model in exchange for a new one, but you will have to pay the price difference.
– Sim Card Not 4G Enabled
If the subscriber identity module (SIM) card is not 4G ready, it will cycle between 3G and 2G, depending on the network strength. So if your phone is constantly at 3G, it could be that your subscriber identity module card does not support 4G.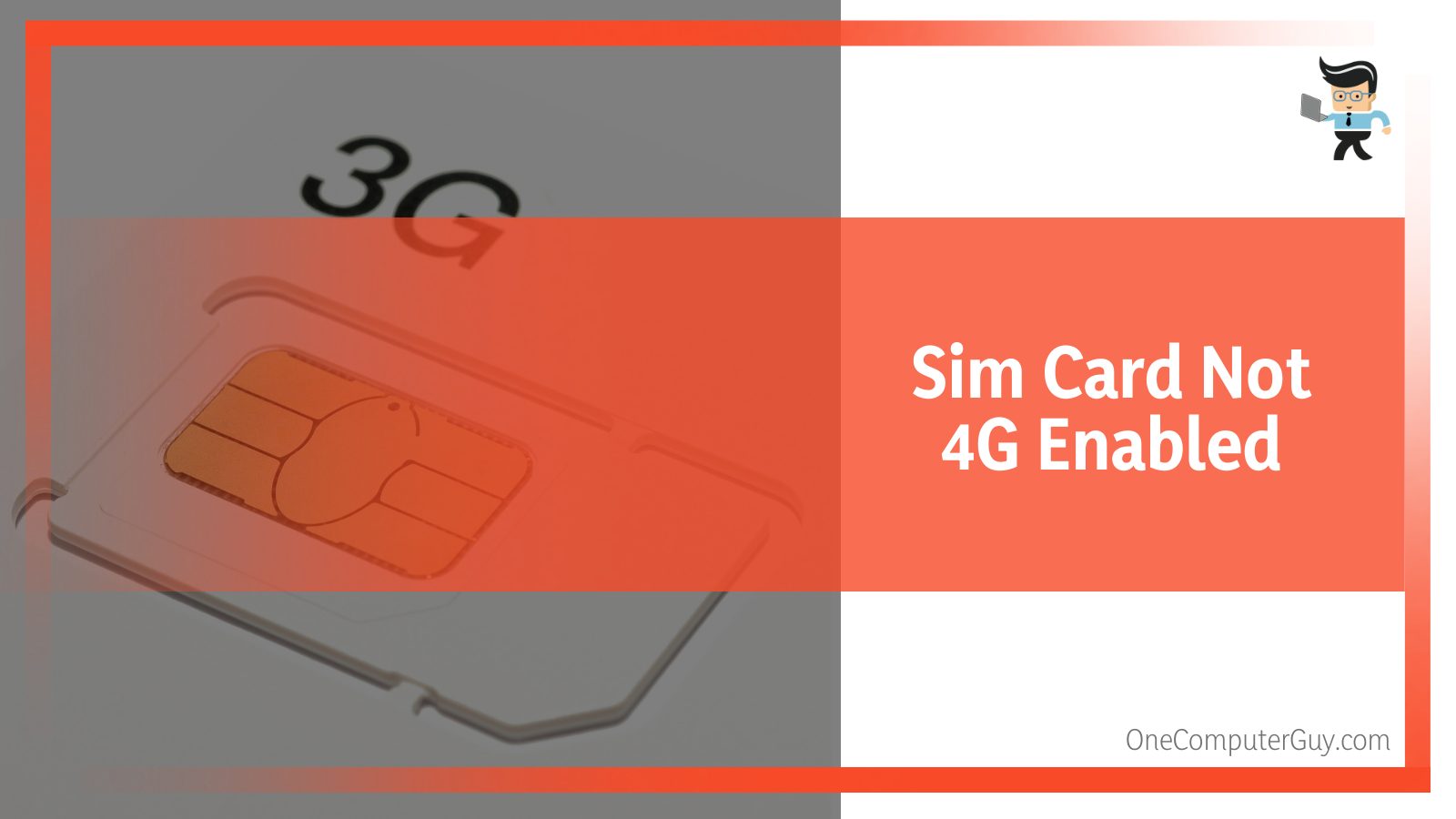 To rule out any other cause, check if your phone is compatible with the fourth-generation wireless technology. In some instances, your subscriber identity module (SIM) card may be from a company supporting fourth-generation wireless technology, but still, you cannot access the technology.
In this case, check the SIM's status. Typically, you might have bought your SIM at a time when fourth-generation wireless technology was not operational. Alternatively, 4G services may not be enabled on the SIM.
If you suspect that your SIM is not 4G enabled, call your service provider to confirm. If indeed it does not, ask them if they can upgrade it. If your company still does not provide this technology, switch to a network that offers 4G services.
– Hardware Defects
If everything else is okay but you still are stuck with 3G, your device may have certain hardware defects. Hardware defects are known to prevent connectivity. Some hardware components might have been damaged if you recently dropped your phone, had an impact, or fell in the water. Thus, the damage might be affecting your phone's functionality.
To handle this problem, bring your phone to a technician for a detailed diagnosis. If a phone falls, its network chip may be adversely affected. Similarly, related hardware may get disconnected internally.
Only a qualified and experienced technician can spot and fix these issues, so find a service center and let the technician check the problem. All major phone brands have service centers in towns. For instance, Carlcare offers services for TECNO, Infinix, and itel phones, so find the nearest service center and visit it or book an online reservation.
It might be a production fault if you have a new phone without accidental damage. Consult your manufacturer via the official service center for the problem to be fixed. Usually, if the phone is still under warranty, the manufacturer will repair it free of charge if you did not cause the problem.
– Outdated Software
Software bugs can cause network hiccups. In worse cases, it can render your mobile device functionless. Remember, vendors do not support outdated software, so the new bugs within that software are not addressed.
Additionally, outdated software is less likely to work with new hardware and remains incompatible with a new operating system. Having such software in your device can lead to system failure.
The best way to beat software bugs is to keep your system healthy. You must take advantage of regular updates and upgrades to keep your system healthy.
System updates occur automatically in the background, but this is not guaranteed, so regularly check for updates and ensure they are in your software. Software updates are important for maintaining software. Generally, they patch vulnerabilities and guard against threats.
A software update may be what you need when facing connectivity issues. Beyond fixing your 4G network problems, system updates can resolve tons of other bugs and issues. For most Android phones, here is the procedure for checking and updating your phone software:
Launch your phone's Setting application.

Tap on the System icon near the bottom and select System update.

This opens an update status; follow the steps on the screen to update your system.
Sometimes, you will get a notification to update your phone. In this case, open it and tap the update action.
What Are Some Tips To Get Your Phone off 3G?
Toggling airplane mode, rebooting your phone, and readjusting network settings are just some ways you can try to get your phone off 3G.
So far, we have given reasons and fixes to the question "Why is my phone on 3G instead of 4G or 5G?" This section gives you additional tips on solving the issue on Android and iPhone devices. Check them out:
– Activate Then Deactivate Airplane Mode
Sometimes, you need to toggle airplane mode on and then off to allow your phone to access the 4G network. Ideally, when you activate airplane mode for about 30 seconds and then switch it off, it refreshes the network system of your phone. This will trigger your mobile phone to connect quickly to the fastest network.
Most Android devices allow you to quickly toggle airplane mode on and off from the Quick Settings panel. If you do not have that option, you can access the airplane menu through the steps below:
Settings> Mobile Networks> Airplane mode.
Once there, activate the airplane mode for at least 30 seconds.

Turn it off and allow your phone to reconnect to your network.
These actions should let you connect to a 4G network, so check if you have a 4G status in your phone's status bar. For better results, make sure that you turn off the Wi-Fi network.
– Reboot Your Phone
Restating your phone can be another best answer to the question "Why is my iPhone on 3G instead of 4G?" Take note that when you switch on/off airplane mode, it activates the network system.
However, when you restart your device, it refreshes the entire system. This greatly benefits network connectivity. Mobile phones usually lose connection with their network more often.
So when you restart your phone, you clear bad data and free memory from several apps. Besides, it removes the conflict behaviors of different apps. This will force your phone to reconnect, helping with network and connectivity issues.
Restarting a phone is easy:
Long press the power button until a menu pops up.

Select Restart from the menu and wait for your smartphone to restart.
You can long-press the phone's power button for about 10 seconds to restart your device for Android devices. When your phone reboots, check if it is still stuck on 3G.
Typically, this should resolve the issue, and the question of why is my phone on 3G instead of 5G should not be there. A phone restart reboots the software and hardware, thus fixing common bugs.
– Clean Your SIM
Consider removing and cleaning your Subscriber Identification Module (SIM) card before reinserting it into your device. You may be receiving a poor network connection because your SIM is dirty or not properly inserted. Dust accumulation on the SIM slot can reduce network connection capability.
You will need to eject the SIM card, clean it, and then reposition it. Here is a quick procedure:
Use an appropriate tool to eject your SIM. You may need to consult your phone's manual if you are unsure.

Take out the SIM and wipe the connectors using a dry piece of fabric. You may also need to

clean the SIM slot

, but be careful not to destroy it. Use a blower to remove fine dust particles, especially for the slots embedded on the side of the phone.

Reinsert the SIM and restart your phone
Now check if the problem still exists. If you are still troubled by the question "Why am I only getting 3G on my iPhone?"
Try the fix below.
– Readjust Network Settings
Resetting your network settings may help resolve the issues of being stuck with a 3G network. When resetting your network, it typically deletes existing parameters such as WiFi network and Bluetooth devices, but this can help fix your existing issue.
Here is a quick procedure on how to reset your phone's network settings.
For iPhones:
Launch the Settings app and select the General tab.

Tap on Transfer or Reset [Device] and choose Reset.

Navigate to Reset Network Settings and tap it. This action will reset cellular settings, Wi-Fi networks and passwords, and VPN and APN settings that you have used before.
For Android devices:
Launch Settings and tap System.

Select the Reset option. This action unveils a list of options.

Select Reset network settings from the list. This gives you a warning of settings you will lose. If you are satisfied, tap on the RESET NETWORK SETTINGS button.

Enter the security check details, typically the screen lock. This can be the password, PIN, or pattern you use to confirm the action.

Finalize the process and wait a few minutes to get new network settings. Restart your phone.
Hopefully, these should reconnect your mobile device to 4G.
– Reach Out to the Customer Support Team
If you are still having difficulties getting a 4G signal, the problem could be with your network provider. The problem may arise in different situations:
Network outage within your area

Your line may be faulty

The carrier is having a network upgrade or scheduled maintenance
You can only be sure of where the problem lies by calling the provider. While you may use their toll-free phone lines to call them, the process might take longer. Using social media accounts such as Twitter or Facebook might be helpful.
But if you are sure that your SIM has issues, visit the provider's local outlet for them to solve your LTE network problem.
Can You Change a 3G Phone to 4G?
Yes, technically, you can convert a 3G smartphone to 4G by changing some internal components of your mobile device such as the processor and the modem.
Also, you will need to check the phone's software to see if it supports 4G. If it doesn't, you will need to modify certain aspects to make it compatible. So in short, you will need to dismantle the 3G phone to make it 4G ready.
This is an expensive, risky, and highly technical procedure, so if you need to have a 4G phone, you would be better off replacing your 3G mobile with a new 4G phone such as a Samsung Galaxy. 
Nevertheless, you can give your phone advanced capabilities using the MTK Engineering Mode. This app can convert your 3G phone to 4G. Here is how to use it:
Install the MTK Engineering Mode from the Google play store.

Launch the app, go to MTK settings, and choose the Preferred Network option.

Tap on GSM/ 4G LTE/ WCDMA as your preferred network, save the changes and turn off your phone.

Insert a 4G sim and leave the other slots empty to prevent the device from hanging. 

Power your phone to enjoy a 4G network.
Take note that using this app does not guarantee a 4G network immediately. 
Is 3G Being Phased Out?
Yes, some mobile service providers are shutting down 3G networks to make room for more advanced network services. 3G relies on older technology, which is becoming obsolete.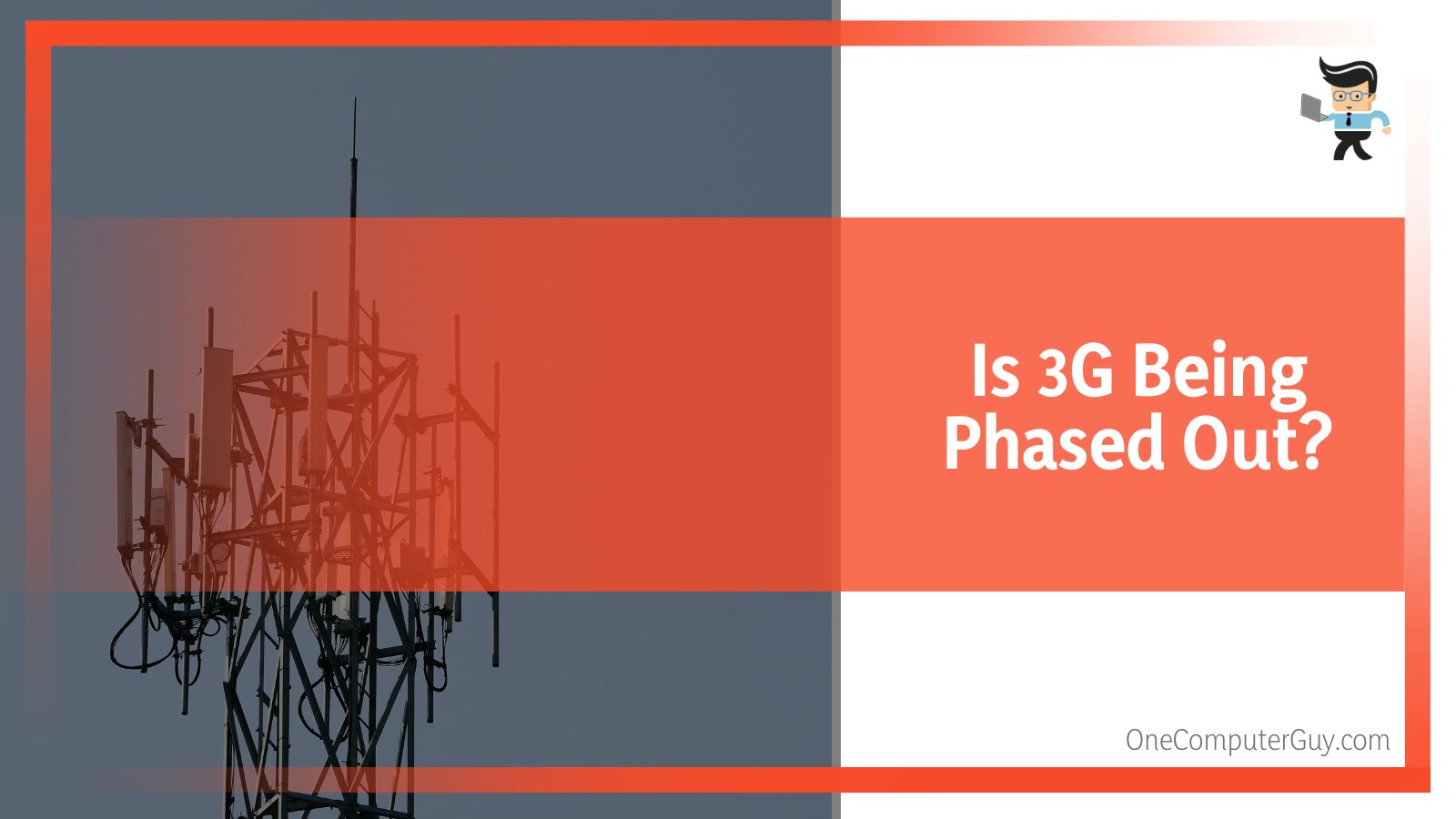 Mobile providers in the US have already phased out the 3G network, while others are scheduled to phase it out completely by the end of 2022. Typically, the timings and plans to shut down 3G services vary by company and may change.
AT&T phased out its 3G network beginning in February 2022.

Verizon will finish phasing out its 3G network by December 31, 2022.

T-Mobile completed the shutdown of Sprint's 3G CDMA network on March 31, 2022, and Sprint's 4G LTE as of June 30, 2022. Also, it shut down T-Mobile's 3G UMTS network as of July 1, 2022, but hasn't yet announced a shutdown date for its 2G network.
Other providers such as Boost, Straight Talk, and Cricket use AT&T's, Verizon's, and T-Mobile's networks. So even if your provider is not listed here, you will still be affected. 
– Will My Phone Work After 3G Shutdown?
This depends on the phone's hardware, but if you are using an old model phone, it will not make the trip. Typically, you won't be able to make or receive calls and texts or use data services. The change will affect 3G  and older 4G phones without support for Voice over LTE.
Nevertheless, if you own a recent phone model, it will work fine, and you may not notice changes even if you lose access to 3G. 
FAQ
Why is my phone displaying a 3G connection instead of 4G or 5G?
Your phone may be displaying a 3G connection because it is in an area with limited or no 4G or 5G coverage. Alternatively, the device might not support newer network technologies, or specific settings could be preventing it from accessing 4G or 5G networks.
How can I switch from 3G to 4G or 5G on my phone?
To switch to a 4G or 5G network, first ensure your device supports these technologies. Then, go to your phone's network settings and select the desired network mode (4G or 5G). If the option isn't available or doesn't work, it may be due to lack of coverage or restrictions from your service provider.
Is 3G technology slower than 4G and 5G?
Yes, 3G technology is generally slower than both 4G and 5G. While 3G offers decent speeds for basic browsing and streaming, 4G provides a significantly faster internet connection suitable for HD streaming, online gaming, and more. 5G is even faster, enabling ultra-HD streaming, instantaneous downloads, and other high-bandwidth activities.
Will 3G be phased out completely?
Many service providers are gradually phasing out 3G networks to free up spectrum for more advanced 4G and 5G technologies. It's advisable to check with your specific carrier regarding their plans for 3G network support in the future.
Conclusion
Here are the main points that we discussed in this complete guide:
Your phone can automatically switch to 3G from 4G to save power or when you are in an area that does not support a 4G network. 

When your phone constantly remains in 3G mode, it may not have 4G capabilities. 

To quickly fix the issue of your phone remaining in 3G mode even after you change it, try restarting the phone or resetting the network settings.

3G is being shut down in the US and other regions, so it would be better to get a 4G or 5G phone to continue enjoying voice, text, and data services.
These are comprehensive steps to help solve the issue with your phone not sticking with a 4G or 5G network. After reading this guide, you now know what to do to fix the problem today!