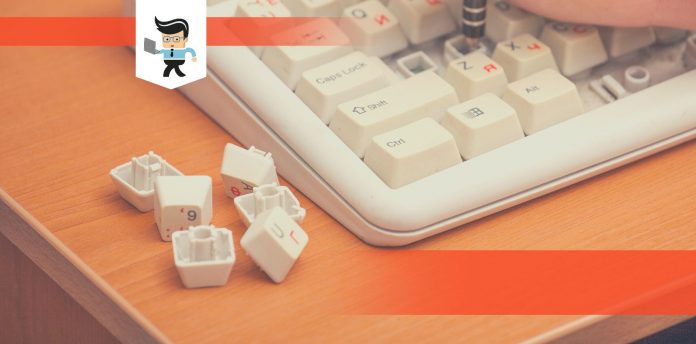 Silent mechanical keyboard switches make typing and gaming so comfortable that many users won't accept anything less. However, these key switches vary in design to suit different needs.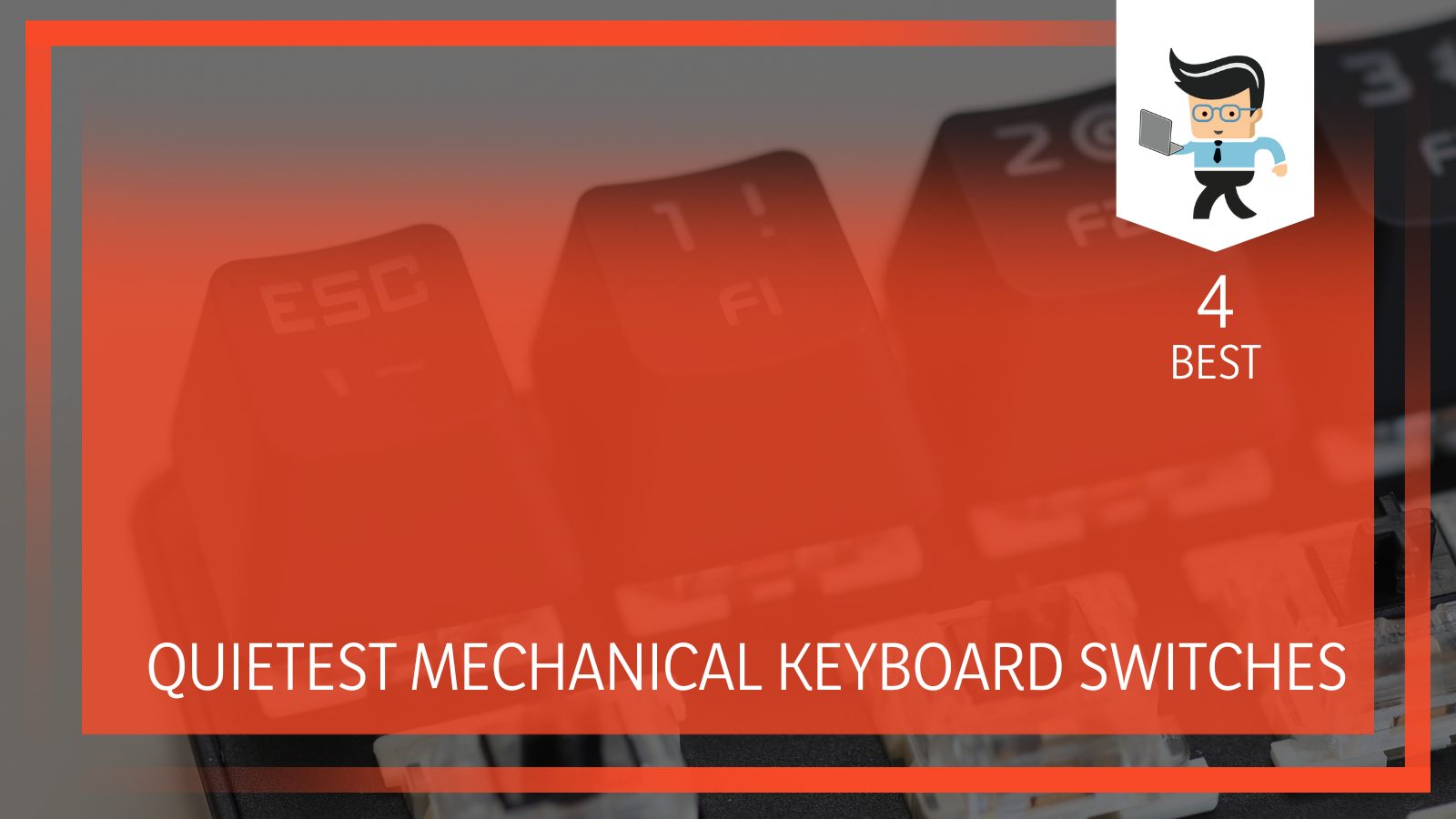 The quietest keyboard switches on the market can be linear or tactile, depending on what the designers have in mind.
This article attempts to push the boundaries of knowledge on quiet mechanical key switches. Read on!
Quietest Mechanical Keyboard Switches Comparison Table
Quietest Keyboard Switches: Our Top Picks
Usually, if you shop mechanical key switches, the manufacturer will specify everything you need to know to choose one that best suits your purpose.
Experts agree that there are no single universally most quiet mechanical switches on the market. It depends on the reason one is buying a key switch and their preferences. The most important thing is to know what is meant by actuation force, trigger travel, linear, tactile, and other factors.
Listed below are some quiet keyboard switches that will eliminate or reduce mechanical keyboard noise to the barest minimum.
Some of these silent mechanical switches are modeled after their Cherry MX counterparts. You can expect to get some decent results without spending as much as you would on a Cherry switch.
Gateron KS9 mechanical switches perfectly replicate the renowned Cherry MX key switches to provide all users with smoother and higher actuation point. These silent mechanical switches will make working in environments like a library or an office space possible.
Thanks to its linear structure, the switches are mushy and pleasant to touch, giving a smooth and seamless feel when typing and gaming.
Its plate-mount capability ensures seamless compatibility with all SMD and PCBs LEDs. You can always count on it to deliver super-bright LED backlight while typing or gaming in the dark.
All Gateron KS9 switches are transparent. They are available in a wide range of colors, including Blue, Green, Brown, Black, Red, Yellow, and Clear.
For a non-Cherry mechanical switch, Gateron performs excellently in the durability aspect. Its lifespan of 50 million cycles will surely come in handy for users who desire a long-lasting mechanical switch for their keyboard.
Notably, Gateron KS-9 comes out on top as one of the quietest mechanical switches compared to rubber dome designs. It is designed to be almost silent as the MX Red silent variant from Cherry.
The lifespan of the Gateron KS-9 mechanical key switch is 50 million keystrokes, which means you can use it intensively for 10 to 15 years. That makes it far better than the standard rubber dome switches with a click life of only 5 million keypresses, which only amounts to about one to two years of heavy use.

The key-switches come in a number of colors with the following specifications:
GTR – Blue – 55 g Clicky & Tactile
GTR – Green – 80g Clicky & Tactile
GTR – Brown – 45 g Tactile
GTR – clear – 35 g linear
GTR – Black – 50 g linear
GTR – Red – 45 g linear
GTR – Yellow – 50 g Linear
Pros
Long click life of 50 million
Short trigger travel
Very light key
Wide variety of designs
Cons
Next on our list of quiet keyboard switches are the Kailh mechanical key switches.
Kailh Cream Speed switches will work on any PCB that accepts Cherry MX style switches. It is a 3-pin key-switch whichoffers support for super-bright RGB backlighting technology.
These key switches will come in handy if you detest the clicky behavior of some switches like the Cherry MX Blue. Notably, Kailh switches will appeal to anyone who prefers to keep their keys as noiseless as possible without any wrist fatigue.
You only need to exert about 35g of force to reach the actuation point, making them one of the lightest key switches available right now. Although it is a linear key switch, it actuates as soon as the stem starts to depress.
For the sake of comparison, you will need to exert an additional 10g of force to reach the actuation point in some key switches like Cherry MX Red.
Owing to their low actuation force, you can easily access and press the keys to initiate different commands and enjoy an overall amazing typing and gaming experience.
For avid gamers and enthusiasts, Kailh's linear travel feature implies that they can press the switches in quick succession without getting any bump.
Kailh switches allow rapid movements and easy navigation in many games that require quick actions.
You don't have to exert too much pressure to register your inputs, and the same process applies if you want to bottom out. The switches are so light, you may accidentally press it by just resting your fingers on top.

Pros
Long click life of 80 million
3-pin key-switch
Great customer service
Short trigger travel
Cons
The Outemu Red mechanical switches are very quiet and pleasant to touch, with speed and accuracy levels that can rival some top models like the Cherry MX Red switch.
A notable advantage of these mechanical key switches is that the design allows you to change your key switches very easily without the need to solder.
With an operating force of 60g, you can push the keys and initiate commands without exerting too much pressure. While this may translate into a noticeably faster typing and gaming experience, you may find yourself accidentally hitting some keys while typing.
Despite this slight drawback, these key switches are ideal for professional gamers and typists. You can have it in linear or soft tactile or click tactile mechanical touch. It's one of the quietest mechanical keyboard switches on the market currently.
The key switches have a trigger travel of 2mm, which means you'll type faster and save a lot of time and effort in the process.
Regardless of how first-quality a product is, durability should always be a critical factor in your purchase decision.
That is why the Outemu Red mechanical switches come with a lifespan of about 50 million keypresses which translates to 10 to 15 years of extensive use. For non-heavy users, they will last much longer than that.
Other Top Key Switches from Outemu
Brown Switch Suitable Design
The brown switch is compatible with a wide range of applications. It has a two-stage mechanical touch, low sound, and 40g of actuation force
Blue Switch Suitable Design
OUTEMU's blue switches are suitable for different uses with a two-stage mechanical touch, a crisp typing sound, 60g actuation force, and 2.4 mm trigger travel.
We can see that this brand has every keyboard user covered for any purpose they might want key switches for.

Pros
Long click life of 50 million
Buttery smooth
Low actuation force
Short trigger travel
Low-priced
Cons
Can be too mushy for hardcore gamers
The pins are thin
Available since 2007, the Cherry MX Blue mechanical key switches are the most common clicky key switches. Renowned for their super excellent tactile and audible feedback, Cherry MX Blue key switches have a lifespan of 50 million operations.
Similarly, Cherry MX Blue comes with an actuation force of 50g, peaking at 60g, and a trigger distance of 4mm.
Cherry MX Blue switches give off an audible sound when you press a key switch. Strange as it may sound, some people prefer to hear the sound of their keyboard as they play PC games. The Blues are probably targeted at these people.
If you are looking for something that has been tried and true with a little click and slight tactile feedback, you won't go wrong with the Cherry MX Blue.
These switches tend to have a higher reset position with a greater actuation force, which means a slower typing in rapid tap operations than other models which require less actuation force.
As a gamer, typist, or writer, if you don't mind giving up a bit of speed for the definitive feedback confirmation, you are not going to regret buying these switches. That doesn't mean the switches are too slow. It only means they aren't as fast as others which are designed specifically for speed.
The fact is, a gamer or typist using these switches can still perform better than one using a different kind of switches with faster typing speed. That's because you aren't going to type faster than what the Cherry MX Blue is designed for.
The disadvantage of these switches is that they may not be universally compatible with all keyboards. The pins are thin and might be a challenge for non-skilled users to install.

Pros
Long click life
Low-priced
Low actuation force
LED option
Cons
Long trigger travel
Lacks universal compatibility
Quietest Mechanical Keyboard Switches: Buyers' Guide
Mechanical keyboards are considered a gold standard for most users, and almost every serious gamer has it in their setup. That's due to the tactile feedback of mechanical key-switches, low typing sound, durability, and a host of other factors compared to the traditional rubber dome key-switches.
That doesn't mean all mechanical keyboards are created equal. There are many brands and designs floating around, which may overwhelm a newbie.
The differences between these key-switches are significant enough to warrant a closer look at each design.
For example, some are less noisy, easier to type with, have a longer lifespan, and more. We'll make our comparison by studying the different brands and what's on offer.
Rubber dome key switches have a simple design consisting of a piece of plastic under a keycap, where you need to press a key until it bottoms out to register a keystroke.
Mechanical key switches, on the other hand, have a more complex design which does not always require you to press a key all the way down.
Some mechanical keyboards make a tactile click with or without a sound. Others are designed to work just like rubber dome key switches but in a far more effective way.
Types of Mechanical Key Switches
There are different types of mechanical key switches based on the differences they share.
Mechanical key switches are divided into three types, including linear, tactile, and clicky key switches. Tactile key switches have a little bump that notifies you when a keystroke registers. That's why most typists prefer using tactile key switches.
It is from the tactile key switches that we get the category of clicky and non-clicky key switches. Clicky key switches have an audible click. The major difference between linear and tactile mechanical switches is simply the feedback.
While a linear switch makes you bottom out every keystroke, a tactile key switch tells you when a keystroke registers, so you don't have to press all the way down.
To understand the different types of mechanical key switches, we'll study the variety produced by one of the most popular brands. Every other brand produces varieties of switches in different names.
We'll consider key switches made by Cherry since it is the most popular brand for key switches and the first brand to design a mechanical key switch.
Nearly every manufacturer uses their design exactly or imitates it closely. They come in different colors, which entail differences in design.
– Cherry MX Reds
This is the most common design in the gaming community and very popular with typists. The reason for its popularity is the low actuation force of 45g, which makes the keys light and suitable for typing.
– Cherry MX Blacks
These are similar to Reds in certain ways. They are linear mechanical key switches which require a higher actuation force of 60g. A higher actuation force makes the switches a little more resistant than Reds. Even the Blacks have a silent variant where the noise is significantly muted despite being linear.
– Cherry MX Browns
These switches require some 45g of actuation force and are very quiet keyboard switches, thanks to their linear design. Browns spring back up quickly when you depress a switch.
– Cherry MX Speed or Silver
Designed specifically for gamers, these switches require an actuation force of 45g and 1.2mm trigger travel before registering a keystroke—a significant reduction from the 2mm standard for mechanical keyboards. The reduction in trigger travel increases your speed when playing games or typing.
There are other designs of the Cherry key switches that we haven't described in this guide. The ones we described are the most common. You're far more likely to encounter one of these on the market than the rare specialized designs like the extra clicky Greens or resistant Clears, designed for a small class of users.
– Type of Switch Mount
There are two types of switch mounts, namely plate-mounted and PCB-mounted. When you buy key switches for your mechanical keyboard, these are the two ways you can mount them on the keyboard. One of the two is a better option, depending on the way you use your keyboard.
In a PCB-mount, each of the five pins performs different functions. Two metal pins allow the switch to work. The two plastic pins on the side stabilize the key-switch. A middle pin that looks like a large circular knob also functions to stabilize the key.
PCB-mounted switches have a lighter feel and come with guide pins which make the installation easier. You can solder the switch directly to the PCB, which is relatively straightforward to do. However, the case will bounce slightly more than plate-mounted switches.
Due to the less stability in a PCB-mount, this method works best in smaller keyboards as they need less stabilizing structure. The stability of key switches is largely determined by the way you solder it, too.
Plate-mounted switches, on the other hand, need a plate for installation. With two pins on the bottom and a circular knob in the middle, there's no need for the stabilizing pins because the plate provides better stability than the stabilizing pins.
Usually, they are heavier and more rigid. With this method of key-switch mounting, the plate will be difficult to remove when you want to make some changes to your keyboard. Removing the plate will require detaching each of the key switches and soldering them back when you are done.
If you are the type who makes a lot of changes to your keyboard from time to time, then the plate-mount method of installing key-switches may not be the option for you.
The major difference between the two styles of key switch mounting is that PCB-mounted switches have five pins, while plate mounted switches have three pins. However, it is possible to customize a PCB-mount switch to work for a plate-mount. Simply remove the extra pin on the bottom of the switches.
FAQ
What are the quietest types of mechanical keyboard switches?
The quietest mechanical keyboard switches are typically linear switches like Cherry MX Reds or Cherry MX Blacks. However, Cherry MX Silent Reds and Silent Blacks are specifically designed to be even quieter. Other brands also offer silent switches, such as the Romer-G Linear switches from Logitech.
How do silent mechanical switches reduce noise?
Silent mechanical switches have dampeners built into them that reduce the noise of the switch both on the downstroke and upstroke. These dampeners cushion the impact between the keycap and the switch, resulting in a quieter typing experience.
Do o-rings help in making mechanical keyboards quieter?
Yes, o-rings can be added to the stems of mechanical keycaps to dampen the sound created by the impact of the keycap and the switch. While they primarily reduce the noise from the downstroke, they can make a noticeable difference in the overall noise level of typing on a mechanical keyboard.
Are silent mechanical switches as durable as their noisy counterparts?
Yes, silent mechanical switches are generally as durable as their regular counterparts. Most mechanical switches, whether silent or not, boast a long lifespan, often rated for tens of millions of keystrokes.
Conclusion
If you want a quiet set of mechanical key switches, you must understand the different types of mechanical key switches and what each specification means in practice.
There's an endless pool of options out there, but the ones we've recommended in this review are among the best, if not the best, you can find right now.
To be specific, we will recommend Gateron KS-9 RGB Mechanical Switches. It has the lowest actuation force of all the key switches listed in this article. As a result, it does not require much force to register a keystroke.
Thanks to its linear structure, it eliminates the bump to reduce the loud, clicky keyboard noise and makes the switches smoother to type with.