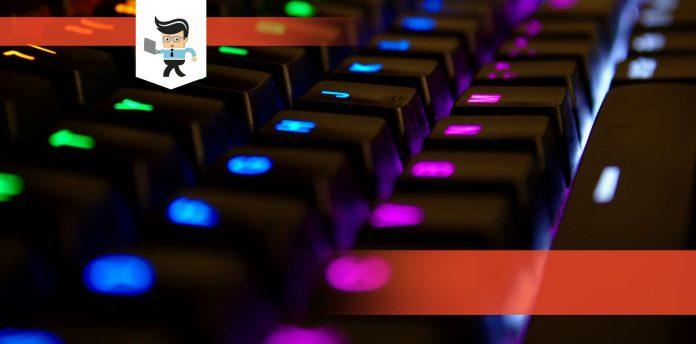 If you're trying to make a distinction between Cherry vs. Topre switches, you've come to the right place. Although they are both great, the fact is one is sure to outdo the other whenever they are both stretched to the limit.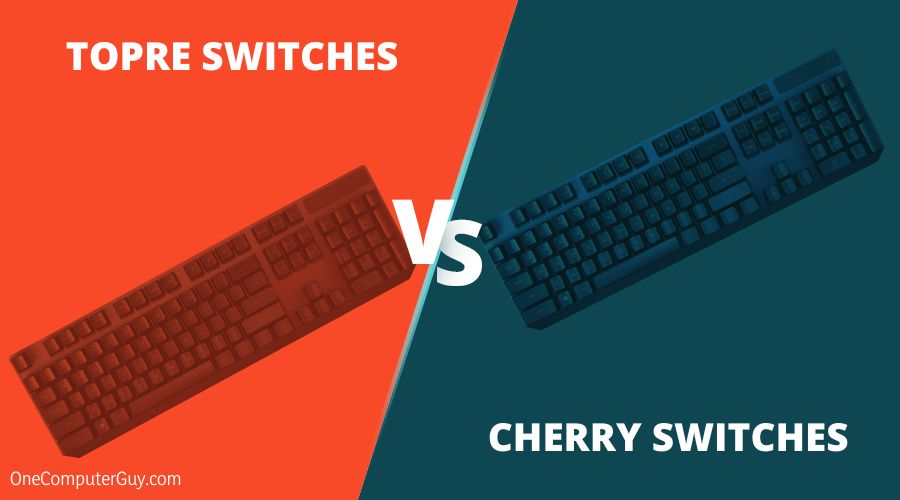 As such, we have done the hard work by providing important information about the two. With this article, it's much easier to make that choice.
Comparison table at a glance
| | | |
| --- | --- | --- |
| Key Features and Properties | Topre | Cherry |
| Construction and design | Consists of a slider that is located over a rubber dome | Carry gold cross-point contacts |
| Lighting | RGB and LED | RGB and LED |
| Categorization | Rubber dome and mechanical | |
Topre Switches and Cherry Switches: Making the Right Decision
They say,"In life, it's the small things that matter." Well, if you're going to get the best out of your keyboard and, by extension, your computer, a key switch is very important. However, the final decision lies in your hands.
Two options examined here are Topre and Cherry switches. Both rule the roost and appear in a wide range of keyboards. Whether you want one for gaming, typing, software development, or other uses, the features about to be discussed will help you make a choice.
1. Topre Switches
Pros
RGB LED
Smooth tactile bump
Fast with low and pleasant noises
Anti-ghosting capabilities
Cons
Very light
Very little orno tactile feedback
Topre is a switch that is usually made of a slider in a covering that sits over a rubber dome. It also comes with a conical coiled spring that sits over a printed circuit board.
The rubber dome helps to provide enough resistance and tactile feel. As with most inventions, it has variations that weigh and perform differently in different keyboards.
It works when the conical spring is compressed, and a capacitive action is triggered on the PCB, which senses the keypress mid-actuation. From the switch, circuit data is collected and fed to the controller. It's important to note that the Topre design allows for N-key rollover.
Gamers will love this because it's a great tool for anti-ghosting.
The key feel of this switch is much like a refined rubber dome. However, it will be wrong to consider it as such because it still has the feel of some recent mechanical-contact switches, including the Cherry MX. Further, it is very smooth and features a tactile bump.
This will help those who concentrate more on typing and software development.
When the bump at the top of the stroke takes place, resistance is near-flat and most certainly leads to bottoming out. At this point, mid-stroke actuation is absent while the switch bottoms out with a "thock" sound.
You'll also hear this sound when the key returns to the top. Such noises are beneficial, especially if all you want to do is get on with your activity.
Most users of these switches attest to the fact that they're much quieter than their mechanical counterparts. They have certain drawbacks, however, including low tactile feedback, which can lead to inadvertent key presses while typing or gaming.
Further, these switches have a reputation for being very light. However, the performances of most Topre keyboard switches are up to scratch.
2. Cherry Switches
Pros
Longer lifespan
Clicky sounds
Minimal actuation force required
Fast and precise
Cons
Cherry or Cherry MX is short for Mechanical X-Point technology. It is currently the most popular and widely used switch technology for mechanical keyboards in the world.
Avid gamers would be more familiar with gaming keyboards that have Cherry to meet their needs because of the reliable execution of keypresses.
Further, they are known to have a longer life span with a guarantee to last for up to 100 million keystrokes and without any drop in quality of input. Another aspect of the Cherry switch is that it is available in various colors.
This is important because the stem differs both in colors and performance levels.
For instance, the color used can mean more or less force to trigger a key operation. It is also used to draw a line between linear and tactile switches.
Tactile switches indicate the module has a noticeable or audible click point. Pressing them will produce a click sound that's a trademark of mechanical keyboards.
There are some popular Cherry variations, including Red, Brown, Blue, and Black. They all have their different functions, even if they're from the same source. The Red variant, in particular, will appeal to gamers thanks to a high-speed trigger requiring minimal actuation force.
Topre vs. Cherry: Head to Head
The main difference between Topre and Cherry is, Cheery switches are extremely durable, fast, to the point and have many varieties to choose from, while Topre switches are quiet and require minimal actuation force.
The choice you have to make between the Topre and Cherry is further narrowed by the features and specifications they carry. Here is a breakdown of the two switches.
– Basic Features
Both switches possess great features, especially when you take user preferences into consideration. They are both great fits for keyboards in general, but most Topre switches may have a smooth tactile bump but lack tactile feedback.
They are also rubber dome switches that give off a unique sound and feel, hence the "thock" sound.
The Cherry seems very deliberate because it's found mostly in mechanical keyboards. Unlike a very lightweight Topre keyboard, the Cherry is a bit heavier. It uses less actuation force, which is generally thought of as fast and to the point.
– Actuation Force
The actuation force is a vital part of switches, and they are good for gaming and typing.
Some switches, like the MX Red, are very quiet and suitable for working in crowded places and offices.
Topre switches are great with their rubber dome switches coming in interconnected sheets. While it's not exactly a membrane design, it's not also as mechanical. Topre keys are quiet and have one with an actuation force of 5g. That's great and sets them above the Cherry here.
With Topre, users who want the slightest touch and a durable switch would find them ideal.
– Variants
A keyboard switches comparison of the Topre and Cherry switches is not complete without their variants.
For the Cherry switches, we have the Cherry MX Reds, which are linear, quiet, and require about 45g of actuation force. Most Cherry MX Red switches have a light touch and are fabulous for gaming and typing.
Cherry MX Black switches are linear but have a higher actuation force and more resistance than their Red counterparts.
We also have the MX Brown switches, which deliver great tactile feedback and spring back quickly as well.
MX Blues are clicky switches and are pretty much like typewriters of old.
The Silver switches are recommended mainly for gamers, as they offer faster performance and precise delivery.
As for the main Topre variants, they include:
The Standard Topre switches are available in different weights in many Topre keyboards.
The Purple switches are commonly used in most Realforce keyboards. They could either be silent or non-silent.
In the same vein, Short-throw and Two-tone switches are used in many Happy Hacking Keyboard Professional (Type-S).
On the whole, both switches have their advantages. However, Cherry switches seem to come out on top when it comes to modern features, aesthetic appeal, and design.
– Lighting
Lighting is a feature that is now more common in many keyboards, but this aspect mostly comes from switches. In this respect, both the Cherry and Topre have options that provide RGB and LED options to various keyboards.
It is evident that the RGB versions of the Cherry MX technology provide more variety.
The MX also has spectacular options for lighting effects. For instance, some of the variants provide an LED under each upper housing, which lights up in the total RGB color spectrum. This can reach about 16 million colors.
Topre is a little bit sophisticated, but for lighting, Cherry edges it out with mechanical formations. They have a "Refract" technology, which spreads light without losing its effect or power.
With Cherry, things get much better when you can install the driver software to control the color intensity of individual keys. This way, it's possible to have an impressive row of different lights and have a rainbow lighting effect.
– Longevity
Most Cherry switches are made to fit into mechanical keyboards. As such, they can take as many as 100 million keystrokes. In line with that, they are designed to last longer than other keyboards irrespective of the switches been used.
On the other hand, Topre switches max out at about 50 million keystrokes. If we consider this, Cherry switches are a much better option if you want long-lasting switches. Whether you're a professional gamer or developer, you can rely on the Cherry to serve you longer.
Frequently Asked Questions
1. Which of these switches will help me achieve faster speeds and better accuracy when typing?
Typing at faster speeds and with more accuracy can happen with a great switch. There's a rather suspicious narrative that Topres are the best for typing. It does have that "thock" sound when you bottom out, but that's just about it.
With it, you'll also have to be a bit more deliberate to gain some accuracy.
Some Topre switches are good for typing, though. A good example is those in Topre Realforce 87U and 104UB. If you're a blogger or typist, it won't hurt to give them a try.
On the flip side, many Cherry switches reviews will point out that they offer more in terms of response and faster typing experiences. However, it's been noted that even a medium standard Topre keyboard is a good fit for typing.
If you can deal with the noise, there's no reason you shouldn't get one.
It's up to you, though. Our team of experts will recommend both for typing, but we'll stick closer to the Cherry for this. You don't have to bottom out, thus avoiding unnecessary and uncomfortable stress to your finger joints.
2. Which of them is perfect for gaming?
This is an interesting aspect because many individuals want a key switch that can do it all. You won't be out of place for wanting the perfect option for gaming. Well, if you're a gamer, you'd want a gaming keyboard.
They come with a lot of features, macros, and functionalities to keep things moving.
Further, speed and force for gaming go a long way to boost your experiences. In line with that, Cherry is the name because it features a great deal in mechanical keyboards. Some Topre switches reviews will also admit to their not being able to handle gaming like the former.
Think of it this way: if you're running FPS games, reaction and speed are paramount. This is why it is recommended that you make use of the fastest mechanical keys, which take little to no time to register. Without such speeds, you can kiss advancement in your game goodbye!
The switch perfect for gaming and gamers here is definitely of the Cherry variety. As an extra tip, the Cherry MX Red is the perfect switch for gaming. The Silver variant is also a great prospect for gaming.
3. Which one should I get?
Many individuals complain about the cost of getting the Topre switches, but few go on to buy them. However, the fact is they perform better in some respects than Cherry MX switches. They have a smoother, more solid, and wobbly feel than their counterparts.
Cherry MX switches are great, too, with most professionals on different levels using them. Gamers find them classy and fit for purpose while developers and typists find them worthy.
In all, they're both solid switches that will play a huge role in your keyboard and computer.
Conclusion
There are two great switches here that are quite difficult to tell apart. However, it's better to stick to Cherry MX switches.
They're more available, won't cost as much, and they're suitable for many applications. Whether you game, type, develop software, or blog, their ability to fit in mechanical keyboards and boost performance is simply understated.