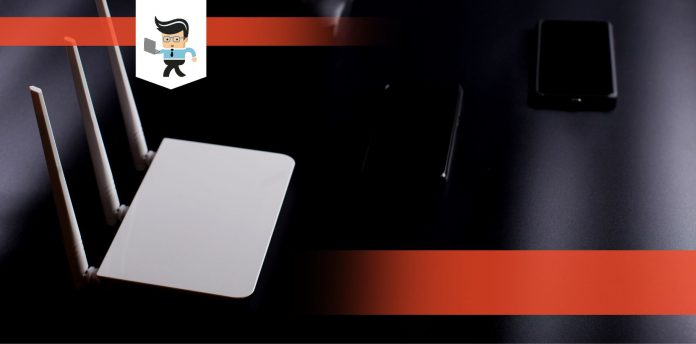 Our RT-AC68R vs. RT-AC68U head-to-head considers a lot, including critical specifications and advanced features. The fact is that both routers deliver great aesthetics and strong signals over a good service range.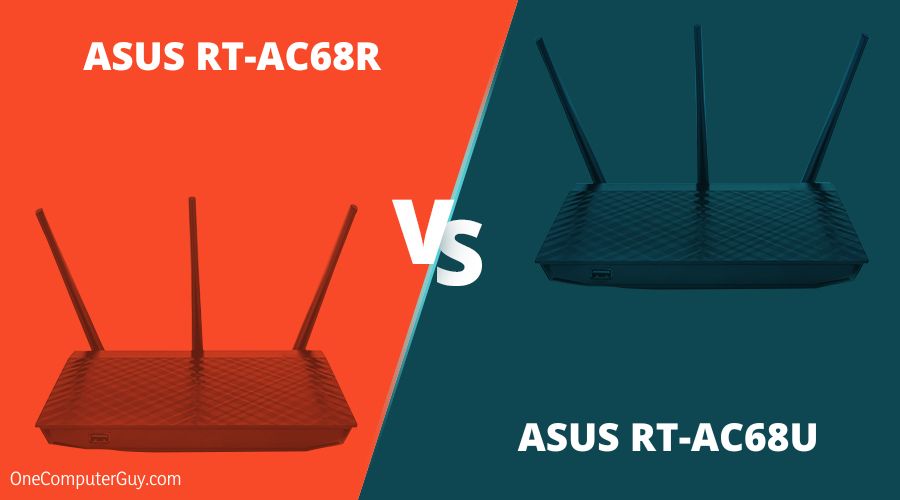 With both being from ASUS, you can expect quality from a proven brand that delivers on all fronts.
Our review team has gone the extra mile to put this review together in a bid to distinguish the routers' unique properties and help you determine which model outperforms the other. Read on.
A Glance at Their Key Specifications
However, a closer look at the routers reveals that they are more similar than different, which means you should expect identical results when put to the test. But when push comes to shove, which of the routers will come in handy?
Let's look at the specifics:
Product
Key Specifications
Asus RT-AC68R

Frequency Band: Dual-Band
USB: 2x 2.0, 1x 3.0
Ethernet Ports: 5
Security: WPA-PSK, WPS, WPA2
Data Transfer: 1900 Mbps

Asus RT-AC68U

Frequency Band: Dual-band
USB: 2x 2.0, 1x 3.0
Ethernet Ports: 5
Security: WPA-PSK, WPS, WPA2
Data Transfer: 1900 Mbps
Asus RT-AC68R and Asus RT-AC68U: Battle Between Two Great Routers
Everybody wants faster Internet speeds and better connections over more accessible and affordable devices. While those are good attributes to look forward to, not every brand and router model will give you that. However, both of these Asus routers have what it takes to at least pique your interest.
With a good router, you can get the most out of any task. That's where Asus comes in as a global company that produces reliable and robust devices. Our comparison centers around two such devices – the RT-AC68U and RT-AC68R.
These routers sport technical specifications while complying with the IEEE's 802.11ac version. For this reason, they have the 'AC' linked to their names. What's more, IEEE has various versions like 802.11n, 802.11b/g/n, etc. However, the 802.11ac version is the latest and the fastest one.
With our review, you get to learn which one is the best for you between both devices. We'll take an in-depth look at the individual routers, their tech descriptions, and capabilities you can look forward to.
Also, you can expect to learn about some drawbacks attached to either router as we proceed.
Pros
  Continuous data processing
  Excellent ASUS GUI
  Easy to set up even for beginners
  Great aesthetics with powerful signal
Cons
  No installed network configuration
Our Asus RT-AC68U review showcases a dual-band Wi-Fi Router that's built for speed. That's because it delivers about a 1900 Mbps data rate.
The router also comes with the latest 802.11ac technology and an 800 MHz Dual-core CPU as well. There's a smart multitasking facility that enables dedicating separate lanes for both Wi-Fi and USB data. As a result, restrictions decline in speed.
This device has several ports, including some for Ethernet connections and about 3 USB ports to help you connect to your favorite external devices and transfer files.
– Frequency Band: Enjoy Your Favorite Online Activities
The dual-band frequency gives this router the ability to run on two band frequencies. We all know that the 5GHz band takes heavier loads and tasks such as downloading and playing games online.
The 2.4GHz will suffice for less taking actions such as checking your emails. What's more, the dual-band combines for speeds of up to 1900 Mbps.
– Security Protocol: Keep Your Data Safe and Secure Always
As part of the Asus RT-AC68U specs, you get the WPA-PSK, WPS, WPA2-PSK protocols to keep you safe from hostile attacks on your connections and data. That way, you're more assured of enjoying your favorite tasks.
Also, you can monitor and manage your network with ease from your mobile device when you use the intuitive ASUS router app.
– Ethernet and USB Ports: Enhanced Connections
USB 2.0, 3.0, and other Ethernet ports feature on this device so that you have more options to connect. That's an option for users who feel the Asus RT-AC68U range doesn't match their needs.
The USB ports serve as a medium to transfer files, while the Ethernet ports help deliver a stronger signal and farther ranges.

– Overview
If you want the latest technology and specs on a router, this RT-AC68U will appeal to you. It's as secure as they come and has other connections to keep you happy.
Pros
  Ultra-fast Wi-Fi speeds
  Multiple ports for extra connection
  Excellent design
  Covers a wide range
Cons
  No installed network configuration
The first thing to be clear about in this Asus RT-AC68R review is that the AC68U and AC68R are the same.
The only difference is their name – U stands for Universal, while R stands for Reseller. As a result, the R version can be sold by retailers.
The RT-AC68R is one of the fastest Wi-Fi routers, with a combined dual-band data rate of up to 1900Mbps. 1300Mbps 802.11ac on the 5GHz frequency gives Gigabit wireless data rates, while Broadcom TurboQAM technology super-charges the 2.4GHz 802.11n performance from 450Mbps to 600Mbps on compatible devices.
It's a router powered by a dual-core processor to guarantee smooth HD video streaming and low latency for online gaming and VoIP calls.
– Frequency Band: Better Connections for Better Performance
Like the other router, the Asus RT-AC68R specs include a dual-band frequency that lets you connect to different tasks depending on how heavy they are. As many experts say, the 5GHz is more suited to games online, heavy downloads, and streaming. Moreover, it also has speeds reaching up to 1900 Mbps.
– Security Protocol: Keep Intruders Away
The router features WPA-PSK, WPS, WPA2-PSK protocols that combine to prevent intruders from gaining access to your connection.
In addition to that, you can monitor and manage your network from your home mobile device using the intuitive ASUS router app.
– Ethernet and USB Ports: Connect Seamlessly With Your External Devices
Equipped with USB 2.0, 3.0, and other Ethernet ports, the RT-AC86R allows you to connect seamlessly with a wide range of external devices without going through the stress. These ports help with high-speed and stable wired network connections.
Also, they encourage faster data transfer in tandem with the dual-core processor for fast and responsive performance. The Ethernet connection serves to increase the range of your wireless router.

– Overview
This device is described as the fastest router out there, and this device is best suited to individuals that need a stable and reliable Internet connection.
RT-AC68R vs. RT-AC68U: Head to Head Comparison
The main difference between RT-AC68R and RT-AC68U is, the Asus RT-AC68R, which offers more speed.
We can compare Asus routers all day long to spot their unique capabilities, but the fact is that these two routers are more identical in features than you think and will live up to their expectations when it matters most.
Sure, their prices may differ a little, but either of them will work just fine. Whether you use them for internet-heavy tasks or some lighter activities, they're going to deliver quality results without stress.
Many websites also refer to both of these routers – AC68R and AC68U as the same. We will toe that line because nothing is outstanding that separates the two devices.
They share some significant similarities, including:
  The frequency with a dual-band network connection
  USB featuring 2.0 and 3.0 ports
  Ethernet and LAN ports for wired connections
  Security protocols such as WPA-PSK, WPS, and WPA2
  Data transfer rates up to 1900 Mbps
FAQ
Are both the RT-AC68R and RT-AC68U produced by the same manufacturer?
Yes, both the RT-AC68R and RT-AC68U are manufactured by ASUS and belong to the same product line of wireless routers.
Can I use custom firmware with the RT-AC68R and RT-AC68U?
Yes, both routers support third-party firmware such as DD-WRT and Merlin. However, installing third-party firmware might void the warranty, so it's essential to check the warranty terms and conditions before making modifications.
How frequently should I update the firmware for these routers?
It's recommended to regularly check for firmware updates to ensure optimal performance and security. ASUS often releases updates to patch vulnerabilities and introduce new features. Users should update firmware whenever a new version is available.
What's the warranty period for these routers?
Typically, ASUS offers a 2-year limited warranty for their routers, but the warranty period might vary depending on the region and the place of purchase. Always refer to the product's official documentation or ASUS's official website for specific warranty information.
Conclusion
These two routers are more alike than different from one another. That's what makes it very difficult for us to pick a clear winner between them. The Asus AC68U and AC68R have the same speed, design, and peripheral specifications.
Perhaps they can be set apart from their other counterpart, the Asus RT-AC68R, which offers more speed. Nonetheless, you get the same level of security to keep your connections safe.
If you're looking to purchase either of these routers, that's fine, but you should know that the difference lies in their name. The letters U and R, which stands for Reseller, separates them. Having a total of 1900 Mbps puts these routers on the map as some of the fastest, and they still have the range and extra options for connection.
Whether you want one in the office or at home, you can expect a good performance from either device. That way, you can have multiple devices connected to their network.