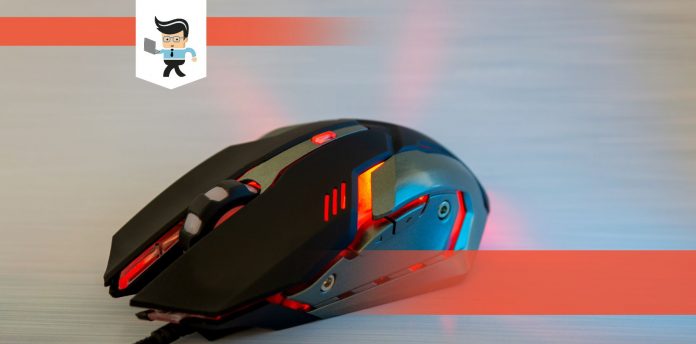 Rival 600 vs. G502? Considering that both of these devices are from the SteelSeries and Logitech brands, which is better?

With both having high DPI, fast and responsive buttons, smooth connections, and much more, that's a tricky question to answer.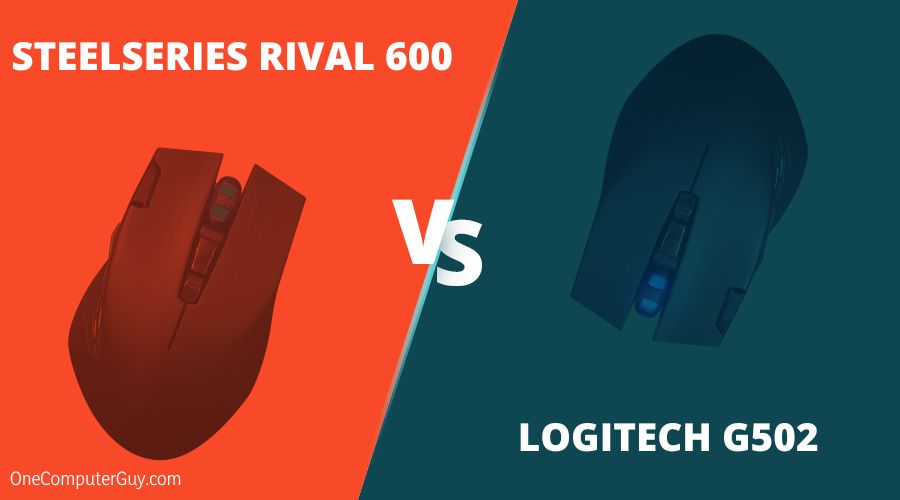 Our review breaks down this comparison of quality features to help you make a worthy choice for your rig. Let us get to the full scoop of it below!
Key Specifications Comparison
Product 
Key Specifications 
Rival 600

Brand: SteelSeries
DPI: 12,000
Buttons: Seven
Sensor: TrueMove3
Connectivity: Wired
Weight: 128 grams

G502

Brand: Logitech
DPI: 16,000
Buttons: 11
Sensor: Hero 25K
Connectivity: Wired
Weight: 121 grams
SteelSeries Rival 600 or Logitech G502: Which Mouse Would You Rather Have?
Pros
Exceptional RGB lighting
Uses a dual-sensor system
Optional weights
Cons
This SteelSeries mouse is as handy as they come, but this one feels more lightweight than most. At just over a hundred grams, it's worth the handle, considering that it uses a wired connection.
Also, the exterior looks fantastic, coupled with RGB lights and a low profile along smooth lines. It's one of the best RGB to grace a mouse.
For customization, you can do that with the buttons on offer and add weights to it or take weights out. Either way, you'll enjoy the performance.
– Design: Superb Construction
The mouse looks good with a wide range of options you can customize. Also, it comes with a wired USB cable and vibrant RGB lighting. We feel it's a lightweight mouse designed for small to medium-sized hands with weight tuning configurations.
It can handle a couple of grip styles as well. That's why many users have tagged it as having the 'world's lowest and most accurate lift-off distance.' Another addition you'll love is the silicone side grips for better grip and durability.
– Features: Smooth and Excellent Delivery
The Rival 600 dimensions could be just what the experts order, thanks to the nice feeling you have when it's in your hands. The groves stick out, but they're anything but annoying, while the side grips are super smooth.
It's not soft or mushy to the touch but feels nice when you touch them with your fingers. The USB cord won't disconnect from the front for connectivity because it's tight enough. You can hang the mouse anywhere, and it won't fall off.
When it comes to the buttons, pressing them gives you a firm response because of the thick plastic, which also features on the side buttons and scroll wheels.
The sides buttons are three and a bit small. That means you might accidentally press them. But you'll get used to it. The scroll wheel is a button on its own and gives you a soft touch. It has a very low profile that favors your fingers because you don't have to lift it too far.
The DPI buttons make an entrance at a distance on the mouse. They're not as close as any other button. Perhaps that's great if you have to pre-plan your moves during some games. Other than that, it's a bit stressful when you're not used to the mouse.
– Software: Make Your Changes
With the SteelSeries software in this mouse, you can set some preferences and configure different profiles for several functions, including gaming. Also, you can adjust your buttons or click on each icon within the mouse.
It's also possible to disable any button you're not compatible with. Perhaps the best part is manipulating the RGB lights to your advantage.
For example, when you click on the show zones, you'll have a display of every single option available to you for RGB. To that extent, you can make changes to color or have them assigned to various buttons like the side or scroll wheel.

– Overview
The Rival 600 from SteelSeries is one of the best gaming mice out there. It's an excellent fit for gamers of all levels and has the most accurate tracking sensors vital to gaming exploits.
Pros
Adjustable weights
Flawless sensor
Quality, customizable buttons
Cons
Quite narrow for large hands
The Logitech G502 size is lower than its counterpart above, so it is another small mouse. However, it has pulled a lot of users with its fun design, durable build, performance, and efficiency.
It's also possible to add more control to your game using the quick DPI shifting from low to high sensitivity. It's a mouse that will rival the very best, including the Rival 600 above.
– Design: Quality Shape
At first, there was the original version of the G502 Hero mouse with its perks and quality features. We can compare this new G502 to the previous one due to the lack of difference in the mouse's shape, grip, and feel.
However, the sensor improves things. You also get tunable weight and glide on this mouse to your benefit by aligning the weight to balance and hitting your favorite spot. That will optimize your gaming performance and experience.
Part of the design of the G502 includes its Lightsync RGB technology. It can be driven by audio, games, and even on-screen functions.
These lights give you quite the immersive experience when you can select from a full spectrum of about 16 million colors. Go ahead to customize them to fit different functions.
– Features: Built for Gaming
According to the Logitech brand, this most has switched rated for up to fifty million clicks. Even if that's hard to believe, the G502 has perfect working conditions. That's a given because of this Hero version and the sensor inside, making it far better than its predecessor.
Unlike the first G502 mouse, the cable is braided and is thinner and more flexible. That's a plus when choosing different angles using the mouse. As a result, it's more comfortable even if you have to bend the cable to connect it to your computer. We also like that you can put a weight on this mouse.
You can distribute the weight in different directions, such as the mouse's back, front, and sides. We'll advise you to leave it at the center, though. That way, it's easier to maintain a neutral balance.
Further, the highest DPI on this mouse is 16000. That's a lot, and many gamers and regular users end up using far less of it.
At least, you can set the DPI to your preferred figure depending on the monitor being used. The mouse is ideal for Overwatch, World of Warcraft, Fortnite, etc. You get a good level of accuracy, which is essential for shooter games.
– Software: Personalize Your Mouse
We already know that the mouse is equipped with eleven buttons, and you can customize every one of them using the Logitech software. The software is simple: you can bind some macros to the buttons and rearrange them. For example, gamers can put shortcuts, multimedia keys, and lights.
Like the Rival 600, you can control the RGB in the mouse, thanks to the single LED in the G logo. We like that the RGB appears to be discreet, and you can choose to use it at any time.

– Overview
The G502 joins Logitech's long lineup of gaming peripherals, and the mouse doesn't disappoint with a good number of credible functions and features. It will also suit gamers and other enthusiasts. The customizable features are a massive draw for players coupled with unique sensors.
G502 or Rival 600: Head-to-Head Comparison of Their Top Features
The main difference between G502 and Rival 600 is, G502 has a DPI reaching 16,000, promises 400 IPS and offers eleven buttons while Rival 600 has 12,000 DPI, 350 IPS and seven buttons.
Connection
We have picked both of these mice as winners for this category because they're wired mice. The USB connections are braided and won't give you stress when connecting either one to your computer.
They're both also portable and easy to store away after use. There's nothing to differentiate them with regard to connection unless you want a distinctive wired connection.
Sensors
Our Logitech vs. SteelSeries comparison features two quality sensors you'll love to work with. For the G502, you get the PMW3366 optical sensor with zero acceleration, smoothing, or filtering across the entire DPI range.
That covers everything from 200 to 12,000 DPI. That's fast, but the Rival 600 doesn't surrender.
It has the TrueMove3+ sensor and optical depth sensor. It's a fact that the SteelSeries company claims to be the first gaming mouse to get the lowest lift-off detection down to 0.5mm or 0.02 inches.
Depending on your preferred mice here, the two of them promise zero lags coupled with a smooth gaming experience.
DPI (Dots Per Inch)
The DPI is a key feature in any mouse that measures the device's sensitivity. The former Logitech G502 used to have 12,000 DPI, just like the Rival 600 here. However, the upgraded version of the G502 sees it pack a DPI reaching 16,000.
Also, the DPI is related to the IPS (Inches Per Second). The Rival 600 offers 350, while the Logitech G502 trounces its competitor by promising 400 IPS. That's why we think that the G502 here is a bit faster than the Rival 600.
Buttons
Buttons are a crucial part of any mouse, and these two offer up programmable buttons. But we'll go with the Logitech G502 because it offers eleven buttons to the Rival 600's seven.
The buttons on the G502 can be programmed to your favorite commands using the G HUB. Have all your custom moves, profiles, and more at the tip of your fingers.
G502 vs. Rival 600: The Best Pick?
Getting either of these mice is much easier now that you know how they work and their best features. On the whole, they're competitive and will match certain users. The G02 Hero is a fantastic mouse for Fortnite and MMO gaming.
Also, you don't need too large a hand or palm-wise to have it fit. On the other hand, the SteelSeries Rival 600 is an awesome choice for FPS gaming because it has one-to-one tracking.
What's more, the SteelSeries Rival 600 weight is bigger at about 128 grams, but it has fewer buttons and DPI. That's why we picked the Logitech G502 as the overall winner of this mouse contest.