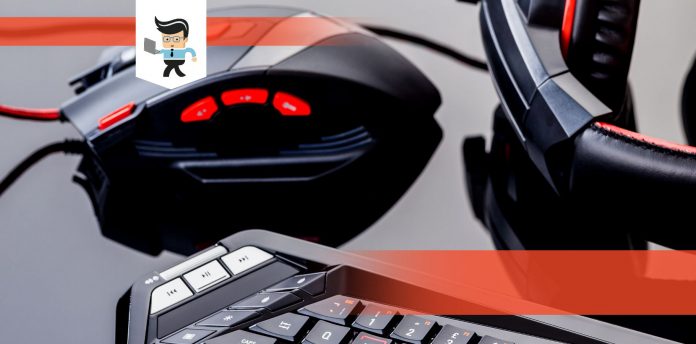 Our Rival 310 vs. Sensei 310 comparison article is a reliable point of reference when you have to choose between these two fantastic mice. They're both good for gaming and have enough features in common, including design, USB connection, optical sensors, and more.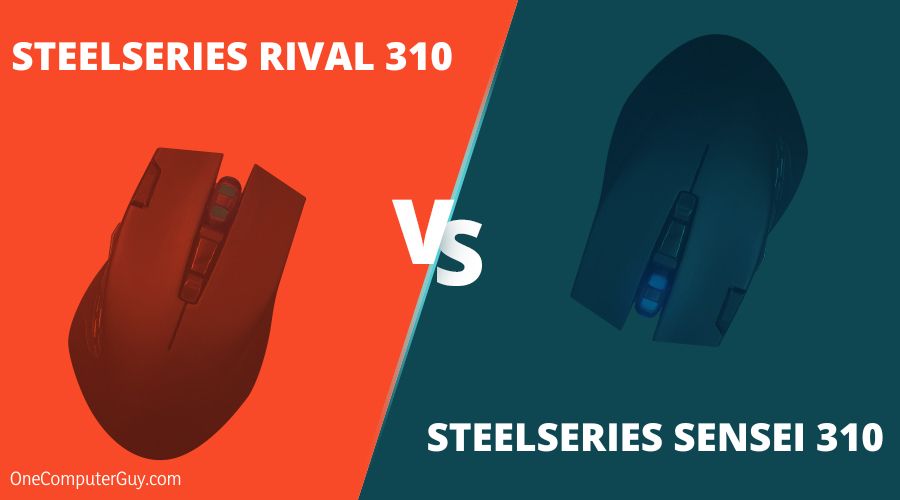 Also, they share the same manufacturer in the renowned SteelSeries brand. With our review, it's much easier to appreciate their qualities and pick out which one is best for you.
A Glance at the Key Specifications
Product 
Key Specifications 
Sensei 310

Brand: SteelSeries
Connectivity Technology: USB
Movement Detection: Optical
DPI: 12,000
Buttons: Six

Rival 310

Brand: SteelSeries
Connectivity Technology: USB
Movement Detection: Optical
DPI: 12,000
Buttons: Six
SteelSeries Sensei 310 and SteelSeries Rival 310: How Do They Stack Up?
Depending on the size of your palms and your grip style, you may need to settle for a mouse that works best for you and suits your personal needs. Other things you'd like to take into consideration include the brand, features, gaming capabilities, and much more.
You can get all of that on the Sensei 310 and rival 310 mice, as both devices look and feel almost the same, thanks to the sheer number of similar features. Whether you turn to buttons, DPI, exterior, and other components, you'll be faced with the same specifications.
When we took a cursory look at the Rival 310, we couldn't help but take it as a true esports mouse because of the performance that backs up the claim. It also features the TrueMove3 12,000 CPI, 350 IPS optical sensor, and unique split-trigger buttons. With it, users will experience the power of ultra-low latency and rapid-response tracking.
The Sensei 310 matches its rival here and is more than capable of owning the tag of esports mouse. It also has the custom SteelSeries TrueMove3 12,000 CPI optical sensor and exclusive split-trigger buttons.
As a result, users get the power to wield pixel-perfect precision and the performance of lightning-quick clicks. It's indeed a master for the standards it imposes.
Having a truly reliable mouse is vital for a dedicated enthusiast and user. Both 310 model mice will directly affect how you interact with the game.
However, not all mice are great, and some options are suitable only for specific people, and others are overpriced. Below, we will help you choose between two nice gaming mice, SteelSeries Rival 310 and Sensei 310.
The question now is, how do these mice stack up against each other?
We will answer that question with our review of the individual products and a subsequent comparison of their key features.
Pros
Comfortable and ambidextrous mouse
Built for excellent performances
Excellent shape and design
Fast responses
Cons
Allows only two DPI settings
The first thing we must state about our SteelSeries Sensei 310 review is that it's an ambidextrous mouse from a popular brand and features two thumb buttons on either side. That means a right-handed or left-handed gamer can take control of the mouse. It also carries a clickable scroll and a DPI adjuster in the middle.
– Construction and Design: Nice-looking, Multi-grip
It's not at every turn we come across a mouse that caters to the needs of more than two groups of users. That's what the Sensei 310 does, sporting the legendary SteelSeries Sensei ambidextrous design.
Using this design with the claw and palm grip styles will be comfortable. Its construction is the right fit irrespective of the orientation for your hand movement. We noted that the SteelSeries Sensei 310 weight measures at just 2.2 ounces from the construction.
– Buttons: Programmable and Comfortable
Moving on from the ambidextrous design to the button, we noticed that the Sensei 310 originally came with eight programmable buttons. However, you may only need to use six of these buttons.
You'll find that the thumb buttons are compact and easy to differentiate. There's a silicon grip under each button to help keep your fingers stable, comfortable, and in the proper position. Meanwhile, the contours on the scroll wheel prevent your finger from slipping off.
– Software: More Customizations
Like its counterpart, the Rival 310, the Sensei 310 runs on the SteelSeries Engine 3 software. It's one of the best programs for controlling gaming peripherals in the industry.
With the software, users have the power to reprogram buttons, set up individual game profiles, adjust DPI settings, control RGB lighting, and more. However, the Sensei 310 only gives you two DPI options to choose from.
For the RGB, you get a two-zone, multi-color Prism RGB illumination for customizable lighting. With the help of the software, you can save all your performance and lighting settings directly to the Sensei 310.

– Overview
If you're a left-handed mouse user, there's no need to worry about this device. It fits any hand orientation with its ambidextrous design. That makes it comfortable for both right-handed and left-handed users. The double silicone grips on the Sensei 310 make it extra comfortable.
Pros
It has a comfortable and ergonomic shape
Lightweight mouse, easy to move
Uses the TrueMove3 optical sensor
Favorable grip
Cons
Scroll wheel is not encouraging
The SteelSeries Rival 310 size is just as lightweight as the Sensei above but bigger. It's designed with adequate thought given to palm and finger placements. When you place this mouse side by side with the Sensei, it's hard to tell the difference because of the features they share.
For example, you can also rest your thumb on the subtle curve on the left side of the mouse. That makes it more comfortable for right-hand users.
– Shape and Design: Ergonomic and Fitting
The SteelSeries Rival 310 also has an ergonomic and attractive shape, but unlike its ambidextrous counterpart above, it's more suited for right-handed palm and claws grip gamers. You get a large base at the rear of the mouse to help the mouse stay more secure in your palm.
We think you have a comfortable moist to work with for the shape and size it sports. Further, it weighs just 3.11 ounces, making it easily maneuverable and faster. The weight is easily distributed across your palm.
The design also includes a textured plastic finish that feels a bit gritty and helps you maintain your grip while playing games. Also, we observed that it is slightly fingerprint resistant and won't get slippery when your hands are sweaty and wet, thanks to rubberized grips.
– Buttons: Programmable, Smart Resistance
There are two side buttons well-positioned at the mouse's back, allowing you to hit the move forward button easily. The scroll wheel comes with a rubberized finish and a notch cut.
At the back of the scroll wheel, you'll find the dedicated DPI button of the mouse, and you can set the DPI anywhere from 100 to 12,000.
However, you'll need to install the SteelSeries' Engine Software to control the DPI and customization for the RGB lighting.
– Software and Sensor: Designed for Esports
Like the Sensei 310 above, the Rival 310 has the TrueMove 3 optical sensor. It's located in the middle of the base, where the center of the mouse's weight lies. With this kind of quality, we think that the IPS optical sensor is engineered for esports.

– Overview
The Rival 310 is ideal for esports and gaming enthusiasts. It features the custom TrueMove3 software and programmable buttons that make playing games easier and more fun.
Rival 310 vs. Sensei 310: Top Differences and Similarities Between the Two Mice
The main difference between Rival 310 and Sensei 310 is, Rival 310 is a gaming mouse for right-handed users only while the Sensei 310 is ambidextrous in design.
When selecting a mouse, there are some key features that you should be looking for.  Here is a comparison of the top components when selecting either of these mice for your functions.
DPI and Weight
The DPI or Dots Per Inch measures the sensitivity a mouse carries. To that end, the higher the DPI, the better the movement it will detect and react to. These two mice have DPI values of 100 to 12,000, which means equal sensitivity.
For the weight of either mouse, the first thing to note is that the weight of a mouse gives you a certain level of maneuver and speed. These mice are big and palm-fitting. The Sensei 310 weighs 3.2 ounces, while you get 3.11 ounces on the Rival 310.
Connection and RGB
The connection is another point of reference where both of these mice meet. They're not wireless by any stretch, thanks to a USB cable that's strong and fast.
Further, these two devices use a full spectrum of 16.8 million colors in two RBG zones. Take charge of your user experience when you play your favorite games.
Sensor
The two SteelSeries mouse on review uses the SteelSeries TrueMove3 optical gaming sensor and all the features and capabilities that come with it. It's the best sensor for competitive gaming and will deliver incredible accuracy on both the Sensei 310 and Rival 310.
The sensor does its bit to match your mouse movement with movement on-screen irrespective of the CPI setting.
Construction
Before picking a gaming mouse, you'd want to know if it's perfect for your palm and grip style.
The Rival 310 is billed as a gaming mouse for right-handed users only. On the flip side, the Sensei 310 is for both hands or ambidextrous in design.
Depending on the kind of user, either choice might appeal to you. However, the Sensei is the ideal pick for left-handed users since it is ambidextrous.
Rival 310 vs. Sensei 310: The Final Pick
If you're faced with deciding between the Rival 310 and Sensei 310 from the SteelSeries brand, it's not quite easy to settle on one. However, with our review of the two, you can make a comfortable choice with a knowledge of their specifications.
After all, the Rival vs. Sensei comparison showcases well-planned designs, ergonomics, and solid performances. On a final note, we feel that the Rival 310 offers more to users, even if that's a slight difference.