Razer vs Corsair is one of the most common comparisons people make when buying gear for their computers.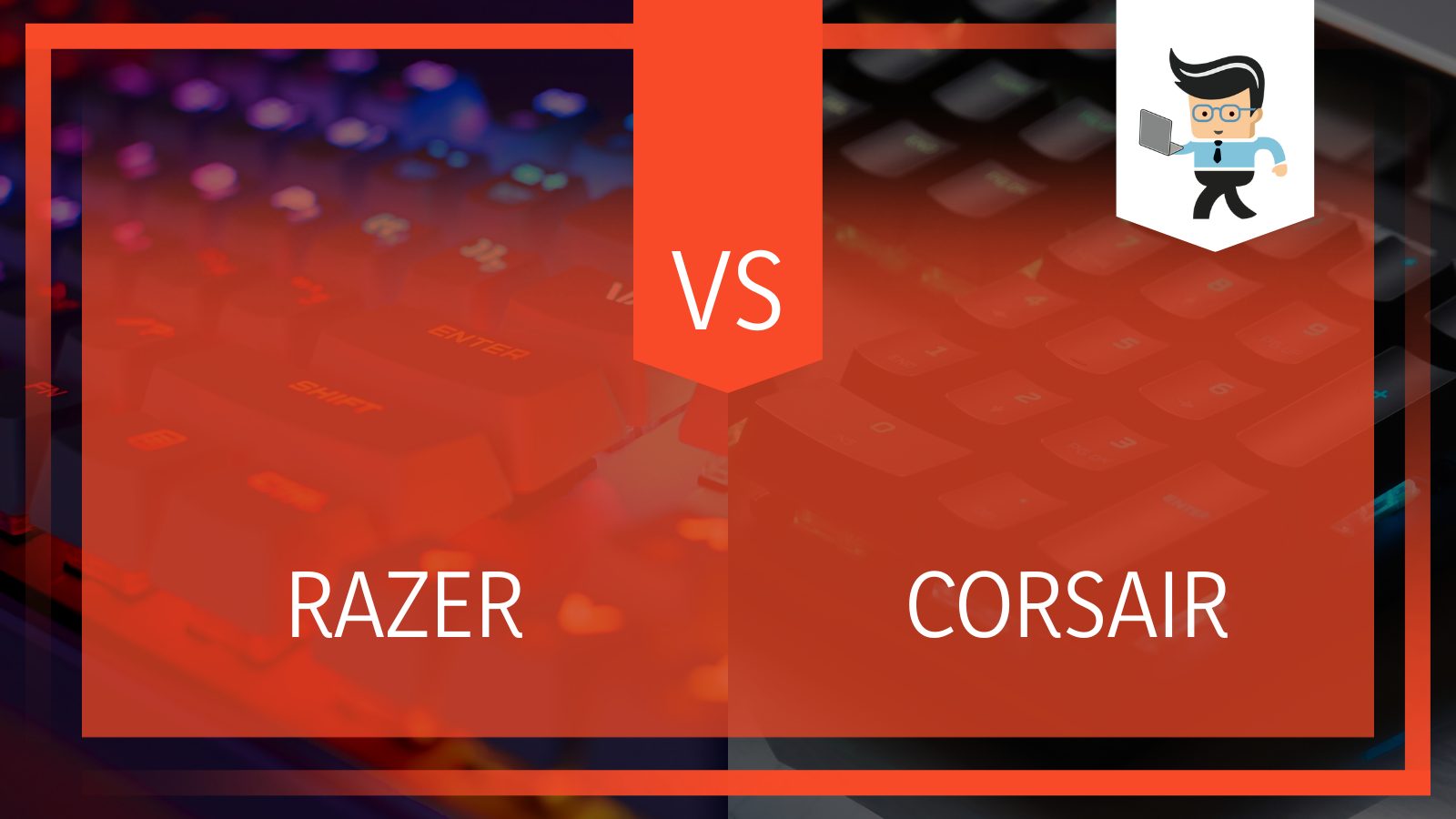 These are two of the most popular brands for computer gear for several reasons. They are affordable, available, and constantly coming out with new equipment. While their components aren't necessarily on the cutting edge of technology, they keep up with trends and know their customers' needs.
But which brand is better?
You will find passionate people in both camps and those who say that the two brands are interchangeable.
In this article, our experts will tell you why we tend to fall in the middle of this argument. Keep reading to see where Razer is better and why Corsair is the superior choice for your gear.
Product
Key Specifications
Razer

Quality hardware and software
Readily available
Over 125 million uses

Corsair

Most sought-after lighting in the industry
All-encompassing range
Custom-designed controllers for gamers
1. Razer: Overview
– About The Brand
Razer is known as the "world's leading lifestyle brand for gamers." It has a trademark look of a three-headed snake, and most people who work with computers know the logo pretty well, particularly gamers.
It has a large fanbase and massive online support, thanks to its quality hardware and software. They've produced everything from keyboards and mouses to complete laptops.
In particular, this brand is known for its Blade Gaming Laptops. Razer has over 125 million uses and a lot of integrations with other companies. They've created a lasting impact on gaming, including payment systems, optimization, and software services since their launch in 2005.
– What They Offer
Currently, Razer offers keyboards, audio equipment, mouses, gaming laptops, traditional laptops, mobile devices, mats, streaming equipment, cameras, capture cards, and more.
You can build your computer using almost all Razer parts or purchase one that has its seal of approval.
– Where Can You Buy It
You can buy Razer gear almost anywhere that sells computer gear. You can get it directly on their website, on Amazon, at big box stores, and even at smaller, independent stores.
2. Corsair: Overview
– About The Brand
Corsair develops some of the highest quality gaming technology for content creators and gamers. They focus on creating premium gear that helps with streaming, including some of the most sought-after lighting in the industry.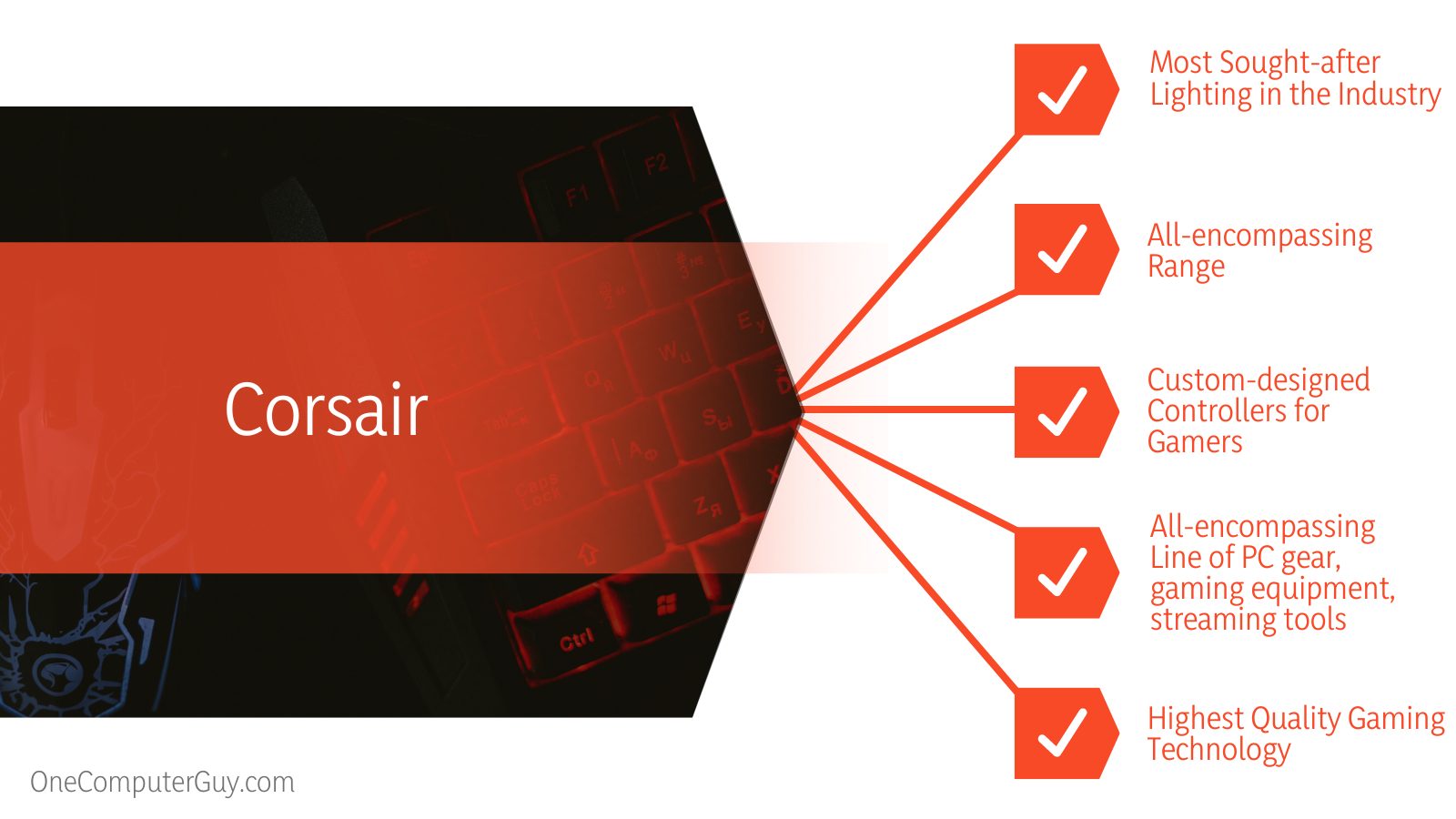 They have shifted a bit in what they offer, moving from focusing on specific components to having a more all-encompassing range with slightly fewer options.
It's important to note that Corsair also owns Elgato, which provides studio-quality equipment for streamers and creators. They also build custom-designed controllers for gamers, which is then reflected in their mass-market technology as well.
– What They Offer
Corsair has an all-encompassing line of PC gear, gaming equipment, streaming tools, and more. Their most popular offerings include headsets, keyboards, mice, chairs, lighting, streaming decks, microphones, coolers, fans, memory, and complete gaming PCs.
– Where Can You Buy It
You can buy Corsair gear almost anywhere you can buy computer gear. You can get it directly on their website, on Amazon, at big box stores, and even at smaller, independent stores. Some of their gear is only available on their website, and big box stores only have mice and keyboards.
Razer vs Corsair Mouse
A mouse is an essential piece of equipment for any gamer, particularly those who play first-person shooter games, RPGs, and MMOs.
Corsair Mice are great-looking and work exceptional. For FPS games, there isn't a better choice. They are quick and lightweight, reducing the amount of hand stress that you will feel.
In particular, Corsair shines when it comes to wireless mice and more compact options. If you travel a lot and use a gaming laptop, then a Corsair mouse will be the perfect companion.
There are plenty of options with a mouse from Corsair. You can get wired and wireless mice, lighting, different colors, customizable buttons, and more.
– Are There Any Problems?
Depending on the variety you buy, these mice aren't always that sturdy. If you are willing to shell out a little more money, you will get a great product. If you aren't ready to shell out that money, you will have to be extra careful.
Razer Mice have the advantage here for most games. The side buttons are unbeatable.
They have a few different options with customizable buttons, including a 12-button option that is fantastic and the go-to choice for many people. These mice are functional and affordable, especially for RPGs and MMOs.
One thing to note is that these mice tend to be a bit heavier, so they aren't as portable. If you have a gaming PC that you don't move, then this brand is for you.
The best Razer mice come in at an extremely high price point, so don't get sticker shock. They are worth their price, especially if you take care of them and clean them. Some people have reported issues with flickering lights on their mice, but this seems to be a problem from a few years ago, and more recent models don't have the same issues.
– What About Mousepads?
Mice are only as good as the pads you use, and in this category, there is a clear winner.
Razer has the best mousepads on the market today. They have more options, including hard and soft mousepads, and their RGB lighting is some of the most beautiful in the industry.
If you have other Razer hardware (including a mouse and a keyboard), you can sync your lights, which leads to a stunning final result. Mousepads are based mainly on personal preferences, and this certainly isn't a place where you need to splurge, but if you are going to anyway, the Razer option is the best one.
Corsair vs Razer Keyboard
Keyboards are essential for gaming, word processing, and using your computer (obviously). Both Corsair and Razer keyboards are among some of the best in the industry.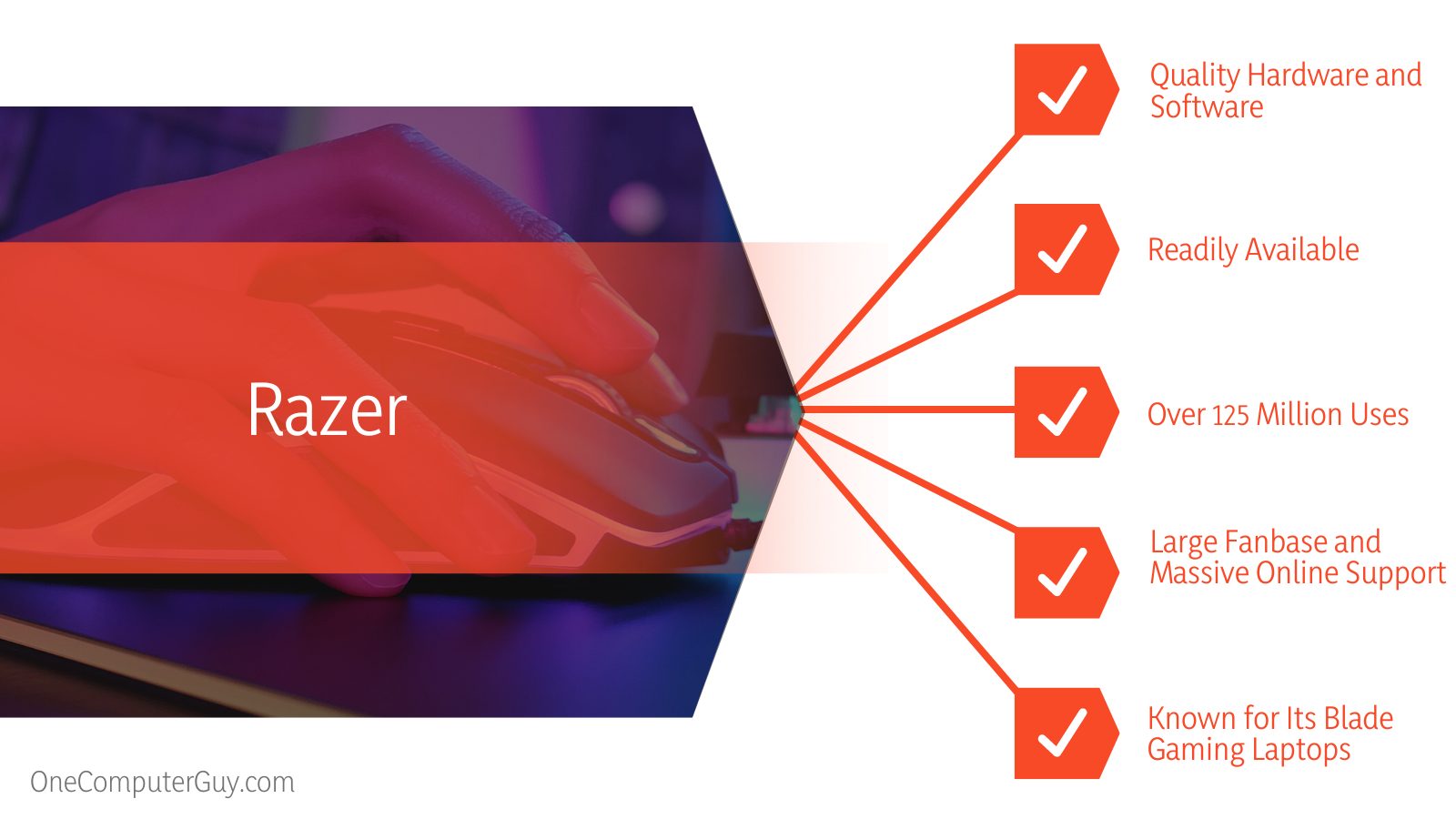 Corsair Keyboards tend to have some "extras" that you don't need, but they look beautiful. They have mechanical keys, back-lit colors, and have elegant designs than other brands. Corsair keyboards tend to have membrane-type keys, making them quieter and easier on your joints and fingers. They have a fast response time.
Corsair keyboards are known for their accuracy, thanks to Cherry MX mechanical switch technology, giving them well-known reliability and longevity.
– Why Corsair Keyboards Are So Great
Corsair keyboards are almost entirely customizable thanks to their user-friendly software. People who have mobility issues have had success with these boards as well.
They are particularly great for use with the Xbox One gaming console. Some are even spillproof and dustproof, making them great for working environments and people who have kids.
– Common Issues?
These keyboards are good, but they aren't as fast as some other brands out there, and they aren't as heavy-duty unless you buy a keyboard at a higher price point. Once you pay a little bit more, however, you will get a highly hardy piece of equipment that can take some everyday abuse.
Razer Keyboards are heavy-duty and are more prolific in the design of their keyboards. These were developed with heavy usage in mind. You will be able to smash the keys pretty hard, and you won't break anything.
They are a little more practical than other keyboards in gaming, but they aren't as personalizable for other activities. They are just fine for word processing or traditional computer usage, but that isn't what they are really for.
Just like Corsair, they have good backlighting, but their keys go a step further. The design of the keys helps to reduce extra strokes and errors when you are typing.
– Why Razer Keyboards Are So Great
Apart from being durable and heavy-duty, Razer keyboards are also comfortable. They were designed for wrist support, which is essential for gamers. There is also a custom design to their mechanical switches, which can be problematic in other keyboards. It significantly improves speed when compared to almost every other brand.
– Razer Keyboard Issues?
One of the biggest issues is that people don't pay attention when they buy the keyboard and end up with something that isn't compatible with the gaming console they want to use. Most popular consoles work with Razer keyboards — but not all.
Which Keyboard Would We Pick?
When it comes to keyboards, you need to think about what you will be doing on your computer. If you are casually gaming, doing work, or browsing the internet, you don't need to use a heavy-duty keyboard. One of the cheaper models from Corsair would be perfect for you, and you'll still get the beauty and elegance they offer.
However, if you are a gamer and want to play consistently at your best, then a Razer keyboard is hard to beat. With all of the personalization opportunities and the speed of the keys, you will get that edge.
Corsair vs Razer: Other Categories
It is worth it to compare Corsair and Razer in some other categories because they make a lot of similar products. Sometimes, the better option is clear, and other times they aren't as straightforward.
Let's break it down:
– Headsets
To be completely honest, neither Corsair nor Razer has the best headset on the market. They are both pretty good, but there are better options to splurge on, and it is dependent on the person wearing the headset to determine which one is best.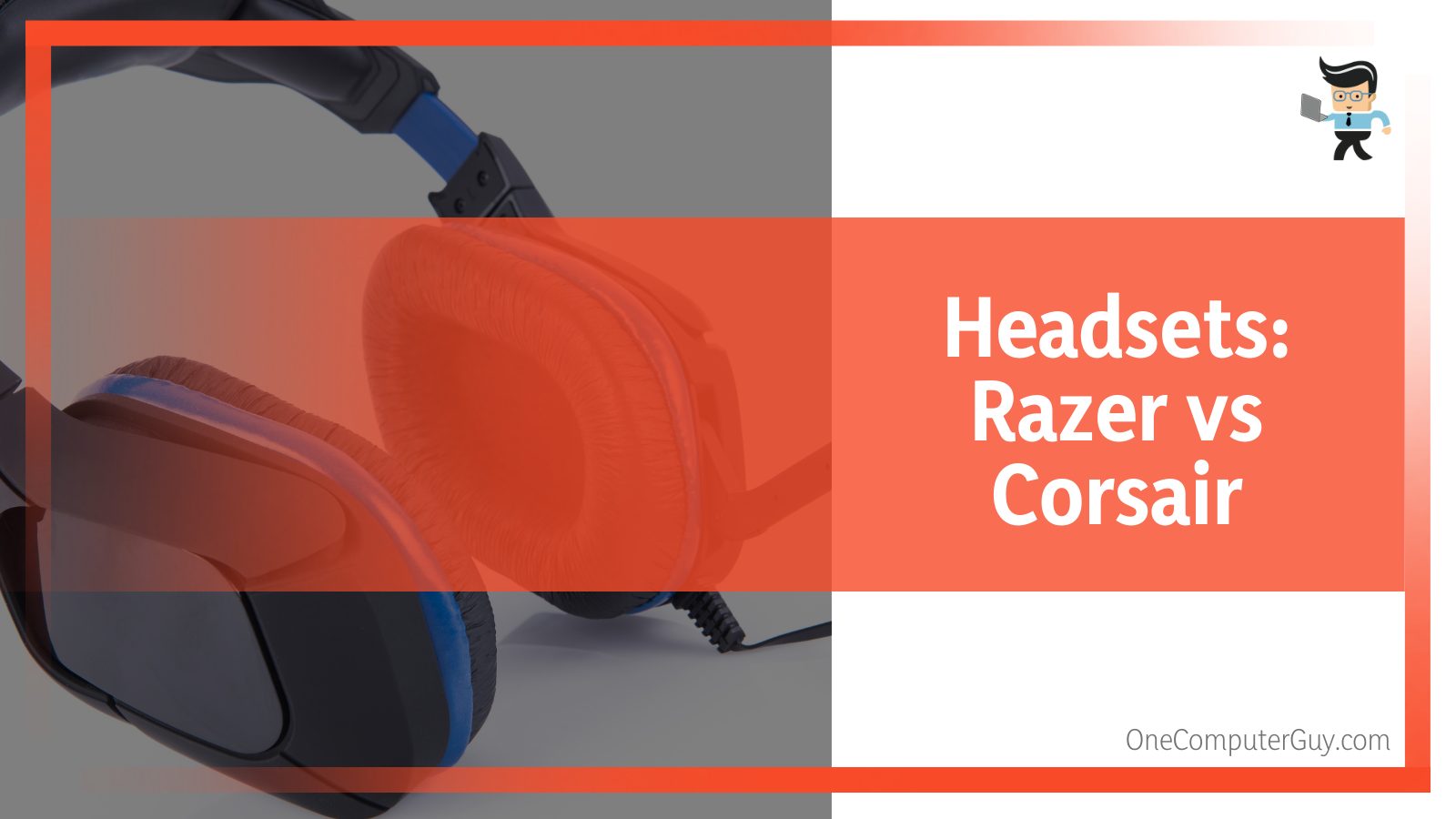 Corsair has some good headers, in particular the Void Pro. The Razer Nari Ultimate is the best offering from Razer, particularly if your head is on the larger side or you find that many headsets are uncomfortable.
– Computer Cases
Corsair and Razer have pretty popular cases, but in our opinion, here is a clear winner in this category: Corsair.
Razer doesn't offer a ton of chassis available, and it's clear that Corsair has put a lot of time into developing these cases. While the options from Razare aren't bad, the options from Corsair are among the best on the market. From the cheapest cases to the most expensive, you'll be able to find something great here.
Other Offerings: Corsair and Razer may share a market space, but they shine in different categories. You can get a complete system from Corsair that will be among the best of the best, especially if you get everything from one line.
They also have a lot of good power equipment, which is why we've recommended the Corsair brand the most. Razer has some great standalone pieces.
Conclusion: Is Corsair Better Than Razer?
At the end of the day, it is complicated to compare one brand to the other overall.
There are some places where Corsair is far better than Razer, places where Razer has better technology and more lasting products, and places where they are pretty equitable.
The best thing that you can do is look into the technology you want to see which brand is better for you. In general, you are going to find better prices and deals for Corsair products but better overall equipment for gaming from Razer. If we had to buy without any research, we'd go for Corsair most often.