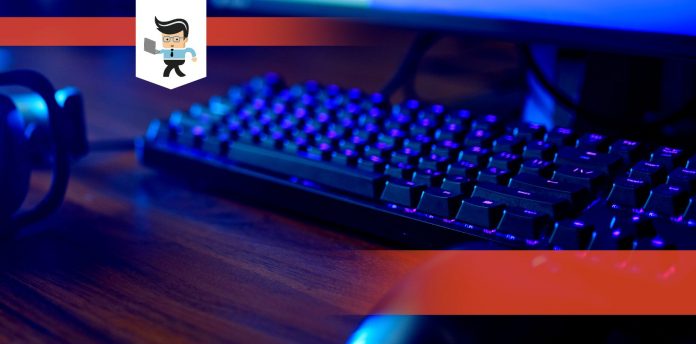 A Cherry MX brown keyboard is one of the top choices for both gamers and regular typists, as it comes packed with great benefits and features. With the addition of the Cherry MX Brown Switches, these keyboards tend to be more beneficial, offering a smooth and fast typing experience.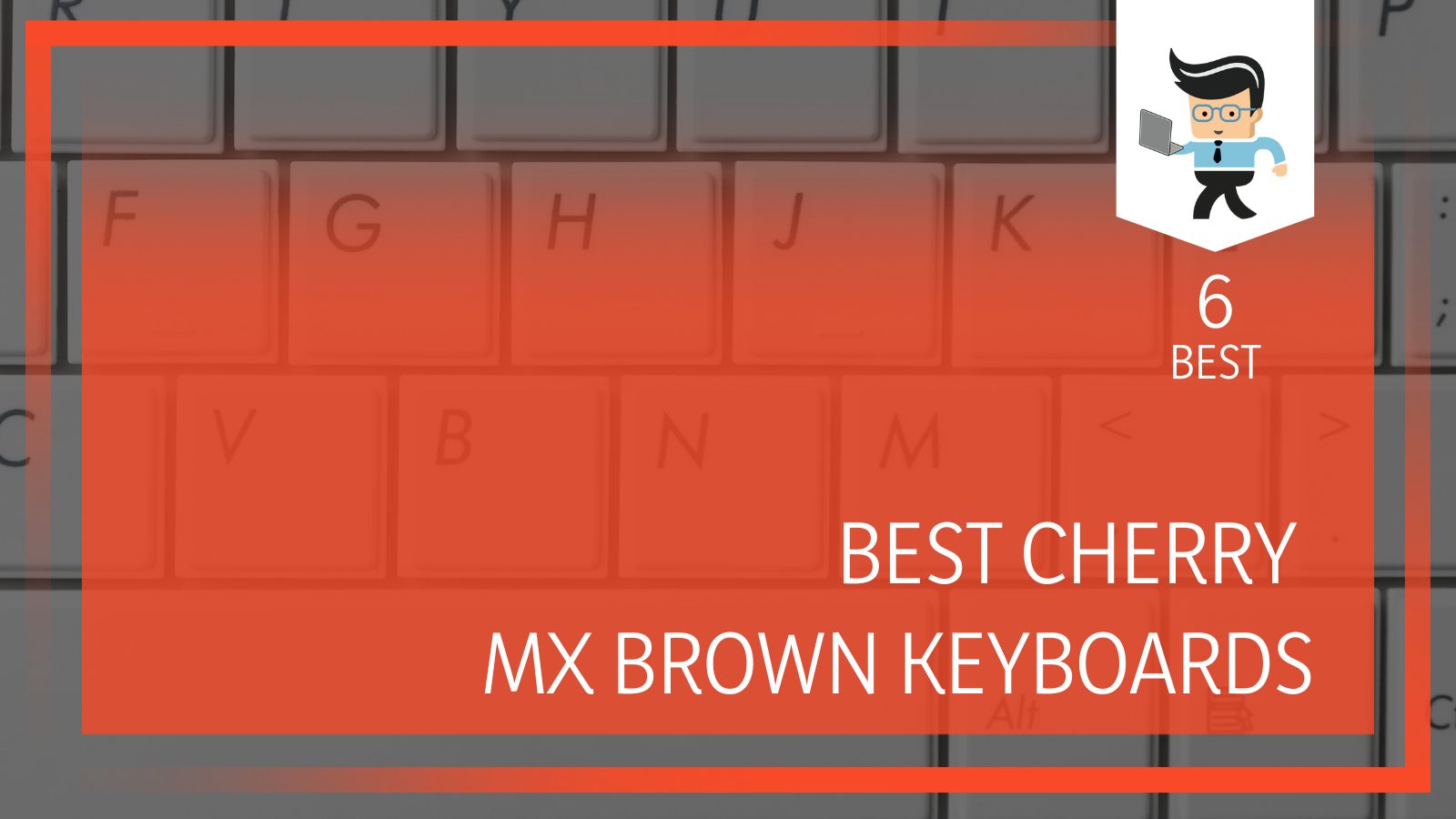 However, choosing the right mechanical keyboard can be quite challenging. Hence, we've compiled a list of the best gaming keyboard brown switches. Using this review, you can start making your choices with ease.
Comparison 6 Best Cherry MX Brown Keyboards
Pros:
• Detachable wrist rest
• Dedicated keys for media control
• Durable aluminum frame
• PBT keycaps
Cons:
• Absence of the Discord notification bar
This mechanical keyboard comes with a unique aluminum frame that makes it last longer. It is one of the top mechanical keyboards with Cherry MX brown.
It is also a "USB pass-through" keyboard which can charge different devices supporting the connection of a USB. The mechanical keyboard also comes with dedicated keys for media control.
The backlighting feature works efficiently, and also has an option for control.
The excellent wrist rest is highly comfortable, and you can easily detach it whenever you like. As a fully customizable keyboard, you can customize several keys to suit your needs. It provides a 100% anti-ghosting key.
Peculiarly lightweight, it allows smooth movement. It has a dimension of 19.3 × 17.1 × 7.8 inches and weighs 2.65 pounds.

It works with the CUE software that is highly sophisticated and allows a faster typing experience. The tactility of this keyboard allows for smooth typing with fewer errors. The keycaps are made of PBT plastics and ensure a tighter grip, and the keys are durable.
Corsair K70 is a unique gaming keyboard which comes with several competitive features that help increase typing speed and assist you with your games.
Pros:
• The N-key rollover feature
• Media dedicated keys
• Shortcut keys
Cons:
• Lacks the backlighting feature
• Absence of macros
This mechanical keyboard features the N-key rollover which ensures gamers get a fantastic experience by being able to click on several keys at the same time. It allows the use of up to 104 keys at the same time.
The bottom of the keyboard has some rubber pads that will ensure the stability of the keyboard. It is very durable, having a metal chassis. It has a 100% Cherry MX Brown switches that are quite simple but ensure a more precise typing. With this keyboard, users can type faster with less chance of errors.
The keyboard is exceptional, providing a tactile feeling while typing. The "Windows button lock" that comes with it also allows users to block the windows button; hence, it stops functioning.
With this feature, you can avoid the interference of the Windows button in the course of the game. The laser printed characters on the keycaps do not fade quickly, and the keycaps can withstand up to 50 million clicks.
There are some shortcut keys for play, pause, stop, and forward, as well as those for volume up and volume down.

The dedicated media keys would provide you with total control during games. It has a USB hardware interface and can accept devices that allow USB in their ports. This keyboard has a dimension of 17.32 × 5.43 × 1.52 inches. It is quite heavy, weighing in at 3.48 pounds; hence, it can be quite steady when placed on a surface.
For incredible gaming or typing experience, this Cherry MX Brown mechanical keyboard is quite suitable, as you can fully utilize the N-key feature.
Pros:
• Six programmable switches
• Removable and dual-sided wrist rest
• The available option of animations at the top of the 19-zone bar
Cons:
• No wireless option
• Absence of the audio jack
It is an excellent brown switch keyboard which comes with the RGB backlighting feature. The RGB lighting is customizable, and you can increase or decrease the level of light based on your needs. This lighting control is possible because of the unique Corsair iCUE software.
You can also set lighting profiles up for different colors. The keyboard tactility is second to none, and its silent option ensures that there is no noise while you type.
The corsair K95 RGB keyboard comes with an 8MB profile storage space. With this, you can store up to three different profiles and alternate these profiles at any time. There is an availability of six dedicated macro keys (G keys). It is lightweight, just 2.92 lbs, and has a dimension of 18.30 × 6.70 × 1.40 inches.
The USB pass-through feature allows you to connect and charge USB-enabled devices. Typing on this keyboard is precise and buttery smooth. The double-sided wrist rest is detachable, and using this soft wrist rest provides a more comfortable experience.

Are you searching for a suitable mechanical keyboard with the RGB lighting feature? Corsair K95 RGB keyboard is an excellent option as its tactility is tremendous, and it ensures there is less noise in the course of typing.
Pros:
• Suitable for fast typing
• Keycap inscriptions are laser etched
• N-key rollover
Cons:
• Can be quite heavy
This keyboard also has the Cherry MX Brown Switches and is very suitable for fast typing. It is quite stable on a surface, and this can be because of its weight of 3.00 lbs. It has a 104 keyboard layout.
This keyboard is suitable for games, but it also comes handy for other typing tasks. There is an option for programing the G keys (six programmable keys) according to your needs. It also comes with a 2.0 USB port and is compatible with the PS2 adaptor.
It is a 100% anti-ghosting model. There are color indicators that tell you when the "Caps lock" and "Num lock" are switched on, with a blue LEDs shining brightly. Of course, despite being a brown switch, it comes with a blue LED. It has a life span of up to 50 million key clicks.
With the N-key rollover option, gamers and fast typists get to click on different keys at the same time. The USB connection cable is quite long, measuring two meters, allowing a tidy workspace.
Also, there are quick-access keys available for media control. You can play, pause, mute, next, and eject media with ease. This keyboard has a dimension of 18 × 6.5 × 1.5. Its tactility is high, providing a smooth and less clicky experience.
Furthermore, the laser etched keycap inscriptions are less likely to fade.

The DAS S Model is worth its price, as it comes with a lot of competitive features. Its blue indicator light and its tactility are unique.
Pros:
• Removable wrist rest
• USB and AUX pass-through
• Customizable RGB lighting
Cons:
• Allows 2 USB port
• Light colors are not customizable
This keyboard provides quality typing experience, as it comes with smooth keys and several other features. There are dedicated keys for your media control, and it allows you to customize the six dedicated macro buttons according to your needs.
The removable wrist rest will enable users to type more comfortably. The USB port is the pass-through type which is compatible with a headphone jack and a microphone jack.The unique RIPJAWS software controls most of the features on this mechanical keyboard.
The RGB feature is fully customizable, as you can set the brightness between four levels. Also, it has a dimension of 20.39 × 8.98 × 1.89 inches and weighs 3.40lbs.
The actuation distance between switches is 2mm, and the keys are very durable. The Cherry MX Switches offers fast responses, and users get to feel its tactility.

It comes with 100% anti-ghosting and ensures the execution of multiple tasks at a time. There are hands-on, dedicated keys for media controls, making it more convenient to use the control options. Also, there is an integrated LED that digitally displays the volume. You have the choice of enabling and disabling the Windows lock.
The G.SKILL RIPJAWS KM780R keyboard offers several benefits, much more so with its Motherboard RGB compatibility. Although you would require some more space to contain this keyboard, it is worthwhile.
Pros:
• Compact size
• Anti-ghosting feature
• Dye-sublimated keycap inscriptions
Cons:
• Lacks Numpad
• Lacks dedicated media keys
This keyboard is of high quality and comes with several reliable features. The keycaps are of PBT plastics, and the keycap inscriptions are long-lasting.
The keycap inscriptions are a result of techniques involving Dye-sublimation. Hence, the characters are resistant to severe conditions like water and dust. With dimensions of 14.4 x 6.9 x 2.1 inches, it has a compact size featuring 68 keys and can fit in smaller spaces.
Also, it comes with a keycap puller that you can employ in removing the keycaps. Although there are no dedicated Windows lock keys, you can make use of the FN + left win keys. The keyboard is lightweight at only 2.2 pounds.

Furthermore, the feet at the bottom of the keyboard have three levels of adjustment. The N rollover keys and the unique USB-C connection create a more efficient environment for a fast typist. The tactility of the keyboard provides a smooth and comfortable typing.
The unique vintage design of this keyboard makes it more attractive, and its compactness is exceptional. It fits into small spaces, and you can easily carry it as it is lightweight.
Why Cherry MX Brown Keyboards?
Generally, Cherry MX Switches are amazing on mechanical keyboards, and they are quite comfortable and responsive.
There are several other types of Cherry MX Switches, and the most popular models include the Cherry MX Red, Blue, Black, and Speed Switches. The Red switches are linear and quite soft, but they lack bumps. Also, these Cherry MX Switches lack that additional tactility that comes with the Cherry MX Brown Switches.
Cherry MX Blue switches require an actuation force of 50g and seem quite "old school." These Blue switches are clicky, and when compared to the brown switches, they are quite noisy.
Unlike the brown switches, the Cherry MX Black switches need an actuation force of 60g. The high weight of black switches is often less suitable for typing tasks.
However, the Cherry MX switches offer a comfortable feel with their high tactility, which has made them very famous. They come in between, creating a common ground for both gamers and typists. Thus, they are among the most wanted switches by mechanical keyboard users.
Tips for Choosing a Cherry MX Brown Switch Mechanical keyboard
In choosing a mechanical keyboard with Cherry MX Switch, there are several areas you must analyze. This analysis ensures you end up picking the right mechanical keyboard. Here are some tips that can assist you in selecting the right manual.
– Choose Based on the Form of the Keyboard
Mechanical keyboards come in various forms, with those having 104 keys being the most preferred. While some come with the most popular features of a mechanical keyboard, including num pads and navigation keys, others include some extra dedicated keys.
Also, there are some other keyboards with 68 buttons without the num pads. There are keyboards with 60%, 80%, and 75% form factors. Those with the 80% form are quite portable and compelling because of their layouts, having just 88 keys.
These keyboards with 88 keys lack the num pad cluster; hence, they save more space. However, some people still see these 80% forms to be on the larger side, and they go for those with 75% forms. Most importantly, your choice would depend majorly on your needs and preferences.
Mechanical keyboards with 75% forms are more portable than those having the 80% forms. The keys are "crammed up," and some dedicated keys are also absent. It is a suitable choice for users who don't have any issues compromising on function and navigation keys.
The smallest forms of these keyboards are those having the 60% forms. They provide a smaller footprint and are very portable. The keys are often very close to each other, not wasting a single millimeter on spacing them. If you don't mind using a more portable keyboard with such crammed up keys, then this keyboard can be very suitable.
If you are someone who likes compact and lightweight keyboards with smaller layouts, then you can get those MX brown Switches keyboard that come with 68 keys.
However, if you prefer keyboards with larger layouts, you should likely go for those of full size, having 104 keys.
– Take a good Look at the Keyboard's Layout
Based on functions, there are the QUERTY layout and the DVORAK keyboard layouts. Your choice of the keyboard would be dependent on your previous experience and the kind of keyboard layout that makes you feel comfortable.
– Consider Buying Keyboards with N-Key Rollover
Keyboards with the "key rollover" ability can be very helpful for boosting your gaming efficiency. Most Cherry MX Brown mechanical keyboards come with the N-key. This feature allows users to click on multiple keys at the same time. This type of mechanical keyboard ensures your typing speed increases.
– For Use in a Poorly Lit Environment, Consider Buying Keyboards with Backlights
Keyboards with the backlighting feature are unique, showing colorful lights that can be very useful in a poorly lit environment. This feature enhances the view of the characters inscribed on the keycaps.
There are several available options for Cherry MX Brown Switch keyboards with the lighting features. Most of them come with the RGB lighting that shows different colors of lights across the keyboard.
Also, some of these keyboards with backlights have the excellent option of customizing the "lights." With these, you can also set up the level of brightness, alternating between three or four levels.
– Consider the Shapes of the Keys
Usually, mechanical keyboards come with different types of keys, thus creating a different feel on the fingers of its users. The typical examples of keys that come with various mechanical keyboards include:
• Flat key:
These types of keys are commonly present on laptops. They are usually flat and have no curve at the top.
• Cylindrical keys:
These sets of keys are present in most mechanical keyboards like the DAS keyboards. Their structure ensures that the fingertips of users focus on the center of the keys, as they curve upwards towards the right and left edges.
• Spherical keys:
these types of keys are found on the old model IBM Selectric typewriters. In recent times, you can still see them on some vintage mechanical keyboards. They have all their edges designed in a curved manner, and at the center of each of the keys, you would find a spherical well.
Hence, the brown switch keyboard you choose should depend on the shape of the keys that are more suitable and comfortable.
– Look Out for the Printing on the Keys
The keys of mechanical keyboards come with inscriptions of varying types. These types of printing range from dye sublimation to laser etching.
Although, some users can find it quite challenging, as they barely know the difference between these printing. However, the dominant type of prints amongst various mechanical keyboards include the following:
• Dye Sublimation:
This process involves the use of dyes to inscribe characters on the keys. For the dye printing to last longer, manufacturers use a heating method which allows the color to sink deep into the keycap plastic.
Hence, most mechanical keyboards with dye sublimated keycaps have their inscriptions lasting for a more extended period. However, mechanical keyboards with this kind of printing can be quite expensive, as this printing method is costly.
• Laser Etching:
This process involves using a laser to inscribe characters on the keycaps, ensuring that it does not come off quickly.
This method of printing makes the characters stand out on the keycaps, and they are suitable for both brightly colored keyboards and dark-colored keyboards. Also, the texture of this kind of printing is quite high.
• Double Shot Injection Molding:
This printing process molds the lower side of the keycaps, alongside the characters into a piece of plastic material. Then, they mold the upper hand of the keycap with another piece of plastic.
After the moldings, both sections of plastic with the inscriptions, are merged, forming a double layer keycap with a fantastic character. The printing method is the most expensive of all prints, and very few mechanical keyboards come with this kind of inscriptions.
The type of printing you want in a keyboard can vary based on the task you would be using the keyboard for, and how often you would use it. Therefore, you can search for brown switch keyboards with suitable key printings.
Frequently Asked Questions
1. Why should I purchase keyboards with Cherry MX Brown Switches?
Keyboards having the Cherry MX Brown Switches are unique. They are remarkable for their high tactility. They are available in different types, including those in full forms (having up to 104 keys), as well as those having the 60% form (68 cores). With the Cherry MX Brown Switches, you can get instantaneous feedback from each click.
2. Would Mechanical Keyboards with Cherry MX Brown Switches be suitable for regular typing?
Cherry MX Brown Switches are suitable for both gaming and regular typing since they come with features that blend with the two tasks. They are a middle ground for both activities, having a tactile bump that ensures less noise while typing.
3. Do Cherry MX Brown Switches allow a clicky feel?
Brown Switch mechanical keyboards are not clicky. They have a high level of tactility, which needs 45g force for its activation. After each actuation, they quickly spring up without producing much sound.
Final Thoughts
Cherry MX Brown keyboards come with their own unique feel, benefits, and features that stand as a middle ground for both gaming and regular typing.
If you are planning on getting a gaming keyboard with Cherry MX Brown switches, you should consider the Corsair K70 model. It comes with a wide range of competitive features that will help increase typing speed and assist you with your games.
You can also opt for any of our top picks, including the Rosewill RK-9000V2 BR and Corsair K95 RGB if you want to enjoy top features like PBT keycaps, RGB lighting, detachable USB-C cable, wireless/wired connection, and fully programmable keys.