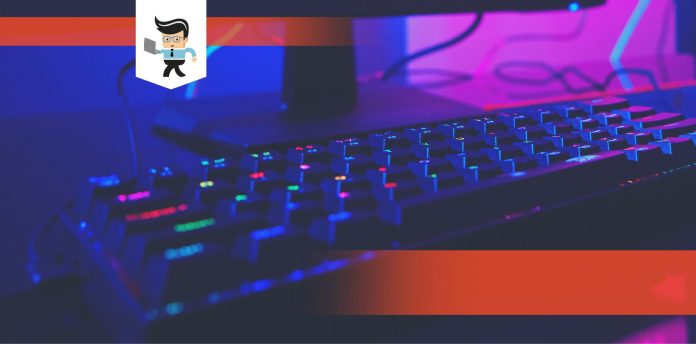 There are many reasons you would want a membrane keyboard, including the fact that these unconventional keyboards offer more portability and ease of use than any other option in the market.
In addition, they are good alternatives to their mechanical counterparts.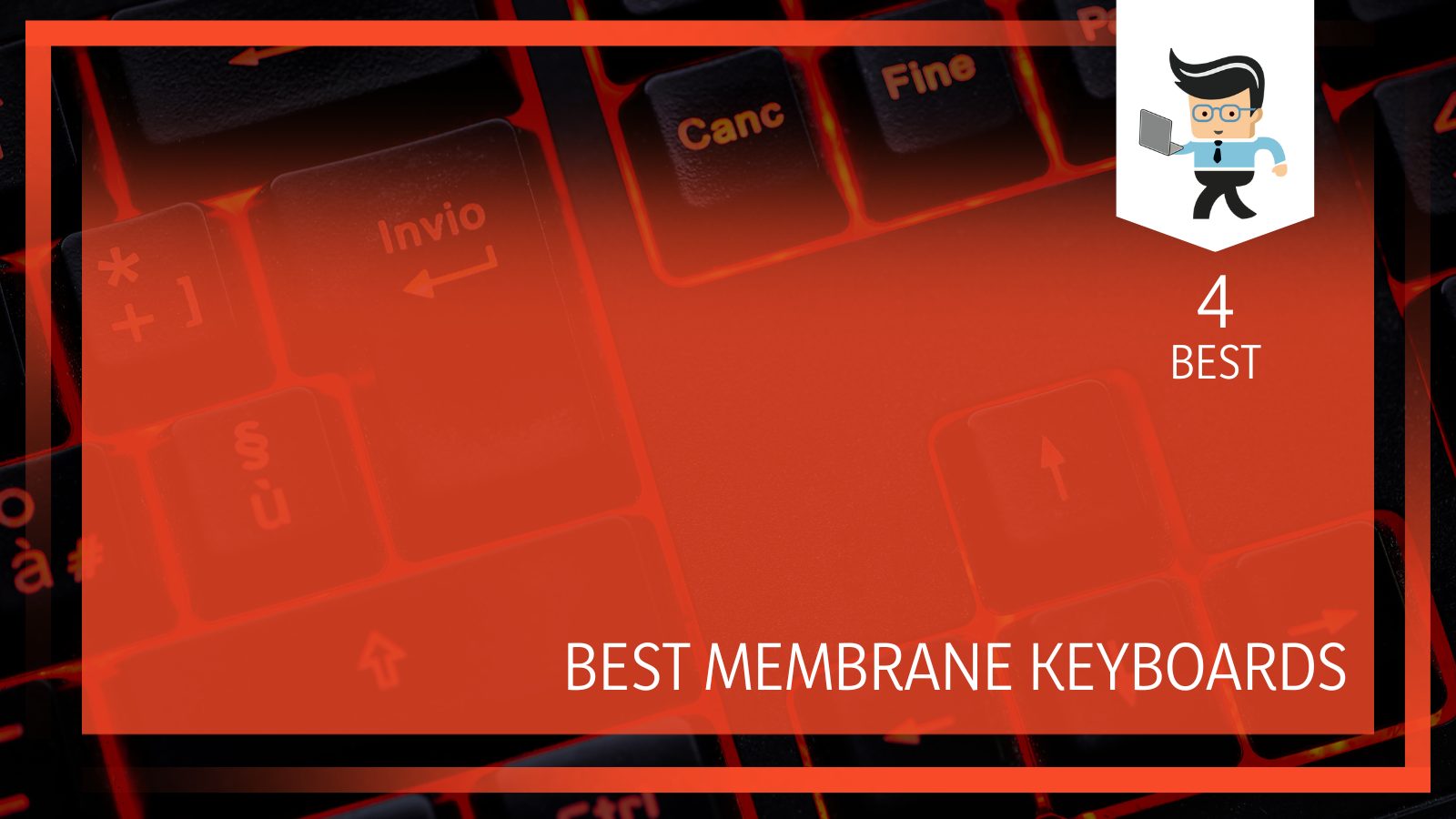 Here, you will learn about the best around and what they can do. Read on!
Best Membrane Keyboards: Top Features
Models
Top Features
HyperX Alloy Core

Ergonomic design
RGB LED backlight
Spill-resistant

LANGTU

LED backlight
Sturdy aluminum
Water-resistant

NPET G20

LED backlight
Ergonomic design
Water-resistant

PICTEK

Metal coating
LED backlight
Spill-resistant
What is the Best Non Mechanical Keyboard?
It's not a straightforward choice to select the best keyboard that's not mechanical. However, this review packs a lot of quality. Membrane keyboards are suitable for many functions, including basic ones like typing and software development.
Also, they will meet your requirements for gaming. The features are certainly worth it considering the innovative technology and moderate prices.
Membrane keyboards are also high performers. To add to that, there are more features to liven things up. One of them is the RGB or LED lights which are perfect for dimly lit spaces.
What's more, you can customize these keyboards by assigning tasks to different keycaps. This makes gaming or working on them easy to do.
As you read on, you'll come across other unique features and specifications. You'll also learn why they're different from mechanical keyboards.
Product Reviews
Pros
Light and portable design
Spill-resistant
Quiet and responsive keycaps
Good RGB lighting effects
Cons
Coming in at a fair price, this HyperX gaming keyboard is a brilliant proposition. It sure looks like it, too, even though it has a plastic frame. Its matte finish more than makes up for it with a smart appeal. It's one gaming keyboard you can put to a good number of uses.
The Alloy Core has a soft touch for its keycaps to provide a confident typing experience. As such, your speed and accuracy will be vastly improved. Because of the way it's set up, you can press keys correctly irrespective of the speed.
Also, this keyboard is spill-resistant. This means you'd have cover when you sip some liquid while gaming. However, you have to note that the Alloy Core only withstands up to 120ml of liquid spills.
RGB radiant lighting effects have become the norm with keyboards, and the HyperX keyboard doesn't disappoint on this front. You can personalize your computer setup with the LED lighting effects on it.
There are up to six preset effects which let you add some style to your keyboard. However, you might feel some small constraints here. You can't use the HyperX's NGenuity software to toggle between lights. The manual will come in handy for that.
Along with its quiet and responsive keys, it is light and portable. The durable, reinforced plastic makes it easier to move around than mechanical ones. Also, you have individual buttons for volume, mute, play, skip, and stop. This makes it more convenient to use.

The Alloy Core is built for gaming. It will give you a lot of quality and accuracy, and the anti-ghosting functionality is up there with the best. Overall, it is perfect for people who dislike loud sounds associated with mechanical keyboards.
Pros
Sleek and appealing design
Quiet keys
Bright lights
Water-resistant
Cons
Too light and feels cheap
Although this LANGTU product is a non-mechanical gaming keyboard, it has metal panels. This aluminum alloy panel is cool brushed, and enhances the texture of the keyboard. This makes it quite durable considering its weight.
Also, working with coffee or water isn't as hazardous because it is water-resistant enough to protect your board from spilled liquids.
The keys are soft and responsive. This will help those who work a lot. Since you don't need too much strength to register a key, you can type for a long time without getting fatigued. The same thing goes for gamers. With a lifespan of 5 million strokes, you can play games all day long.
Further, the keycaps are removable, thus making them free of dust and dirt. The double-colored injection keycaps are clear and have uniform backlighting. As such, the letters won't fade at any time.
The seven-color rainbow LED backlighting adds a unique look to your keyboard. If your home is dim, its shining light will provide the illumination you need. Also, you can customize the brightness and breathing speed of the backlit to your preference. However, the light is not RGB, so you can't change the color.
The design is also one of a kind. Thanks to a scientific stair-step keycap design enabling your fingers to reach all keys, you'll be more comfortable at work or playing games. There's also a 25-key anti-ghosting technology so you can do a lot of key press combinations.

This gaming keyboard will meet the needs of gamers and typists. Even if you program or just write, it's worth having. You don't need a driver—just plug-and-play.
Pros
Faster responses and keystroke feel
Beautiful rainbow backlit
Durable
Compact and ten-keyless
Cons
Having a keyboard with a precision-engineered keycap design is a plus. With the medium height, you gain a faster response time, and overall keystroke feel. This means more comfort for your fingers and joints.
The anti-sweat feature will prevent keycap damage. Also, it is durable and will deliver a precise tactile feed.
The NPET G20 is one of the top membrane gaming keyboards around, with seven different color lighting modes and effects. Further, it has four backlight brightness levels accompanist adjustable breathing speed.
These lights are simply brilliant and will add to your overall experience. Moreover, the compact 19-key anti-ghosting will help you assign specific tasks to keys.
You'd feel it's a bit mechanical since it's ten-keyless. This makes the NPET G20 satisfying for typing, gaming, and software development.
It's mainly professional thanks to its UV coated keycaps with ABS plastic. Moreover, it's water-resistant so that water and coffee spills don't damage it. NPET includes a keycap puller to remove the keycaps. Since they are easy to remove, cleaning them won't pose problems.

This keyboard will save a lot of energy and would work well for gamers. You can enter sleeping mode after 10 minutes without any operations and with the backlights off. To turn them on again, tap on any of the keys.
In all, it's great for individuals who appreciate its user-friendly style, close control, and the fact drivers aren't needed.
Pros
Water-resistant
Durable and comfortable
Provides great tactile feedback
Cool lights
Cons
The PICTEK keyboard is a great tool to have if you're building your computer. It's particularly useful for gamers who want all the trappings of modern-day keyboards. As such, the metal-panel structure provides much-needed comfort.
This is because it has an integrated wrist rest and foldable kickstand. Also, you have an ergonomic typing angle to operate optimally.
Further, this keyboard looks fabulous in the dark, thanks to a colorful rainbow LED-backlight with two lighting modes and adjustable brightness. The lights illuminate the letters through the keys and help you type in the dark.
The crater-architecture is a big reason for its unique tactile feedback. As such, this keyboard is durable and gives off a quality performance. Further, the keycaps can withstand up to 10 million keypresses, and with waterproof performance, spills are kept at bay.
This is guaranteed by the metal panel used over the usual plastic.
This keyboard also supports plug-and-play and features up to 12 multimedia shortcuts. With it being compatible with top operating systems, you'll have a great time typing or gaming.

This non-mechanical keyboard is perfect for many individuals. If you're always busy and have to take the occasional beverage, this keyboard will suit you. For gamers, fast responses will keep you winning always. The durable feel is an added advantage.
How to Choose Membrane Gaming Keyboards
Here are some things to consider when buying a membrane keyboard:
– The Layout
All computer keyboards share a nearly identical layout and the standard set of keys. For instance, character keys like the alphabetic, numeric, and punctuation keys.
Also, they have modifier keys in common. This includes the Shift, Ctrl, Alt, and Fn (Function) keys. There are also the system command keys like Esc (Escape) or PrtSc (Print Screen).
Further, most keyboards come with very useful editing keys like "Enter," "Backspace," and "Delete." What's more, navigational arrow keys like Home, End, PgUp (Page Up), and PgDn (Page Down) are also very important.
Another similarity they have is the function buttons which can be customized to perform specific tasks. Some keyboards let you adjust the volume, brightness, and other features with them.
The fact is this is an important consideration to have. Moreover, these keys often have different variations on different computers. What you want is a layout that fits your needs and has features to help you accomplish tasks.
Some of the layouts might even exclude function and numeric keys. Either way, don't get lost in how shiny the outlook is.
You'll also find that many modern models are far away from the classic keyboard. What manufacturers have done is to figure out the most used keys and made them available.
– The Form Factor
What form would you like your keyboard to be in? This is important because keyboards have morphed over time. For example, there are classic full-sized models which are still popular today.
If you opt for a mechanical keyboard, you'll find that things are a little different. A full-sized model will give you all the keys necessary to use on your PC, which means you won't have to deal with the function layers.
This is also the case with membrane keyboards. They come in different forms and sizes, including those with a ten-keyless design.
Some brands omit the function layers but leave the Numpad in place. With such keyboards, the only worry is the obvious loss of size and weight. This makes it rather difficult to place on some desks. As a result, your hands move more across them, which could cause some discomfort.
– Switches
What's the keystroke like? You need to check this out, especially if you're picking a membrane keyboard. You'd want your key presses to be comfortable and accompanied by adequate responses.
Keyboards vary, so you have to use different force for each. Some of them need a feather-light press, while others need more than that. The main thing responsible for how the keypresses register is the key switch.
Whether you choose a rubber dome keyboard, scissor, or mechanical switches, you'll notice the difference. This is because they each have their level of sensitivity, comfort, and noise. If you need a membrane keyboard for typing, choose one that's comfortable and highly responsive.
– Ergonomics
Whether you're gaming, typing, or doing some sort of task, feeling comfortable is important. You'd want all your gear to help you achieve the best results. Whether you opt for a strictly gaming keyboard or something else, pay attention to ergonomics.
There are different models, including the ones reviewed here, which have cool features. This means you get to have a more comfortable experience doing your stuff.
Things like a wrist rest will help you get the best results. If you're gaming for extended periods, it will help to reduce stress and fatigue. The same thing goes for typing or working at a stretch.
Other Features to Look Out For:
– Lights
Whether you love them or not, lights have become an integral part of modern keyboards. Many membrane keyboards feature combinations that add flair to your experience. In addition, such keyboards are great to use in the dark. This means you can get comfortable anywhere using them.
You can also customize your RGB membrane keyboard. Make your keyboard easier to use with tasks highlighted by specific keycaps.
– Waterproof or Spill-Resistance
It's easy to get spills from coffee and water on your keyboard. As a result, parts or all of it can be affected, and with the frame covering parts prone to damage, avoid spills is important. However, many membrane keyboards are waterproof or spill-resistant.
Even if that's to a small degree, it sure helps when you play games and have to take some beverage intermittently. The same thing goes for typing or working with a coffee placed on the desk.
Frequently Asked Questions
Why would someone choose a membrane keyboard over a mechanical one?
Membrane keyboards are typically quieter, lighter, and less expensive than mechanical keyboards. They have a softer key feel, which some users might prefer for typing comfort. Also, their design usually allows for a thinner and more streamlined appearance, making them a favorite for workspace aesthetics and portability.
Do membrane keyboards have a shorter lifespan than mechanical keyboards?
In general, mechanical keyboards boast a longer lifespan for individual key presses than membrane keyboards. However, many modern membrane keyboards are built with durability in mind and can withstand millions of keystrokes. The lifespan also depends on usage and care; a well-maintained membrane keyboard can last for many years.
Can you get a tactile feel with membrane keyboards?
While membrane keyboards are generally known for their soft and mushy keypress, some models incorporate a tactile dome design to mimic the tactile feedback found in mechanical switches. These can provide a more responsive feel compared to traditional membrane keyboards, though it's not quite the same as a mechanical switch's tactile bump.
Are there any top brands known for producing quality membrane keyboards?
Yes, many reputable brands produce high-quality membrane keyboards. Brands like Logitech, Microsoft, and Corsair have membrane or hybrid keyboards in their product lineup, which are well-received for their build quality, features, and typing experience.
Conclusion
This article has pointed out the distinct features and advantages of membrane keyboards. They are a good fit for any work you want to get done.
If you need one for gaming, they also help you get the best out of every performance. Sure, they do have their advantages, but they are generally great if you factor in the price you pay.
A keyboard is your connection to the computer. For this reason, we think the NPET G20 gaming keyboard is the best option reviewed here. It will connect well to your computer irrespective of what you need it for.
Also, its compact ten-keyless design means you don't need too much desk space. On the whole, it is suitable for gaming and other popular purposes.