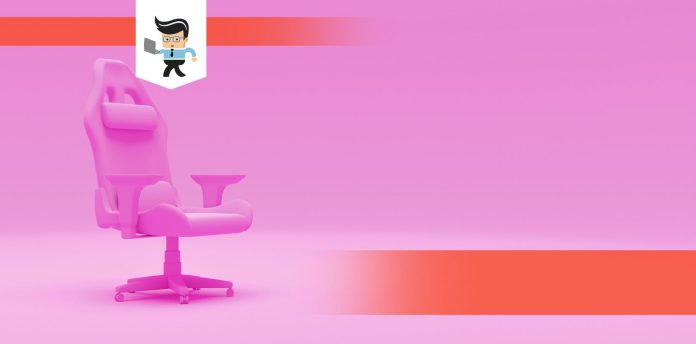 A lovely and aesthetically appealing pink gaming chair stands out in any room or dedicated space. It is no surprise that gamers are continually showing more interest than ever before, which explains why many brands sell them off almost as soon as they hit the market.
These chairs are trendy and in-demand, introducing the much-needed flair that will make a huge difference in your gaming setup.
A pink chair still gives you the gaming hardware and setup gear you need away from the dominant and repetitive black and gray colors. However, finding the right model that will complement your rig and make your space pop can be quite stressful.
Our team has tested the top pink gaming chairs available today to help you decide which is perfect for you. Read on to find out!
Pink Gaming Chair Review: Key Specifications
Product
Key Specifications
AutoFull Gaming Chair

Material: PU leather
Frame: Metal
Recline: 90 – 155 degrees
Max weight: 330 pounds
Ergonomics: Lumbar cushion

Acmate Massage Chair

Material: Plastic, Faux leather
Frame: Metal
Recline: 180 degrees
Max weight: 300 pounds
Ergonomics: Lumbar, Neck

Nokaxus Gaming Chair

Material: PU leather
Frame: Metal
Recline: 90 – 180 degrees
Max weight: 350 pounds
Ergonomics: Massage, Waist

Aminiture Gaming Chair

Material: Faux leather
Frame: Metal
Recline: 90 – 155 degrees
Max weight: 260 pounds
Ergonomics: Lumbar, headrest

Yoleny Computer Chair

Material: Faux leather
Frame: Metal, plastic
Recline: 155 degrees
Max weight:  250 pounds
Ergonomics: Lumbar, headrest

Ohaho Gaming Chair

Material: PU leather
Frame: Metal, sponge
Recline: 90 – 180 degrees
Max weight:  260 pounds
Ergonomics: Lumbar, headrest

Soontrans Gaming Chair

Material: PU leather
Frame: Metal, steel
Recline: 90 – 180 degrees
Max weight: 400 pounds
Ergonomics: Lumbar, head, foot
Pink Gaming Chairs: What Makes Them Stand Out?
There are tons of gaming chairs out there that can add more than enough spice to your gaming rig. But if you want a chair with pink color, things can get a bit difficult. That's because such chairs sell out very fast, yet if you manage to get one, it will add flair to your setup.
We have done the hard yards to pick the best pink chairs of the lot out there. We have put together this research to help you determine what's best for you with our findings.
Besides, you can pick one out as a gift to your friend or loved one. Whatever the case, these chairs on review are comfortable, well-designed, and built to match different sizes and requirements.
The chairs here are also ergonomic and allow you to sit for extended periods. That way, your entire focus is on your game or current activity. Rather than shift all over the place, you have full-body support to prevent poor posture.
If you're lucky, you'll find additional features like extra pillows and footrests on your choice of pink chair.
Here are seven top choices you can opt for if you want a pink chair in your gaming rig.
Pros
  Thick cover with nice padding
  Stylish and appealing design
  Adjustable features and components
  Freestanding lumbar cushions
Cons
  Stains are more visible
  Lades adequate ventilation
The AutoFull pink gamer chair, also called the Pink Bunny Chair, is part of many pink chairs on the market. It's an appealing prospect that caters to a growing list of female gamers. The chair has a cute exterior and has parts you can get comfortable with.
– Adjustable: Customize Features to Your Needs
Don't we all love a chair we can adjust to suit different occasions? This is one of them, and you can adjust the seat height to several height spectrums. If you're a lady standing at about five feet and two inches tall, the chair will appeal to you.
On another note, the armrests have two-way adjustability. That means an up/down and pivot movement to support your forearms.
For the backrest, this one can recline for about 155 degrees along with the tilting function. To that end, you can lie down to rest or get more circulation going on. We also observed that the tilt function could be set to lock or free mode.
– Top-Notch Materials: Safe and Premium Construction
You get premium construction from AutoFull with high-quality materials. For example, the PU leather and memory foam combine well to guarantee your comfort. The padding does a good job, too, while the integrated metal frame and heavy-duty metal base give the chair a durable appeal.
With the explosion-proof gas spring and smooth-rolling casters, you have a solid foundation to withstand 330 pounds of weight.
– Multifunctional Chair: Enjoy Every Moment
This chair is perfect for gaming and working. While at it, you can use the 360-degree swivel to find your comfortable position or have some mobility.
AutoFull includes a lumbar and head pillow to increase your level of comfort. You can always choose to use them or not.
– Top Ergonomics: Best Comfort for Every Gamer
As an ergonomic chair, AutoFull makes this product with a body-hugging design. That way, the chair encourages the natural curvature of your back. The high backrest will protect you from long hours of gaming or working.

– Overview
The AutoFull pink chair is an excellent choice for women, thanks to its feminine features. The cuteness of the chair adds to its adjustable parts and premium materials that make it ideal for gaming.
Pros
  Durable construction
  Reclines halfway through
  It comes with a retractable footrest
  USB-powered massage pillow
Cons
  Putting this chair together is a hassle.
This chair is a good choice if you want adequate support and comfort. Its design has a pleasant pattern, and the chair is equipped to support the neck, arms, feet, and whole body in total. In addition, the chair is also constructed to last longer.
It is a pink gaming chair with a footrest and other components to provide stability for different functions. We also like that crucial parts of the Acmate chair, such as the seat height and back, can be adjusted to allow smooth operations.
– Premium Quality: Excellent Materials and Frame
Without premium materials, expect your chair to fall apart within days of buying it. However, Acmate uses dirt and fade-resistant faux leather to cover this chair. Also, the high-density foam is thick enough to give you comfort for long hours.
The construction is durable with a complete metal frame and heavy-duty wheelbase to hood up to 300 pounds maximum weight capacity.
– Designed for Comfort: Top Ergonomics
The chair is built to give you a fantastic time irrespective of what you use it for. That's why you get a 180-degree full tilt and recline mechanism. Besides that, there's a retractable footrest, height adjustable armrest, and chair seat. You can extend your legs while gaming or working.
A complimentary neck pillow and a USB-powered lumbar massage pillow complete the ergonomic capability of this Acmate gaming chair.

– Overview
This is a cute chair with a couple of top-notch features you could get used to. It's ideal for gamers who appreciate a stylish pink chair with multifunctional capabilities and adjustable features.
Pros
  Very thick seat
  Customizable features
  Comfortable and durable
  Refined colors and build quality
Cons
We rank this product as one of the best white and pink gaming chairs in the market. The chair is comfortable and perfect for those with back issues. We also like that the seat padding is impressive and provides incredible support and comfort for your whole body.
It's also a very thick chair with a smooth, soft, white, and pink color padding over durable foams. Yes, the colors are feminine, but don't let that stop you from getting this chair because comfort is the top priority of Nokaxus.
– Accessories: Top-Quality Support
There is excellent lumbar support equipped with a massage function to get rid of sore muscles. It also helps that users get a plush headrest pillow that deals with any stiff neck. Besides, there's a footrest you can use for more relaxation while gaming or taking a nap.
– Top-Class Components: Designed To Last
Nokaxus does well to build this chair with premium components so that you have a long-lasting unit for your gaming rig. It sure helps that gamers with a load capacity reaching about 360 pounds can have fun with this chair.
The PU leather is strong enough and easy to clean as well.
– Adjustments: Customize Your Way to Comfort
This chair has features like 360 degrees of rotation, an adjustable waist pillow, head pillow, and you can recline to 180 degrees. Adjust the height to ensure maximum comfort or to get an optimal viewing level while playing games. That way, you get an improved experience all around.
As part of the premium materials here, you get thickened steel frames and large-sized PU wheels that protect the wooden floors from being scratched.

– Overview
The bottom line is that this Nokaxus chair is superb for budget gamers. It has all the accessories and premium features to improve your performance and keep you safe.
Pros
  Superior and durable materials
  Adjustable parts and functions
  Additional head and lumbar support
  Superb tilt and height adjustment
Cons
  The cushion can be uncomfortable.
The Aminiture is one comfortable pink and white gaming chair that gives you enough chance to customize and make slight adaptations. This is due to several features and additional ergonomic components found on this chair. For example, you can use the tilt and recline feature to relax while it's also possible to adjust the height.
In addition to that, the Aminiture brand designed this chair to ward off back problems. It's built to keep you safe and assured in all your operations.
– Firm Materials: Premium Quality and Feel
The materials here have a feel and quality to them. As such, there's a smooth PU leather while the manufacturer adds some support by way of a removable pillow and lumbar cushion. You won't have issues centered on comfort here.
– Adjustable Functions: Keep Changing
A modern chair such as this will not remain the same throughout its application. To that end, Aminiture includes a lever under the seat to help you tilt the backrest from 90 to 155 degrees.
There's also a button on the armrest you can pull with both hands to move them up and down. That gives you a humanized feel on the arms and all through the chair.
– Sturdy Frame and Durable Base: Sit Without Fear
This model is built with a base made of metal. That makes it a lot stronger and durable than many pink chairs out there. Also, the frame makes it easy for the chair to withstand a max weight of 260 pounds.
Down at the base, you get Omni-directional wheels so that you have enough mobility within your chosen space.

– Overview
This pink spectacle provides the kind of movement and adjustments a gamer will appreciate. It's an excellent chair for gamers who want to use it for E-Sports gaming.
Pros
  Top-notch ergonomic design
  Well-balanced and multifunctional chair
  Easy to assemble
  Added pillows for more comfort and support
Cons
  Funny smell
  Non-adjustable arms
This pink racing chair ranks as a great choice if you want max comfort and additional support, thanks to extras included by the Yoleny brand. We like the design, which consists of some touches of unique colors. That all adds to its surreal look and appearance, which many gamers will appreciate.
The racing-style form of the chair leaves you comfortable and a firm protagonist on whatever use you put the chair to. Also, we have to mention that the materials used to promote the chair's durable and comfortable components. What's more, the seat and back combine to give you a feeling of being "in charge" of your games.
– Ergonomic Design: Support and Protection for Your Body
No ergonomic is misplaced here because thus chair comes designed with a removable headrest pillow and lumbar cushion. Both of these extras do well to offer full support to your neck and waist.
In addition to that, the chair features a variety of reclining locking positions because you can adjust the height and the back angle to 155 degrees.
Yoleny inserts wider and adjustable armrests to this executive chair. Moreover, the armrests also have a vertical motion to them so that your arms always assume a comfortable position.
– High-Quality Materials: Long-Term Use
It takes quality materials to build and design a chair this beautiful. In line with that, Yoleny uses smooth PU leather, added seat cushion, and other extras for more comfort. Don't forget the heavy-duty base and nylon smooth-rolling casters down under. With them, you have a stable and mobile base.
With the materials on show, things are much easier to put together. The structure here is simple to follow to get it right the first time and within minutes. All the hardware and necessary tools come with the package.

– Overview
This chair is ideal for users that run a lot of applications or functions. It's a racing chair ideal for working in the office, studying, and playing your favorite games. Besides, it adds more elegance to your space.
Pros
  Fine and appealing aesthetics
  Comfortable and easy-to-use leg rest
  The chair is simple to set up
  Minimizes the occurrence of neck and back pains
Cons
  Armrests swivel without lock
  The seat cushion can be very tough
Ohaho might sound like a brand name that's all too new, but this chair packs a punch with quality features. First, we like the aesthetics on display here enhanced by the pink and white color.
On a second note, it's a comfortable chair, easy to use, and won't give you hassles with the setup process. We're looking at about twenty-five minutes max to get it ready. If you've got neck and back issues, you might want to try this chair out. Also, it helps that you can make changes based on operations.
The padding is thick, thanks to a memory foam underneath the plush covering. While it's a tad too hard sometimes, the seat is still comfortable if you're the right size. On the other hand, the armrests are a little bit adjustable, but they remain comfortable parts of this chair.
– Ergonomics: Well-Designed Body
If you are looking for quality and comfortable gaming chairs for girls, try out this variety with a body design ideal for many uses. That includes playing games and doing some office work. The PU leather upholstery is strong, skin-friendly, and easy to clean, while the high-density thicker sponge offers high resilience and comfort.
At the wheels, you've got mute PU wheels to protect the wooden floors from scratches.
– Safe and Secure: All-Round Comfort for All Users
There's high security on this chair, thanks to the presence of the explosion-proof gas spring.
You'll also like the metal frame because it adds stability to the chair's structure, but there's a heavy-duty base with durable casters. With those, the chair can function in many places and recline to about 180 degrees.
Swivel around the base, employ the retractable footrest, or use the headrests and lumbar pillows for more comfort.

– Overview
If you love a pink chair that offers more than a cute look, this Ohaho product is an ideal choice. It's perfect for gamers who want an assured and stable base for different operations.
Pros
  Extra removable headrest and lumbar pillows
  Massage feature for a soothing time
  Comfortable recline and backrest
  Protects the natural curve of your body
Cons
This cute gaming chair is Soontrans's latest large-size massage gaming. It uses thicker leather and a high-density sponge to give users a softer and more comfortable experience doing anything. The features here are also top-quality and will suit gamers who love a multifunctional chair.
In addition, there are extras on the chair, including a lumbar massage pillow to support you at intervals. The headrest is also removable, while you can give your foot a rest using the retractable footrest. If that's not enough, use the recline feature to give your body some relaxation.
– Large-Sized Chair: Built To Provide Extra Comfort
A large size chair translates to more space for you. To that end, Soontrans designed this chair with a wide frame to make it bigger than ordinary computer chairs.
Besides that, the chair comes equipped with a 5-inch high seat cushion filled with high-density foam. The foam, in turn, is covered with high-quality PU leather so that you enjoy the most comfortable experience.
– Solid and Robust Construction: Feel Safe and Supported
Big chairs give users the feeling of being enveloped in safety and comfort. Soontrans doesn't disappoint here with the chair sporting features of a car seat, which is stable and robust.
Going on, you get a heavy-duty steel base and steel-rolling casters that provide a superior and stable structure. As a result, this gaming chair boasts a maximum weight capacity of 400 pounds.
– Highly Functional Chair: Easy Movement
There are silent wheels on this chair to give it a modern appeal. No one wants an option that offers their floor a battering. You can swivel the chair 360 degrees for easy movement.
Also, the backrest can lapse to an angle of 180 degrees whether you're working, resting, or playing some non-engaging game.
The 3-inch height adjustment can be used according to the height of the user. It makes it easier to fit your size to your desk or gaming platform. That way, you get to work at a comfortable level without having to strain your body to match.
On a relaxing note, the removable headrest and adjustable massage lumbar pillow provide additional support. There's a footrest if you feel like it, too.
The dimensions of the chair itself give you a wide seating area. It's wide enough to cater to bigger bottoms. What's more, the chair's overall height suggests that taller gamers will have a field day enjoying their favorite games.

– Overview
If you're on the big side, this chair will appeal to you. However, it is not just about weight capacity. It's an ideal model you can use for playing games for extended periods, watching TV, and working at the office.
Pink Gaming Chair: Buying Guide
We have done our bit to give you a review of the best pink-colored gaming chairs. But it would be best if you still considered a couple of factors before buying one. One drawback (a good one) is that all pink chairs are some of the most admirable looking models in the market. As such, it's essential to look beyond the cuteness and dashing style.
Here are things to consider when buying a pink chair for gaming:
1. Size
Gaming chairs, like human beings, come in all shapes and sizes. That's why it's essential to choose one that fits your needs. Imagine picking out a pink chair because of its beauty and finding out that it doesn't match your profile. Where you bought it from better, have a warranty in place!
Before committing to a purchase, consider your physique, the max weight of the chair, and the space you want to place the chair. If the chair is big and tall, it won't fit well in a tiny room. Again, things might worsen if you include a desk or a platform in the mix.
To avoid any potential mix-up, check the manufacturer's specifications and check out reviews like ours.
2. Material Components
Next in line are the materials used to build and design the gaming chair. Some brands use different materials, including fabric, standard textile, genuine leather, and faux leather. It's all about what's appealing to you and makes you feel comfortable. You'll also want to consider if the materials blend with your furniture.
In addition, the frame of the chair matters. We found out that some frames and bases are made from metals, steel, and plastic. If you want your pink chair to last for a long time, a sturdier frame sure helps. Still, it boils down to your body frame and size.
Further, the materials you choose have a role to play in deciding how durable the chair is. If it's too weak, you'll be getting a new chair in a couple of weeks. That's a downer on your finances. Leather materials like the PU variety are more durable than fabric; however, both materials wear in different ways.
The foam is also essential. Many brands use memory foam for padding on the chairs. Whatever the case, ensure the chair you want to buy has at least one to two inches of foam padding.
3. Comfort
Your comfort is paramount and perhaps, ranks as the main reason for getting a gaming chair. You'd want a chair to keep you gaming for longer without leaving you with cramps, aches, and pains on your body.
For that reason, we suggest going for a chair you're comfortable in. If possible, get a feel for the covering and foam by testing it out before committing to a deal.
Few things can cause some discomfort for gamers. One of them is a chair that lacks ventilation. Another is a chair that's irritating on the skin. Still, some seats go in and never come out. Be wary of such pink chairs.
4. Lumbar Support
Back support is essential whether you're in the market for a girly computer chair or something different. There's very little you can accomplish with a backache nagging at your body.
A good gaming chair should keep you from bunching over while gaming or working at a desk. Also, you can use the recline feature on the chairs rather than get up to use a bed.
While checking for a pink variety, make sure it provides adequate lumbar support. Whether that's a built-in or removable part, don't compromise on it.
5. Functionality
Depending on the work or gaming setup you have, you'll need a pink chair that's functional. For example, if you use multiple monitors or displays in front of you, a chair that rotates or moves helps. Even if you're on one spot, the chair should be able to turn on its axis at 360 degrees.
The wheels should be efficient at moving within close quarters and also keep your floor surface safe. Your chair should have a smooth movement across the floor.
6. Additional Features
Additional features are creeping up across top-ranking brands. Now, more gamers want to see some unique features and capabilities added to their gaming chairs. You'll find adjustable features like armrests, stands, and backrests. Some gamers prefer to recline their seats while playing, while others prefer to use a footrest to stretch their bodies.
Some game chair brands also have tension control features so that users can prevent the chair from tilting back and forward depending on how you like to game. Again, loose tension might pose a distraction to some, while other users will appreciate it.
If you stare at your screen a lot during prolonged gaming sessions, you'll love a chair that comes with headrests and offers some neck support.
Frequently Asked Questions
1. Why choose a pink chair for your gaming rig?
The color pink is a unique one. It's often associated with girls because of its cute and dazzling appeal.
But the fact is that it's a color that represents life and adds dimensions to your gaming space. You can't miss it no matter where you place it.
So why should gamers choose it?
One reason is that the pink color boosts the mood and increases the level of enthusiasm players have. If you're a girl, the color gives the atmosphere a comfortable feel. Besides that, the color gives girls something to cheer about and call theirs.
Pink Chair for Gamers: Final Words
From our review and general guide, it's easy to tell that pink chairs are quite the keeper. They sell faster than regular colored chairs. Every big brand out there has a model you can choose from.
The best part?
These chairs have the features specifications present on other chairs.
It helps that anyone can own one irrespective of their gender. However, these chairs tilt more closer to the feminine side.
From our review, we think the Acmate pink chair offered at a fair price provides gamers with a stylish, supportive experience. That's thanks to its retractable footrest and USB-powered massage pillow that provide top comfort and convenience while gaming or relaxing.
Whatever pink gaming chair you want for your rig, our guide will help ensure you choose the right model that provides the much-needed support and comfort.