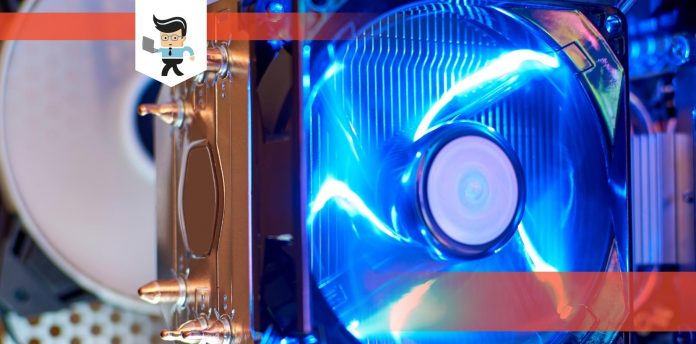 NZXT Kraken X61 vs Corsair H100i GTX head-to-head features two top-quality liquid coolers you can bank on for smooth operations. Liquid coolers have a reputation for keeping the heat off your systems irrespective of the application or task running.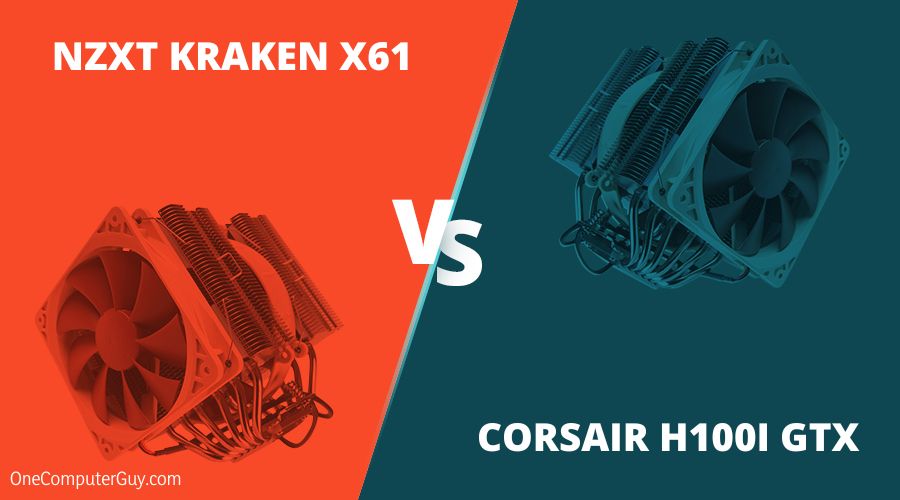 Our review team will highlight and explain these two coolers with varying capabilities, such as low noise levels and powerful performances. Read our review to find out how good they are, their drawbacks, and which one makes sense to add to your rig.
Comparison Table
| | | |
| --- | --- | --- |
| Features | | H100i |
| Noise Level | 37 dB | 37.7 dB |
| Fan Speed | 3600 RPM | 2435 dB |
| Cooler Type | Water | Water |
| Power Connector | 4-Pin | 4-Pin |
NZXT Kraken X61 vs Corsair H100i GTX Comparison
The main difference between NZXT Kraken X61 and Corsair H100i GTX Comparison is that the NZXT Kraken X61 cooler has better software and custom choices. A good example is the customizable LED on the pump. X61 is also the first consumer closed loop cooler possessing an integrated variable speed pump.
– Noise Level
Winner: Kraken X61
Currently, CPUs are built and designed to carry more power, features, and capabilities. Top brands are making more innovative products, so it's only normal that other devices are created to help CPUs function adequately. Brands like Corsair and NZXT have responded with coolers like the all-in-one Kraken X61 and H100i.
These two coolers are designed to shut out heat using their closed-loop water capabilities that are easy to set up.
While their cooling systems are the main attraction, they will also contribute to the aesthetics of your build. For example, the H100i comes with an integrated hue and digital control for the fan. Others have LEDs and other performance-enhancing parts.
Whether you're a newbie to coolers or a regular user, our review team walks you through these two products and what to expect from them. We'll examine their specifications, key features, and benefits before selecting a winner.
Starting off with comparisons of their key specs and features. Let's compare these two products' noise levels.
Overall, you get 37 db on the Kraken X61 compared to 37.7 on the H100i GTX cooler. In the business of liquid coolers, every decibel counts, especially if the fans contribute to long-term silence during prolonged activities. While the Corsair also performs well, we think the X61 has slightly better noise levels.
– Cooling
Winner: Both
Like the NZXT Kraken X61 specs, you get features on the H100i GTX that give your CPU and other components the suitable base to operate. They're both designed to deal with heat through fast and reliable dissipation.
It also helps that both have water as the cooling method coupled with fans that rotate to a significant effect. Both sets of fans' maximum speed and rotation go well above the 2500 RPM mark.
– Performance
Winner: Both
As two all-in-one liquid coolers, we can say that you'll find their performances admirable. The X61 comes with CAM software which adds quality to the cooler and boosts its performance. There's a great noise level and close loop capabilities that make operations easy. For the H100i GTX, you get the Corsair Link used to monitor and customize cooling tasks and effects.
The two coolers are easy to install and primed for compelling performances.
– Pros
Easy to install
Long tubing
All-braided cables
RGB contributes to aesthetics
– Cons
The NZXT Kraken X61 CPU cooler represents the flagship all-in-one product of the NZXT brand. It is built to run on a 280 mm radiator and has the latest generation of head units. As a result, it's okay to expect pump speeds of about 3600 RPM. Also, it's designed to convey less heat into the head unit than its predecessors.
– Overview
Having exhausted our NZXT Kraken X61 review, the summary is that it's a robust, reliable, and effective liquid cooler. For the most part, it's quiet but will increase noise when used for extended periods. However, if you're an entry-level user, it's worth having.

– Build and Design: Straightforward and Efficient
Forget about the simple look of the X61 cooler because it more than compensates for that with results. The build and design give off a solid look while everything else screams effective and efficient.
There's an aluminum radiator measuring 280 mm long, 140 mm wide, and 27 mm in thickness. The coolant comes from the radiator to the head unit via a black rubber hose covered in plastic rings. There are two swivel fittings in the head unit like other coolers in its class.
– Cooling: Quality Airflow
The fans on this NZXT Kraken X61 liquid cooler does an excellent job. The pair are FX V2 140 mm PWM Performance fans and have rubber isolators in the corners of the black frames. They also come with nine white blades each. As a result, the pair combine to deliver up to 101.6 CFM of airflow each.
The fans can push 1.97 mmH2O of pressure at nearly 2000 RPM. There are four-pin plugs that you can power with 12V, while the head unit offers a four-fan power lead. Moreover, a SATA connection can be used to supplement the power.
The pump in the head unit can reach speeds of about 3600 RPM and draw 325 mA of power. This way, less heat gets dumped into the pump's coolant.
– Performance: Effective at What it Does
For its level, the performance of the X61 is superb. Along with other top-notch features, you get an illuminated head unit and full RGB scale color options. That includes different modes to make it quite an eclectic build. Also, new CAM software contributed to the quality of this cooler. With that, you get more information and control over its performance.
The noise level rated at 37dB is good enough for a modern CPU. Even with the wiring inside, there's no need to worry about complications arising from running the device. You'll find that the mounting system presents all-round top quality.
– Pros
Customizable with easy controls
Wide radiators for effective cooling
RGB LED lighting
– Cons
The Corsair H100i GTX CPU cooler is similar to the X61 above. As a Hydro Series liquid cooler, it's an updated version of the Corsair H100i model and has a new cooling block. You'll also find a new regulated control for pump and fans, coupled with new braided tubes and Corsair Link compatibility. Those are quite some features, but there's more below.
– Overview
Our corsair h110i gtx review will cover the product's features and highlights so you can have full information. The Corsair H110i GTX specs lead to better high-pressure air delivery and customizable speed at low noise levels. You can also use the Corsair Link to monitor and make changes depending on your preferences.

– Build and Features: Efficient Liquid Cooling Experience
Inside this cooler, you get dual SP120L PWM fans with Corsair Link monitoring and control to generate extreme liquid CPU cooling performance. It's an all-in-one cooler suitable for cases with 240 mm radiator mounts.
The 240 mm radiator and dual SP120L PWM fans combine for the excellent heat dissipation you need for highly overclocked CPUs.
Since the Corsair Link is built in, you can monitor temperatures, adjust the cooling performance, and customize LED lighting straight from your desktop. Besides, the double-wide 240 mm radiator offers approximately twice the cooling area of the Hydro Series coolers, which uses a 120 mm or 140 mm radiator. It will fit just about any case with dual 120 mm fan mounts spaced for a 240 mm radiator.
– Cooling: Superb Airflow
The advanced SP120L PWM fans are custom-designed and different from standard case fans. They come built to deliver high static pressure for mounting directly against radiators. Also, the fan blades are specially shaped for maximum air delivery with minimum noise. Because they're PWM controlled, you can customize their speeds to choose the optimal point on the performance/noise curve.
– Performance: Offers Superior Cooling
With the built-in Corsair Link for customization and control, you can attach a USB header to your motherboard to download the free Corsair Link software. That helps you unlock more power and customize cooling performances, monitor the coolant, and change the color of the RGB LED lighting. The default is white, but you can change it to match your system or match temperature readings and other inputs.
High performance is simple, thanks to the pre-filled closed-loop design. Also, it comes with a modular, tool-free mounting bracket for faster installation.
FAQs
1. Will I Need to Change or Refill Liquid Coolers?
You don't have to. These coolers do not need changing or replacing because they come pre-assembled. Further, the liquid is factory sealed and never exposed to bacteria or dirt. However, custom loops will need to be cleaned out when particles and bacteria build-up. You can use distilled water or an assortment of pre-treated liquid coolants for that.
2. Do I Need Liquid Cooling for My Rig?
Not necessarily. But if you have a computer, you need a cooling system. Air fan cooling will suffice if you can't manage a liquid cooler. However, those often come with disruptive noise from the fans.
Liquid cooling is primarily silent and operated by mobbing water from the more excellent parts of your PC to the warmer parts. It filters the process through a fan system. What's more, water is more efficient at transferring heat than air.
3. Will Liquid Cooling Affect My PC's Aesthetic?
Yes, but in a good way. Liquid cooling isn't just effective but also has a unique look. You can customize the color and other effects that add style to your rig.
Conclusion
Our Kraken X61 and Corsair H100i GTX review makes it easy to appreciate how unique both coolers are. Liquid cooling remains the best means to deal with the heat and hotness of PC components.
Thankfully, these two coolers are closed-loop and add aesthetics to boost the appeal to your PC and right. Choosing the proper devices for your system is up to you and depends on personal preferences.
However, we'll go with the NZXT Kraken X61 cooler here. It offers a little more than its counterpart here, including better noise levels and the latest fans. What's more, it comes with wide radiators and customizable controls.