Our MAXNOMIC chair review borders on the character and much-needed flair that the NEEDforSEAT brand offers, and if you are a fan of sporty looks and great ergonomics, you are definitely going to be thrilled with what the brand has to offer.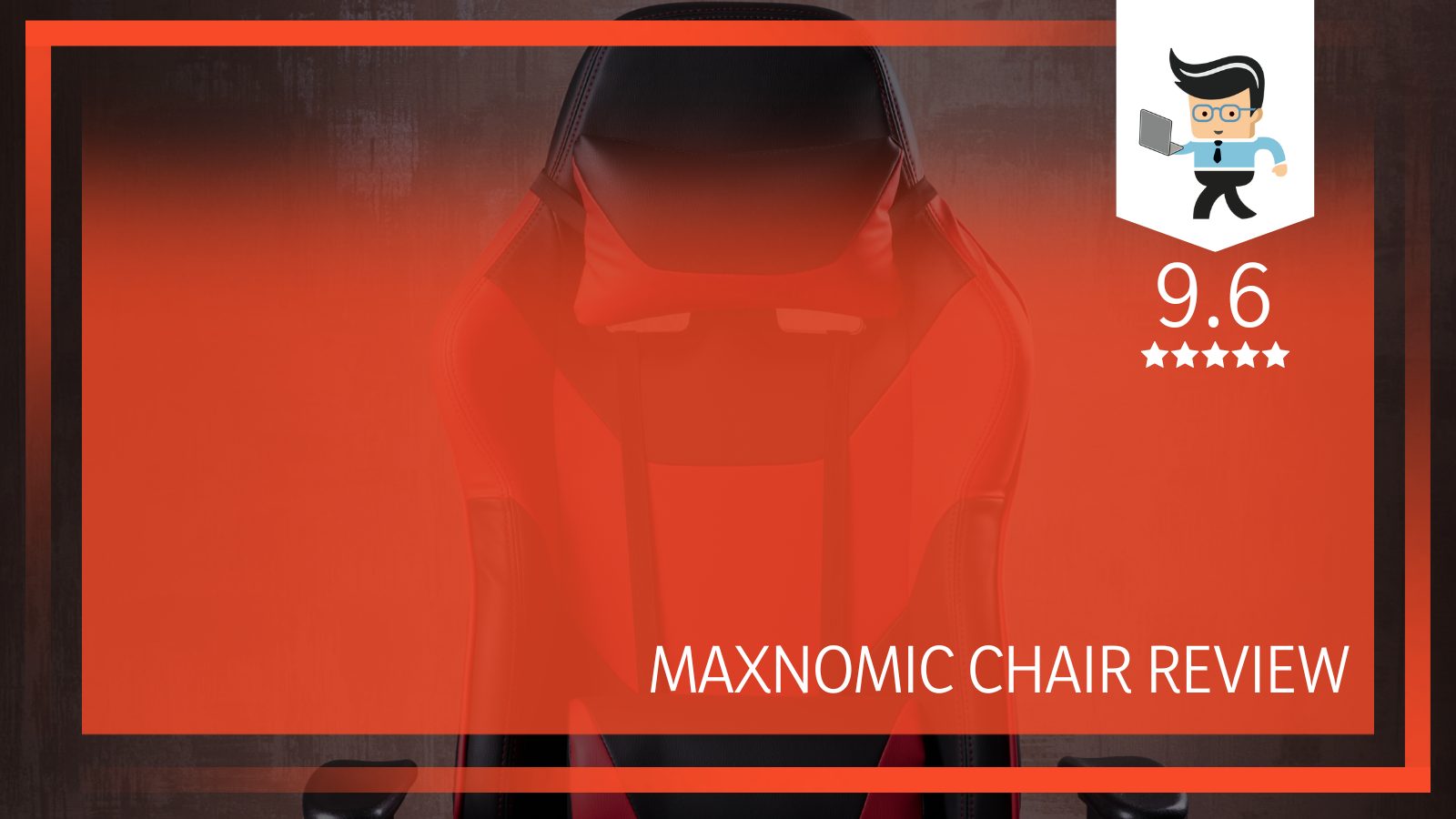 If you've drawn up a budget for your next gaming chair, you might want to give MAXNOMIC a thought since their chairs provide ample comfort and ergonomics, as you will eventually find out in this article.
For starters, MAXNOMIC chairs provide ample comfort and convenience, which will give you a competitive edge when gaming or doing some office works. How are we so sure of this? Our review team has painstakingly put this piece together, showcasing five of the best MAXNOMIC chair models with their capabilities, benefits, and drawbacks to help you make the right choice.
Now, let's get to it!
Key Specifications at a Glance
Products
Key Specifications
MAXNOMIC Leader

Materials: PU leather

Frame: Metal

Armrests: 4D adjustable

Max Weight: 330 pounds

Ergonomics: Height, head

MAXNOMIC Commander S III

Materials: Faux leather

Frame: Alloy steel

Armrests: 4D adjustable

Max Weight: 330 pounds

Ergonomics: Back, lumbar

MAXNOMIC PRO-Chief

Materials: PU leather

Frame: Wood, Metal

Armrests: 4D adjustable

Max Weight: 300 pounds

Ergonomics: Back, lumbar

MAXNOMIC OSU

Materials: PU leather

Frame: Metal

Armrests: 4D adjustable

Max Weight: 220 pounds

Ergonomics: Back, lumbar

MAXNOMIC Ergoceptor

Materials: PU leather

Frame: Metal

Armrests: 4D

Max Weight: 300 pounds

Ergonomics: Back
MAXNOMIC Chair Review: Top Choice for Top Gamers
Maxnomic is a brand name you want to remember as one of the leaders in the market. It's a brand that designs gaming chairs for both gaming and office use. As a result, it's the perfect hybrid brand for churning out quality models to suit a wide range of users. If you want the ideal gaming chair, you're in the right place.
Going through the MAXNOMIC website, you'll notice it officially comes under the tag and slogan NEEDforSEAT. That's a unique name the dealers use to provide the perfect chairs you're about to see. Your next question is whether they're worthy of the price tags with the kind of components and features on display. 
However, MAXNOMIC chairs don't come with ridiculous prices that regular gamers can't cope with. Even if a few have some high prices, there are many different models to choose from. 
Some of these models boast unique designs and use the best materials and resources that make them stand out. As a result, you can count on MAXNOMIC as a brand with structural integrity since they offer unique chairs and comfortable chairs.
If you think well about it, there's no reason why you shouldn't trust MAXNOMIC. The name itself comes from joining popular words in the gaming chair industry – Maximum and Ergonomic. In line with that, we can say MAXNOMIC is a brand that focuses on providing a comfortable chair die, everyone, irrespective of body shape, size, and height.
When you have an idea of the MAXNOMIC chair you want and how it might match your needs, use this review to make a choice.
Best MAXNOMIC Chair
MAXNOMIC Chair Key Criteria
PROS
Comfortable and supportive padding
Adjustable arms and backrest
Solid and durable frame
Ergonomic design
CONS
Quite heavy
It takes time to assemble
Everybody is looking for that comfortable gaming and office chair built with premium materials to guarantee a quality seating experience. This chair does that with a robust metal frame, molded cold-cured foam, and a premium PU leather cover material.
The Need for seat MAXNOMIC model seats are designed to encourage proper posture and overall comfort while maintaining visual appeal. There are unique colors, patterns, and fully customizable features to choose from. For example, this model sports a blue color, and the chair has a good recline angle and height, making it one of the best gaming chairs for many people out there.
– Ergonomic Ability: Comfortable
We all have different body sizes, but this chair is designed to suit almost everybody. It has a height-adjustable class 4 cylinder and heavy-duty tilt and recline mechanism. As such, the chair is customizable for maximum comfort. You also get the chance to tweak the 4D armrests depending on your favorite position or intense gaming sessions.
– Build Quality: For Long-Lasting Use
This Leader chair from MAXNOMIC has the distinction of having some of the best materials, which allows for all-day comfort. Also, the chairs will last longer. For example, the cold-cured foam inside presents enough resistance even when you sit down for extended periods.
The PU leather is there to give you that nice and luxurious feeling. It's solid enough and stretches over the chair well enough to provide you with more comfortable sessions. We also like that the chair is easy to clean and maintain.
In addition to that, the heavy-duty steel frame adds to the overall quality and strength of the chair. A MAXNOMIC durable aluminum base supports every part of this chair. That way, you can game like the pros.
– Height-Adjustable: Level up to Your Platform
This chair has about three different springs allowing you to choose one based on your height preferences. It's a big chair, but you'll be comfortable as long as you're not over six feet five inches tall.
– Adjustable and Flexible: Switch To Different Positions as You Like
We mentioned the tilt function earlier, but we can state now that it is lockable into five different positions. Again, you can recline to about 67 degrees.
– Fantastic Support
There are some excellent support options on this chair, including for your head and back. Along with the height adjustment, you have a non-slip headrest to protect your head and neck. However, there's no removable lumbar support for your back or waist. The chair is designed with an excellent backrest to take care of the job a lumbar pillow would have done.
Note that the seat has minimal tapering. That means you can sit in whichever position you find most comfortable. However, the shape of the back is designed for regular sitting.

– Overview
As a gamer, this MAXNOMIC Leader gaming chair gives you a wide range of functional features and remains comfortable over prolonged use.
Pros
 

Comfortable and quality cold-cured foam

 

Integrated sturdy tubular steel frame 

 

4D soft padded armrests

 

Reclinable backrest and a lockable tilt
Cons
PC enthusiasts and gamers alike tend to spend a lot of time sitting in front of their systems. For gamers, there's more because they spend more money on other vital parts of their rig like monitors, graphics cards, and processors. That's why getting a chair to match all that is an essential component that can boost or hamper your performances.
There's no point using a regular chair for extended working and gaming sessions. You'll burn out faster and have a lot of sores and aches to show for it. Well, the MAXNOMIC Commander S can push all that away with its high-end cold cure foam padding and freely adjustable lumbar support.
The covering is high-quality faux leather, while you have durable alloy steel for the frame. What you get is a fantastic and efficient chair that provides a base to stay ahead of the competition.
– Maximum Comfort and Convenience
MAXNOMIC ergonomic chairs are known for comfort, and this one is no different. It comes with an ergonomic design to give your posture that natural alignment without compromising your comfort. 
The features combine at the highest levels to provide avid gamers and office users with a superior, all-in-one brand experience that translates into a smooth and seamless user experience. For example, the high backrest covers your back area and guarantees appropriate posture all through. 
There's a lumbar pillow thrown in the mix to provide support to your lower back section. This chair is also padded with high-quality cold-cured foam, which gets your back in shape even after extended periods.
– Durable and Long-Lasting: Made of Top Quality Materials Only
Premium materials make up a large part of this chair. That's why you have quality on every feature. For example, the seat cover is multi-layered PU leather for best resistance against flaking, sweating, and peeling.
MAXNOMIC also used a  class-4 cylinder to connect the seat to an aluminum-reinforced 5-star base.
With the soft PU coating here, the casters are perfect for hardwood floors and low carpets.
– Adjustable and Flexible: Make the Chair Yours
It helps that you can adjust this seat to your liking with several parts being flexible and adjustable. To that end, you can adjust the 4D armrests to give your arms and elbow adequate comfort and protection. There's a reclinable backrest and lockable tilt mechanism. It helps you settle down for a rest or play games at that angle.

– Overview
This Commander S chair will suit Esports players looking for a good mix of ergonomics and durable parts. The robust frame, recline, and armrests give you more flexible options.
Pros
 

Quality style and finish

 

Premium frame and cover material

 

Adjustable parts

 

Resilient cold-cured foam padding
Cons
 

Lacks a comfortable headrest
It's difficult not to like this chair with the black and white color on display and aluminum furniture finish. We also like the form factor, which makes it a MAXNOMIC office chair and gaming chair. The PRO-Chief style features a durable frame and supporting materials for your skin and overall body.
– Supportive Design: Enjoy Maximum Comfort
When you're after maximum comfort, choose this MAXNOMIC chair for various reasons. The first is that it comes with an ergonomic design to encourage proper posture. It does that without letting go of comfort at the highest level. 
The second is the high backrest sand lumbar pillow so that you have enough support for your whole back section.
The third is that MAXNOMIC pads this chair with very comfortable, top-notch cold-cured foam. That way, the seat retains its shape and structure after long-term usage.
– The Best Materials: Premium Quality
There are premium materials all over this chair. For starters, you get a seat covered with multi-layered PU leather. That way, you have a chair that's resistant to flaking, sweating, and peeling.
Further, MAXNOMIC employs a class 4 cylinder, connecting the seat to an aluminum reinforced 5-star base. You'll get a soft PU for coating, which makes the casters perfect for use on different surfaces, including hardwood floors.
– Adjustable Features: More Relaxed Gaming Experience
As a gamer, few things can compare to adjusting your chair to suit varying needs. It's an essential part of modern gaming chairs to have components that either rotate or bend. On this PRO-Chief, you can do so your seat when you adjust the 4D armrests or use the reclinable backrest and lockable tilt mechanism.

– Overview
The MAXNOMIC PRO-Chief will appeal to gamers and regular office users who want a comfortable chair that is optimized for different functions.
Pros
 

High seating comfort

 

Strong cover and upholstery

 

Fantastic design and customizable features

 

Maintains your natural posture
Cons
For more perks that make this MAXNOMIC OSU gaming chair worth getting, it is officially licensed by The Ohio State University. That's an excellent tag to have, but this chair is comfortable for users all on its own.
The Max Pro is the right choice for you if you appreciate a model tailored for average-sized users. Moreover, it has a more profound and more extended seat than its counterpart, the OSU Casual. So if you weigh a sizable figure, this is one chair you shouldn't miss out on.
With this chair, you also get sufficient space and enormous high seating comfort. We like the strong upholstery side, which bolsters the backrest to provide excellent seating comfort at all times.
We all know that MAXNOMIC models are designed to encourage proper posture and all. You won't be disappointed with this one coupled with its appealing look and pattern. Also, you can make attempts to customize the chair to suit your taste and needs for all functions.
– Comfort: Built to Keep You Going
If maximum comfort is what you want, then that's what you get on this MAXNOMIC OSU chair. As a result, the chair gives your posture that much-needed protection while keeping you comfortable for the long haul.
There's lumbar pillow support for your back which can also do wonders for your waist. Besides that, this chair is padded with very comfortable cold-cured foam. When you sit for extended hours and get up, the seat gets back into shape fast.
– Premium Materials: Built for the Long Term
MAXNOMIC prided itself on producing top-quality materials that give its chairs an eye-catching and long-term design. To that end, you get a seat covered in strong and upholstered PU leather, which provides you with the best resistance to peeling and sweating. Also, the chair is breathable even after extended use, and there is a class 4 cylinder linked to the reinforced 5-star base.
This model also has casters that work on a variety of floors, including on low carpets.
– Flexible: Adjust Your Chair to Suit Your Posture
The covers present a durable and comfortable chair, but it helps that you can adjust the seat. Besides, the arms are 4D adjustable coupled with a reclinable backrest and lockable tilt mechanism. With that, you can take a nap after extended periods. Some gamers use the tilt function to relax while gaming.

– Overview
The MAXNOMIC OSU chair comes in handy for users who want a comfortable and durable base. It's also ideal for gamers who want a giant chair they can customize in several ways.
Pros
 

Quality aesthetics

 

Extreme comfort and padding

 

Durable build and material

 

4D rotation of armrests
Cons
 

It might be too firm for some users
What would you give to find a very comfortable gaming and office chair built with premium materials which guarantee the ultimate seating experience? We're pretty sure your answer would be in line with giving a lot to secure such a chair. Well, in a long lineup of MAXNOMIC gaming chairs, this one doesn't disappoint. It's a chair that has a metal frame, molded cold-cured foam, and uses premium PU leather for the cover material.
It's one of the MAXNOMIC chairs designed to maintain the correct curvature of your spine and overall comfort while maintaining that visual appeal. You'll find unique colors, patterns, and exciting adjustable features perfect for your body and gaming style. That can only bode well for your experience, whether at work or in your gaming space.
– Supreme Comfort Levels: Enjoy Any Function
If a chair guarantees supreme comfort, what more do you need? Well, this chair doesn't stop there. You get a high backrest to cater to your whole back, while there's a lumbar pillow for more support for your waist.
The paddings are done with a firm, long-lasting cold-cured foam. Sitting down for a long time comes without any hassle.
– Materials: Top-Notch Quality
We like the materials used on the Ergoceptor chair, which promote the quality and durability of the chair. There's an all-leather exterior and metal base. Both of them combine well to give you a cozy and strong gaming chair. 
Also, the upholstery is top-notch, with accent threads stitched and well-placed across the chair. As a result, this model remains one of the most durable gaming chairs in the MAXNOMIC lineup. 
– Customizable Features: Work Out Your Best Positions
On the side of the MAXNOMIC Ergoceptor, there's a locking mechanism that you can use to move the chair front and back. It's more like a recliner you can adjust depending on what you want from the chair. It's also possible to send the seat down or take it a notch or two up. Either way, the chair is solid and supported by a sturdy base and quality construction.
These adjustable features combine with the rotating armrests to offer a unique ergonomic grip on the chair. The arms can go in four different directions. You'll always find a spot suitable for your arms and gaming needs.

– Overview
This MAXNOMIC Ergoceptor gives off an excellent performance and suits gamers who want to compete with the best. The array of adjustable parts and strong structure means you can use it for a long time.
MAXNOMIC Chair: Mini Guide to Major Features
1. Ergonomics and Comfort
These are two words the MAXNOMIC brand never plays with. It all boils down to providing materials and components users are comfortable with. As such, the brand ensures that a wide variety of chairs in their lineup are comfortable for everyone. Irrespective of their shape, size, or height.
Watch out for these features for ergonomics and comfort present on most MAXNOMIC models:
 

Adjustable back

 

Rotating armrests

 

Addition support cushions
2. Appearance
For MAXNOMIC, appearance and aesthetics are key features involved in building the perfect gaming chair. To that end, they have some of the best-looking chairs in the business.
For appearance, you'll notice some features such as:
 

PU leather

 

Quality cold-cured padding

 

Fine stitches and accents
3. Durability
MAXNOMIC models are fantastic works of art, but they are also built to last. No gamer or regular user wants a chair that's going to break any time soon. That's why you get premium frames made out of aluminum and metal. As a result, MAXNOMIC models can withstand years of heavy use, with minimal part replacements and maintenance.
You'll get features such as:
 

Alloy and metal frames

 

Durable five-point metal base

 

Strong levers for adjustments
Conclusion
Finding a chair that gives you a durable and robust frame, extreme comfort, ergonomics, aesthetics, and adjustable parts isn't an easy proposition. However, the chairs here give you those features and capabilities.
It's never out of place to say that the MAXNOMIC brand is one of the best on the market. You'd be right to say so with the kind of quality and durable chairs in its lineup and those reviewed here.

On a final note, if you're considering the gaming and office chairs here, one model that sticks out is theMAXNOMIC Ergoceptor. It's a quality chair that provides a firm seat, robust frame and base, and gives you some key areas to adjust. 
You won't find many drawbacks on the chair. Whatever you do, the ultimate choice is yours to make. Consider what's essential to your body and activities, and go for a chair that fits the profile.