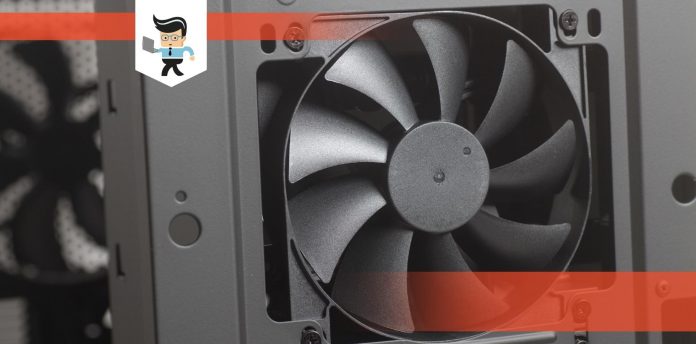 Our Kraken X61 vs X62 head-to-head review features two high-quality coolers you should consider if you're in the market for all-in-one coolers. With such coolers, you have a fantastic go-between for air and water, ready to keep the heat off your systems.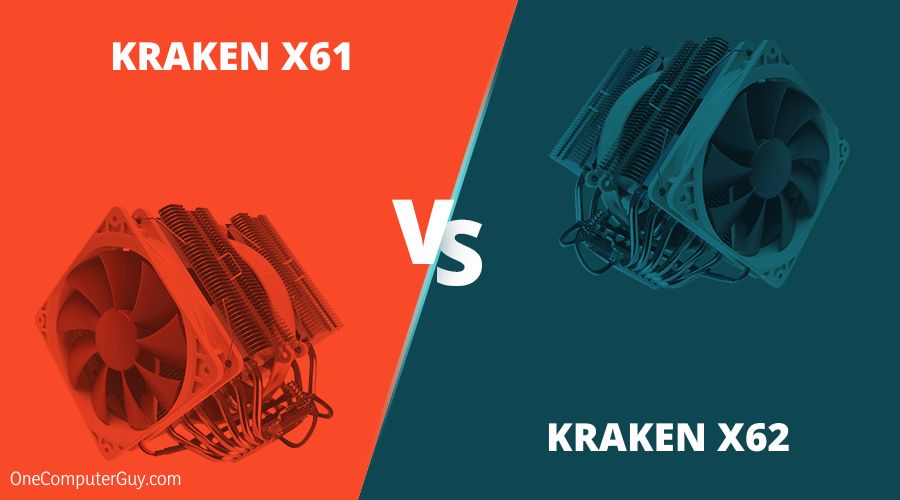 You'll get assured components imputed by the NZXT brand to ensure no cooling limitations on gaming and other resource-heavy tasks.
To that end, our review of these products will let you know more about their capabilities and which one performs better.
Kraken X62 vs X61: A Glance at the Key Specifications
Product 
Key Specifications 
X61

Brand: NZXT
Power Connector Type: 4-Pin
Cooling Method: Water
Noise Level: 37 dB
Material: Cam
Software: CAM

X62

Brand: NZXT
Power Connector Type: Pin
Cooling Method: Water
Noise Level: 38 dB
Material: Aluminum
Software: CAM
What Is the Main Difference Between the Kraken X62 vs X61?
The main difference between Kraken X61 and X62 is Kraken X62 consistently maintains its cool and offers a more silent operation from its well-running radiators and fans, unlike the X61, which often rattles when things get intensive, so it's not as silent as users would expect.
Over time CPUs have developed more strength and capacities, thanks to top brands willing to meet the energy needs of their customers. In line with that, brands like NZXT are tasked with providing suitable cooling products to keep such CPUs cool around the clock. That has seen the rise of all-in-one or AIO coolers.
These coolers are designed to keep the heat at bay and are closed-loop water cooling coolers, which lack maintenance or setup. They're created to keep CPUs cool but can also come with brackets to install them onto GPUs.
AIO coolers like the X61 and X62 are not just good for their cooling performance, but they also add an edge to the overall aesthetics of a build. For example, some products come with LEDs on the pump, while others have their own fans. Additional features often add style or increase performance levels.
Our review team takes a look at NZXT's variations of AIO coolers – the X61 and X62. They both have unique cooling systems, offer great performances, and the famed NZXT CAM software. We'll examine them individually to select a winner.
Pros
Simple installation process
Every cable is braided
Presence of RGB lights add aesthetic appeal
Long tubing
Cons
The NZXT Kraken X61 is the flagship AIO under this brand and is based on a 280-millimeter radiator. It comes with the latest generation of head units, so it's normal to expect pump speeds of about 3600 RPM. Also, it's designed to deliver less heat into the head unit than previous generations.
– Build and Design: Boring and Effective
While this NZXT Kraken X61 liquid cooler can have superb results, it has a dull look. The package won't generate so much excitement, but that's not what's important. In this build and design, you have a cooler that's ready to be effective at its job.
In addition, it comes with an aluminum radiator that measures 280 millimeters long, 140 millimeters wide, and 27 millimeters in thickness. However, we realized that the dimensions are slightly larger.
Coolant comes from the radiator to the head unit through the black rubber hose held to the barbs with plastic rings. Getting to the plastic head unit that contains the pump and copper base plate, we discovered the unit has two swivel fittings like all the rest.
– Cooling/Fans: Superior Airflow
The fans do an excellent job cooling the radiator. You get a pair of FX V2 140mm PWM Performance fans. These fans come with rubber isolators in the corners of the black frames and possess nine white blades on each.
We found that they can deliver up to 101.6 CFM of airflow each. Also, they can push 1.97 mmH2O of pressure at nearly 2000 RPM. These 140-millimeter fans use four-pin plugs you can power with 12 volts, while the head unit offers a four-fan power lead. You can use that with a SATA connection to supplement the power.
For the pump in the head unit, you can expect speeds of about 3600 RPM. It will draw 325 mA of power, so less heat gets dumped into the pump's coolant.
– Performance: Excellent for Its Class
The performance of the X61 is a beast. You'll get the illuminated head unit and full RGB scale color options, coupled with modes to make it quite the eclectic build. Another exciting component that adds to the superior quality and performance of the X61 is the new CAM software inside.
It offers more information and control than many users will use. That's an excellent prospect for regular users and enthusiasts. If you're not convinced about all the parts, the NZXT brand covers this product with a full six years warranty from the date of purchase.
The noise level is rated at 37dB, which is good enough for a modern CPU. Even with the wiring inside, there's no need to fret with not many complications to running the device. The mounting system is quality through and through.

– Overview
For the most part, this product is robust, quiet, and durable, but you can expect the Kraken X61 pump noise to crank up a bit. It can give off a rattling sound after prolonged use. However, it's effective at cooling and will fit entry-level budget users.
Pros
Fine build and design
Compact design and finish
Solid performance
Superb overall
Cons
The NZXT Kraken X62 prominently features a lineup of modern Kraken coolers, which count as some of the best-looking AIOs on the market. It comes with a brushed metal head unit, RGB LED show (like the X61), and a tinted top lens. There are sleeved tubes on it, a sleek radiator, and other premium specs that combine to give you a near-silent performance.
– Software: Smart CAM Software
The CAM software is at the center of the great performance of the Kraken X62. It gives you complete control over everything from the fan speeds to the pump speeds. Also, it's a tool you can use to set the RGB LEDs in more ways than one.
Since NZXT bases its performance on pump speed in the Kraken Series, you can expect it to combine well with the software. In addition, you can tweak the fantastic colors and lighting so that your CPU cooler enjoys a fully dynamic lighting experience.
– Cooling/Fan Noise: Efficient Machine
From our NZXT X61 review, we noticed that the brand went the extra mile to provide silent coolers. But that's not entirely the case. For the X62, the stated noise level is measured at 38dB. That's good enough, but you should always expect some noise in the background, as is common with many coolers.
The radiator fans are designed to handle liquid-cooling perfection, so they encourage a silent operation and powerful cooling performance.
– Pump and Performance: Excellent Across Different Functions
When you want more control over the pump of the Kraken X62, there's a range of 1000 to 2800 RPM fans inside. With the CAM software, you'll see double these speeds. The fan types are Aer P140 fans, and the X62 has two in the box.
The CAM software can also control these fans within 500 to 1800 RPM. According to the brand, you can use this cooler worry-free for six years, like the X61, thanks to the warranty coverage.

– Overview
The NZXT Kraken X62 review showcases a cooler that is excellent at keeping out varying levels and intensities of heat. It's a cooler you can count on when you overclock on your CPU or during heavy power usage. That's why it's ideal for users that demand more power.
Comparison of Key Features: Which One Wins?
– Noise Level
Winner: X62
Noise level is a significant consideration when getting a cooler for your CPU. That's because it does more than keep your CPU responsible and affects the general hardware and systems. To that end, you should opt for coolers like these from NZXT.
While the X61 has a lower noise level at 37dB, that's just one less than the X62 with 38dB. However, the former will often rattle when things get intensive, so it's not as silent as users would expect. On the other hand, the Kraken X62 has a better noise level overall and delivers more silent operations, thanks to well-running radiators and fans.
– Software
Winner: Both
Software is another essential aspect critical to how these liquid coolers perform. Since these two coolers from Kraken use the same CAM software from NZXT, it's only normal to rate them similarly.
The software helps users configure cooling methods levels and generally have more control over multiple functions. It's a smart feature that you can also use for fan and pump speeds.
If you want more style and appeal from the RGB LED on both Kraken's, you can use the CAM tool to set them. It's more intuitive than what's obtainable on some other cooler brands.
– Performance
Winner: X62
The battle is close here, but there wouldn't be an upgrade on the X61 if it were so perfect. As a result, we picked the X62. Even though it's more expensive, it offers more premium performances and may be hard to find.
The fan types also swing the difference between X62 and X61. That's because you get Aer P140 fans on the X62, including two in the box.
Final Thoughts
Keeping a CPU cool is essential because they need a lot of power for their functionality, and this power converts to heat after use. It's always a given that CPUs will generate excessive heat, and the heat can be hazardous to the CPUs themselves.
While CPU fans and heatsinks help counter this effect, a liquid CPU cooler like the X61 and X62 can keep CPU temperatures down because water is more efficient at transferring heat than air. Another plus is that liquid cooling makes computers quieter since fans don't have to run at high RPMs.
For a general overview of this head-to-head comparison, the X62 is our preferred choice. It's an AIO cooler that enables better temperature management. When you choose it, you'll have a cooler that combines well with the heatsinks and fans attached to the CPU to effectively dissipate heat away from both the CPU and the hard drive.