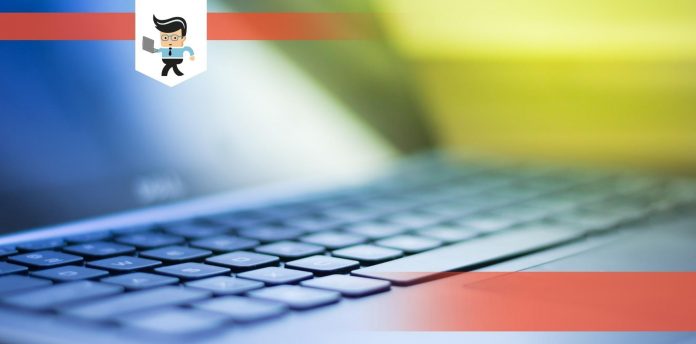 HP Envy vs Pavilion are two names would be quite familiar to you if you're looking far and wide for a new HP laptop, but you might be wondering which one is right for you. Let us assure you that HP Envy and the HP Pavilion are both great choices, but there are some important differences between the two that you should be aware of before you make your purchase.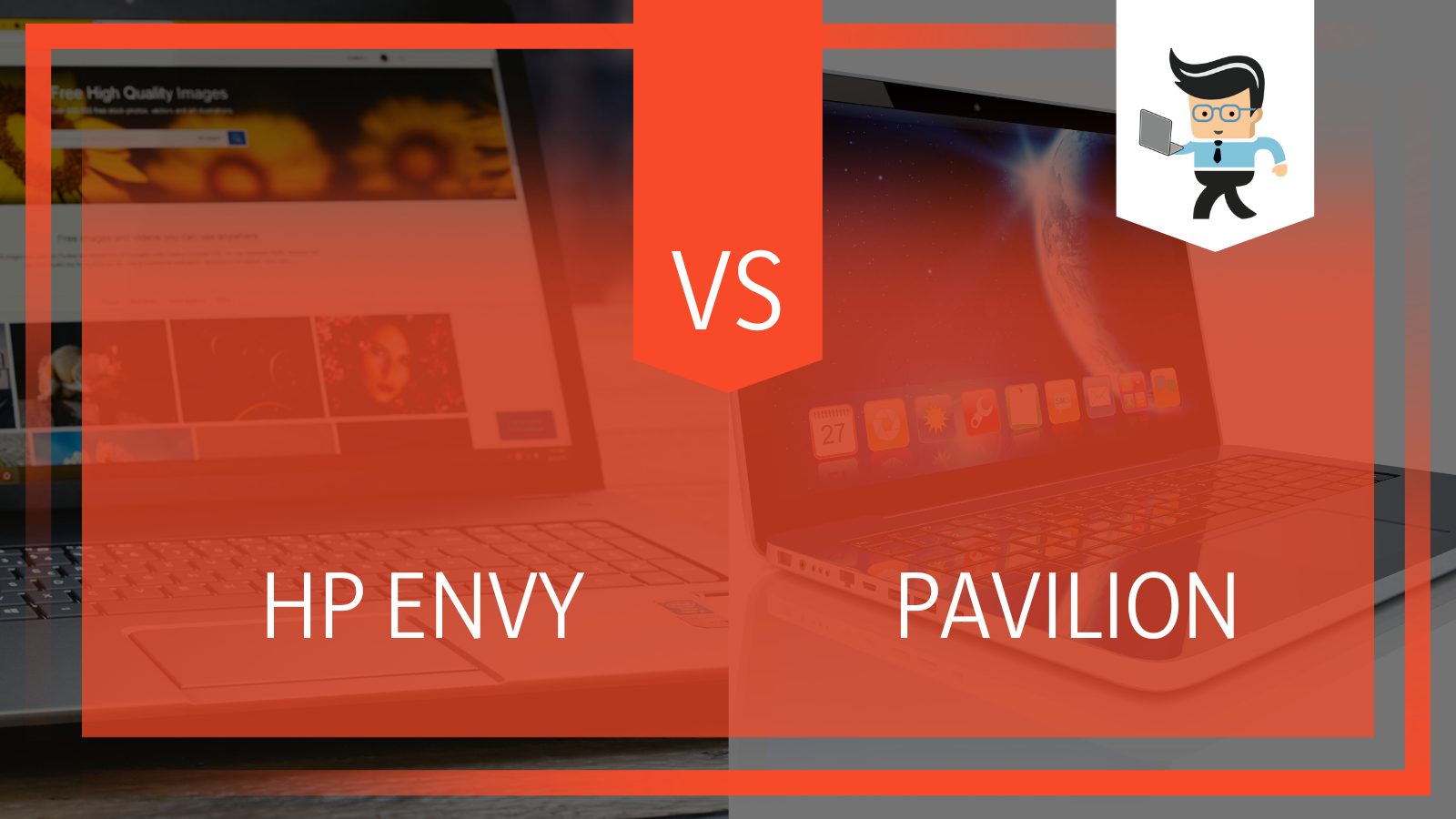 In this guide, we're going to compare the HP Envy and the HP Pavilion so you can make the best decision for your laptop needs. We'll cover things like price, performance, features, and more, so read on for all the details!
Comparison Table
| | | |
| --- | --- | --- |
| Features | Envy | Pavilion |
| Display | 13" to 17" | 15.6" usually |
| Processor | Intel i7 or AMD | Intel i5 or AMD |
| Battery Life | 11 hours | 8 hours |
| Graphics Card | NVIDIA GeForce | Intel UHD |
| RAM | 8GB | 16GB |
| Storage | 512 | 256 |
| Design and Dimensions | Lighter | Heavier |
| Price | Expensive | Affordable |
| Keyboard and Trackpad | Backlit keyboard | Backlit keyboard |
Hp Envy vs Pavilion
The main difference between HP Envy vs Pavilion is that the Envy laptops have better processors, better battery life, and even better GPUS, but the Pavilion laptops are quite useful too. The Envy lineup of laptops tends to come out on top due to better features in most cases.
– Display
Winner: HP Envy
HP Envy vs Pavilion, both these laptop series offer great features when it comes to screens and displays. However, there are some key differences that you should keep in mind when making your decision. The Envy boasts a slightly higher resolution display, as well as support for 4K content. In addition, it offers an optional touchscreen display, which can come in handy for certain tasks.
The Pavilion, on the other hand, has a larger screen size, making it better suited for multitasking or for working with large amounts of data. It also has a lower starting price point, which may make it a more attractive option for budget-minded shoppers. Ultimately, the best choice for you will depend on your needs and preferences. But if you're looking for the best possible screen and display quality, the HP Envy is the way to go.
If you've ever felt confused about the way these laptops are named, you might be surprised to know that the reason behind this is surprisingly simple. The names of the laptops in the Envy and Pavilion series are determined by their display sizes. For instance, an Envy 13 display is 13 inches in size, an Envy 17 display is 17.3 inches, and a Pavilion 15 display is 15.6 inches in size.
Both the Envy and the Pavilion include x360 laptops, which can be shaped into a stand, tent, or tablet. The Envy x360 models, however, have more modern specifications than their Pavilion equivalents. Envy 13 also has a 4K variant, which makes it a great option for watching Netflix movies. It has crisp colors and lines.
Envy 13 also has BrightView, which brightens your screen but is less appropriate for outside use. Most of the Pavilion variants, on the other hand, only have 15.6-inch displays. They offer three distinct display options: glossy 1080p IPS, 1080p IPS, and 4K, which is once again the ideal option for streamers. While Envy offers a multi-touch screen, which is an advantage for them, some Pavilion models do feature touch-screen capabilities.
– Processor
Winner: HP Envy
Powerful Intel processors seem to be an indication of the HP Envy series. The quad-core Core i7-8565U (Whiskey Lake) processor that powers the Envy 13, for example, has been set up to have a TDP (Thermal Design Power) of 35 watts for a brief length of time.
The Core i7 CPU has a basic clock cycle of 1.8 GHz but can turbo boost to 4.1 GHz, 4.5 GHz, and 4.6 GHz with four cores, two cores, and one core, respectively. Powerful 10th Generation Core i7 processors are also found in other HP Envy laptops, including the Envy 15 and Envy 17. But there are a few HP Envy x360 versions that employ AMD processors instead, generally, AMD Ryzen 7 although one model uses a Ryzen 5 processor.
On the other hand, the processors in HP Pavilion laptops vary significantly, even between models. The HP Pavilion cs-0003ng, for instance, uses an outdated quad-core Intel Core i5-8250U processor, whereas the Pavilion cs3096nr uses the 10th generation Core i7 processor.
Although some of the more recent models, like the 15z, come with AMD Ryzen 5 and 7 processors, they can be altered to suit your needs. The Intel processors in laptops typically operate at a basic frequency of 1.8 or 1.9 GHz, which can be increased to 3.9 GHz with Turbo Boost. The AMD processors have a 2.3 GHz base speed that can be increased to 4 GHz.
And if we pick up another model from each line, we'll see quite similar results. For example, let's take the HP Envy 15 and Pavilion G6. They both use seventh-generation processors, yet they still have different configurations.
An Intel dual-core Core i7-7500U processor powers the HP Envy 15, while the Pavilion G6 has a quad-core Intel Core i7-3632QM processor in contrast. The HP Envy 15's processor can work at a quicker pace, according to the basic processor specifications for both laptops.
The Core i7-7500U CPU of the HP Envy 15 operates at a base frequency of 2.7 GHz and a maximum frequency of 3.5 GHz. Contrarily, the Core i7-3632QM CPU in the HP Pavilion G6 operates at 2.20 GHz in base mode and 3.20 GHz in boost mode. Both laptops' processors have a respectable degree of performance when performing routine tasks that demand a lot of processing power.
They are both capable of handling all common computing functions like emailing, videoconferencing, document production, and browsing the web. However, compared to the HP Pavilion G6, the HP ENVY 15 is capable of handling more demanding computer tasks.
– Battery Life
Winner: HP Envy
Now, since both Envy and Pavilion happen to be a diverse lineup of laptops, we'll need to single out one laptop model out of both lineups. Let's take HP Envy 15 and HP Pavilion G6 as examples here. Now, the battery configurations for the Pavilion G6 and HP Envy 15 are different. For the Pavilion G6, HP offers two battery configuration options, however, they only offer one for the Envy 15 laptop.
Where only a 3-cell, 52 Wh Li-ion battery is available with the HP Envy 15, the HP Pavilion G6 is available with either a 6-cell, 47 Wh battery or a 6-cell, 55 Wh battery. Equipped with the 6-cell, 47 Wh battery, the HP Pavilion G6 was able to survive 3 hours and 48 minutes on the continuous web browsing test with this battery arrangement.
In comparison, the HP Envy 15's battery didn't run out until after 6 hours and 1 minute. Keep in mind that this test is performed to see how long your laptop's battery will last while surfing the web continuously.
Even with this one example, one could argue that the HP Envy series outperforms the HP Pavilion series when it comes to laptop battery life. However, we'll give the Pavilion another chance to prove its mettle — or rather its battery life. It takes 3 cells with 51Wh capacity to power the Envy 13 laptops.
That same Envy 13's battery life, according to HP, is up to 14 hours. Although that is the optimum situation, research has shown that some HP Envy 13 models may last for about 11 hours even when using Wi-Fi to browse the internet.
In a perfect world, HP says the battery life of the Pavilion 15 laptops can reach ten hours. This is not a negative thing, but tests showed that the HP Pavilion 15z touch only lasted for 8 hours and 24 minutes even when the brightness was set to the lowest setting and Wi-Fi was not enabled. The laptop required recharging two hours after operating at maximum brightness.
– Graphics Card
Winner: HP Envy
Even while you may only need a laptop for "work," it's absolutely acceptable to secretly yearn for a gaming laptop. A laptop with a powerful graphics unit is also essential if you work as a graphic designer or digital animator. That's why when comparing the graphics cards of HP Envy vs Pavilion, we consider the NVidia GeForce MX250 GPU to be a significant addition to the HP Envy 13.
Although this graphics card is obviously not designed for intense gaming, it is still superior to the integrated graphics found in many laptops. You'll be able to run them smoothly as long as you stick to e-sports or older games with modest graphical settings. However, if you need powerful graphics for work, this GPU might not be sufficient.
On the other hand, the majority of HP Pavilion models, however, do not include a dedicated graphics card. An integrated Intel UHD Graphics 620 GPU is included with the less expensive Pavilion x360s. Either integrated Intel GPUs or Radeon Vega graphics cards are available with the Pavilion 15 variants (for AMD processors).
The 15-cs3096nr model stands out since it also features an NVidia GeForce MX250 discrete graphics card, which puts it on par with the Envy laptops' graphics performance. Yet neither the Envy nor Pavilion gaming performances come close to that of the premium range of HP Spectre laptops.
– RAM
Winner: HP Envy
Talking about the RAM comparison in HP Envy vs Pavilion, you should know that our two test subjects — the Pavilion G6 and HP Envy15 — have completely different memory setups. HP, for example, includes an 8 GB SDRAM with the Envy 15. In the meantime, the HP Pavilion G6 has 2 GB of DDR3 RAM.
Thankfully, HP had the foresight to have allotted 2 slots for the RAM setup on both laptops. You can therefore use one of their RAM slots to update the RAM arrangement on the HP Envy 15 and Pavilion G6.
No matter what you wish though, you can only improve both computers to a certain degree. The maximum RAM configuration HP permits for the HP EnvyY 15 is 16 GB. On the other hand, the HP Pavilion G6's RAM may only be increased to a maximum of 8 GB. Our HP Envy 15 reference unit for this review has 16 GB of RAM, whereas our HP Pavilion G6 reference unit has 6 GB of RAM.
Both laptops can generally handle memory-intensive tasks very well. The HP Pavilion G6 should be able to run 16 Chrome tabs, two of which are playing 1080p YouTube videos, without stuttering. On the other hand, the HP Envy 15 should be able to operate without a hitch with 23 Chrome tabs open and Spotify playing music. Evidently, the HP Envy 15 outperforms the HP Pavilion G6 in terms of memory-specific performance.
– Storage
Winner: HP Envy
Even in the case of storage comparison between HP Envy vs Pavilion, the HP Envy series is ahead of the curve even though SSDs are still a relatively new technology in the market for mainstream laptops. Since they have fewer moving components and are consequently speedier, SSDs are typically more effective for storing.
The Toshiba NVMe SSDs in the HP Envy 13 have a capacity of 512 GB, of which 443 GB are accessible to the user. The HP Envy 17t-cg00 is much roomier than other Envy models because of its fantastic 1 TB of storage, but it also costs more. Although it must be said that these laptops give greater versatility if storage is more important to you than speed.
Now, you might be surprised to know that 256 GB of PCIe NVMe SSD storage is standard on HP Pavilion 15 base versions. However, you may increase the SSD's storage capacity up to 512 GB or add a 1TB 5400 rpm SATA HDD drive to it. Some HP Pavilion x360 models include internal hard drives that have up to 2 TB of storage, while other models have built-in SSD storage that still gives you the option to connect SATA HDDs.
Typically, a 256 GB PCIe NVMe SSD storage drive is included with the HP Envy 15. HP also includes a 1 TB 5400 RPM SATA HDD storage drive with the Pavilion G6. Because of this storage arrangement, the HP Pavilion G6 provides greater storage space than the HP Envy 15. Even though the HP Envy 15's storage configuration offers higher storage capacity, it still performs better.
The HP Envy 15's SSD storage is primarily at blame for this situation. The SSD drive on the HP Pavilion G6 is a much speedier storage disc than the HDD. Because of this, you can anticipate that the HP Envy 15 will provide faster performance speeds than the HP Pavilion G6.
– Design and Dimensions
Winner: HP Envy
In terms of design and dimension in HP Envy vs Pavilion, the Envy series laptops look stunning and have a luxurious feel to them. The Envy 13 has a thickness of less than 0.6 inches and kind of resembles a device you might see in a 1970s science fiction film. The laptop is small enough to fit in your backpack and light enough that you won't even notice it at 12.1 x 8.3 inches and 1.27 kg.
Envy 13 is the best option if portability is what you're after, and although the Envy 15 and 17 weigh considerably over 2 kg and have larger displays, this is a logical choice.
Depending on the model you choose to purchase, however, the HP Pavilion models have a wide range of dimensions and weight. The Pavilion x360 14t-dh200, for instance, is smaller and measures 12.76 x 8.78 x 0.81 inches. It weighs around 1.5 kg less and is lighter.
In contrast, a typical HP Pavilion 15 laptop has dimensions of 14.24 x 9.67 inches but is thinner at 0.7 inches thick. The Pavilion 15 is somewhat heavier than 2kg. Whether you choose to use your laptop at home or while traveling, the Envy series provides more versatility.
– Keyboard and Touchpad
Winner: HP Envy
If we're going to be talking about keyboards and touchpads as part of this HP Envy vs Pavilion comparison, we'll be the first ones to admit that the keyboards of the HP Envy variants are surprisingly good. Take the Envy 13 as an example; its model consists of keys that are 1.2 millimeters apart from one another.
It's possible that the distance between the keys is a little bit closer than what most seasoned users prefer, but you can get used to it. However, each key's actuation force is somewhat sharp. The keys' spacious size gives you enough room to type smoothly.
Oh, and did we also mention that the keyboards are backlit? The touchpad's dimensions are large, measuring 11.5 x 5.5 cm, meaning that the touchpad movement is extremely precise because it enables multi-touch and has been coupled with Precision drivers.
As far as the keyboards in the laptop Pavilion lineup are concerned, the keyboards on the Pavilion 15 are slick, stylish, and have enough space for quick typing. Your fingers may rest and write comfortably thanks to the keys' edges, which average 15 millimeters long.
Pavilion models include illuminated keyboards and are available in a variety of colors, while you can also get one without. The touchpad is wider than the one on the Envy 13 at about 11.5 x 6 cm. It does not come with any buttons by itself, and although its clicks are clear, they are not as sharp as those of the competitor such as Dell Inspiron.
– Pricing
Winner: HP Pavilion
Despite their pricey price tag, HP Envy models boast stylish designs and contemporary finishes. You better have some serious cash set aside if you want to purchase an Envy laptop since even the entry-level Envy 13 series devices start at $759.99. These devices include an Intel 10th Generation Core i7 processor, integrated Intel Iris graphics, 8 GB of RAM, and 256 GB of SSD storage.
The Pavilion 15t, an HP Pavilion model in a comparable price range, costs $749.99. In addition to having the same CPU and GPU as the Envy laptop, it also includes 16 GB of RAM and 512 GB of SSD storage space, which can be increased to 1 TB if necessary. Other models of both laptops (except the x360 series) cost more, as one might anticipate. Envy 17 as laptops with similar specifications starting at $1049.99 and increasing in pricing with better hardware.
Depending on your preferences, the Envy x360 laptop can cost anywhere between $659.99 and $1199.99. On the other hand, Pavilion series laptops range in price from $499.99 (which includes the outdated Core i3) to $1079.99 (The Pavilion 15-cs3096nr, featuring 16 GB of memory, 512 GB of SSD storage, and a discrete NVidia graphics card). In terms of specs, the Pavilion laptops provide a superior overall value within the same price range.
– Pros:
Has the better processor
The lineup has at least 8GB RAM
Has better graphics card
Has better display
– Cons:
Expensive
Screen is reflective

HP Envy is one of the best laptop lineups in the industry. With its high-end processors, superb display, great graphics card, and better RAM and storage, there are very few laptops that come near this one.
This lineup has a minimum of 8GB RAM and up to 16GB, while the storage is in the form of 512GB SSDs. Since the Envy lineup boasts high-end graphic cards like the NVIDIA GTX series, you can also play games on your laptop as well as do any sort of graphics-intensive work like video editing or animation, etc.
Its portability is also quite a boon because such a lightweight laptop is really easy to carry off anywhere you go without any hassle. But with all these bells and whistles also comes quite a high ticket if you want to buy an HP Envy, whether a 360 one or a simple laptop.
– Pros:
Affordable prices
Has flexible storage options
Sturdy laptops
– Cons:
Shorter battery capacity
Has a slower processor

This mid-range laptop series provides wonderful value and has a nice appearance, a great screen, and great acoustics. Although it isn't powerful enough for an intensive picture or photo editing, we highly suggest it as a laptop for regular folks. It has Intel Core i5 or AMD processors, along with up to 16 GB RAM and 256GB SSD storage.
It is also quite portable, probably not as much as the Envy, but enough that you can lug your laptop with you to school or to a friend's house easily. Even though its battery life isn't that great, you can easily use it for personal work or studies and ease yourself into this sort of life.
FAQs
– Is HP Pavilion or HP Envy Better?
HP Envy is better; a better battery life, processor, and graphics card are all features of the HP Envy compared to the HP Pavilion. The Pavilion, however, is less expensive than the Envy. Which laptop is the superior model then? We must choose Envy for this one in terms of features and quality.
Based on our expert review above, the HP Envy laptops performed better in almost all of the features they were tested in, including display, processor, battery life, graphics card, RAM, and so much more.
But this doesn't mean the Pavilion is bad at all. The laptops of the HP Pavilion range are renowned for their portability, speed, and affordable costs. The HP Pavilion is ideal for a variety of users, including students, those who travel and work on the go, gamers, and creatives, which is the best feature of all.
– Which Is the Best HP Laptop for Students?
Because it features a sleek look and all the power you need for non-stop use, the HP Pavilion 15 cx0140tx is frequently recognized as the best HP laptop for college students. It has a 4 GB Nvidia GeForce 1050 GPU and an Intel i5 processor from the 8th generation.
Despite this, the HP Envy laptop range is also well-suited for students who have a bit more cash to spend. This range outperforms the HP Pavilion laptops in a lot of features, which is also an important factor to take note of before making a purchase.
Conclusion
In conclusion, it is evident that HP Envy stands out even though both the HP Envy and the HP Pavilion series laptops provide a sturdy build and respectable performance.
The Envy line of laptops, particularly the Envy 13, can be a wonderful option if you're seeking a fashionable, portable device that can handle heavy workloads.
If money is tight, the Pavilion models can provide roughly the same performance for less money. When it comes to specs, we choose the HP Envy, but your requirements may differ. Whichever you decide to buy, it's a wise decision in either case. Choose the one that best meets your demands by perusing all the models listed here on Amazon.