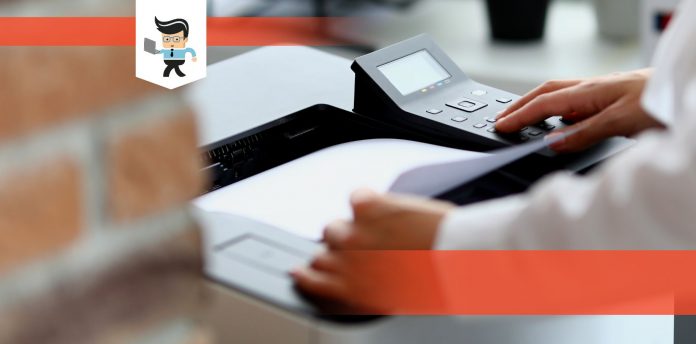 Choosing between the HP Envy 5540 and HP Envy 4520 is not easy. Both are great multifunctioning and affordable wireless printers. But there are some notable differences between them that you must know before you buy. This article will help you make the best choice for your printing needs.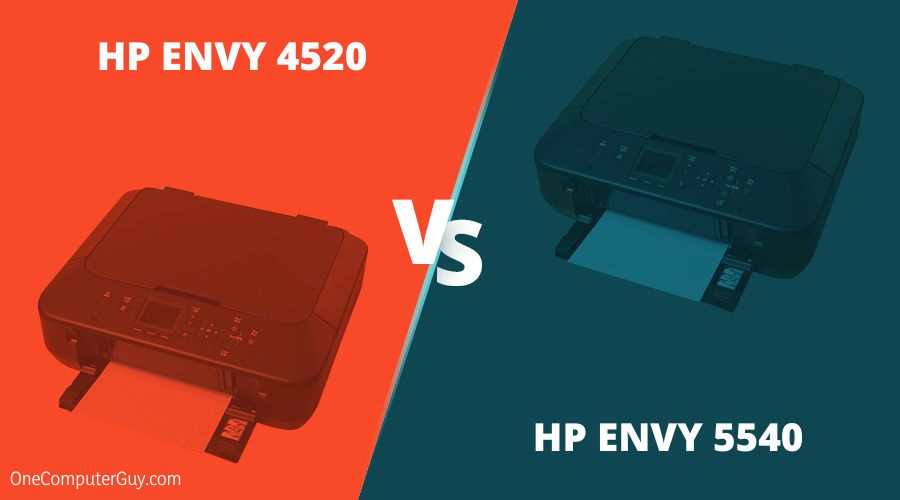 Product
Key Specifications
HP Envy 4520

9.5 ppm black, 6.8 ppm color
17.52 x 14.45 x 5.04
Bluetooth smart

HP Envy 5540

12 ppm black, 8 ppm color
17.87 x 16.14 x 6.14
Built in photo tray
Individual Reviews
Pros
• High quality for photos and graphics
• Easy set up with Wi-Fi direct
• Instant ink legibility
Cons
• Expensive Ink Refills and constant ink pop-up
• 1 tray
The HP Envy 4520 is a small color inkjet All in One photo printer. This HP model is well-rated especially for its neat and handy professional looks. Suited for home and office use, it a great choice to meet your casual and personal needs.
The user has full control with the HP Envy 4520. This multifunction machine deserves its "all-in-one" moniker, since it prints, scans, and copies. It's wireless, so it connects to different devices.
The HP Envy series has always boasted a slim design. The 4520 continues the legacy with a new, curved chassis that measures 5 inches tall, 14.5 inches deep, and 17.5 inches wide. It has a matte black finish with a patterned scanner lid.
Despite its size, the HP 4520 offers you fast and high-quality printing. Do you work on the go? This printer can scan, copy, and print your photos and documents from your wireless devices.
The remarkable thing is, you can save 50% on ink. This benefit comes because HP 4520 is set up for HP's Instant Ink Ready program.

One thing to note, the ink is very expensive. Besides, the constant pop up refill reminders can be annoying. But, the HP Envy 4520 is quite sleek and affordable.
HP Envy 4520 Specs
Print Speed: Black (ISO) 9.5 ppm
Color (ISO) 6.8 ppm
Black (draft) 20 ppm
Color (draft) 16 ppm
Hardware Resolution: 1200 x 2400 dpi
Scan Speed: Mono 8 ppm
Color 4 ppm
Pros
• Fast printing quality photos and graphics
• Easy set up with Wi-Fi direct
• Instant ink legibility
• Extra tray for photo printing
Cons
• Expensive ink refills and constant ink pop-ups
• Heavier and takes up more space
The affordable HP Envy 5540 is an all-in-one inkjet printer that offers high image quality and solid performance on both specialty media and plain paper. Though not very fast, its duplexer gives you two-sided prints. A second, fixed paper tray offers a place to store photo paper.
Time is of the essence in today's fast-paced world. The HP Envy 5540 is a top choice All in One wireless printer. Its input capacity and fast printing function save you time. Its wireless capability allows you to copy, scan, and print from your smartphone or tablet with ease.
This HP model has a built-in photo tray. With this feature, you can print 4×6-inch borderless photos in brilliant color. This printer is set up for HP's Instant Ink Ready program which cuts your ink price in half.
The front panel of the 5540 has a 2.2- inch color touchscreen display, which you can swipe to browse menu options. The 125-sheet input tray is in a drawer that sticks out from the front of the unit. The printer also has a 15-sheet photo paper tray.
The HP 5540 ink is costly and the constant pop-up refill reminders can be intrusive. Even so, the HP Envy 5540 is a remarkable printer. Many people have made this model their indispensable home office printer choice.

HP Envy 5540 Specs
Print Speed: Black (ISO) 12 ppm
Color (ISO) 8 ppm
Black (draft) 22 ppm
Color (draft) 21 ppm
Hardware Resolution: 1200 x 1200 dpi
Scan Speed: 15 seconds per scan
Product Comparison
The main difference between HP Envy 4520 and 5540 is, HP Envy 5540 is noticeably faster with a higher paper tray capacity and an added photo tray, while HP Envy 4520 is Bluetooth smart and has a smaller frame.
– Dimension
The difference in dimensions between the two printers is minimal. HP Envy 4520 is a bit light weight and smaller than HP Envy 5540, with dimensions of 17.52 x 14.45 x 5.04 vs 17.87 x 16.14 x 6.14. Most people find its sleek, compact, professional look attractive and handy. If you need to take your printer to and fro, from home to office then the HP 4520 is definitely your best pick.
Even so, a lightweight printer does not guarantee efficiency. The lightness of the HP Envy 4520 can make it appear fragile. But the small increase in size and weight gives the HP Envy 5540 a solid and more durable feel.
– Connectivity
Both HP 4520 and HP 5540 are dual-band. That means that they can connect to either old-time or modern Wi-Fi standards. The double band capabilities of these printers also make setting up easier. But, unlike HP 5540, HP 4520 is Bluetooth smart. The Bluetooth allows you to carry out printing tasks with no network connections.
– Performance
Both HP Envy 4520and HP Envy 5540 are specially made for photo printing. These printers will give you quality and borderless photos. Additionally, the images are very sharp and detailed.
Both models support automatic two-sided printing. So you do not need to reload the papers for odd and even pages. This duplex capability saves you time and paper cost.
The most notable difference between the two is their print speeds. The 4520 prints at a slower rate of 9. 5 ppm for black and white, and 6.8 ppm for color. But, HP Envy 5540 is significantly faster, printing at 12 ppm for black and white and 8 ppm for color. Both printers work in quiet mode but HP 5540 has a lower noise level, 49 Db vs 51 Db.
– Paper Tray Capacity
Another disparity between the two printers is their paper tray space. HP Envy 4520 can hold up to 100 sheets in its input tray and 25 sheets in the output tray. Yet, HP Envy 5540 has the advantage of holding 25 sheets more in the in-tray. This slight difference will help you save time.
Finally, the HP Envy 5540 comes with a photo tray. Again, this extra feature may seem insignificant. But it's nice to have an added convenience to the printing process.
Conclusion
There is very little difference between the HP Envy 4520 and the HP Envy 5540 printers. Both models have similar design and output qualities. Their input and output capacity is more suited for home or small office use. Your choice between the two depends on your professional needs and personal taste.
Do you need a more compact and sleek looking printer that can even fit into your car? Then the HP Envy 4520 is best for you. But, if you print bulks of pages often, then the HP Envy 5540 is your top choice. You will save time and cost with its fast printing and extra volume output. These are two compelling reasons for choosing the HP Envy 5540 over the HP Envy.