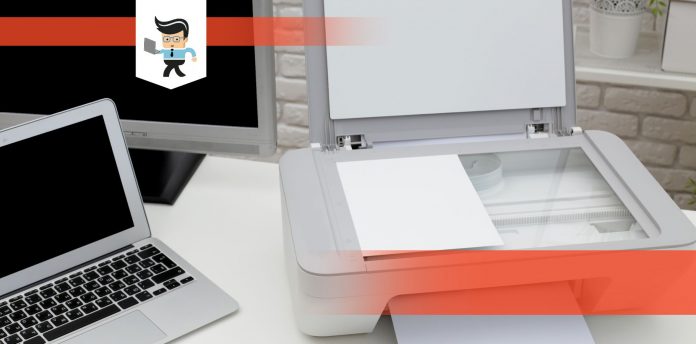 In this article, we compare the HP 3830 vs 5255 OfficeJet printers. These machines deliver sharp, good-looking prints in compact form factors. They appeal to the home office, small business professionals, and crafters.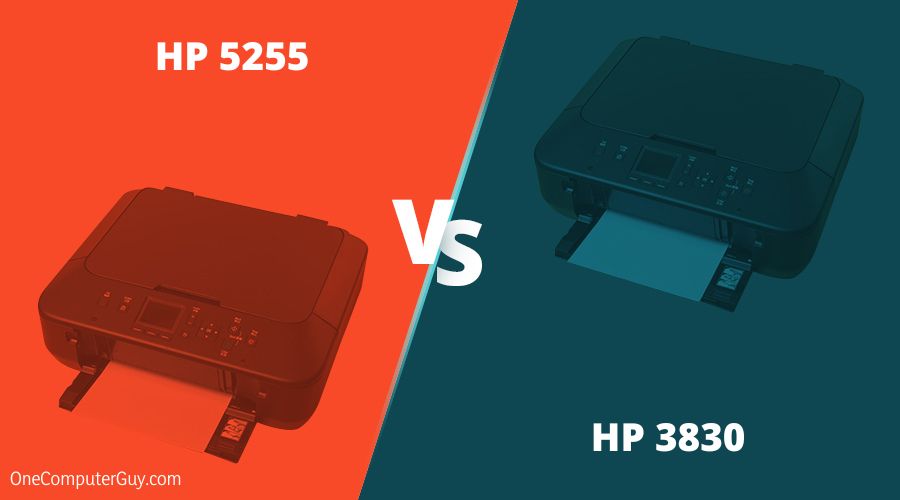 We have analyzed them so that we can better recommend the right printer for you. Read on to discover what are the pros and cons of these printers and compare their specs. Then we will make our final recommendations.
We did an in-depth HP 3830 printer review. We can highlight the following details:
Pros
• HP Instant Ink or Amazon Dash Replenishment compatible
• HP Smart Print app allows printing from your smartphone or tablet
• Easy to install ink cartridges
• Scan Direct to Email
• Automatic Document Feeder
Cons
• Paper insert slot tray instead of a slide-in drawer
• A small ink cartridge will not last long
• No Automatic Double Sided printing
FEATURES
Our review of the HP 3830 Wireless printer found some vital features for a modern home office. Even vintage offices will enjoy the features detailed below.
this printer is an all-in-one. It allows you to scan, fax, copy, and of course, print on the same device. It does any of these tasks with no delay and will enable you to be more productive.
High-quality Photo Prints –
capture your beautiful memories on 4 x 6 or 8 x 10 photos in bright colors.
connect to printer apps like HP ePrint Smart app or Apple AirPrint.
use the bright and clear 2.2 inch LCD Monochrome Touchscreen. You can access all that the printer can do with its simple interface.

The HP OfficeJet 3830 specs are noteworthy.
• Dimensions – 17.72 x 14.33 x 8.54 inches (with input feeder closed)
• Weight – 12.37 lbs
• Power 100V to 240V, 50/60 Hz
• 2.2-inch Monochrome LCD Display
• Monthly print cycle – 250 pages
• Print Technology – HP Thermal Ink
• Ink series – HP 63 series (one black and one tri-color)
• Connections – 802.11b/g/n built-in, USB 2.0
• Device Memory – 512MB
In our HP OfficeJet 5255 review, we took special note of the following things:
Pros
• Automatic double-sided printing
• HP Instant Ink and Amazon Dash Replenishment compatible
• Paper drawer tray
• Crisp borderless photo printing
• Scan to email
Cons
• Manual double-sided scanning
• Small paper input capacity
• Average print speed
FEATURES
Use the HP 5255 to boost the productivity of micro-businesses and home offices. It is also useful for college dorms. We've taken another look at some of its features below.
• All-in-one Multi-function –
every office needs a versatile machine. The HP 5255 can scan, fax, copy, and print, freeing you to achieve higher work output rates in your busy schedule. It adds time for you to concentrate on the essential tasks.
• High-quality Images –
the primary function of any printer is, of course, to print. This printer produces clean and crisp looking images that don't smudge or smear. Photos appear professional quality and pristine, especially when using the recommended high-quality paper.
• Cost-saving print options –
you can save up to 50% of your printing costs by signing up for HP Instant Ink. This ink subscription service allows your printer to order ink when it reads that the levels are low. You'll also save time, as you don't have long wait periods without ink. And, as we all know, time is money.
• Ease of Accessibility –
The HP 5255 can connect to any of your devices in any one of the following ways. It uses Dual-Band Wi-Fi, HP Smart app, Apple AirPrint, USB 2.0 connection, or Wireless Direct. Wireless Direct connects your smartphone or tablet straight to your printer.
• Modern Design –
its sleek and space-saving design means you can place it on any shelf or table. It will take up very little space in your room.

The HP 5255 specs and features are impressive.
• Dimensions 17.52 x 14.45 x 7.52 inches (with the paper drawer closed)
• Weight – 14.44 lbs
• Power – 100 to 240V, 50/60 Hz
• 2.2-inch Monochrome LCD Display
• Monthly print cycle – 400 pages
• Print Technology – HP Thermal Ink
• Ink series – HP 63 series (one black and one tri-color)
• Connections – 802.11b/g/n built-in, USB 2.0
• Device Memory – 256MB
HP 3830 vs HP 5255 Comparison
The main difference between HP 3830 and HP 5255 is, HP 5255 has a monthly recommended print cycle of 400 pages with duplex printing capabilities in a much smaller form, while HP 3830 has double the memory and is more lightweight.
HP designed its OfficeJet printers for small businesses and home offices. After looking at both HP OfficeJet printers, we're sure that you'll want to know which one you should buy. You can purchase either one for under a hundred dollars. Which one is the better and bigger bang for your buck?
When you compare HP printers, you'll see that they always have quite a few features in common. These are no different. They both have goodies such as HP Instant Ink, the LCD, and photo printing. Both use the easy-to-find and change HP 63 series ink cartridges.
We will not dwell on these similarities in this comparison. Instead, we'll look at some areas where one shines more than the other. So we'll put them side by side and focus on a few key areas.
– Weight:
While both are light, compact designs, the HP 3830 weighs less.
Dimensions:
When placed next to each other, both printers are compact. Even with full trays extended, the HP 5255 is still smaller than the HP 3830 in a similar state.
– Recommended Print Cycle:
The HP 3830 has a recommended monthly print cycle of only 250 pages. Compared to that, the HP 5255 has an undeniable advantage with 400 pages.
– Automatic Duplex printing:
On the HP OfficeJet 3830, double-sided printing is not possible. The HP 5255 can run duplex prints, freeing you to use your time elsewhere.
– Paper Input Trays:
The HP 3830 has a 60 sheet input tray located at the machine's back. The HP 5255 has a 100 sheet input tray drawer located at the bottom.
– Memory:
When you have many documents or even large files to print, the printer memory makes a difference. The HP 5255 comes standard with 256 MB of RAM to handle your prints. But the HP 3830 has double that amount, which means that you can print more documents at one time.
Conclusion
These compact all-in-one HP printers are battling for supremacy. With their many featured options and processes, and their varied connection options, they both offer excellent value. You can't go wrong with either one. They can both be useful additions to your productive space.
But when all the features sit side by side, the HP OfficeJet 5255 is the clear winner.
The HP 5255 has more features and options, which tip the scale in its favor. It holds more paper and has more automated processes. The result is more productivity and efficiency for you and your office. So when you are looking into new printers, definitely consider the HP OfficeJet 5255. It may very well be the right printer for all your needs.