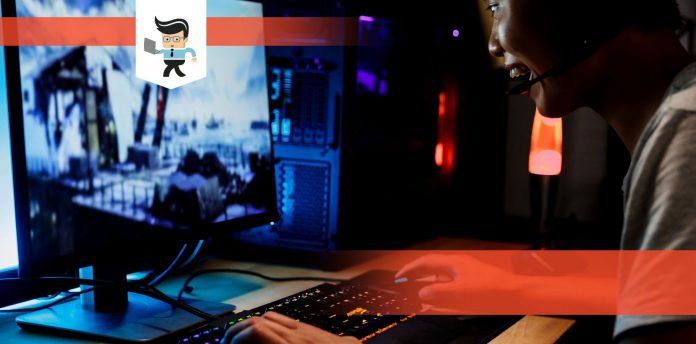 Choosing between the Asus VG248QE vs. ViewSonic XG2401 is a crucial decision.
Whether you're a beginner gamer or already a video game veteran, choosing a good monitor is crucial.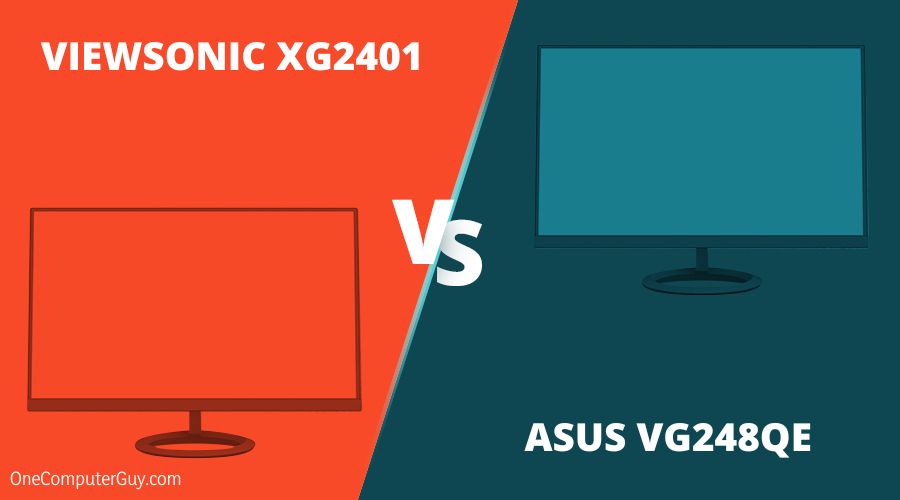 This article will help you decide. You're one step closer to getting the monitor for you. Below is the monitor comparison.
A monitor's quality can determine if you rank with noobs, or if you break records and wipe out the competition.
You want to trust that your monitor is responding to what's happening in real-time. That it's showing you a clear image, and there won't be any tearing of flickering to distract you.
Pros:
• Can mount on a wall
• Mobile viewing angles
• Has ports for many hardware interfaces
The ViewSonic XG2401 is a Full HD gaming monitor with an innovative interface. Its features will put you ahead of the game.
This ViewSonic XG2401 review will give you an insight into the perks of this monitor.
– Display/Resolution:
The screen of the ViewSonic XG2401 monitor has a resolution of 1080p. There's a big chance you know its other name – Full HD.
1080p provides 1920 vertical and 1080 horizontal pixel density. 1080p resolution delivers sharper and more detailed images than 720p HD.
You don't want a monitor with a resolution under 1080p. Trust us.
With 1080p individual pixels will be harder to see, and you can have a smooth and clear screen. Even at a close distance, you won't be able to pick out the pixels.
The ViewSonic XG2401 has an LED display type. This display type will enhance the contrast and strengthen color ranges. LEDs also use less energy and save power.
Most of the power will direct to keeping you on top of your game.
Everything you play will have crisp visuals and intense colors. Your gaming experience will feel all the more real with this resolution.
– Progressive Scanning:
The ViewSonic XG2401 monitor's resolution operates on progressive scanning.
This scanning type reduces flickering and screen tearing.
It also processes faster, and the image shows for the eyes to see graphics with ease.
While interlaced scanning shows half the image at a time, progressive scanning displays the pixels in order at the same time.
– Refresh Rate:
The refresh rate is an essential part of gaming on a monitor. It will determine how close your game will keep up with the most recent change.
You don't want to lag and lose a game because of low refresh rates.
The refresh rate of the ViewSonic XG2401 is 144Hz. It delivers superb graphics and smooth visuals. It keeps up when you play or watch quick-paced action.
– Ultra-Fast Response Time:
One of the key specs that will influence your gameplay will be the response time.
The response time is how fast it takes for a monitor to change and respond to input signals. The lower the number, the better.
The ViewSonic XG2401 has an incredible response time of 1ms. A 1ms is better for competitive gaming.
Your monitor will respond to all fast-actioned gameplay at the same time as you do.
– Connectivity Ports/Compatibility:
The ViewSonic XG2401 supports connectivity with laptops, PCs, USBs, and Display Port cables.
It has HDMI, USB, and Display Port slots. The ViewSonic XG2401 also provides a port for headphones.
Block out the world and keep the thrilling game audio just for you.
– Low Input Lag:
This ViewSonic XG2401 monitor has a low input lag feature for seamless gameplay.
This monitor will process and respond to the commands from your remote or keyboard.
The delay between inputs will diminish because of its in-built process reducer.
The ViewSonic XG2401 will allow you to react to other gamers in real-time. You are sure to go up against the competition with on-time reactions.
– Special Features:
The ViewSonic XG2401 has excellent special features.
Black Stabilization is one of the many that comes with this monitor.
The Black Stabilization feature delivers more detail and visibility to your graphics. It does so by brightening dark scenes and images.
AMD Free Sync is also a feature in this monitor. It makes the frame rate output between your graphics card and monitor synchronize.
A bonus is that this monitor has VESA Adaptive-Sync to enhance the AMD Free Sync technology.
You'll be able to see what's coming, even in the darkest scenes of your game.

– Viewing Angles:
The ViewSonic XG2401 has handy features to ease your gaming environment. With a cable management loop and a headphone hook, you can focus on winning your game. Cords and cables won't get in the way.
The ViewSonic XG2401 has a wall mount. It features a flexible 170 degrees horizontal and 160 degrees vertical viewing angles.
Pros:
• Has a wall mount
• Stereo speaker
• Mobile viewing angles
The Asus VG248QE is a high performing monitor optimal for gaming. You'll have sharp graphics, quick processing, and special features to make your gaming experience incredible.
This Asus VG248QE review will give you the highlights of this monitor.
– How's the Resolution:
The Asus VG248QE offers a resolution of 1080p. This resolution gives you a high pixel density.
The image will be sharp, and the colors will pop with a 1080p resolution.
This resolution will have stunning detail during casual and high-paced gaming.
You'll see the full graphic abilities of your game on the Asus VG248QE.
This monitor also has an LED display: experience bright screens and sharp contrast. LED will save you power, and in turn, reduce eye fatigue and head pains.
Both monitors have these specs. We can assure you that it won't go wrong with either.
It's the combo of the features that will determine a winner.
– Progressive Scanning:
The Asus VG248QE monitor has progressive scanning. It enables smooth graphics and thorough processing. Your screen will be up to date before you even notice.
– How's the Refresh Rate:
The refresh rate of the Asus VG248QE is 144Hz. This refresh rate is excellent because it keeps your game in time with everyone's gameplay.
144Hz even delivers smooth in-game movement during high-action scenes and gameplay.
The ViewSonic XG2401 and the Asus VG248QE both have this refresh rate – you are sure to be on top of your game.
– How's the Response Time:
The response time is crucial for a gamer.
Buying a monitor with a good response time will enhance your gameplay.
The Asus VG248QE has one of the best response times of 1ms. Your monitor will respond fast and on-time with this response time.
– Compatibility/Connectivity:
The Asus VG248QE monitor has ports to connect to HDMI, Display Port, and Dual-Link DVI-D.
HDMI connectivity allows you to hook up the audio and visuals of devices.
The Display Port is more often used to connect a video and audio source to a device that displays. You'll usually see these on PCs.
Dual-link DVI-D port lets you connect cords that increase support for high-resolution displays.
All of these ports will allow you to connect your console, PC, and more for the gaming experience you want.

– Special Features:
The Asus VG248QE monitor's 80,000,000:1 ASUS Smart Contrast allows dark and light images to intensify. The graphics on this monitor will be strong and clear.
The GamePlus hotkey is a distinctive feature of the Asus VG248QE.
It will allow you to practice and strengthen your gaming skills. You can activate OSD crosshairs, timer, FPS counter, and Display Alignment when you're gaming.
The Asus VG248QE offers one of the finest 3D gaming experiences. NVIDIA 3D Light Boost Technology increases the LED backlight, and you get better 3D graphics with no extra power demands.
Any 3D Games you play will look incredible on this monitor.
The Asus VG248QE comes with an inbuilt 2W stereo speaker. You'll have excellent audio from your games or other entertainment.
The monitor has mobile viewing angles that enable you to set the screen for your comfort. You can tilt, swivel, pivot, and adjust the height of the display to suit you.
Which One is Better?
The main difference between Viewsonic XG2401 and Asus VG248QE is, Asus VG248QE has unique features that boost your gaming no matter what type of player you are, while the ViewSonic XG2401 doesn't have the same range of features.
Your monitor should deliver everything you need, want, and more.
Challenging ViewSonic vs. Asus is an excellent way to ensure that whichever monitor you get is of high quality.
Both monitors provide excellent refresh rates and incredible response times.
They have the resolution type to give you clear graphics and sharp images.
Each has features that enhance your gameplay.
The Asus VG248QE is a monitor for gamers who are into games with 3D visuals. It has tech that will increase visuals without pulling more power.
And if you want to watch 3D movies, it won't disappoint.
The Asus VG248QE is better for a beginner, too. GamePlus will enable your gaming skills to increase with many different features.
Conclusion
While the ViewSonic XG2401 has many of the same specs, it doesn't have the range of features that the Asus VG248QE does.
You may not be a beginner or a 3D game enthusiast, but we still recommend the Asus VG248QE. And if you ever get into 3D gaming, you'll already have one of the best monitors for it.