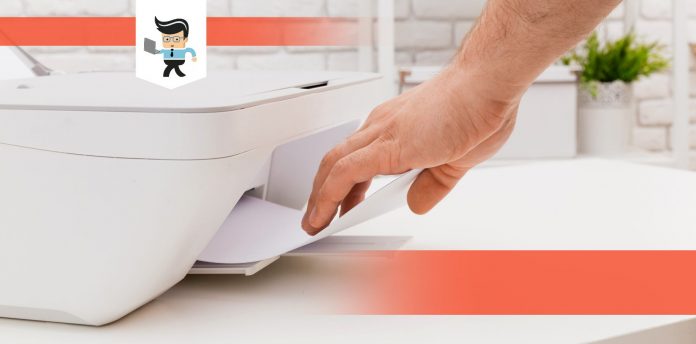 Choosing between HP 6968 vs HP 6978 is no easy choice. Between homework and printing work documents, a printer is a necessity, not a luxury. Keep reading as we compare HP 6968 and 6978 to understand which printer is best for your needs.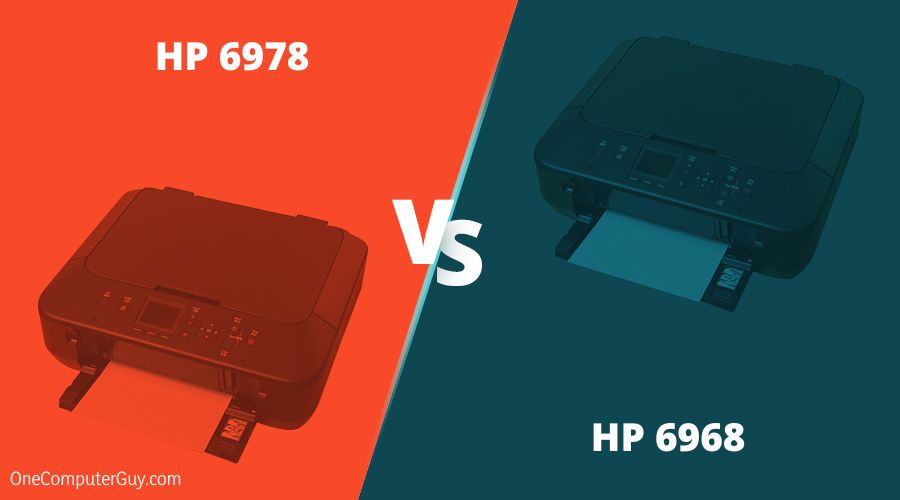 Product
Key Specifications
HP OfficeJet Pro 6968

18 ppm black, 10 ppm color
35-sheet automatic document feeder
Weighs 17.7 lbs.

HP OfficeJet Pro 6878

20 ppm black, 11 ppm color
35-sheet 2-sided auto document feeder
Weighs 17.9 lbs.
Pros:
· Super easy to set up, and computers and mobile devices recognize it right away
· The cartridge slides and clicks into place
· Many advanced features compared to other printers in its price range.
Cons:
· The copy feature experiences a slight time delay
· Closer rivals offer better value
· Device does not print double-sided from the auto-feed tray
Everyone knows HP for its high-quality printers, and the HP OfficeJet Pro 6968 all in one inkjet is one of the best. Its main features include copy, scan, fax, and it also has wireless and two-sided duplex printing and a color touch screen. Other features include an automatic document feeder and instant ink: all from the same printer.
The HP OfficeJet Pro 6968 gives you professional-quality color. It saves paper and keeps functioning with consistent speed. This device is perfect for low-volume printing in the home office or small workgroups. It provides power and fast response. It's faster than most printers in its price range.
One great advantage of this printer is that you can print from anywhere. Any device can connect to the printer, and you can use your smartphone, notebook, PC, or tablet with its free ePrint app. It works without network access using Wireless Direct Printing.
HP designed this printer for small business use, so the speed is good. You can produce your quality color prints with the 35-page automatic document feeder. This feature helps you conserve energy and time. Now you will not have to reload the printer with paper each time you need to print.
Additionally, you can reduce the amount of money you spend and the paper you use by half. It can do more tasks without slowing down. The HP OfficeJet Pro 6968 supports duplex printing. Thus, you can save time and paper by printing on both sides.
The color touch screen display has several available functions. These functions allow you to select the setting you want to use.
The HP OfficeJet Pro 6968 printer also has instant ink service. This service alerts the manufacturer when it is running low on ink. They can then deliver ink to you at a very affordable price.
Using the instant ink service will lower your running costs for the HP OfficeJet Pro 6968. This printer is perfect for low-volume printing, and it has competitive print speeds and terrific quality. These attributes make it the printer of choice for small workgroups and offices.
You can make a wireless connection through this HP printer via Ethernet or USB. You are also able to print from the cloud through your mobile gadget. Scanned documents can go from printer to email.

At the end of it all, you get terrific print quality and competitive print speeds at a manageable price. For excellent results, use HP's Instant Ink service. It has impressive features and gives quality documents for personal and professional use. It is the perfect device for anyone who prints all day.
Pros:
· Very quiet when printing or scanning to produce above-average quality prints
· Its auto-feed tray for double-sided printing saves time and paper
· Alexa allows you to multitask with the voice activation feature. You can be cooking and still print
Cons:
· Printer head needs cleaning often
· High cost per page without instant ink
· Lackluster software bundle
The HP OfficeJet Pro 6978 is an affordable and quick two-sided printer . It has an all in one feature that allows the user to print, fax, scan (two-sided), and copy in one place. One machine is enough; no need to buy a device for each function. Its compact body takes up very little space on a desk. It is so lightweight so that you can move the printer from one place to another.
Imagine a scanner that can save to BMP, JPEG, PNG, or TXT. Scanning is possible via a port located on the left-front of the chassis. Making copies or printing from a USB drive is also possible. The print and copy quality is a cut above average.
An easy to use color screen display makes it easy to access settings. It also enables you to use the various functions of the printer. It includes function buttons such as Home, Back, Cancel, and Help. The sole drawback is that it has a tiny screen. This screen size is a disadvantage to the elderly and users with visual impairments.
This printer produces superb print quality and competitive print speeds. Best of all, it is affordable. It boasts good quality output for text, graphics, and photos. Inbuilt security features include HP's Jet Advantage Private Print or Secure Print, which allow the user to protect classified print jobs with a PIN.
It supports instant ink ready service that is useful when ink is running low. Mobile printing is possible from a variety of smartphones and tablets. The gadgets can connect to the printer and print without a network.
This printer features automatic duplex or two-sided printing. This feature helps to save paper and resources, and many competitors lack it. Yet, it's an excellent feature for small businesses. This device also scans two-sided and saves time and effort.
The connectivity options consist of Wi-Fi, Ethernet, and wireless. You can also connect it to a single PC via USB. The installation of this device is easy and straightforward. Unboxing is easy as it is lightweight and will fit in your home office area.

This device is perfect for low-volume printing in the home office or small workgroups. It provides power and fast response.
Product Comparison
The main difference between HP 6978 and 6968 is, HP OfficeJet Pro 6968 is much faster and lighter, while HP OfficeJet Pro 6978 is compatible with Alexa and print double-sided from the auto-feed tray.
Now that you've looked at both printers, you have an idea of their separate functions. You also know their capabilities. For your benefit, we will now compare HP6968 and 6978. We will highlight their similarities and differences. Both printers have similar functions, so the choice will not be easy to make.
– Shape, size and weight
Winner: HP OfficeJet Pro 6968
From all appearances, both printers are identical in shape and size. The model number on the front sets them apart. When it comes to weight, HP 6978 is heavier. At 17.9lbs, it outweighs the 6968 at 17.7lbs.
– Capabilities
Winner: HP OfficeJet Pro 6978
The HP OfficeJet Pro 6968 and the HP OfficeJet Pro 6978 can print, copy, scan, and fax. You can connect both to your smartphone or tablet for printing or scanning. You can scan to email, and with wireless connection print.
The 35 –sheet auto-document feeder feature is present in both printers. But, the 6978 will feed the sheets in the machine. The machine copies single or double-sided. On the contrary, the 6968 will not print double-sided from the auto-feed tray.
– Connections
Winner: HP OfficeJet Pro 6978
The connection can be either via wireless or Ethernet. The 6978 is compatible with Alexa, while the 6968 is not.
A setup wizard is also available through the touch screen. This wizard helps you program your Wi-Fi and printer options.
– Screen Display
Winner: HP OfficeJet Pro 6968
The two HP OfficeJet models offer a colorful touchscreen display of 2.65 inches wide. This display is useful for setup and programming and accessing all available printer options. The screen of the HP 6978 printer may seem too small for some users. It's especially challenging for the elderly and the visually impaired.
– Speed
Winner: HP OfficeJet Pro 6968
The main difference between hp 6968 and 6978 is the speed of printing. The HP6978 can print black pages at 20ppm and color pages at 11ppm. The Pro HP6968 prints faster with black at 18ppm and color at 10ppm.
Their monthly document capacity is 20,000. That is the number of pages they're designed to print in one month. Both have inkjet printer technology. Thus, they produce fast and quality color prints for 50 percent less than a laser printer.
– Value
Winner: HP OfficeJet Pro 6968
The HP 6968 is the more expensive of the two, but with a higher speed than the HP6978. It gives you value for your money.
Both printers come with a 1-year limited warranty.
The results show a verdict in favor the HP 6968. It is an excellent machine with awesome features.
Frequently Asked Questions (FAQ)
– HP OfficeJet Pro 6968
1. Does this printer comer with ink?
HP includes small starter cartridges. You also get three free months of HP Instant ink with a subscription service.
2. Where do you place documents for scanning?
This printer has a flatbed scanner from which you can scan or copy. There is also a document feeder that can scan or copy approximately ten pages at once. Make sure to specify your destination for the scanned document.
3. How many color cartridges does it have?
This printer comes with four color cartridges.
4. Will this printer print black if the color cartridges are empty?
Cheaper brands have only two cartridges (black and color). This printer has four separate cartridges. That makes it possible to print in black when the other cartridges are out of ink.
5. Does it connect to wireless without using a password?
Yes. At setup, the printer establishes itself on your network—a one-time connection.
6. What are the dimensions of this printer?
It is approximately 18 inches wide, with a base 11 inches deep. The paper tray has an extension catch and holds the paper of 5 inches, and its height is 8.5 inches.
– HP OfficeJet Pro 6978
1. Does the automatic feed both scan and copy both sides?
Yes! The printer scans two-sided. It can scan a two-sided document from the top feeder, and it copies two-sided as well.
2. Can this printer print double-sided?
Yes, you can print double-sided but not all at once. You will need to turn the paper over manually.
3. Can the printer fax?
Yes, the printer can fax. You can use the touch screen to access the fax menu. A number pad will appear for dialing.
I need to scan several pages. Will the printer scan the whole document, or will I have to group the pages?
The printer can scan all your pages that you put in as one document for PDF. You also have the option to group your pages to your liking and scan as separate documents.
4. Is the password needed every time you need to print, or does the Wi-Fi stay connected?
Wi-Fi can stay connected. Once it's on, the printer will connect and print. A password is not necessary.
5. Is the printer compatible with Windows 10?
Yes, it does, and it works well.
6. What type of paper works best for this printer?
This paper accepts the US standard sizes of legal and letter, the European A4, and a few others.
Conclusion
It is hard to find a trustworthy printer. Every manufacturer claims their product is the best. That is why we felt it is essential to compare HP Officejet Pro 6968 vs. 6978 for you. It is necessary to remember your reason for buying a printer.
If speed and output are a factor for you, then the Pro 6968 is the printer for you. If your budget is more critical than performance, then you can opt for the Pro 6978 to suit your pocket. We recommend either one of the printers if you are a small business owner who prints lots of documents.