Gigabyte vs Asus motherboard is one topic you're sure to dive into if you're looking to build an excellent computer. Besides the fact that both motherboard brands offer some of the best PC motherboards, their different offerings, performances, and compatible accessories make them the ideal choice for most PC builders.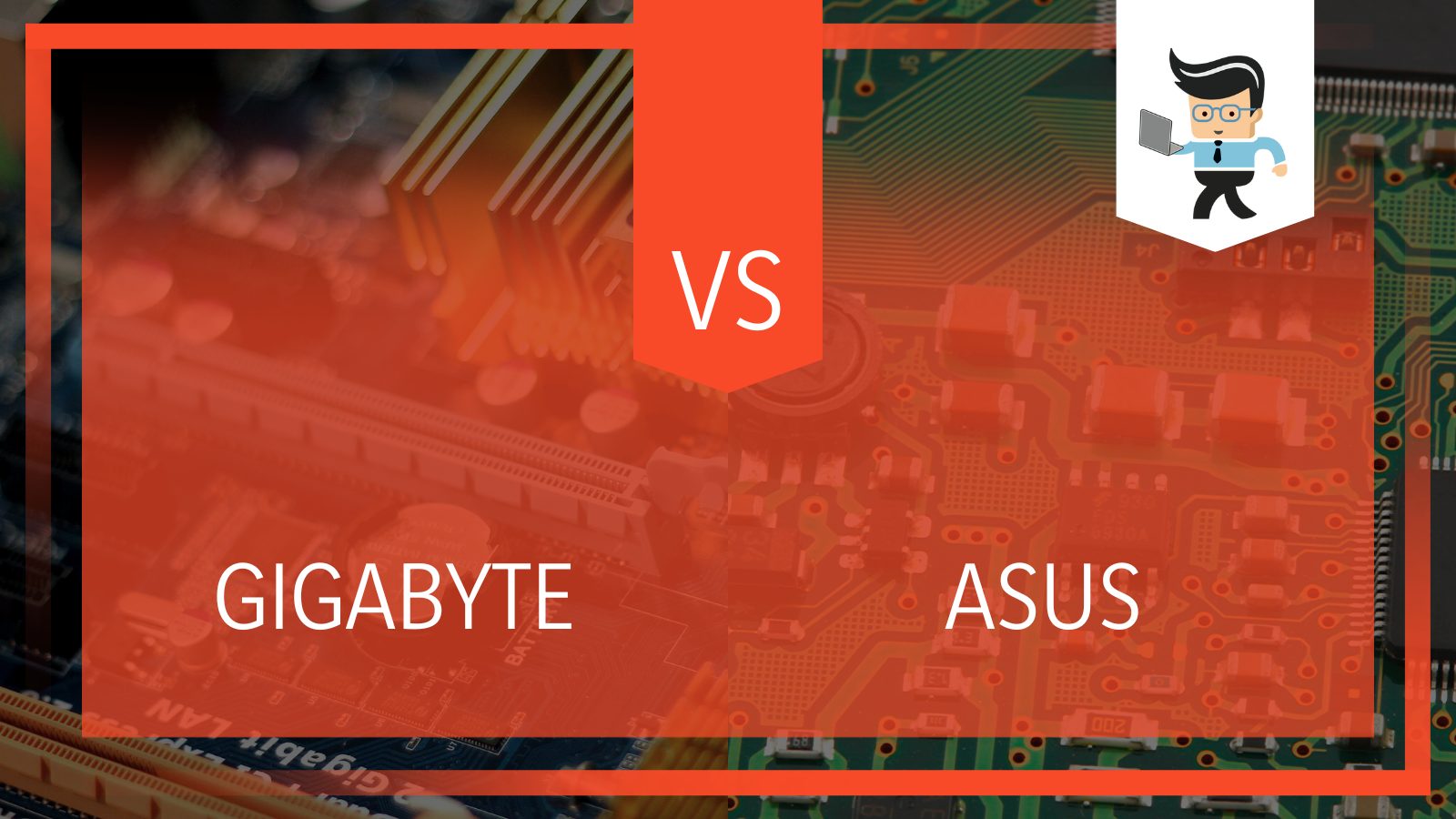 If you're in a dilemma and wondering which one to choose between Gigabyte vs Asus motherboard, you've found the right article as our experts will be comparing both motherboards, their features, types, as well as their pros and cons to help you make the right decision.
Without further ado, let's jump right in and answer all your questions!
Gigabyte vs Asus Motherboard Comparison
| | | |
| --- | --- | --- |
| Features | Gigabyte Motherboard | Asus Motherboard |
| Types of Motherboards | Five | Eight |
| Flagship Motherboard | Gigabyte Z690 Aorus Xtreme | Asus ROG Maximus Z690 Formula |
| Gaming Builds | Aorus and Gaming lineup | ROG and TUF lineup |
| All-round Builds | Ultra-durable lineup | PRIME and Pro-Art lineup |
| Workstation, Professional, and Extreme builds | Gigabyte server and workstation motherboard, Embedded/IoT lineup | Workstation, Expedition lineup |
| Business builds | Embedded/IoT lineup | Business and CSM lineup |
What Are the Differences Between Gigabyte vs Asus Motherboard?
The main difference between Gigabyte and Asus motherboards is that Gigabyte offers boards that are durable and ideal for extreme conditions although they tend to be quite expensive.
On the other hand, Asus offers visually appealing motherboards that are reliable and ideal for budget PC builders.
What Is Gigabyte Motherboard Best For?
Motherboards from Gigabyte are the best for a wide range of uses including gaming, business, programming, and more. The brand offers up to five different motherboard categories that serve different industries.
– Gaming
We've discussed the different motherboard categories below to help you choose the ideal motherboard for your needs. These are the important factors to consider before purchasing one motherboard over the other.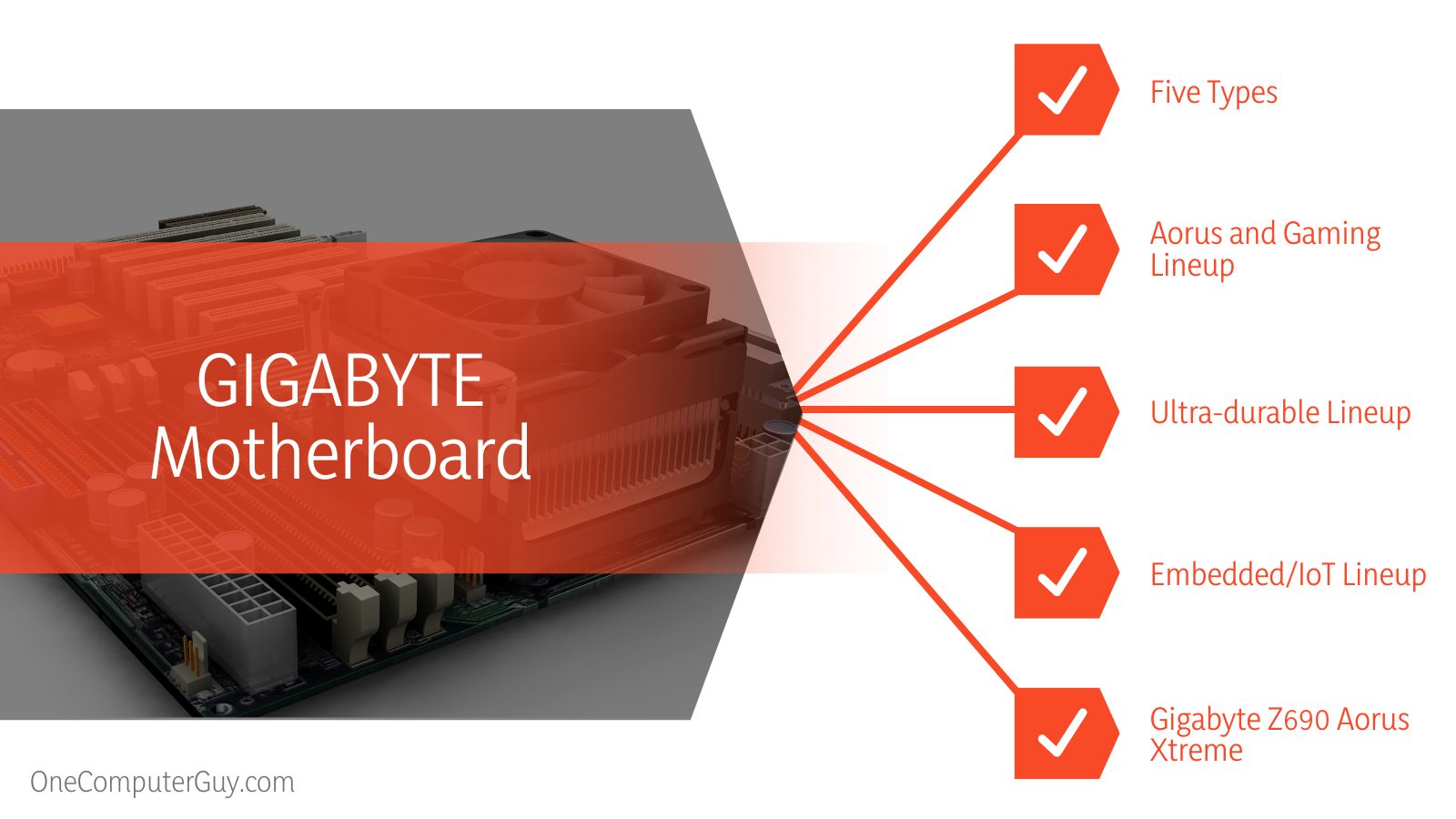 The Gigabyte Aorus and Gaming motherboard lineups are designed for gaming and high-performance users. They are ideal for great for gamers who are looking to play high-end games without having to fork out too much cash.
Whether you're looking to play newer titles or delve into a career in esports, the Aorus MOBOs are some of the best you can choose.
– Extreme Use
Gigabyte also offers motherboards that are categorized as ultra-durable. These motherboards are designed to be tough and to work well in extreme conditions while providing top-notch and reliable services.
If you're using a computer that's incapable of accommodating your workload or a laptop that tends to overwork, the Gigabyte ultra-durable motherboards are the ideal MOBOs to work with. This also gives peace of mind that you won't have to keep replacing your pricey motherboard.
– Servers and Workstations
If you're an engineer or a highly technical person who's looking to get motherboards for their servers or workstation, the Gigabyte workstation/server motherboards are what you want to buy. These motherboards are ideal for server computers as they provide communication platforms that can be utilized by each server component.
The communication platforms help you improve interactions, serving as the server's technology translator and communication facilitator.
The communication platform also performs the task of a lobbyist between the key players in your server as it ensures that there's an effective and open communication line that allows your computer to work effectively.
Most of these server motherboards are designed with two processors, allowing them to handle more computational workload than a typical motherboard since they'll have more cores than a normal motherboard.
– Internet Connections
The embedded/IoT motherboards from Gigabyte are ideal for onboard computers that are more focused on internet connections. This motherboard type fosters better communication between your PC and other internet peripherals or components. Its main task is to ensure that your computer works effectively over an internet connection.
– Pros and Cons
Here are some of the pros:
Gigabyte motherboards are considered to be in the mid-range to top of the line motherboards.
You get excellent client support when you utilize a motherboard from Gigabyte.
Although many of these motherboards are on the expensive side, you're likely to get the best cost-to-quality ratio thanks to their high functionality.
Many of the highly powerful MOBOs from Gigabyte are perfect for computer servers and can be used by those who work on their computer for longer hours.
Gigabyte motherboards are tough and durable and are often designed to meet even the most extreme needs no matter the category.
Here is a con of this brand:
You may not get the best software support.
– Design
You need to consider different factors when trying to decide whether or not to buy a motherboard from Gigabyte.
Design is one of the first major factors most PC builders and gamers consider when choosing a motherboard. While both Asus and Gigabyte offer aesthetically pleasing MOBOs, Gigabyte's motherboards are subjective in this area. Nonetheless, the 3D models and color schemes of Gigabyte MOBOs are still excellent.
– Ultra-Durability
When it comes to durability, Gigabyte motherboards are known to be the leader of the pack. A good example is the Gigabyte B365M DS3H. Motherboards like our example provide dependable performances and can withstand extreme use.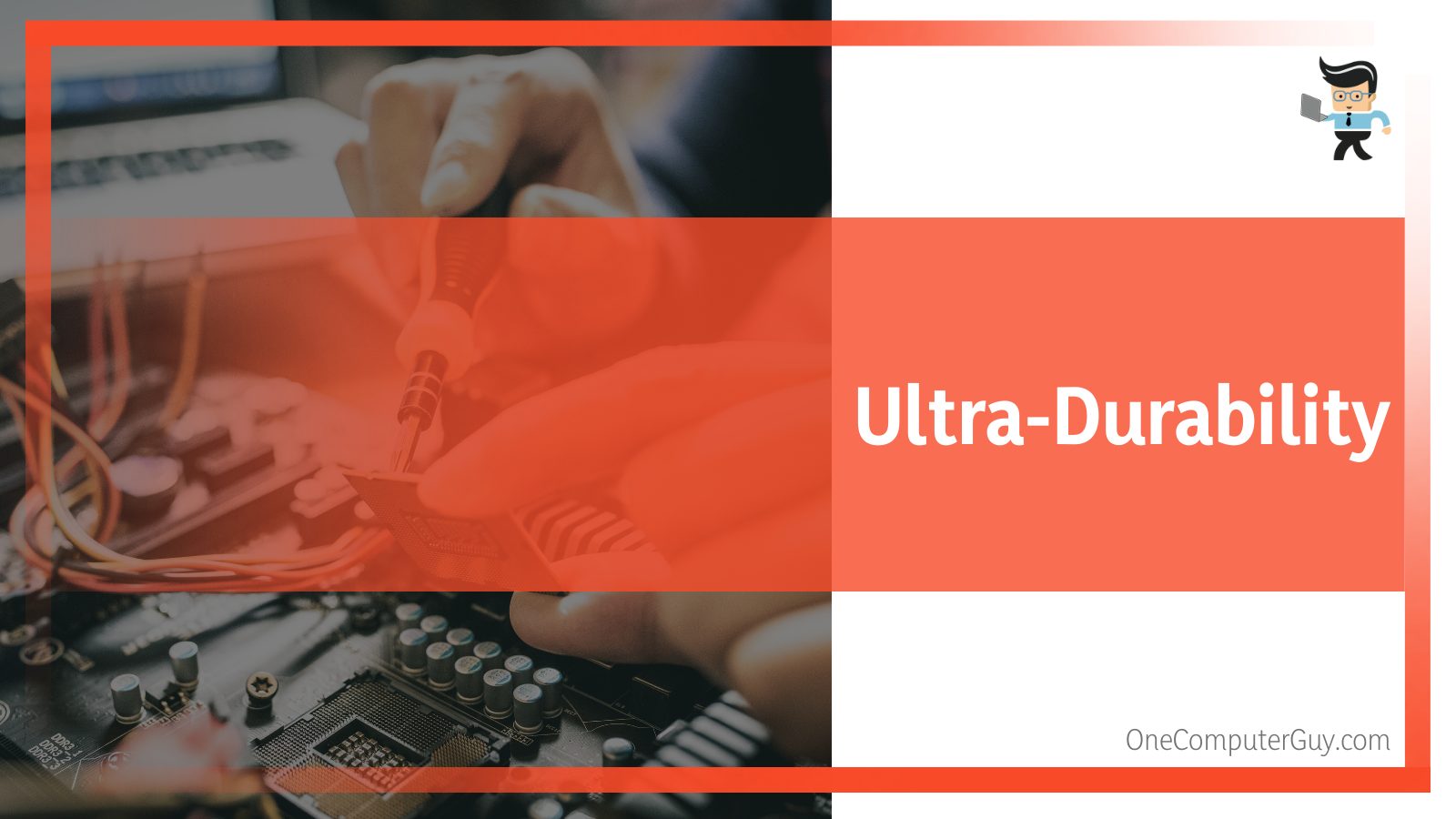 The reason is that Gigabyte's ultra-durable motherboards feature different temperature controls and sulfur resistors. With these elements, your motherboard is less likely to go beyond the recommended temperature, which means more steady performance and reliability.
– Software Performance
Gigabyte mobos come with excellent software though it isn't as intuitive as Asus's software. The EasyTune software from Gigabyte allows you to fine-tune more than the basic settings allowed by the Asus software.
With EasyTune software, you can make precise changes to your motherboard and PC components and gain access to deeper levels of customization that would be impossible to achieve with Asus's AI 3 suite. The Gigabyte software allows you to squeeze out every potential in your motherboard, ensuring that you get the best performance possible.
– Working System
Gigabyte isn't reliable in this department. While the brand has done a lot of work to provide newer motherboards with full OS, driver, BIOS, and software support, older models may not get as much support as the newer ones.
You'll need to make sure the Gigabyte board you want to purchase is future-proof and would support newer versions of Windows, especially if you're buying from the ultra-durable category since it's a motherboard that can be used for extended periods.
– Warranty
Gigabyte offers a three-year warranty on its motherboards. This warranty is specific to the motherboard's serial number, which means that no setup is required after purchasing the product. All you have to do is verify the serial number and you can claim your warranty.
Note that this warranty doesn't cover liquid or physical damage so you want to be careful if you're using a liquid-cooling unit. Since Gigabyte MOBOs are made with stainless steel plates, you're less likely to experience physical damage to your motherboard.
What Is Asus Motherboard Best For?
Motherboards from Asus are the best types of MOBO you want to choose when building an aesthetically pleasing rig. They are well-designed and look really attractive no matter the rig they are featured in. Many of these mobos are likely to meet your needs and they are relatively cheap as well.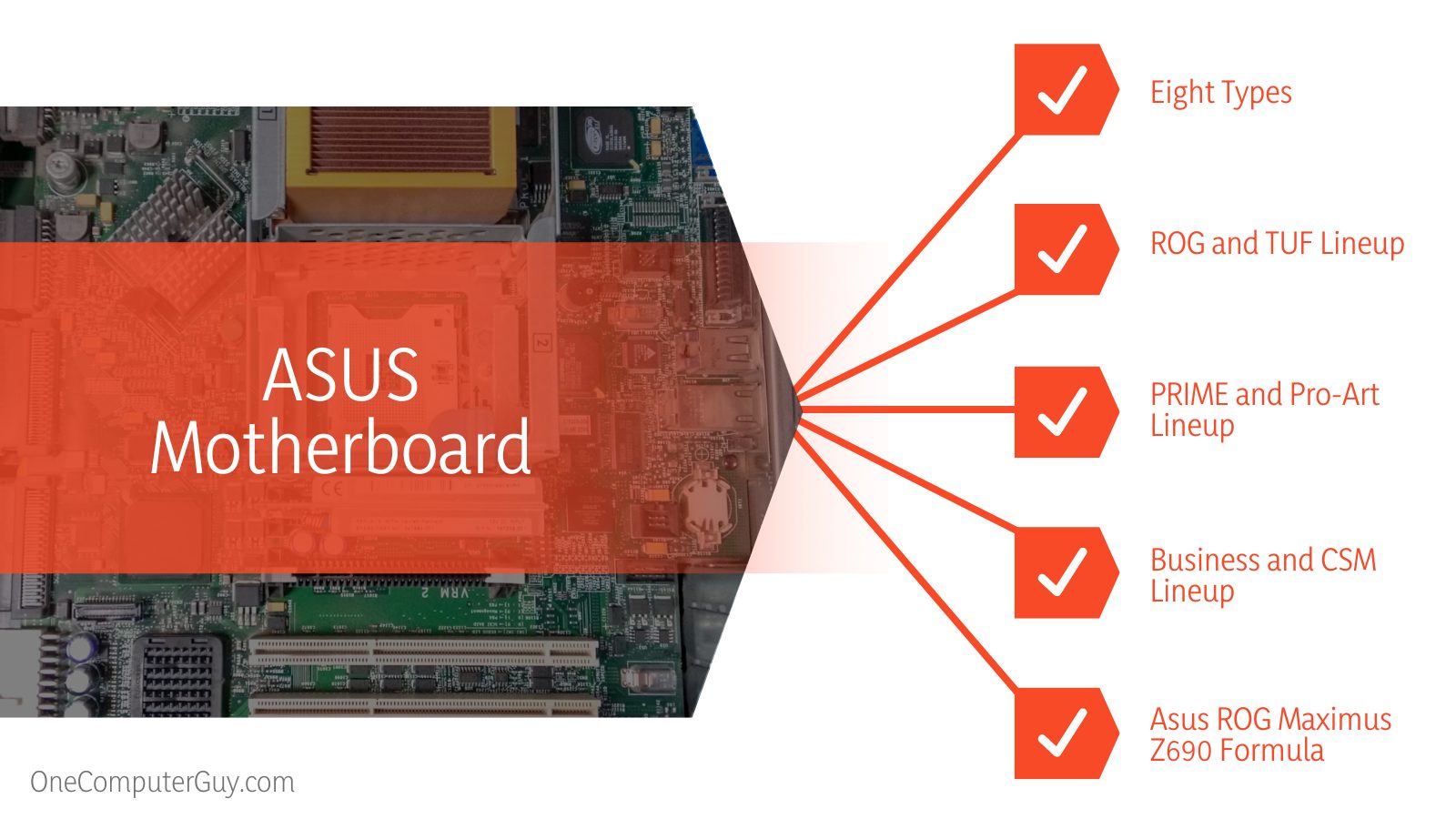 – Gaming
Asus mobos are known to provide excellent multicore performance, thereby improving the overall performance of your device. Also, many of the brand's motherboards come with thunderbolt technology, which makes for improved connectivity between devices and accessories. There are eight different categories of motherboards from Asus.
You get three different types of motherboards in the gaming category, including the TUF Gaming, ASUS ROG, and Pro motherboards. These motherboards offer quality responsiveness and are perfect for all game types, especially games that need speed.
They work well with all high-end FPS games and even newer titles are sure to work properly on the motherboards in these categories.
If you intend to build a game station, the Pro, TUF, and ASUS ROG motherboards are some of the best you can work with. These motherboards synchronize well with computer processors and graphics cards, improving their efficiency and work rate.
Therefore, you're bound to get the best gaming performance from these motherboard categories. Good examples include the Asus ROG Maximus and Asus ROG Strix motherboards.
– Everyday Tasks
The ProArt, TUF, and Asus Prime motherboard categories are the perfect MOBOs for users who are looking to build a PC for everyday tasks. The motherboards under these categories provide excellent user experience, ensuring that you get the best performance you can possibly get from a standard computer.
– Workstation and Business Use
Asus also has commercial workstation MOBOs in the Workstation and Expedition categories. These motherboards are perfect for those who use their computers or laptops for commercial purposes. There are also the Business and CSM motherboards that are designed for excellent business performance and improved efficiency.
– Pros and Cons
Here are some of its pros:
They feature a visually appealing appearance and feel great.
Asus mobos improve and maximize processor clock rates.
They support high-end gaming and offer the best assembly.
Here are some cons:
Asus mobos aren't built for computer servers.
They are not as durable as their Gigabyte counterparts so they may not endure long-term overuse.
– Design
There are many different factors to consider when buying a motherboard from Asus. Asus provides top-notch designs in their motherboard layout, ensuring that the color schemes and layout work hand-in-hand. If beauty and value are what you're going for, then an Asus mobo is an excellent choice to work with.
Whatever type of rig you have set up, an Asus motherboard will be sure to fit in.
– Ultra-Durability
While Asus mobos don't come with extreme durability like the Gigabyte ultra-durable motherboards, some of their motherboard categories, such as the Asus ROG Strix B450-F, offer excellent toughness.
To make things better, Asus mobos make up for the lack of extreme durability with precision and control. You'll need to handle motherboards from Asus with care as stressing them or mishandling them can cause helpless contacts or over-eroded pins.
– Software Performance
Asus has the edge over Gigabyte when it comes to motherboard software performance. The Asus AI Suite 3 is a top-notch software that allows you to control your motherboard's overclocking speeds, fan speeds, lighting effects, and BIOS updates.
It features an intuitive user interface and an accessible dashboard. However, it doesn't come with any advanced settings so you may be unable to improve or change every aspect of your motherboard.
– Working System
Asus mobos are the ideal choice in this department. The brand provides excellent frameworks that help your PC gain better functionality and improved response times. You get better OS, driver, and software support. Also, motherboard models from Asus are easy to use, support newer technologies, and are widely available.
– Warranty
Just like Gigabyte, Asus also offers a three-year warranty on its motherboards. This warranty doesn't cover liquid or physical damage as well and it's also tied to your motherboard's serial number so no extra setup is required.
You'll need to make sure your pipes are sealed tight if you use a water-cooling system to avoid water getting to your MOBO and causing damage.
If you're concerned about which of the two motherboards to select because they both offer the same warranty, you can consider other factors before choosing a company.
For instance, if your PC is in an environment where a pet or child can knock it over, then choosing a Gigabyte MOBO would be ideal since they are tougher and more resistant to physical damage.
Conclusion
So, is buying a Gigabyte motherboard good, or is Asus better? As you can see, both motherboards have their distinct categories and properties, and choosing the right one depends on what you want to use your motherboard for as well as your budget
Asus offers excellence and aesthetics at a budget price, while Gigabyte is all about performance, toughness, and durability at a higher price.
You're likely going to find all you need in one of Asus' motherboard categories; however, if you're more concerned about performance than price or aesthetics, then Gigabyte is what you want to go for.