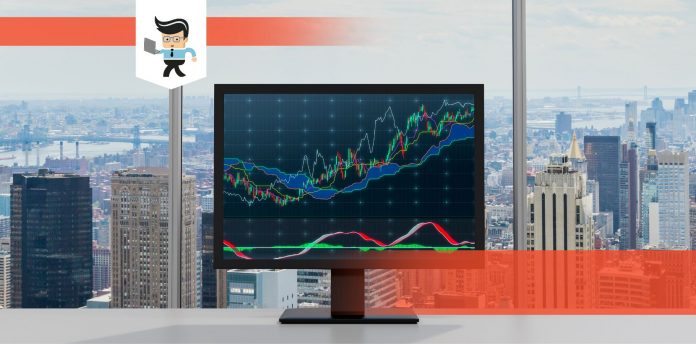 Deciding between the Asus Rog Swift PG279QZ vs. PG279Q can be difficult. The Asus ROG Swift PG279QZ is very much like the PG279Q. The slight differences are relevant, and in this article, we aim to help you make the right choice.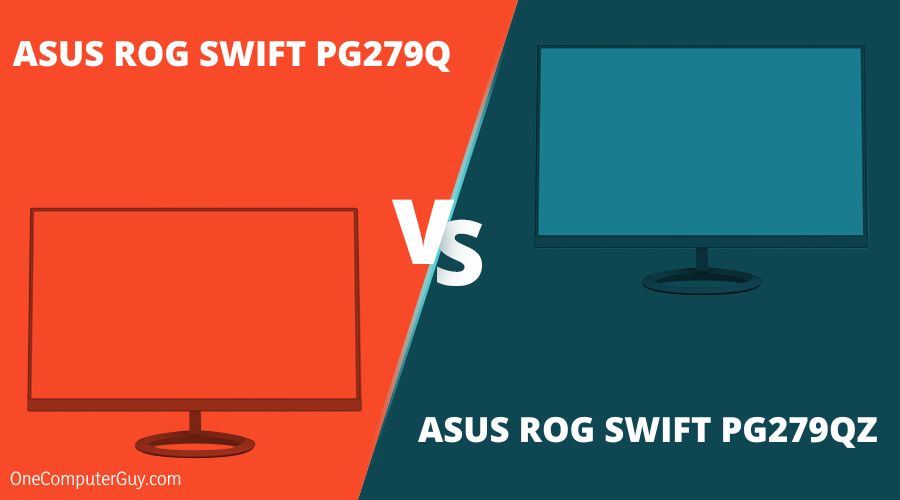 – Overview
Pros
● Adequate brightness
● Sharp colors
● Good viewing angles
● Colors are vibrant
Cons
● Pretty noticeable dirty screen effects
● Expensive
Gaming monitors need to nail a lot of things to be worth their price. With its 27-inch, 2560×1440 display, the Asus ROG Swift PG279Q does exactly that. It boasts a very low 4ms gray-to-gray response time. It also has a maximum refresh rate of 165Hz and G-SYNC compatibility.
The PG279Q offers good color precision, viewing angles, and contrast. It's an excellent buy for gamers who want to do detailed photo editing on their gaming screen. It is the leading gaming screen that we have tested thus far. If the high price is in your budget, the Asus ROG Swift PG279Q is the one.
The PG279Q features NVIDIA and G-SYNC. These features aid in the fastest and smoothest gaming thinkable. It eliminates screen tearing. It also minimizes input lag and display stutter.
Do you want to experience the newest first-person shooters, action-adventure gaming, and sports? Are you looking for ultra-fast frame rates and beautiful graphics? The PG279Q is the monitor to take into consideration.
This monitor features a max refresh rate of 165Hz. It is an IPS panel with a resolution of 2560×1440. It has a reasonable contrast ratio, a little over the standard of 1000:1, which is excellent for an IPS panel. The PG279Q can turn LEDs on and off to create a wide range of dynamic brightness levels. This creates a much richer, distinct image.
The PG279Q applies an ambient light sensor, which examines your environment's lighting conditions. It then modifies the level of brightness of your display. It decreases the brightness where conditions are dark and increases it in settings with better lighting.
This monitor has a LED backlight. This feature provides very high contrast for more defined, natural-looking dark scenes. Another benefit of the PG279Q is that it has a better motion blur. This is great for video editing.
The PG279Q includes TUV Rheinland-certified ASUS Ultra-low Blue Light filters. This shields your eyes from the damaging blue light if you plan to use the monitor for media creation. The black uniformity of the Asus Rog Swift PG279Q makes it a better choice.
– Asus PG279Q Review
The Asus Rog Swift PG279Q is the ideal 27-inch gaming monitor. Thanks to its aggressive, angular styling and the presence of a light-up base, it's obvious from the get-go that Asus was aiming this monitor at gamers.
The PG279Q features the GamePlus Hotkey in-game enhancements. This hotkey is exclusive to Asus, and it will help you get the most out of your game. Asus co-developed this function with help from pro gamers. This feature allows gamers to practice and enhance their skills.
The ROG Swift PG279Q provides gamers with detailed ultra-high definition visuals. You also get smooth frame rates. This monitor has incomparable levels of sharp images, crisp text, and details with a 144Hz refresh rate and a response time of 4ms. This monitor is perfect for competitive gamers.
Asus ROG is one of the first monitors to run 4K UHD (3840×2160) content with a refresh rate of 144Hz. It provides gamers with complete super-high def visuals on smooth surfaces.
The PG279Q's stand adjustments are solid and exact. It comprises 4.7″ inches of height, 45° swivel in each direction, 25° back tilt, 5° forward, and you also get a 90° portrait mode.
Another benefit of this monitor is the built-in ROG light signal in its stand. The PG279Q lets you cast the ROG logo onto the wall to show your gaming spirit. It creates an ideal atmosphere for your gaming setup. Despite these additions, it's classy-looking.
– Overview
Pros
● G-Sync HDR technology
● The Peak brightness of 1,000 nits
● Fast refresh rate
● Great image quality
Cons
● Very expensive
The Asus Rog Swift PG279QZ has an excellent maximum refresh rate of 165hz, which gives you the upper hand in first-person shooters and racers. It's also perfect for real-time strategy and sports titles. This monitor's ultrafast refresh rate lets you play at the highest visual settings. It also allows you to react right away to what's on the screen. So, you'll get that first strike in combat.
Another benefit of the PG279QZ is its 4ms maximum response rate. This monitor has a trace-free technology and four different color temperature selection modes. You can cater to your surroundings. If you're in a dark place at night, you may want to cool it off. In the daytime, you may want to warm it up. It all depends on your preference.
The PG279QZ has the right viewing angles and accurate colors. This monitor generates life-like color in games, movies, and design with vivid IPS panels and support for wide viewing angles.
It also has a rectangular stand with red lighting that you can control or disable via the onscreen display. Its height adjustment makes it very easy to find a comfortable viewing position. It's wonderful for gamers.
Another benefit of the PG279QZ is its semi-gloss finish. It works well to diffuse reflections across the screen, reducing their intensity. Its smooth display of gradients is useful for those editing photos or videos. It's also perfect for gamers who want better picture quality.
– Asus PG279QZ Review
The Asus ROG SWIFT PG279QZ is an excellent monitor designed to satisfy even the most demanding gamers. It has a high 144Hz refresh rate, which you can overclock to 165Hz with ease. It also delivers beautiful picture quality with its 1440p resolution.
This monitor has two internal speakers and a swift response time, terrific for fast-paced games. It has an excellent SDR real scene peak brightness. This computer monitor has a low input lag of 4ms, making it a fantastic choice for competitive gamers.
The monitor has a 27″ screen that makes any gamer feel in the game. Its ergonomic stand comes with full height, tilt, swivel, and pivot that you can adjust to your comfort.
The PG279QZ has a thin Bezel design. It creates an optimal balance of screen size and resolution for high refresh gaming. It keeps the display looking modern and sleek. The rest of the display has an understated quality to it.
The Asus ROG Swift PG279QZ looks identical to its predecessor Asus ROG Swift PG279Q, with its rectangular stand and red lighting. You can control or disable this light via the on-screen display.
The monitor has NVIDIA G-SYNC display technology to deliver the smoothest and fastest gaming imaginable. G-Sync gets rid of screen tearing and reduces the overall input lag. With G-Sync, the monitor can synchronize its refresh rate with the frame rate of your graphics card. Nvidia G-Sync offers the fastest and smoothest gaming experience.
The Asus Rog Swift PG279QZ has 100 percent coverage of the SRGB. SRGB is an RGB color space that HP and Microsoft collaborated to create in 1996. They built it for use on monitors, printers, and the web.
Asus Eye Care technology makes the Asus ROG Swift PG279QZ marathon-ready by minimizing eye fatigue. This monitor has good color accuracy. We found the best results in the FPS picture modes.
The color temperature is close to 650 hundred Kelvin, suitable for those who might want to edit photos or videos. It also works for users who are looking for an accurate image.
The smooth display of gradients is useful for those who are working with photos or videos. It's also excellent for gamers who want better picture quality. It has 16.7 Million colors. So, the color accuracy and distinction are precise. The colors are bright and vivid.
The PG279QZ has impressive brightness levels of about 350 nits. This looks sharp and clear in a dimly lit room.
The Asus ROG Swift PG279QZ has six different modes to choose what type of scene you desire. You can include a movie scene, gaming scene, and nighttime scene mode. The monitor comes with a headphone jack and, of course, the power cable.
The Asus ROG Swift PG279QZ has two USB 3.0 ports for connecting external devices to your PC. The controls are on the monitor's right side, where you'll also find a joystick and four buttons. These intuitive controls are intuitive and easy to use.
The picture quality of the PG279QZ is good because of its IPS Panel. It provides accurate colors when viewed off-axis. The vertical and horizontal angles are good.
The Asus ROG Swift PG279QZ has a decent SDR peak brightness. This monitor has a semi-gloss finish, which diffuses reflections across the screen. That way, gaming is clear and undisturbed.
The PG279QZ is an excellent gaming monitor. Its low input lag, high refresh rate, and G-Sync support should make gamers happy. It performs well in bright spaces, but dark room performance is disappointing. One of the nice things about it is its wide viewing angles, so you can share your work or engage in co-op gaming.
Asus Comparison
The two monitors are almost identical in design. They have a very similar performance. The main difference between ASUS ROG SWIFT PG279Q and PG279QZ is their brightness levels. The older PG279Q is brighter than the newer PG279QZ. If you're looking for a brighter gaming monitor and advanced backlight technology, the PG279QZ is the screen to get.
The PG279Q release date was October 27th, 2015. The PG279QZ came a couple of years later.
Both models have a mediocre contrast ratio. But this is typical for IPS monitors. In the dark, this results in blacks that appear gray. Thus, they are not the best monitors for dark-room gaming.
Both monitors also have significant backlight bleed at the top right and bottom right corners. None of them support HDR.
They also both have two internal speakers. Both also have a GamePlus menu that includes a timer, low blue light, and an FPS counter. Do you want to disable the OSD features? Press the X button on the monitors to access the menu. You can then press it a second time to disable the OSD features.
The two monitors have a fast response time. Only a short blur trail follows sharp moving objects, and there is very little over-shoot. This is excellent for fast-paced games.
The PG279QZ doesn't flicker the backlight by default. But it does have the option to introduce flicker to the backlight to clear up motion. This UMLB feature only works with
NVIDIA graphics cards. You should enable it for the most precise image when gaming.
Conclusion
Ready to make the hard decision between the Asus ROG Swift PG279Q and the Asus ROG Swift PG279QZ? Remember to get what is best for your needs. The PG279Q is reasonably priced. But is of secondary quality in comparison to the PG279QZ. These offerings from Asus are two of the best monitors we tested.
The PG279QZ is more expensive than the PG279Q. Are you on a tight budget? Then you should go with the cheaper monitor unless you care for a brighter screen. Then the PG279QZ would be the one to buy.