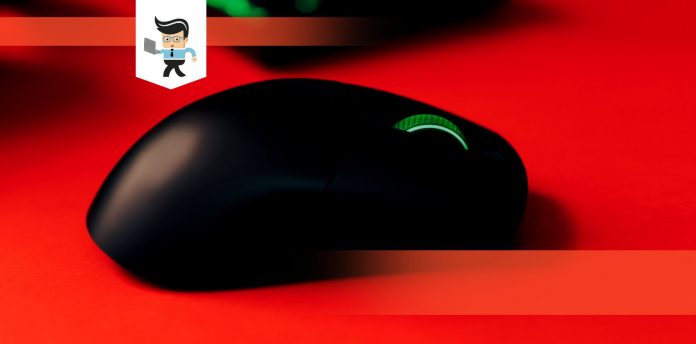 With our G303 vs. DeathAdder comparison, you'll have a better chance of selecting the mouse that gives you a better experience and overall performance.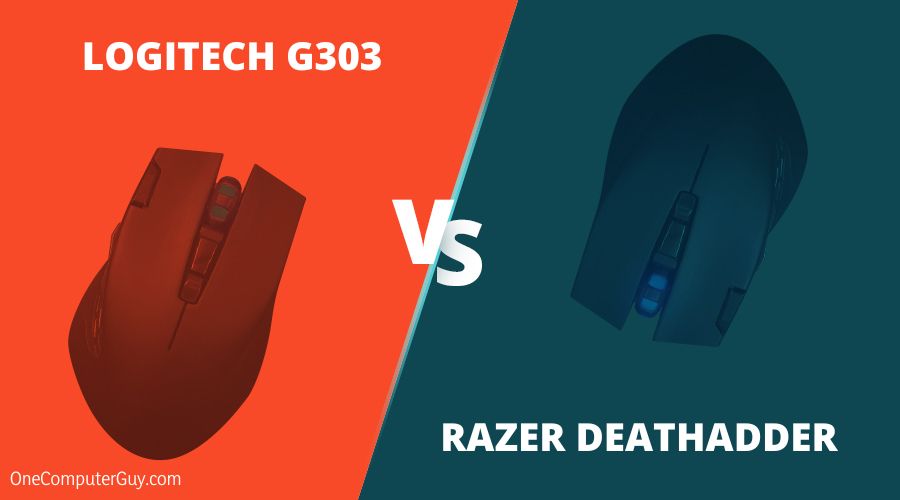 The fact is that these two models came from renowned brands, which means you are assured of a top-notch device for everyday use. From a responsive optical sensor to programmable buttons, fantastic shape, and precision, both devices can truly redefine your gaming experience and make your computer operations smooth, seamless, and fast.
Our review team has gone over mice's features, specifications, positives, and negatives to bring you this article. Read on to discover how they compare:
G303 and DeathAdder: Key Specifications at a Glance
Product 
Key Specifications 
Logitech G303

DPI: 12,000
Buttons: 6
Movement Detection: Optical
Sensor: Exclusive Delta Zero
Software: Logitech Gaming Software

Razer DeathAdder

DPI: 20,000
Buttons: 7-8
Movement Detection: Optical
Sensor: Focus+
Software: Razer Synapse Software
Logitech G303 and Razer DeathAdder: How Do They Compare?
There's no limit to the level of performance the right mouse in your palm will help you achieve. It's that effective tool for both professional esports players and regular users.
The Logitech and Razer brands are two manufacturers that have earned their names as producers of top-quality products. To that end, you have two of them in the DeathAdder V2 Pro Wireless mouse and the G303 from Logitech.
Splitting these two mice is not quite an easy task, but our review has done just that for you, starting with individual reviews of both mice.
Pros
Lightweight and compact design
Excellent automatic surface adjustment
Smooth DPI sensor
Full lighting customization
Cons
Thumb buttons not suited to left-handers
If you're a gamer of any proportion, this G303 mouse from Logitech will impress you. It's affordable, well-built, and streamlined for multiplayer online battle arena (MOBA) titles.
The Logitech G303 Daedalus Apex takes things further with a better sensor and more customization features, thus letting you change light patterns, colors, and speed. The construction is pretty straightforward, but you can count on its responsive capabilities.
– Design: Top-notch Shape
If you understand the way Logitech works, you'll know that some mouse models are ripped out of some previous versions. That's the case with this one because it's identical to the G302 in design.
However, the G303 has a tapered palm rest that bears the Logitech G-Series logo.
It also has a diamond shape and includes two programmable buttons on the left side and another under the scroll wheel. They can swap between dots-per-inch (dpi) profiles on the fly by default, but you can also program them to perform any other mouse function.
Further, the design is more ambidextrous than not, which means left-handed users won't use the thumb buttons on the left side. The G303 dimensions are compact and the same as the G302, and you don't get any adjustable weight feature either.
– Features: Smooth and Convenient
To enjoy the features that come with the G303, you need to download the Logitech Gaming Software. It enables you to change the light color, pattern, or dpi settings. For example, you can save multiple sensitivity profiles, each holding up to five different dpi levels.
With the software, you also get to select the kind of surface you're using the mouse on. When you do that, the sensitivity gets adjusted according to your choices.
The mouse also has a metal-spring and button-tensioning system, precisely positioning the buttons on the left and right. That way, it reduces pre-travel and backlash.
We like that the buttons feel right-on responsive, with the left and right buttons rated for twenty-million clicks. What's more, the sensor can offer shooter-centric precision at up to 12,000 DPI. That's an upgrade from the Logitech G302, which maxes out at 4,000 DPI.
– Performance: High-Performing Capabilities
Every feature on the mouse adds up to give you a responsive device capable of any activity. It's a mouse that feels good to use and has auto-adjust for various surfaces, including hard gaming mousepads, soft mouse pads, and desk surfaces like metal and wood.
In addition, the DPI switch and Logitech g303 drivers work just as well, and you can change multiple settings with each game you play. When you press the top button, you get an instant switch of the sensitivity with no delay.

– Overview
The G303 Daedalus Apex is a fitting mouse for advanced gamers. It offers upgrades such as a better sensor, automatic surface adjustment, and customizable lighting. No matter the task you put it to, expect a high-quality experience.
Pros
Comfortable shape and design
It comes with Razer optical mouse switches
Strong sensor
It has Bluetooth and wireless capabilities
Cons
With this Razer gaming mouse, you get to use a super-fast connection to your PC. It was released alongside mice like the DeathAdder V2. This V2 Pro Wireless includes Bluetooth and 2.4 GHz connectivity coupled with support for the company's wireless charging dock.
Besides, the V2 Pro, like the V2 before it, offers Razees top sensors and components. That makes it a fantastic mouse with the price to match.
– Build and Design: Comfortable Shape and Grip
Unlike many mice under the Razer lineup, The DeathAdder V2 Pro doesn't come with a tail cord.
Also, by measurement, it is a bit heavier than the DeathAdder V2 at 3.07 ounces.
However, it's normal for wireless mice to weigh a little more because they have additional components. It's also without a wide base or thumb wing. As such, it has one of the most comfortable shapes out there, and its high-hump base keeps your hand in a perfect position without side grips.
– Buttons: Programmable and Customizable
Part of the Razer DeathAdder specs that intrigues avid users include programmable and customizable buttons and functions.
Also, it's a little bit strange that the V2 Pro is described as a seven-button mouse, but technically, it has eight. You get five on the top for inputs: the left-click, right-click, two DPI cycle buttons in the center column, and a clickable scroll wheel.
On the left side of the V2 Pro, there are standard back and forward side buttons. When you flip the mouse over, you'll find the last button that cycles through the mouse's five onboard profiles.
Moreover, every one of the eight buttons is customizable. Inside the mouse, you get a Focus+ sensor that can track up to 20,000 DPI with an accuracy reaching up to 650 inches per second. That's quite some advantage for professional-grade gamers.
– Battery: Long Lifespan
We mentioned that you get a battery here, which is a vital component of wireless capabilities. To that extent, you can expect about seventy hours of battery life using the 2.4 GHz signal. You get up to 120 hours of battery life when using the Bluetooth signal.
In addition, the V2 Pro supports wireless charging through the optional Razer Mouse Dock Chroma.
– Software: Razer Synapse Software
Like many other Razer mice, the V2 Pro relies on Razer Synapse, which is Razer's configuration software used to adjust various components, including RGB lighting, remapping buttons, tweaking DPI presets, etc.
You can also use it to store up to five mouse profiles in onboard storage you can carry on the go.

– Overview
This mouse from Razer is an excellent addition to a gaming rig. That's why it will suit regular and pro gamers more. The ergonomic shape, top-quality features, sensor, long battery life, and wireless connectivity make it a viable option.
Logitech and DeathAdder: Head-to-Head Comparison
The main difference between Logitech and DeathAdder is, DeathAdder V2 Pro offers a precision of up to 20,000 DPI and more customization, while G303 provides less at about 12,000.
DPI
Winner: DeathAdder V2 Pro 
When it comes to DPI, there's only one winner. The V2 Pro offers a responsive feel on all its buttons, while its sensor contributes to the program by offering a precision of up to 20,000 DPI.
The G303 provides less at about 12,000. However, you get button-tensioning feature on both mice to deal with pre-travel and backlash.
Software
Winner: DeathAdder V2 Pro 
Software for enhanced operations helps to get the best out of both mice. We have to go with the Razer Synapse software, which offers a configuration to adjust many components, such as remapping and DPI settings.
The Logitech Gaming Software does the same function, but we feel the Synapse offers more customizations.
Buttons
All buttons on both mice are also programmable. The G303 gives you six buttons, while the V2 Pro has up to eight with five on the top and two DPI cycle buttons in the center column.
We noticed that both mice give fast responses over varying tasks, even though the Logitech G303 weight is lesser than its counterpart.
V2 Pro Wireless and G303: Final Thoughts
After putting both devices to the test, our review team concludes that the DeathAdder V2 Pro Wireless device is the best-performing mouse here. It has a Bluetooth and wireless capability that makes your activities smooth and fast.
What's more, you get the top-notch Synapse Sensor that makes every component tick. The battery life and DPI are other things that make it worth getting, with up to 20,000 DPI and over a hundred hours of battery life available for users looking to go the extra mile.