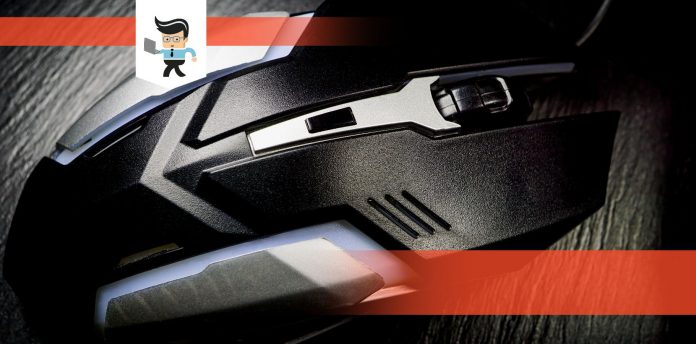 In our G Pro vs. G403 comparison, we discuss the key features to watch out for before choosing either of these mice. That includes the sensor, DPI count and settings, speed, accuracy, and other features that make them both tick.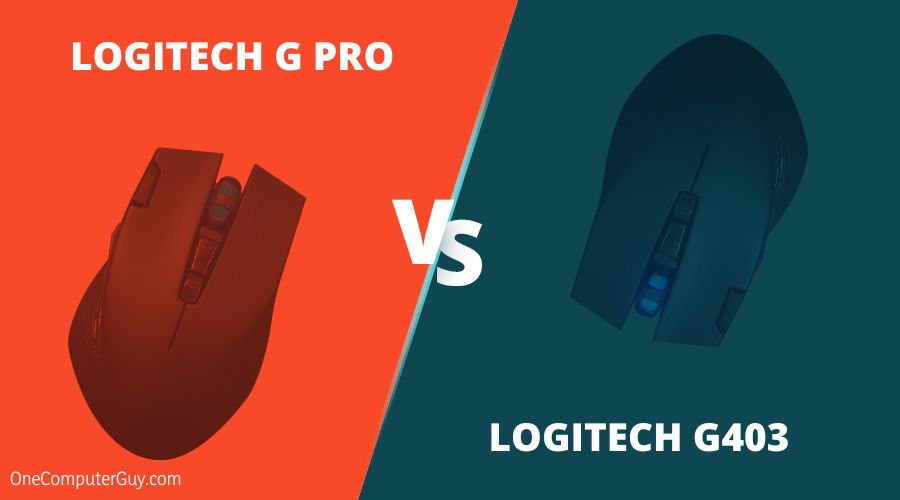 Your mouse choice depends on the support you need and the activities you want to run with it. That's why we bring you a detailed comparison of these two devices, focusing on their capabilities, positives, and drawbacks.
G Pro and G403: The Key Specifications
Product 
Key Specifications
Logitech G Pro

Sensor: Hero 25K
DPI: 25,600
Buttons: 4-8
Connectivity: Wireless

Logitech G403

Sensor: PMW3366
DPI: 12000
Buttons: 6
Connectivity: Wired
Logitech G Pro and Logitech G403: How Do They Stack Up?
It's never easy comparing two mice that have an exquisite look and functional appeal to them, but that's what we're faced with on the G Pro and G403 devices.
They're both great options, unlike many budget options you'll find in the Logitech lineup. It's also worth knowing that these mice offer performances you can count on, including enviable response times.
On the one hand, you have the G Pro, which boasts wireless capabilities and resides on the desks of many pros and lovers of esports. On the other hand, you've got the G403 that features a high-performance gaming sensor you can be proud of.
What that tells you is that both of them will be difficult to distinguish along some lines. That's why our seasoned review team has gone the extra mile to review each device, their key specifications, and how either one can improve your performances across various applications.
Here's a review of the two mice below:
Pros
Premium quality Hero 25K sensor
Excellent battery life and report rate
Lightweight design
It has adjustable RGB and high DPI
Cons
The DPI button placement is difficult
Whether you're a competitive gamer or not, this Logitech mouse has a lot to offer and will undoubtedly match and boost your performances. The fact is that it's a wireless device few others can match up to, thanks to its simple but intuitive design, which gives you a good grip on it.
For this reason, many users have referred to it as the ultimate gaming mouse for professional esports players. It's that good, and we think the features make it a smooth and easy choice for anybody.
The G Pro is considered a step ahead of the G-Series flagship mice also in the Logitech lineup. However, it features some essential components and thumb switches. There's a scroll wheel here, about three camouflaged DPI LEDs, and a single RGB logo that lights up the zone on the palm. All these contribute to a design we've come to adore.
Further, no DPI toggle switch shows up anywhere near the user. You'll have to check underneath the mouse for that.
Also, there are some cool features, such as a PowerPlay adapter support, a nook to store the USB wireless adapter, the four slick mouse feet, and an On/Off switch.
– Build and Design: A Proper Gaming Mouse
The Logitech G Pro weight makes it an ultra-lightweight spectacle featuring an innovative endoskeleton. Logitech makes this mouse suited for gaming, thanks to its super-thin, solid, durable shape and design. The official weight of the mouse is recorded at somewhere around 80g.
In addition, the build and shape of the mouse reveal something of an ergonomic, ambidextrous design. As a result, it's tournament-ready with its critical specifications developed to suit esports gamers.
You only need to feel its maximum comfort, control, and durability billed for fifty million clicks to realize that it's made for gaming. The advanced tech and four removable side buttons show that it's made for premium customization.
– Speed and Accuracy: Accelerated Responses
With the Logitech G Pro dimensions being constrained to make it smaller than your regular mouse, there's so much advantage for users that love a speedster mouse.
It's ideal for gaming when you consider that its performances are free from the limitations of wireless latency popular on many mice. You'll get smooth connectivity and power for a rock-solid, super-fast one-millisecond report rate connection.
– Software: Enjoy the Latest Update
Other Logitech mice feature sensors that are average or above average at best. However, the G Pro comes with a Hero 25K sensor through the software update from G HUB, which is free for all players.
The sensor is said to be Logitech's most accurate sensor with up to 26,600 DPI coupled with ten times the power efficiency of previous generations. With all that, you'll have the best wireless gaming speed, accuracy, and explosive responsiveness.

– Overview
The G Pro was created for professionals or those with a keen interest in playing games. You get all the trappings of a modern mouse, such as supreme speed, on-screen accuracy, and super-fast responses.
Pros
It has a comfortable and stylish build
Designed to be lightweight with ergonomics
Excellent grip for many palms
Fast with speedy responses
Cons
We start our Logitech G403 review by observing how it's slightly bigger than its counterpart up there. It also takes up a form that moves away from the wireless capabilities of the G Pro mouse. It's wired and comes with several features we can ascribe to gaming standards.
The design and shape showcase a comfortable mouse and carries top-notch capabilities to perform better in any game. Also, you get more than a few ergonomic parts to make up for the plastic covering.
– Build and Design: Lightweight
Just like its counterpart above, you get a gaming mouse for several activities. However, if your intention is purely gaming, this one doesn't disappoint. We like how it's bigger than its predecessors, the G203 and G303, and has a lightweight shape.
There are also rubbers on the side so that you have an improved ergonomic grip. Unlike the G Pro, it has removable weights. You can take ten grams off if you want more control over the mouse.
You can use the buttons to customize your responses. There are six buttons altogether, and the best part is that they're all programmable and customizable. The buttons will combine well with the sensor to give you an exceptional performance across different games and regular computing activities.
– Speed and Accuracy: Fast and Precise
The Logitech G403 specs might not be so much like other quality mice or the G Pro here. Still, it carries an advanced sensor from Logitech, which delivers excellent FPS mouse speed, accuracy, and consistency. That's good if you want to put your competitors in a box or play engaging games that require fast responses.
Further, the G403 sensor gives you a gaming-grade performance for about eight times the response time. That's much more than a traditional mouse and means each click and movement on the mouse is instantaneous from hand to screen.
Also, you get a good enough DPI count at 12,000 dpi, which is double that of its predecessor, but far less than you have on the G Pro above.

– Overview
The Logitech G403 size may register as small, but there's no evidence to suggest that it's capable of inhibiting its performance. That's why we think that this mouse is best for gamers and other users that require faster responses.
G Pro and G403: Head-to-Head Comparison of Key Features
The main difference between G Pro and G403 is, G Pro Wireless gives you a wireless connection while G403 will give you 12 000 DPI.
Build and Connectivity
These two mice are lightweight in build and design, with the G Pro carrying an even smaller size. The G Pro gives you a wireless connection, while the G403 is built with a non-braided power cable that can also be used for other connections.
Their lightweight shapes make them easy to move and carry about, and this feature also adds to their speedy nature and responses. What's more, the G Pro isn't dependent on wired connections for power. It has an in-built battery rated to last for more than sixty hours. That's why we feel it offers more than the G403.
It's safe to add that without the ten-gram weight out of the G403 mouse was coming at 90 grams, but with the 10 grams weight added, it reaches 100 Grams. That's twenty more than the G Pro.
Both mice also offer a design to rest your palm perfectly to not slide down during use. A typical mouse will not have the kind of ergonomics and ambidextrous build you'll find on these devices.
DPI ( Dots Per Inch)
The DPI or Dots Per Inch in a mouse means the measuring type that lets you know how sensitive a mouse is. The higher the DPI on a model, the more reaction and accurate small movements you get from it.
However, it's worth noting that a higher DPI is not all there is to a mouse. You'll notice that you play many shooting games, especially if you're not good at aiming and taking out your adversaries. The DPI on the G Pro can reach up to 25,600, while the G403 will give you 12 000 DPI. Depending on the performances, either one will suffice, but our choice here is the G Pro.
Buttons
Both feature different button counts – the G Pro has up to eight, while the G403 gives you six. All buttons on both mice are programmable and customizable. Each mouse also has its unique advantages from the buttons. For example, you can reduce the mouse's weight on the G403 to use even fewer buttons or use the four buttons featured on the side of the G Pro.
Features
Features are what make up a gaming mouse. That's why we're here in the first place. They both have excellent and exciting features to look forward to, but we observed that the G403 has far little here.
On the other hand, the G Pro is good enough to cycle through five DPI presets using its buttons. It even has a much more comprehensive CPI range, thanks to the latest firmware update. As a result, you can set it up to 25,600 CPI. Compare that to the G403's 12,000.
When you're playing a competitive game, the G Pro will come in handy with its modular design, which lets you customize the gaming mouse's functionality. With that, you can prevent incorrect pressing of buttons during critical moments in the gameplay. It also has skill shortcuts on easy access to when all buttons are on.
The G Pro and the G403 offer onboard memory, which comes in handy for saving configured profiles on the gaming mice.
Performance
We're also picking the G Pro as the winner here. Its erstwhile 16K sensor had CPIs ranging from 100 to 16,000 DPI with zero smoothing or acceleration.
However, the G Pro's sensor can now be updated to the HERO 25K, the latest and most advanced gaming sensor from Logitech – the HERO 25K. Further, the new sensor takes up to 25,600 DPI with more improvements on power consumption.
G403 vs. G Pro Wireless: Final Thoughts
Making a Logitech mouse comparison can be challenging. That's because Logitech is such a trustworthy brand that it can be a pain choosing only one model. We have gone through the features on both mice, and it's evident that the G Pro offers more premium specifications than the G403.
You get wireless control and long battery life on this device rated for up to sixty hours. That's a lot of hours of non-stop gaming supported by the latest sensor in the Hero 25K.
In addition, expect more durable mechanical clicks and super-fast report rate on the G Pro. These and more make it the ideal choice between the two mice and an excellent choice for intense games that require fast reflexes and accuracy.