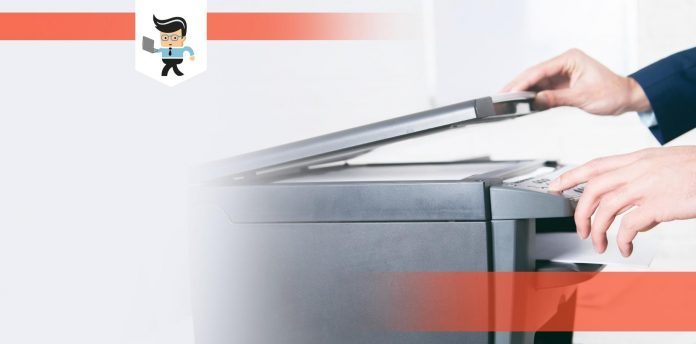 The Epson Workforce WF-7710 is one hell of a printing device, considering you get A3 capabilities for its scanner, printer, and a big color touchscreen. There are chunks of buttons here to make commands for what you want the peripheral to perform and general ease of use.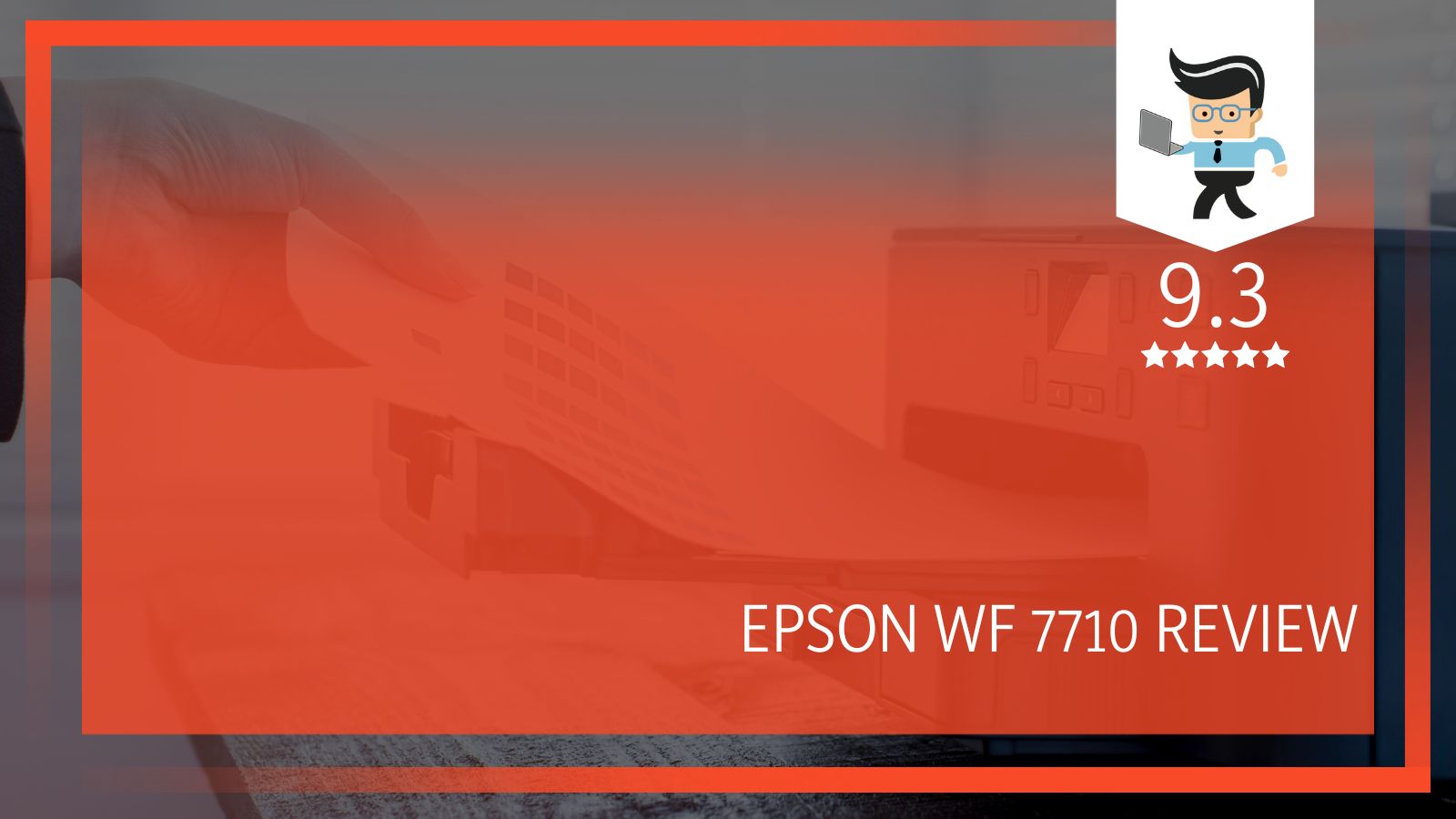 Further, this printer is much like the scaled-up version of a regular inkjet MFP featuring the specifications of an all-in-one printer. In line with that, our review helps you decide if it's worth the punt with a close look at the features that make it tick.
A Glance at the Key Specifications
Product
Key Specifications

Brand: Epson
Model: WF-7710
Special Feature: Auto-Duplex
Print Technology: Inkjet
Connectivity: USB, Ethernet, Wi-Fi
Color: Yes
Epson WorkForce WF-7710 Review: How Does It Work?
From testing out this printer, it was clear from the beginning that it is great and has the qualities to show for it. It scans well for an Epson device, has a good color accuracy, and excellent range. The plain paper prints were good, had a firm black text and bold colors.
However, we found the duplex prints and copies to be a bit faint, but you can increase the intensity of both but expect slower prints.
Photo prints are the strongest suit of this printer, but it uses pigment-based inks, which are perfect for some media but don't expect a perfect finish on gloss paper. It will start with low ink, but you can have it refilled with different standards of cartridges.
On a general note, the running costs of the printer are reasonable.
Epson WF 7710 Key Criteria
PROS
Auto-duplexing ADF and scanner
Good print quality
Big and easy-to-use control panel
Can scan, copy, and fax multiple pages
CONS
Average graphics
High cost per page
The WorkForce WF-7710 wireless all-in-one printer is a super-tabloid spectacle capable of borderless prints up to thirteen by nineteen inches.
This printer is also capable of scans, copies, and faxes with tabloid size, but it costs more to use than other printers within its range. There's more to it than the ability to print based on specific paper sizes and photos, though.
– Build and Design: Impressive Features
The WF-7710 weighs just above forty pounds and can hold 251 sheets via a 250-sheet paper tray up front, coupled with a 1-sheet override tray on the back. It's almost the same type of printer as its sibling, the WorkForce WF-7710. However, there's one difference – the 250-sheet paper tray.
The monthly duty cycle of the WF-7710 is 20,000 pages, and it comes with a single-pass auto-duplexing 35-sheet automatic document feeder (ADF). You can use that to send two-sided multipage documents to the scanner.
The ADFs hood pages up to tabloid size. Another advantage of this wide-format printer is that it prints at a larger 13-by-19-inch format, whereas many others max out at 11 by 17 inches. With the extra inches, you get a larger print area for things like spreadsheets and promotional flyers.
The touch screen is another improvement on this printer from the previous model with a 4.3-inch size and attractive control panel. It's much easier to poke options on the screen without pressing other items. Overall, the control panel is excellent and has a fantastic look and feel.

– Connections: Wide Range of Options
The WF-7710 comes with a wide range of connection options available on modern-day printers. To that end, you get Ethernet 10/100bps, Wi-Fi, Wi-Fi Direct that connects to a single PC via USB, and near-field communication (NFC). The Wi-Fi Direct and NFC are peer-to-peer network protocols on this printer which you can use to connect mobile devices without a local network.
Further, some mobile apps in the Epson Connect bundle are included with this printer, such as Email Print, Epson Remote Print, Epson iPrint, and Epson Cloud Print. There's also built-in support for a few third-party mobile solutions, such as Apple AirPrint and Google Cloud Print.
Using iPrint and workflow profiles to connect to other cloud sites is also possible using functions on the control panel. Also, you can print from and scan to a USB thumb drive if all other options fail. The USB is at the right-front section of the chassis.
– Performance: Efficient and Qualitative
This wide format printer is rated at 18 pages per minute (ppm) for single-sided monochrome pages and about 10ppm for color, which is level with many of its competitors. However, you might have issues making its ratings.
Over the Ethernet, you'll have a connection to perform various tasks. For its model and design, it performs well and gives you an average of about fourteen pagers per minute of prints. That figure drops when you print images. But it compares favorably to other printers in its class and the Epson model just above it.
To test how fast the WF-7710 prints photographs, we used a couple of color-rich and detailed 4-by-6-inch snapshots via the printer several times. It printed out the test snapshots within thirty seconds, four seconds slower than some printers.
– General Output: Works Well in Different Settings
There are some slight flaws when printing charts and documents, but that's common across all printers. However, you won't find an issue with the output of the Epson WorkForce WF-7710.
When you print, you'll notice that wine fonts and decorative typefaces print well with a better than average disposition. If you're handling prints that primarily deal with text, the WF-7710's output will work well in most settings, including businesses and offices.
The business graphics look good with some little banding in some of the darker backgrounds and gradients. Besides, you get some color shifting from lighter tints to darker ones, but that's not enough to render the documents unacceptable unless you want perfect works.
The photo output and quality of this color inkjet printer is decent and has good detail overall with nice colors. However, you might have to print certain obits at the highest setting on the premium glossy paper from Epson.
The photo output won't blow your mind, but it's not unacceptable at the same time. As an Inkjet, so much is expected of this printer, but we can say that the photo output is above average at best.

– Overview
The Epson WorkForce WF-7710 is a worthwhile choice. It prints, copies, and scans wide-format pages with ease. While it doesn't quite stand up to its competition, it's a top printer for those in small offices and businesses. It won't take out much of your budget.
Conclusion
Overall, the Epson WorkForce WF-7710 is a good enough printer facing competitive models from other brands. It offers better value for what you pay and the features you get.
What's more, there are increased paper-handling options produced by the extra cassette, including the ability to keep both letter-size and tabloid-size and other sheets loaded simultaneously.
Another positive of this printer is its network connectivity, which is a critical factor to consider when purchasing an all-in-one printer. Unlike some models out there, this one has various options, including Ethernet, USB, Wi-Fi, and Wi-Fi direct. That's about every possible means to enjoy your printer.
Besides, you can share documents to it to print wirelessly. Duplex printing is another element that helps organizations that need to print anything from reports to forms use both sides of a sheet of paper efficiently, and the Epson WorkForce WF-7710 all-in-one device supports this function.
Our verdict is that this printer is worth getting, especially if you run a small business that needs an all-in-one printer.