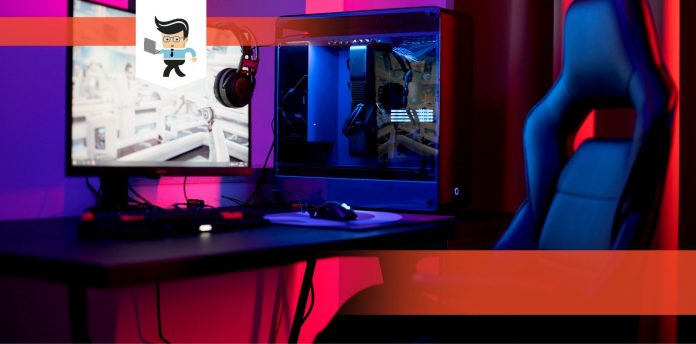 Secretlab vs. DXRacer is two of the best gaming chairs out there. Sure, you'd want to settle for one, but it makes sense to examine different factors that make them stand out.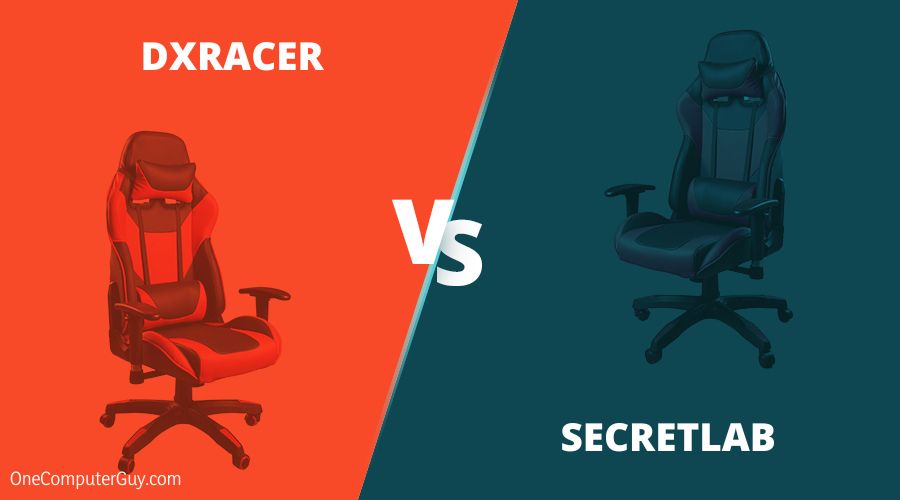 Quality is everything when it comes to this accessory. However, both chairs aren't the same.
Read on to get the load down on your which is best for you.
Dxracer vs. Secretlab Comparison Table
| | | |
| --- | --- | --- |
| Properties | Secretlab | DXRacer |
| Materials | PU leather | PU leather |
| Armrests | Present | Present |
| Headrests | Adjustable headrest | Non-adjustable headrest |
| Ergonomics | Tilt | Tilt mechanism |
| Weight capacity | 290 lbs weight capacity | 240lbs weight capacity |
An In-Depth Comparison of the Secretlab and DXRacer Gaming Chairs
These two chairs are fantastic in their ways. From the table above, there are quite a few things that set them apart. However, they are suited to gamers who spend a considerable amount of time before their gaming screens. As such, they have to sit for long stretches on these chairs.
First of all, both chairs boast good materials that cover strong frames. That is the PU leather that's tough and also has breathable qualities. What that does is help you spend long hours gaming without the chair having that sweaty feeling or smell.
Further, they boast almost the same weight. That means a good number of people can use them without getting damaged. What's more, they both have adjustable and customizable features. If you want the headrest and overall angle tilted to fit your needs, that is possible with different settings at your disposal.
In terms of popularity, DXRacer products tend to have more presence in the gaming community. However, both can be used by eSports teams and YouTube gamers. On the flip side, Secretlab collaborates with big gaming companies, including Ubisoft, Riotgames, and PlayStation. For DXRacer, teams like Cloud9 and other streamers like Dr Disrespect are partners.
The series of chairs also play a huge role, with DXRacer having more numbers out there. Further, it seems better suited to big and tall gamers. On the price front, Secretlab doesn't command much. It is priced more affordably than its counterpart here.
Now that we have given a little insight into what makes these two brands different, let's look at them individually.
Pros
Good backrest range
Adjustable and customizable
Strong and durable leather material
Supportive padding
Cons
This brand has a "Stealth" design you'd love to add to your rig. That is accompanied by polyurethane or PU leather. This is a type of polymer said to be stronger and harder than rubber.
Also, it is more flexible than plastic while being resistant to string abrasions. However, we must add that even if it peels at some stage, it is a durable material.

This product also boasts a leather that is smooth but not slippery. In all, it's a very subtle texture. Further, the padding is thick, difficult to squish, and quickly reverts to its original shape after you get up from playing games. That means it would be pretty difficult to get scratches on it.
The pillows on this product are dreamy and come with ample support. As such, you have lumbar support and something to rest your head. They represent strong points for the Secretlab brand. They can take all the pressure you put on them while sitting in for a longer time.
Comfort and adjustments can be made with a lever for making the seat lower or higher. There's another lever on the left side of the seat that enables or disables tilt lock, which lets the seat tilt backward if you lean back.
Secretlab gaming chairs offer almost every kind of adjustment you could want, including adjustable armrests. On the whole, the chair isn't extremely stiff, but it is firm. You can soften the experience with the option of pillows included in some of them.
These pillows are often soft and squishy. Again, the leather's spill-resistance and premium feel will appeal to users who spend a lot of their time seated.
Pros
Quality-based and comfortable
Adjustable parts
Stable and sturdy
Fits a wide range of users
Cons
The DXRacer brand sits at the top of the pile of modern gaming chairs in the market. It has a renowned list of chairs in its stable without compromising the quality and overall design. That has made it a choice seat for pros, enthusiasts, large eSports events, and tournaments.
This brand further helps gamers achieve high levels while playing engaging games. That is because of the high-quality materials for the covering, higher-density mold shaping foam. It is accompanied by full-metal frames for maximum stability and sturdiness.
All the other components, including the class 4 gas lifts, provide safety and durability and are certificated by TÜV LGA and ANSI/BIFMA.
The Secretlab is also built with ergonomics in mind. In terms of gaming chairs comparison, DXRacer chairs are the perfect gaming rig for gamers and streamers. There's the tilt mechanism, adjustable seat height, fully adjustable arms, and a 135-degree reclining backrest.
You can add smooth casters that help users achieve full mobility while gaming, working, or meeting in the office.

This is a brand with a lot of qualities that make it stand out in the market. It boasts a lot of capabilities to help ready gamers take advantage of and win at games. It will suit users who want a chair that feels cozy and comfortable around the clock.
Head to Head Comparison
The main difference between Dxracer and Secretlab is, Secretlab comes with neck support, 4D armrests and an aluminum base, while Dxracer has different weight classes, giving a wide variety of options to choose from
Winner: DXRacer
Here, we have to go with the DXRacer because it offers a lot of options. Yes, the Secretlab has the highest weight but not enough options cut across. What users want is a chair they can maneuver and adjust.
That makes it suited to different kinds of users. However, both brands have gaming chairs to suit all types of builds.
Further, DXRacer gaming chairs have different weight classes, ranging from small to heavy build. As such, you have a wide variety of options to choose from.
Comfort and functionality
Winner: Both
Comfort and functionality are two important things that go hand in hand. What you want is a product that works without hassles. Both of these brands offer ergonomics to give you the best. They offer enough satisfaction, especially for those interested in gaming for long hours.
Winner: Both
The fabric of any gaming chair is a vital part to consider. The proper material defines how well individuals can sit on the chair without being uncomfortable, even for a short while. Texture and feel are two important things both brands have.
There are two main fabrics used by both brands. They include PU leather and Softweave fabric. With the former, you have a less breathable material designed to feel like premium leather.
The PU material is extremely resistant to spills and dries up quickly with a little bit of wiping. That makes the material flexible and smooth.
For softweave, you have a material made from cloth and is very much more breathable than PU leather. However, it lacks the finish that the other permeates. It is designed to keep its form even after heavy use.
Both materials have their advantages.
Winner: Secretlab
Whether you're a heavy gamer or not, one difference between DXRacer and Secretlab is the quality armrests. We think that the Secretlab brand offers more because of the 4D armrest. A 4D armrest helps you to change its position in 4 dimensions.
As a result, you get to shift its position to meet your requirements. It provides this on all its chairs, including lower-priced ones.
DXRacer does not provide 4D armrests on its lower-priced chairs. However, it does offer the user the opportunity to add a 4D armrest but at a higher cost. The larger-sized chairs come with 4D armrests.
Winner: Both
After a few hours of gaming, you'd be forgiven if you wanted to go to the nearest bed to sleep. However, with a tilt or recliner, you don't have to leave your comfort zone. All you have to do is use your gaming chair. Thankfully, both brands provide this feature on all their products.
Both of them allow users to utilize the deep recline and tilt feature to take a break whenever needed. We found this to be one of the more enjoyable features as it enables users to take a break without getting up, even for a snack!
Further, both chairs sport additional tilt-angle locks. Don't just expect them to be on the lower-priced models on both brands.
Depending on your needs, you can tilt your gaming chairs at different angles. Whether that's a 165-degree angle of tilt or 135 degrees, it helps to be flexible. If you want to get a new chair from either brand, it's best to consider this factor.
Pillows and Lumbar Support
Winner: Secretlab
Here, the Secretlab brand provides all its models with adjustable neck support. You won't get this on the DXRacer models, though. The neck pillow that comes with the Secretlab chair is built and designed with memory foam, so it adjusts to your position without feeling all chumpy.
In addition, there's a cooling gel present in the Secretlab chair's neck pillows. What this means is a super comfortable situation. While you're gaming for long stretches, it will prevent the back of the head from getting soaked with sweat.
The lumbar support on the DXRacer is a nice feature. The DXRacer chair pillow is an adjustable one for the lower back. It gives off a sense of comfortability that you will immediately feel when you sit. It's fixed back support that comes with many models.
Winner: Secretlab
With DXRacer chairs, some of the models come with nylon bases. Some people end up complaining about it because it is not as strong as the aluminum base. As such, only light users can put it to use.
For Secretlab, irrespective of the chair you choose, they come with an aluminum base. That offers strong and near-perfect stability even with a heavily-built user.
Buying Guide for an Ideal Gaming Chair
Getting a top-rated gaming chair like the Dxracer and Secretlab will give you an overwhelming experience, but first, you have to be careful while making your choice.
This is because there are many chairs in the market today, and if you are not cautious enough, you may fall for the cheap knockoffs and waste your hard-earned money in the process.
Not to worry, this buying guide will give you a heads up on the features you need to know before buying one.
1. Chair Type and Personal Preference
First things first, it's important to consider the type of Xbox One gaming chair you want.
Of course, your preferences play a big role, but you have to choose from the following:
Rockers. A rocker feels like the best of both worlds since you have a gaming control over it and a rocking chair rolled into one. Not bad for comfort.
Racing chairs. These chairs are aptly named because they have steering wheels and pedals. As such, users of this Xbox One gaming chair often have realistic experience playing games on them.
Pedestals. These chairs will take you notches off the floor. You can also swivel around as much as you want.
2. Portability
If you're a gamer that moves around a lot to friends' houses or gaming conventions, you'll want a chair that can effectively leave your home without hassles. There are several Xbox One gaming chairs out there that fits the bill.
3. Weight Capacity
Any Xbox One gaming chair has a listed weight rating. Depending on what you want, your chair should accommodate you and perhaps, your family and friends. Always check to see if it measures up to what's best for you.
4. Breathable Fabric
Chairs should breathe. Sounds weird, right? Well, the fact if they don't, things will get pretty hot very quickly. That could mean a lot of discomfort for you, especially when you're settling in to take your opponents by storm.
Leathers are particularly long-lasting but tend to give off less air. If you spend a lot of time playing games, ensure your Xbox One gaming chair is breathable.
5. Inputs and Outputs
For a total gaming experience, be on the lookout for a chair with working inputs and output features. Features like headrest speakers and HDMI connectivity will leave you feeling more at home and comfortable.
6. Ergonomics
Ergonomic features, including Lumbar support and some other cool features, will help you remain comfortable. Your Xbox One gaming chair should prevent you from having back pain and other strains. Since you'd be sitting for long hours, ergonomics is a chief concern.
Frequently Asked Questions
1. Which Is the Better Gaming Chair For Me Between Dxracer and Secretlab?
We cannot categorically rank one above the other, as they both come in handy for whoever needs them. It doesn't matter if you need these chairs for your computer games, office works, or media and relaxation purposes; whatever you do, they get the job done every time.
Selecting any of these two chairs will boil down to your personal preference, but we are sure none of them will disappoint you when and where it matters the most. However, it is important to carefully check out the specifications of each chair, as they can vary in design, sizes, features, and load capacity.
While some gaming chairs are designed to withstand almost anything you throw at them, others can only make do with a limited weight. That is why it is important to check and verify the details of any gaming chair before you make the chase.
For instance, if your weight is on the heavy side, you need to be sure that your gaming chair is able to support your weight without sacrificing convenience and comfort.
The same goes for very tall and short individuals; getting the right gaming chair that can be adjusted to meet your specific demand and requirements is the only way to determine whether a gaming chair is good for you or not.
2. How Does a Gaming Chair Work?
Primarily, a gaming chair is designed to help you sit, relax, and enjoy your video games without difficulty. It offers a solid form of support for your neck and back while sitting in front of your screen.
Usually, they come with taller backrests and support pillows to help keep your body in proper alignment while sitting. Most gaming chairs are made with thick foam padding to help ensure even distribution of your body weight when you sit on the chair.
Conclusion
If you have gone through this review, chances are you have enjoyed the feature comparisons we have done.
For the avoidance of doubt, the Secretlab is our pick for the best chair brand currently available. Sure, DXRacer has a lot of clout and popularity, being one of the leading brands in the business. Their pros and cons also stand out.
With both brands, you also have more color schemes and special editions to choose from. Both of them can also accommodate large weights. There are also budget-friendly options on both sides of the brands.
However, we think Secretlab's chairs offer the best value, but the fact is that there are some situations where choosing a DXRacer chair will make pay off.