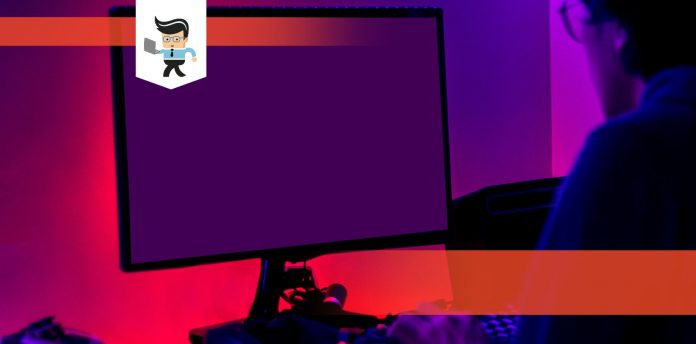 You're having trouble with choosing the Dell SE2717HR vs. SE2717h. Finding the right monitor for you is essential – that's why we are here. We have the facts laid out and to the point.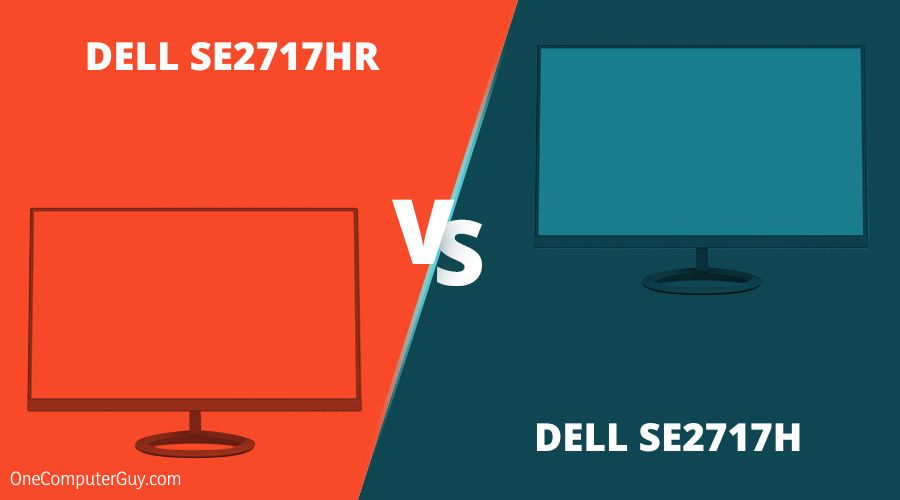 Product
Key Specifications
Dell SE2717HR

27"
1080i Resolution
48Hz Refresh Rate
VGA, HDMI Hardware Interface

Dell SE2717H

27"
1080p Resolution
60Hz Refresh Rate
VGA, HD MI Hardware Interface
Pros:
• Anti-tearing technology
• Features that help protect eyes
• Compatible with HDMI
Cons:
• No Speakers
The Dell SE2717HR monitor is a popular Full HD monitor that has a 27-inch screen display. This monitor has an easy interface and features to adapt to your comfort.
This monitor has a modern design, a large display area, and unique features. It's an IPS monitor, and the screen coating is Antiglare with 3H hardness. It will fit in, regardless of where you place it in your home.
– Dell SE2717HR – How is the Display?
The Dell SE2717HR provides a 1080i interlace scanning display.
What's an interlace scanning display?
An interlace scan display is one of the two common ways to illustrate video images on a screen.
In simple terms, interlace scans show the image frame as odd and even-numbered lines. We call a collection of these lines a field.
The screen only transmits half of the image. But it's repeated so fast – 1/48 of a second in this case – that it's not noticeable to our eyes.
This display is less favored than the 1080p, but 1080i still has the same high resolution.
The difference is when viewing action scenes and sports. 1080p has a smaller chance of flickering or blurring.
Don't let us put you off, however. The Dell SE2717HR also has Free Sync technology.
There's more need to worry about screen tearing, stutter, or choppy gameplay.
More than one Dell SE2717HR review has ratings as having a smooth and functional display. It's flicker-free.
The Dell SE2717HR is an LED display type. With light-producing diodes, it has much better quality compared to an LCD monitor.
1080i offers a high resolution. It has sharp, clear graphics. It's easy on the eyes due to one of the unique features on the Dell SE2717HR – ComfortView.
– ComfortView
ComfortView is an included feature on the Dell SE2717HR. It allows you to protect your eyes by minimizing the blue-light emission from your screen.
ComfortView is an essential feature to reduce blue light emission and increase your eye comfort.
Adjust the setting to suit your eyes' needs.
– Dell SE2717HR Compatibility
The Dell SE2717HR is compatible with both older and current PCs. With ports for connection, the Dell SE2717HR works with VGA and HDMI. Connect to your computer or console without complications.
– Does the Dell SE2717HR monitor have a speaker?
Unfortunately, the Dell SE2717HR does not have a speaker or a sound output source.
Don't let that stop you. Connect a speaker to the audio source – your PC or your laptop – and listen to whatever you want.
– What is the response time?
The Dell SE2717HR response time is 6ms. Thus, it takes six milliseconds for the monitor to change from one color to another.
Lower numbers are better because it cuts the chance of disrupted displays.
With a response time at 6ms, you can get to the pages you want fast.
– Physical Specs
The Dell SE2717HR is more than pleasing to the eye.
A glossy, thin frame surrounds a matte screen. With a simple and sleek look, this monitor can fit wherever you want on its sturdy base.
You can put it in a small office or a game room without disturbing the style.

– How good is the Dell SE2717H refresh rate?
The Dell SE2717HR has a refresh rate of 48Hz. Experience your screen time with clear graphics and smooth images.
– What's a refresh rate?
Are you new to gaming? You need to know what 'refresh rate' means.
A refresh rate is the number of times per second an image displays on the screen. The refresh rate measures in hertz (Hz), and the higher the number, the better.
Pros:
• Built in speakers
• Screen rotation/ wide viewing angle
• Anti-glare screen
Cons:
• No wall mount
The dell se717h is a sleek, quality monitor. With its inbuilt tech and features, it will heighten your experience.
It has a high resolution, a 27-inch display, and a stylish frame. This monitor is functional and fashionable.
– Dell SE2717H – How is the display?
The Dell SE2717H has a 1080p resolution display. With a Full HD 1920×1080 resolution, this allows you to have excellent quality.
The Dell SE2717H provides the best resolution type – progressive scanning. A resolution of 1080p eliminates flickering.
– What's Progressive Scanning?
Progressive scanning is a method used for producing an image on a screen. Interlaced scanning is the other method.
Progressive scanning transmits and displays every line in one at a time, in order. Unlike interlaced scanning that shows every other line, it paints the lines in sequence simultaneously.
Thus, progressive scanning results in a more detailed image on a screen. It is also less likely to flicker than interlaced scanning.
We would recommend a monitor with 1080p over one with 1080i. Progressive scanning is the standard of modern screens.
– What's the refresh rate?
The Dell SE2717H has a refresh rate of 60Hz. You can set it up to 75Hz for an even better refresh rate.
– Screen Rotations and View
The Dell SE2717H can adjust to suit your needs. With the ultrawide 178°/178° viewing angle, you will see the colors as they should be from wherever you want to sit.
This monitor does not feature a wall mount, but it does give you a stable stand.
Its sturdy stand makes it secure and more comfortable to tilt your monitor to the perfect angle.
– Does it have a speaker?
The Dell SE2717H, unlike the dell se2727hr, does have an inbuilt speaker. You can experience your games with sound or watch your favorite movies.
One user submitted a 5-star Dell SE2717H review, stating, "The speakers are amazing for built-in speakers."
The Dell SE2717H has more connection ports to accommodate these features as well. It is compatible with all types of PCs. The Dell SE2717H also functions with VGA and HDMI.
You can hook up your computer or your gaming console and start playing right away.
This monitor is easy on the eyes because it has ComfortView technology. This feature protects against blue emission light. It eases the strain on your eyes.

– What is the response time?
The Dell SE2717H response time is 6ms. You can get to your pages and sites fast and easy.
Which is better – Dell SE2717HR or Dell SE2717H?
The main difference between Dell SE2717HR and Dell SE2717H is, Dell SE2717H has a much better resolution and refresh rate, while Dell 2717HR has no speaker or audio source.
Both the Dell SE2717HR and the Dell SE2717H are good monitors with quality specs.
But only one of them is best for you.
Though the Dell SE2717HR is a capable monitor, the Dell SE2717H trumps it on almost every account.
Both monitors have the same pixel dimensions. But, the Dell SE2717H has 1080 progressive scanning.
There's a reason people like it more than interlaced scanning. It's superior in image processing and clarity.
The Dell SE2717H and the Dell SE2717HR response time are the same. With a quick response time of 6ms, you won't go wrong with either on this account.
The refresh rate of both the Dell SE2717HR and the Dell SE2717H is 60Hz.
It's possible to crank up to 75Hz on the Dell SE2717H. That's good news for gamers. You can focus on your gameplay and know your monitor is keeping up.
Both monitors have features to provide eye comfort. Set the screen to suit your eyes whenever you need it.
The Dell SE2717H wins on this account, too. The dell2717hr has no speaker or audio source. The dellse2717h has a speaker already within the monitor for you to use.
Both monitors provide Free Sync, but even then, the Dell SE2717H will work better.
The Dell SE2717H has a 1080p resolution and a 60Hz refresh rate. Progressive scanning vs. interlaced scanning will function at a higher quality.
Combine the Free Sync and the progressive scanning, and you'll have a sharp, clean, and fast display.
Conclusion
Both the Dell SE2717HR and the Dell SE2717H are monitors that will give you a good experience.
But the monitor that will give you the more extraordinary experience is the Dell SE2717H monitor.
The Dell SE2717H has a much better resolution at 1080p and refresh rate at 60Hz.
The Dell SE2717H comes with an audio source and built-in speakers. These features are must-haves, but the Dell SE2717HR does not offer them.
The Dell SE2717H has an adjustable ultrawide viewing angle height.
All of these features of the Dell SE2717H trumps the Dell SE2717HR. You can hook up a console and play with sound for the full experience. And you can experience everything on this monitor with high quality.
With the Dell SE2717H, the possibilities are endless.