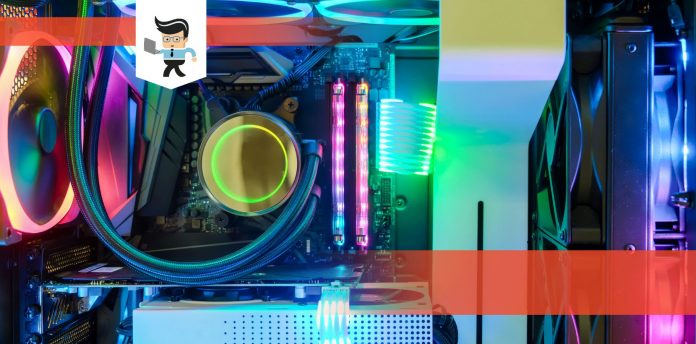 CyberPowerPC vs Alienware, which one is the better-prebuilt PC option? If you want a good gaming computer, you have to build your own, right? Not if you are considering these two options.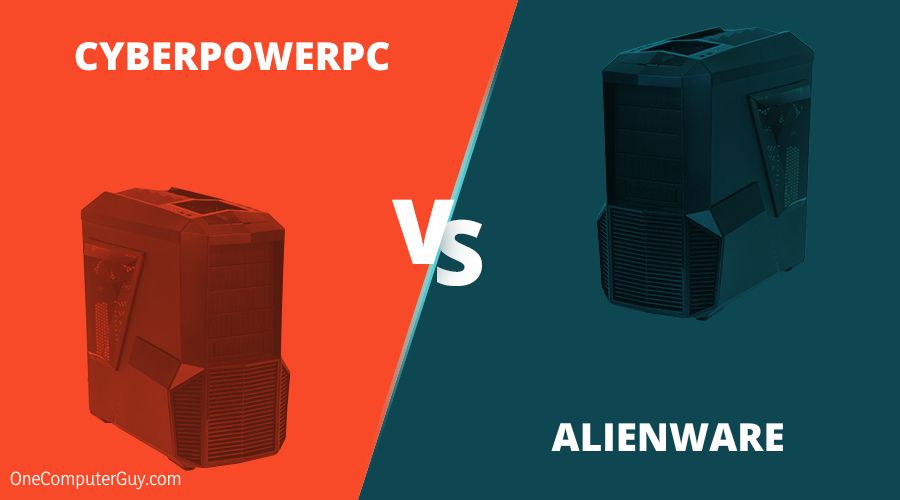 Both have some distinct advantages over building your own (in particular, it is just easier). Even so, which one is worth your money? They are both reliable, but which one should you buy? Our experts have looked at the specs, looked at user experiences, and broke down the prebuilt PCs to see which one is better for you. Keep reading to see more.
Table Comparison
It is essential to know that CyberPowerPC and Alienware are manufacturers that put out multiple devices and hardware pieces every year. While this review will mostly focus on their general performance in specific areas, we wanted to compare some of their greatest models to show their capability. We compare them here:
| | | |
| --- | --- | --- |
| | AlienWare m15 R3 | Games Master Ultra |
| Processor | Intel Core i7-10750H | AMD Ryzen 5 2400G Quad-Core |
| Processor Speed | 2.6 GHz | 3.6 GHz |
| Boot Drive Capacity | 1 TB | 1 TB |
| Screen Size | 15.6 inches | 15.6 inches |
| Resolution | 1920 by 1080 | 1920 by 1080 |
| Touch Screen | No | No |
| Screen Refresh Rate | 300 Hz | 300 Hz |
| Graphics Processor | Nvidia GeForce RTX 2070 | AMD Radeon RX Vega 11 |
| Weight | 4.65 lbs | 32.6 lb |
| Operating System | Windows 10 | Windows 10 Home (64-Bit) |
| Tested Battery Life | 2:40 | N/A |
CyberPowerPC vs Alienware: Individually They Stand Tall
It is important to note that both CyberPowerPC and Alienware are excellent options for anyone who doesn't want to build their gaming rig. It can be demanding to do that, and knowing that you have everything you need in one place already can help people who want to get on with gaming.
Another thing to consider is that CyberPowerPC tends to build both laptops and desktops, whereas Alienware makes mainly laptops. It may feel strange comparing the two, but it is really where they both excel.
Let's start with individual reviews of each one to see how they stand alone before comparing the two.
For excellent gaming PCs, CyberPowerPC has been the go-to for many people. In particular, people who want gaming rigs that have multiple screens love to get this brand. There is just something about a desktop that most laptops will never be able to reach. With CyberPowerPC, for example, you eliminate the worrying about battery power.
– Design
CyberPowerPC has a more modernized design than many other prebuilt, circular, and compact design choices. Everything flows together and looks beautiful. Some details allow you to see the computer's inner workings, a popular design feature in building your rigs. It feels like a "premium" build.
– Features
While there are different models and various features, there are some overarching features. The biggest feature of any CyberPowerPC is that it is loaded with conveniently placed ports. You will be able to connect nearly everything. Some of the other features that we love include the warranties with various devices, excellent scratch resistance, and outstanding community support.
– Performance
This is a competent line of computers. Most tests will average performance around 3.6 GHz with the ability to overclock if you are careful. It is capable of handling multiple tasks at one time with ease and minimal noise. It is important to note that the performance is future-proofed in many instances because they've built in advanced technology, particularly in the more current releases.
– Value
Some of the parts used in the CyberPowerPC builds are high-level and quality, but there are some budget pieces here and there. They don't impact the machine's overall value, but we would be remiss not to mention some of the corners that got cut.
– Issues?
Some people have had some problems with customer service when something goes wrong. You can find complaints about the way requests are handled and the number of times things take. Even so, most people say that the problem gets solved; it just takes longer than one would expect.
Historically, AlienWare has been a manufacturer that people aspire to own. It has been something that everyone wants to buy, but few people could afford. Thankfully, over the years, their builds have gotten more affordable and approachable for even casual gamers. For serious gamers, they are quite good too.
– Design
Alienware is a bit different from most gaming computers because it keeps everything hidden pretty well. There are perforations in the cover to keep airflow, but everything else is hidden. It feels a little higher in the finishing details, but it can be boring and minimalist for some people.
Newer builds have more personalize and some nice LED touches, so if you want to buy a new computer, you will find more design options.
– Features
While there are different models and different features, there are some overarching features. It has a relatively good amount of ports that help with connectivity, and these ports' placement is excellent. Other good features include fast speeds, steel coatings, quality finishings, and fantastic customer support.
– Performance
In many situations, Alienware builds are powerful, quiet machines. They can reach acclaimed speeds of nearly 5 GHz for certain builds. Multitasking is easy. Most of these builds come with fantastic graphics cards that perform exceptionally well with games.
– Value
As far as value goes, this is an excellent option for anyone who would want to buy the highest quality parts of their rig. Those are the parts that come in at the top of each price range for building. You get quite a savings.
– Size
This is one of the smallest all-in-one rigs that you will find on the market today. It is even pretty portable, though you will have to ensure that you have a good case.
– What Makes Alienware Stand Out
A few things make Alienware stand out, but most people talk about the screen. This is an attractive feature on every single model that never disappoints.
– Are There Any Problems?
In general, there aren't any problems with most builds. However, even in the more recent builds, battery life continues to be an issue. In particular, if you play visually heavy games, the battery will die quickly.
CyberPowerPC vs AlienWare: How They Compare
The main difference between CyberPowerPC and AlienWare is, CyberPowerPC has more personalization options and better performance while Alienware is a better value.
Design:
Both CyberPowerPC and Alienware have distinct, unique designs. It is probably where they differ most. They are both visually stunning, but they are just different. This one comes down to taste or whether you prefer something angular or circular.
Features:
The features included standard with both of these lines are high quality, super-fast, and great value for the money. This is another feature that will come down to taste and the specific build, but we have noticed that CyberPowerPC tends to have more options that can be personalized.
Performance:
As far as performance goes, these two are neck and neck. Depending on your skills and your internet speed, you will get optimum performance out of both. However, upon looking at reviews, we did find that some Alienware PCs aged relatively quickly, whereas CyberPowerPC builds future-proofing.
Value:
Comparing value here is hard because both have some top-of-the-line pieces. However, we think that CyberPowerPC has snuck in some plastic where metal could be so that we will give Alienware this one.
Things To Think About When Buying A Gaming PC
You might look at the price point of these PCs and be a little scared to take the plunge. It happens! There are some good things to think about when you are buying a gaming PC. Let's break them down:
– Size:
Size matters! We aren't just talking about the inside of the computer. You want to think about how much physical space you have. These prebuilt PCs can get huge, and you don't want something that will take up way too much room.
– Laptop Or Desktop?
Next up, you want to think about whether you want a laptop or a desktop. Both have advantages and disadvantages. It will ultimately come down to whether you need portability. Most gamers prefer desktops because they tend to have better specs. With specific builds for gaming, that doesn't matter as much.
– Processor:
The processor matters in a gaming rig because it determines how the software performs, and games are software. You want to get as many cores as possible, but try not to go below four cores. The more cores you have, the better everything will go. Most new gamers should start with a six-core chip.
– GPU:
Your GPU is what makes games look great. It is one of the "splurge" items for when someone builds their PCs, and you should get the best GPU you can. While you technically can replace the GPU in a prebuilt, it is hard.
– Customer Support:
Gaming PCs are a considerable investment, and you want to ensure that you will have support when you need it. Be sure to get a PC from a company with dedicated customer service teams and be there for you when you need them.
– Ports:
Finally, you want to look a the number of ports and connections a prebuilt has. They make all the difference when you are gaming.
Conclusion: CyberPower PC vs Alienware
In the end, it depends on your budget and personal preference if you are going to buy a prebuilt PC. You should take your time and look over each of these points to see what they offer and what you need. Don't shop quickly, and don't be hasty. Check the component that you are interested in and see if it has what you need. The brand is just the start of your journey.
Both CyberPowerPC and Alienware are great options, and you can't go wrong with either one as a brand. There are good models in both lines, but overall we would suggest either the R9 or the Gamer Xtreme RV lines.
Overall, most CyberPowerPC rigs will be a better value for your budget and give you what you need. As long as you take care of it and use best practices with overclocking and keeping it clean, you will have a good rig for a long time.