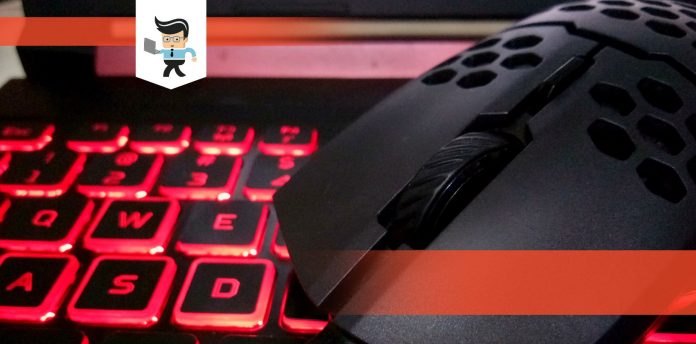 The Corsair Scimitar vs. Logitech G600 comparison is a question of two mice specially constructed for MMO and MOBA gaming. Both of these mouse options have a similar look, but we've gone over and behind to sport certain key differences, especially under the hood.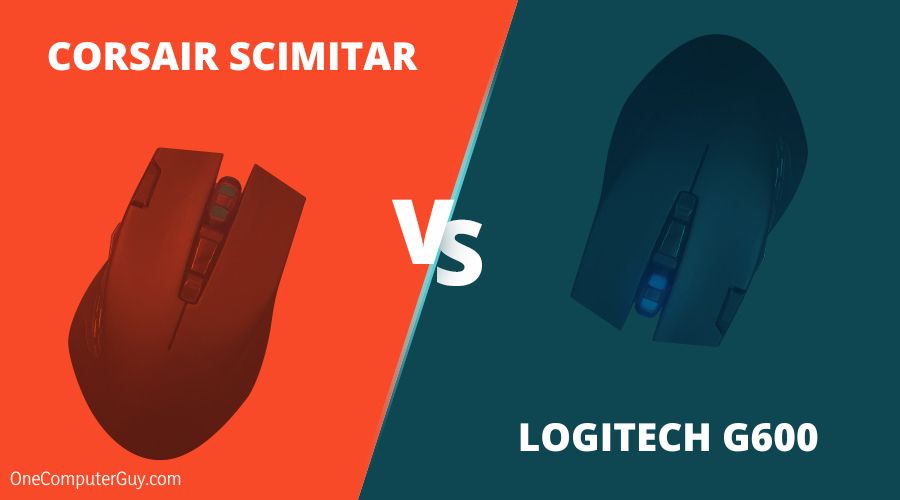 With this review, you get to appreciate how different they both are, what makes them tick, and make a decision about the best model for your gaming lifestyle.
Now, let's get right on to it!
Outline of the key Specifications
Product 
Key Specifications 
Corsair Scimitar

Brand: Corsair
Model: CH-9304111-NA
Connectivity Technology: Wired
DPI: 16000
Buttons: 17
Weight: 5.18 oz
Type: USB

Logitech G600

Brand: Logitech
Model: 910-002864
Connectivity Technology: Wired
DPI: 8200
Buttons: 20
Weight: 4.69 oz
Type: USB
Corsair Scimitar and Logitech G600: A Battle Between Two Top Mice
If you're looking for a quality wired mouse, you don't need to go too far to find awesome ones in the Logitech G600 and the Corsair Scimitar. They're both wired and are within the budget of many gamers and regular users.
From the Logitech and Corsair stables, these mice come from competing companies that offer quality from the Logitech and Corsair stables.
Depending on the kind of games you want to play, these two devices are designed with the intent of satisfying gamers. A good example is MMO games which require many attributes on your mouse. Also, the two of them feature buttons you can customize to various lengths, depending on what you want.
Even if you don't intend to play games with either of these two devices, you'll find them easy to move and operate for different applications. Our review team has put up this comparison to help you figure out which of them improves your gaming experience and much more.
Pros
Accurate tracking
Customizable features and capabilities
Nice ergonomic shape
Top-notch gaming capabilities
Cons
Might be too big for some
Pricey
The Corsair Scimitar Pro USB Optical mouse is one rather heavy and big mouse. It's bigger than the standard muse and has a grip style suitable for palm grip and claw grip holders.
If you're looking for a wireless MMO mouse, you can stop your search by choosing this one instead. That's because it's the ideal choice for MMO and MOBA gaming.
– Design and Shape: Ergonomic and Comfortable
You get solid clicks all through the mouse, with the Corsair brand choosing to use the industry-standard Omron switches renowned for having a click rate of about five million. To that end, this mouse leans towards MOBA and MMO users and comes with a weight capacity of about 120 grams without cable drags.
Also, the finishes on the exterior are a smooth matte black finish, while the right side of the mouse is a rugged grip for your ring finger.
At the bottom, you get four Teflon grips coupled with a yellow steel accent extending from the bottom to the left side.
– Features and Performance: Built for Gaming
We start things off with the input lag, which happens to be great on the Scimitar Pro and compares well to other top-notch mice out there, including the Logitech G600. Expect your functions to range between zero and two milliseconds with such a low lag.
What's more, you get up to 16,000 DPI, coupled with a PixArt PMW3367 sensor with DPI adjustments. These are exceptional features for top-level activities like gaming.
For the scroll wheel, we observed that it has a firm feeling and good feedback. You'll feel it is a bit too stiff at some points, but we observed that the scroll click is reliable for gaming.
The Corsair Scimitar button mapping includes twelve buttons you can map and customize to slide back and forwards depending on the user's hand. The mouse also has a 1.6-meter braided cable that adds flair, and you can use the adjustable lift-off distance.
Performance on this Corsair is just as good, with MOBA games like World of Warcraft benefiting most. You get a sensor that offers a high smoothness irrespective of the surface and different mouse pads.
Also, the shape of the mouse makes it ideal for a palm gripper while users enjoy excellent onboard hardware.
– Software: Assign Functions and More
The Corsair Scimitar Pro RGB makes it easy to make changes through the ICUE software.
It comes with the option of saving three different hardware profiles and changing RGB lighting to different patterns. If you want to overlay the lighting with layers, you can use this software.
What's more, the ICUE software can be used to update firmware and control other devices.
The software is also handy to remap keys not being used on the keyboard. You can then add functions for such keys to serve in different capacities when you do that.

– Overview
The Corsair Scimitar Pro RGB mouse is perfect for gaming enthusiasts because its excellent features lead to a better gaming experience. It's fast, accurate, and comfortable to use. Also, there's the ICUE software from Corsair to back it up.
Pros
Convenient collection of different buttons
Customizable software and features
Ergonomic design
Quality shape and exterior
Cons
Some difficult to reach buttons
If you're looking for a budget-friendly mouse with good MMO and MOBA capabilities, look no further than the Logitech G600. It has quality features and functions for its price tag and promises a performance worthy of the Logitech brand name.
– Design and Comfort: Large and Comfortable
The Logitech G600 is as sharp and great-looking as they come with a fantastic grip. Your hand will rest on the mouse with your ring finger settling nicely on the third button. It is a large mouse and will do well in medium to large-size hands.
The palm grip works here, so the G600 is not the mouse for you if you're a fingertip user. Besides, the Logitech G600 weight makes it a heavy mouse.
At the mouse's underside, you'll find two large friction pads that help the mouse glide over various surfaces, unlike other mice. Even with a small pad, you can expect this mouse to work well.
Logitech also doesn't use faux runner coating; you get a matte black finish all over the mouse. That means the design and texture won't wear or tear off easily.
– Features and Performance: Top-quality and Smooth
The Logitech G600 is a popular multi-button gaming mouse in the market using all the standard mouse buttons we've come to know. That includes the left-click, right-click, roll up, roll down, tilt left, tilt right, and a middle mouse click.
You'll notice a subtle bump when you roll. The mouse wheel, while you get two buttons on the top of the mouse that can adjust the DPI setting from the fly.
The buttons can be changed via the Logitech program, which gives you some flexibility when you use it. Also, depending on what you're playing, you can tweak Logitech G600 native DPI within its 8000 max figure.
On the side of the mouse, twelve buttons were initially mapped to the top road number keys in the keyboard. Of course, you can remap them via the Logitech program if you need to. Moreover, the buttons are also angled and textured to help you find your way around the mouse.
Other standard mice won't offer such angles that help your thumb rest easier when you need to reach the six buttons at the back.
There's also RGB lighting with a plethora of colors that change with your settings.
– Braided Cables and More Button Functions
The cable of this mouse is long and braided, and you'll have no issues looping it around the desk to the back panel. You also get an additional third click button on the right side.
While it doesn't have a direct function, it works as a modifier for the twelve buttons on the side. When you hold Shift + a button, it gives you twelve buttons to map in addition to the original twelve for a total of twenty-four.
The extra buttons are fantastic and allow you to convincingly play intensive games like World of Warcraft. Also, key bindings mean you benefit from having wide buttons, and you can make a lot of customizations. We also found that switching between DPI is smoother than on other mice and even software.
– Software: Upgrade Profiles and Mapping
The software in this optical gaming mouse is a program that allows you to control all the added features. The program lets you customize Logitech components such as mice, keyboard, and headset.
You can change all the mouse's button mapping, profiles, and lighting effects with it. Keystrokes, text blocks, media functions, browser capabilities, and more can be changed using the program.
The best part of being a gamer is having different profiles for various programs and games. You can have a custom layout for different games and others for your browser.
It's possible to have different DPI settings you can switch on the fly. One thing we didn't like was the occasional lag of software. That aside, it's a mouse great for gaming.

– Overview
The Logitech G600 is a button-packed mouse with the potential to play serious online games. That's why it's ideal for gamers who need a lot of buttons they can customize and for those with medium to large hands.
G600 and Corsair Scimitar Pro: Key Features Compared
The main difference between G600 and Corsair Scimitar Pro is, Corsair Scimitar Pro boasts a DPI reaching up to 16,000 while Logitech G600 offers half of that figure at 8200.
Design
These two mice are on the big side when it comes to weight. They're more suited to hard with medium to large hands. The G600 is taller in addition to its size, but it's comfortable to hold. We also noticed that the two have a thick shape and are identical in size.
These two mice also have numerous buttons, and they use a wired braided cable.
Sensor and Sensitivity
In this Logitech G600 vs. Corsair Scimitar comparison, a lot of credit must go to the Corsair Scimitar for the DPI and level of sensitivity. It's a responsive mouse and boasts a DPI reaching up to 16,000.
The Logitech G600 offers half of that figure at 8200.
However, both of these devices are excellent for gaming purposes. But having reviewed both, we can say that Corsair will offer more to enthusiasts and regular users.
Buttons
The buttons on these mice are exceptional additions and make both devices MMO-specified mouse options. They both have mechanical keys that return good feedback and a satisfying classic sound.
On the Scimitar, you have a total of seventeen buttons, while the G600 gives you a total of twenty buttons.
All the buttons on these mice are programmable, but the G600 goes further with the G-shift button. You can use the button to activate a second function of the programmable keys for more mapping on the buttons. However, we think both of these devices are on par based on buttons.
Comfort and Ergonomics
Comfort is a necessary aspect to consider when getting a gaming mouse. To that end, our Corsair Scimitar vs. G600 comparison showcases two comfortable mice that will prove excellent in your hand.
The Scimitar will fit several hand sizes, including smaller hands, because it will go well with any grip style. It's comfortable for your palm and easy to adjust to.
The Logitech G600 offers similar features even though it's a bit tricky. Smaller hands will find it awkward, but it's an excellent fit for claw-style grippers. If you have large hands, all the better for you.
G600 and Corsair Scimitar: Which Mouse Should You Settle For?
Depending on what you need, either of these mouse options will be a fantastic addition to your rig. To that end, if extra buttons are your thing, the Logitech G600 is a good choice with its customizable options.
On the flip side, the Corsair Scimitar Pro is an excellent choice for its MMO and MOBA capabilities. Even though it costs more than the G600, we think it's a good idea to get it.