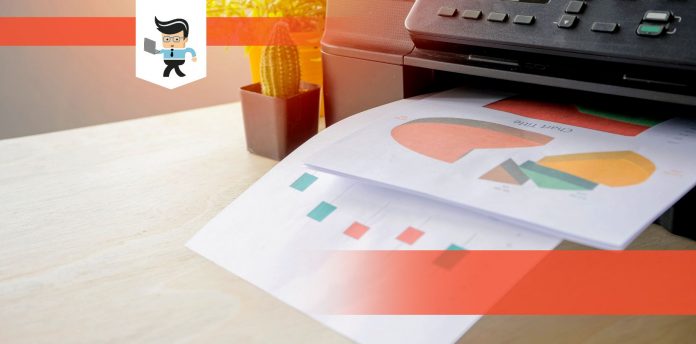 Choosing between the HP Sprocket vs Canon Ivy is challenging. Both are great mini photo printers with near-identical features.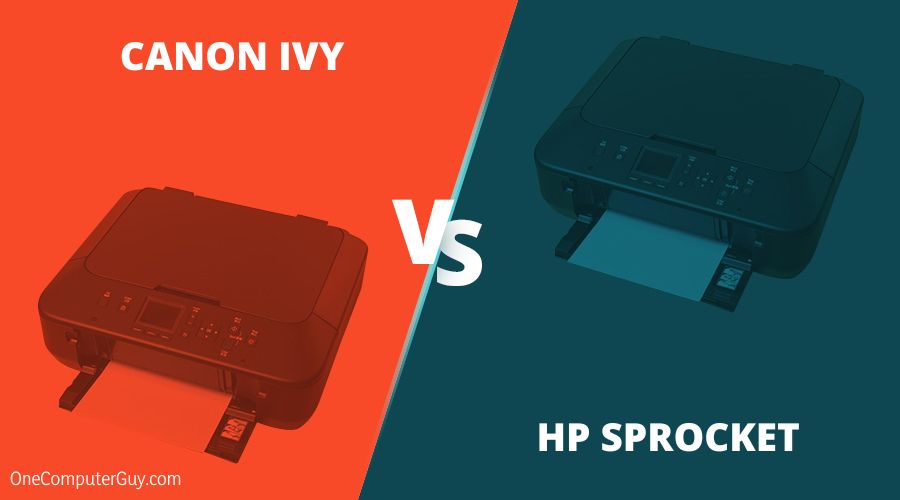 This article will help you make the best choice by presenting the following:
1. A specification comparison table
2. Individual reviews
3. A final comparison and conclusion.
Product

Key Specifications

HP Sprocket


2.95 x 4.53 x 0.87 inches

6.1 ounces

1 A battery required (rechargeable)

Canon Ivy


4.7 x 3.2 x o.7 inches

5.6 ounces

1 Lithium Metal battery required
Pros:
• Print on the go from social media and smartphone snapshots via the free HP Sprocket app
• Bluetooth technology
• Includes a 10-sheet pack that prints instant 2 x 3-inch (5 x 7.6 cm) pocket-sized photos or stickers
• Zero ink technology (ZINK)
Cons:
• Picture quality is not always great
• The heat-activated ZINK photo paper uses up the battery.
The HP Sprocket is one of the highest-ranked mini photo printers on the market.
The printer comes with a pack of ten 3×2 ZINK photo papers. It is wireless and allows you to print borderless quality snapshots on the go, easy as posting. These tiny prints can fit in your wallet or purse. But, ZINK photo paper does not give you a clean, professional finish.
This convenient pocket-sized printer is very lightweight (6.1 ounces). The HP Sprocket is as small as your smartphone (2.95 x 4.53 x 0.87 inches). Thanks to its compact build, you can carry it in your purse or pocket. It's a handy and fun tool for any time you feel inspired to snap and print.
Another high point of the HP Sprocket is that it has Bluetooth technology. Thus, you can sync your HP with your smartphone to connect to all your social media feeds. After that, you can turn your online snapshots into instant, hard copy colored memories.
The HP Sprocket is also very easy to set up and manage. The first step is to download the HP Sprocket app on your smartphone. Then you are ready to print via Bluetooth connectivity on your iOS or Android device.
Additionally, HP Sprocket has a queuing function. Whether you are at a party or family trip, other persons can connect to your HP photo printer via Bluetooth. The printer will then line up and print all the selected favorite snapshots simultaneously, creating instant but lasting memories with family and friends.
Also, the HP Sprocket App lets you personalize your photos. You can customize your snapshots with filters, drawings, borders, or text and emojis. The HP photo paper also comes with a sticker back. You can turn your photos into stickers to create collages on walls or photo albums and scrapbooks.

Printing is also quick and noiseless (under 30 seconds). But, you can print only about 25 to 30 prints per charge. The heat-activated ZINK photo paper can shorten your battery life. Yet, keep in mind that this handy, fun printer must function in sync with your mobile gadget.
HP Sprocket Specs
Print Speed: 35 seconds or less
Hardware Resolution: 313×400 dpi
Pros:
• Great picture quality
• Easy to load
• Includes a 10-sheet pack that print instant 2 x 3-inch (5 x 7.6 cm) pocket-sized photos or stickers
• Has Bluetooth and zero ink technology
• Comes with a wrist strap
Cons:
• Needs a mobile device to operate
• The heat-activated ZINK photo paper depletes the battery
The Canon Ivy Mini Printer is another top-ranking portable photo device. It allows you to capture and preserve cute (2 x3-inch) photos from fun events that can fit in your wallet. The powerful imaging app, which you can download for free, gives you great prints. But not at a professional standard.
The ZINK photo paper produces photos that are smudge, water, and tear-resistant. ZINK means that the printer does not use any ink. The Canon Ivy uses one Lithium Metal battery.
The Canon Ivy printer is compact – small, thin (4.7 x 3.2 x 0.7 inches), and light (5.6 ounces). But as with many Canon products, the Canon Ivy is also quite sturdy and professional looking. You can keep it in your pocket, wallet, or purse, ready to print wherever you go.
This pocket-sized photo printer also comes with a wrist strap. The strap makes the Canon pocket printer even more portable and handy. The stylish mint green color has a higher public appeal than other mini photo printers.
The Canon Ivy has Wireless and Bluetooth connectivity, which allows you to connect with your smartphone or tablet once you have downloaded the app. The printer also comes with a chargeable battery and is easy to set up. You can select photos on Instagram, other social media feeds, or online photo albums.
The Canon photo paper also has sticky backings that allow you to create lots of fun activities. You can make lasting sticker treasures such as scrapbooks, school, or family projects. You can also use it to create unique travel journals. The Canon Ivy has a queuing function as well.

Another benefit of the Canon Ivy Mini Photo printer is its fun editing features. You can customize your photos with emojis, frames, text, filters, and many more options.
This trendy Canon Mini Photo printer can be an excellent gift for your teenager or young adults. It is affordable and convenient for college students who work on a limited budget.
One drawback of this tiny Canon photo printer is that the paper can be somewhat pricey. But, its ZINK technology makes it worth the while. Another disadvantage is that this type of printer must connect to a mobile device to function.
Canon Ivy Specs
Print Speed: 50 sec or less
Hardware Resolution: 313×400 dpi
Canon Ivy vs HP Sprocket Comparison
The main difference between Canon Ivy vs HP Sprocket is, Canon Ivy has sharper resolution with superior performance and quality in a compact size, while HP Sprocket is a little faster in comparison.
– Print Quality
This portable printer comparison will be brief because there's not much difference in the HP Sprocket quality and the Canon Ivy. Either brand will give you good quality prints that are suitable for fun use. Both products also use 2×3-inch, glossy ZINK photo paper, which is tear, water, and smudge-proof. But, this type of photo paper is not of high quality. Thus, you will not get that professional touch.
If you are printing with sharper resolutions in mind, the Canon Ivy mini printer is the top pick. The colors are usually brighter and closer to the original online snapshot. This advantage is due to the free downloadable high-quality imaging app.
– Size
The HP Sprocket and the Canon Mini Printers are both pocket-sized photo printers (2.95 x 4.53 x 0.87 inches vs. 4.7 x 3.2 x 0.7 inches). They are about the size of your cellphone. But the Canon Ivy is thinner, sleeker, and sturdier. These features make it a winning choice for use on the go.
Set-Up and Use
Both product brands are super user friendly. They are easy to set up and manage by downloading the free app. Then connect the printer to your smartphone or tablet. Then, with one tap, you will get your instant photos or stickers. Friends can connect, print, and share tangible memories at the same time on the same device.
– Performance
Both the HP Sprocket and the Cannon Ivy can print photos on the go. Their instant printing capability saves you time. You do not have to wait on online orders or hang around for the length of time that a Polaroid film takes to develop. The HP Sprocket is a little faster than the Canon Ivy prints (30 sec per battery charge vs 50 sec or under).
With ZINK technology, these two printers will help you save time and money. The paper's price is also half the price of other brands like FujiFilm (50 cents to $1.10 per print).
Despite these advantages, the ZINK photo paper uses heat, which can reduce battery life. Moreover, these photo printers are not as durable as other heavy-duty photo printers. So, if you are looking for high-quality photo prints, you will need to invest in a more long-lasting product. Even so, Canon Ivy has a sturdier quality than the HP Sprocket.
Conclusion
Either the HP Sprocket or the Canon Ivy Mini printer will work well for you. Everything – from size to ease of use and print quality is similar. You can solve any imaging issue by making use of the purpose-built editing app.
Their convenient features are well suited for today's fast-paced lifestyle. Whichever photo printer you choose will also help bring out your fun and creative side.
The quality of the photo prints has to do with the ZINK paper. ZINK photo paper is of a cheaper standard than those made for professional use. You should invest in a more durable printer for better output if the quality is of paramount importance. Whichever product you choose would depend on your personal preference.
Even so, the Canon Ivy Mini Photo Printer seems to be the favorite pick with its thinner, sleek, and trendy look. It is also sturdier. But, the HP Sprocket is a strong competitor.