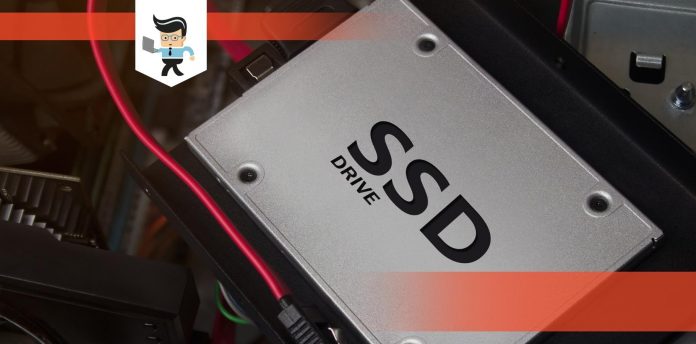 Our 750 EVO vs 850 EVO head-to-head comparison features two different SSDs from the same popular brand. Both is perfect on your computer and will lead to assured performances over time.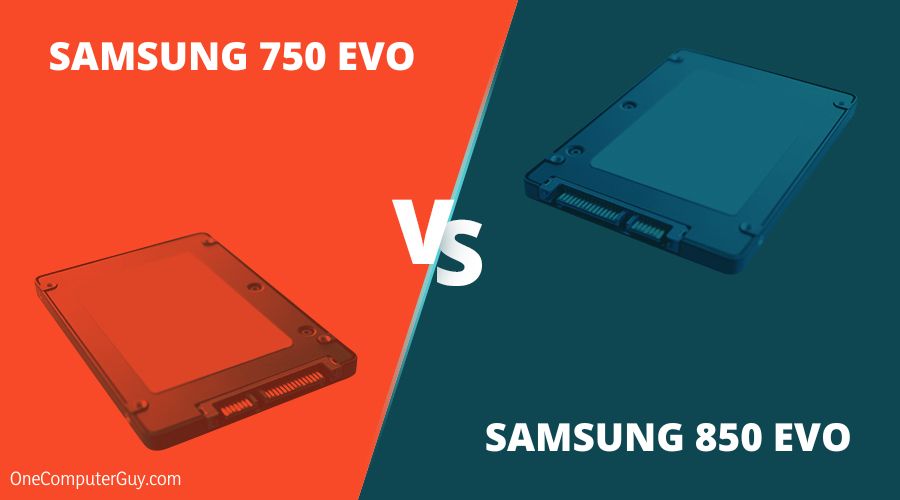 Our review team has studied their features, capabilities, and drawbacks to help you choose the best that fits your needs. You have to go through the compared abilities to make a good choice.
Samsung EVO 750 vs 850: Key Specifications at a Glance
Product 
Key Specifications 
750 EVO

Brand: Samsung Electronics
Series: 750 EVO
Digital Storage Capacity: 500 GB
Connectivity Technology: SATA
Hard Disk Size: 500GB
Read Speed: 540MB Per Second
Form Factor: 2.5 inches

850 EVO

Brand: Samsung Electronics
Series: 850 EVO
Digital Storage Capacity: 1 TB
Connectivity Technology: SATA
Hard Disk Size: 1TB
Read Speed: 540MB Per Second
Form Factor: 2.5 inches
What Is the Main Difference Between Samsung EVO 750 vs 850?
The main difference between Samsung EVO 750 and 850 is the 850 EVO uses advanced 3D NAND technology while the 750 features the old TLC NAND, which means the former provides users with huge capacity improvement and better efficiency.
These two SSD devices are so good that they will suffice as upgrades for many similar devices in their class or range. But against each other, you get more striking resemblances, not least because they're from the same brand and lineup. Both have the same form factor, read speeds, and connectivity technology.
The fact is that over the years, Samsung came up with a two-tier strategy in its solid-state drive (SSD) lineup. It offered Pro models for enthusiasts and professionals and a less expensive EVO model for those on a budget.
The Pro versions have satisfied users willing to pay a premium for performance, while the EVOs are for those who just want a reasonably fast SSD.
However, with this strategy and the traditional SATA-based drives, Samsung's SSD EVOs are just as fast as the SSD Pro models in some tests.
The EVOs are billed to provide a fantastic combination of excellent performance and great price points. But as you read on, you'll get to spot areas that make one more superior than the other.
Pros
Supports hardware encryption
Top performance
Durable
Cons
The Samsung 750 EVO is an entry-level SSD targeted at users upgrading from a hard drive to an SSD for the first time.
Some system integrators may also want a cheap, primary SSD to build affordable systems. To that end, thus The SSD 750 still uses triple-level-cell (TLC) NAND flash, which is typical for EVO drives.
Features and Specifications: Built for Superior Performance
Despite its entry-level status, one of the Samsung EVO 750 specs to watch out for is the pseudo-SLC cache that the SSD 850 is known for. It also provides support for AES-256 hardware encryption. These are pretty high-end features for an SSD one would tag as affordable or for budget use.
Another thing is that this memory comes with a 2.5-inch, TLC NAND-based SATA 6Gbps SSD that uses the latest version of Samsung's MGX controller.
While a 3-bit TLC-NAND isn't as fast as SLC or MLC, its speed across some functions is remarkable and can mimic faster NAND types. It will also help you mitigate the potential performance lag of TLC NAND, but the cache will reduce the amount of overall storage for that to happen.
Software: Just Like Magic
Samsung is a leader in the SSD industry and remains one of the first companies to ship its SSDs with a comprehensive software package. The software is called the 'Magician Software.' It has quality SSD utilities due to its clean design and useful tools. Samsung has not made many changes because of how good it is.
The Magician software comes with a handy benchmark built into it, so if you ever suspect your drive is performing below its specifications, that's easy to check. This tool makes it convenient to run a quick test on your drive.
Performance: Smooth and Consistent
One performance the 750 shares with its counterpart is that it offers smooth and consistent copying. The 750 will read at 505MBps and write at 407MBps.
Of course, as the figures improve and go higher, you can expect the speed to drop. Besides, the RAPID interactive cache that comes with the drive is enabled via Samsung's Magician software SSD utility. It will make the speed of the drive and the operating system super fast.

Overview
Our Samsung 750 EVO review proves that the 750 EVO remains a worthy TLC-based SSD crop. It's perfect for users who don't want to pay a premium and want to give their computer an excellent and speedy feel.
Pros
Delivers a great performance
Top-quality features
Awesome combination of cost and capacity
Cons
Software only works with Windows
If you've been looking at those top-draw Samsung SSD Pro devices and can't quite afford any, the Samsung 850 EVO is an excellent alternative and may even be a much better choice. That's because it's much cheaper and could be faster across its performances.
This memory is also an upgrade in the Samsung SSD 840 EVO and shares more with the higher-end 850 Pro. In our analysis, the drive achieved impressive zippy speeds, with more reference to the performance-boosting RAPID mode. Installing it will prove to be simple and without bugs, too.
While you'll get more from the performances of the Samsung Magician software for the RAPID mode and other features, it's available for Windows only. Mac, Linux, and other platforms lose out.
Features and Specs: Superb Components
After the 850 Pro, the 850 EVO is the second SSD from Samsung that uses a 3D vertical flash memory cell. That's the 2D planar type NAND flash memory cells, which lay flat on the surface of the silicon wafer.
While that's a common feature for many SSDs on the market, 850 EVO drive's flash memory cells are stacked in up to thirty-two layers. As a result, you get more cells in the same number of wafer bits. It will increase the density and more storage space for less cost.
The endurance rating on this device is 150TB for its 1TB memory capacity, which is double that in lesser devices and takes longer to run out. The drive on this device supports SATA 3 (6Gbps) but will also work with SATA 2 and the original SATA.
Another exciting feature is the TurboWrite technology. With it, the driver can operate a portion of its flash memory in a simulated high-performance mode of single-layer-cell flash memory. You'll find inexpensive enterprise SSDs, as a buffer zone.
Note that TurboWrite Technology works within the drive automatically, so you don't need to enable it.
You'll need to install the Magician 4.5 software to use the RAPID on the 850 EVO to manage other features and settings of the drive.
Performance: Excellent Performance
From our Samsung SSD comparison, this device will run with midrange computers running Core i5 processors with 8GB of system memory.
It will make a difference in the machine's performance, even compared to other SSDs. Faster speeds, especially with the RAPID mode turned on, will satisfy you on all activities.

Overview
While this memory isn't the fastest SSD on the market, it will deliver quality random access speed, contributing to overall performance. Also, our Samsung 850 EVO review puts it on the same pedestal as the 850 Pro.
Which Is Better
NAND Technology
Winner: 850 EVO 
The 850 EVO and 750 EVO are both EVO drives, but the NAND technology is not featured in both. The 750 does not use the 3D NAND flash but instead uses TLC NAND that is planar.
The drives' bits are laid down side-by-side instead of stacked vertically atop one another in layers, as with the SSD 850. This setting will impact longevity for an SSD targeted at the lower end of the spectrum. However, it won't matter much as even a basic SSD is fast enough.
Controller
Winner: Both 
Another difference is that the 750 EVO uses a different controller from its counterpart. It uses a dual-core model instead of the triple-core unit found in the SSD 850. While this could also impact performance, it won't be that much of a problem.
What's more, the SSD 750 has half the onboard cache memory, packing 256MB of DDR3 compared to the SSD 850's 512MB. The 750 is only offered in three capacities; 120GB, 250GB, and 500GB, while the 850 is available in capacities up to 2TB.
However, these capacities are great depending on the user and the space needed.
Speed
Winner: Both
Perhaps you think that the SSD 750 must be a lot slower than the SSD 850, thanks to the lower specs it has. But from our tests, that's just on paper. When we looked at the sequential read and write speeds, the SSD 750 and 850 are rated the same.
They both offer 540MB-per-second read speeds and 520MB per second for writes. Both drives also offered the same level of performance when it came to 4K random reads and writes.
Software
Winner: Both 
When it comes to the Magician Software, you can run it on these two SSDs. Samsung is one of the first companies with a worthy and comprehensive software package that features quality SSD utilities and a design that's so much easier to navigate.
You can use it to improve the performances of either SSD. And the EVO 850 combines well with the NAND technology to give you high-speed performance.
Conclusion
We have pointed out the difference between Samsung 750 EVO and 850 EVO, emphasizing memory capacity and speed. While the 750 EVO is the cream of the TLC-based SSD devices, its smooth performances just trail its counterpart here a little. It's worth getting, though.
With the RAPID tech, you can improve the feel of your computer. But we chose the 850 EVO overall. It's much of an upgrade; the NAND-based drives make a lot of difference and the aforementioned RAPID tech gives users more speed.