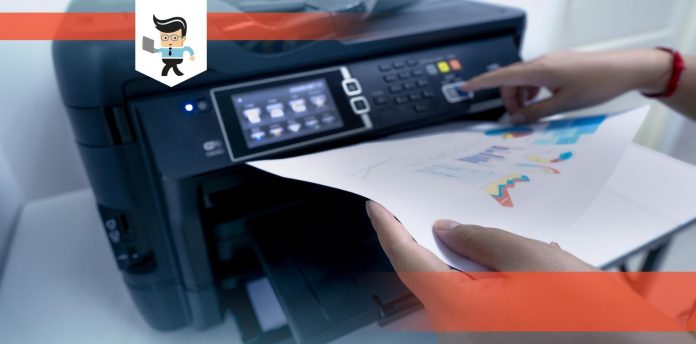 A look at the Brother MFC-L8900CDW showcases an excellent color laser printer for almost any application. If you're a document-heavy user, this printer will work well for you because of its fast and reliable output.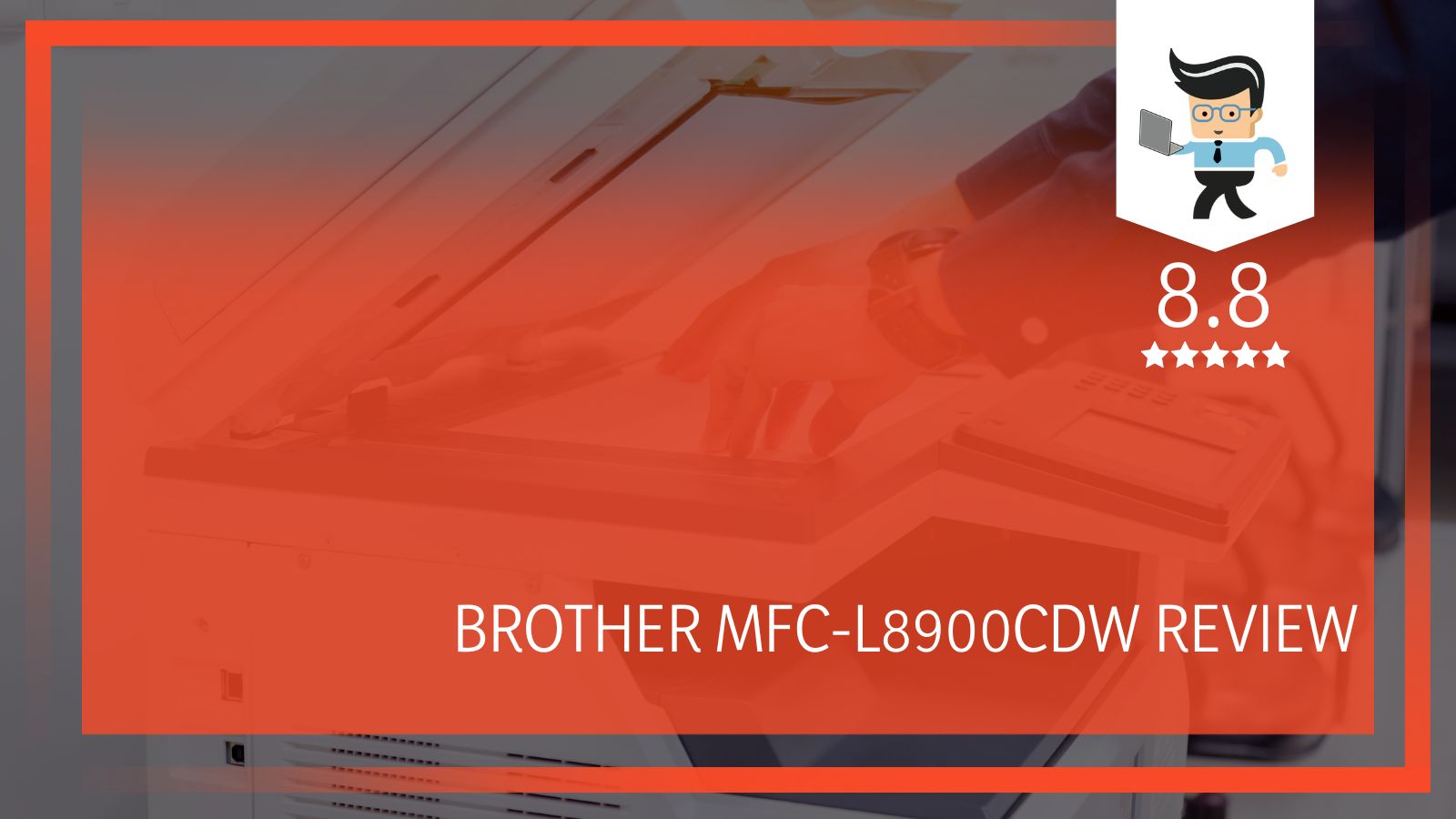 Our review team will explain the features, pros, and cons of this printer to help you decide if it's worth getting. Read on to learn more!
A Close Look at the Specs
Product
Key Specifications

Brand: Brother
Model: MFCL8900CDW
Connectivity Technology: Ethernet
Sheet Size: 8.5 x 11
Print Speed: 33ppm
Color: Yes
Brother MFC-L8900CDW Review
If you're out there searching for a credible printer to add to your office, the Brother MFC-L8900CDW is worth a second look. It's Brother's flagship model for the brand's color laser printer lineup.
The printer is robust and built for a heavy workload, and it's capable of delivering top-tier document quality. That's not bad for an efficient device that covers a lot of space. It will fit a large space and give you a lot of features our review team will discuss below.
Brother MFC-L8900CDW Key Criteria
PROS
Excellent print text quality
Fast monochrome print speeds
70-page single-pass ADF
It offers a competitive running cost
CONS
Average photo quality
As a laser all-in-one printer, the Brother MFC-L8900CDW offers midrange color designed for low-to-medium use in a micro or small office or workgroup. It's loaded with features, you can expand it, and the running costs are competitive.
The speed is just about fast, and the texts have an exceptional look when printed. Many users scoff at its graphics and photos, which are good enough but lacking compared to other printers in the same class. However, it offers a decent output for offices that want a moderate printer with quality copy volume.
– Design and Capabilities: Top-Quality Features
The Brother MFC-L8900CDW is large and weighs over 63 pounds. That makes it bigger than some printers in its class x while it shares the fake size and weight with others. The paper input capacity of the printer is 300 sheets divided into a 250-sheet cassette and a 50-sheet multipurpose tray.
If that's not enough for your applications, the capacity can be increased to 1,300 sheets. You can opt for Brother's 250-sheet or 500-sheet add-on cassettes.
The MFC-L8900CDW comes with a maximum monthly duty cycle of 60,000 pages. This figure is also more than some printers in its class with a 4,000-page recommended monthly volume.
Further, the ADF or Automatic Document Feeder holds 70 pages and a single-pass auto-duplexing ADF. That means it scans both sides of two-sided pages simultaneously, giving it some measure of speed.
– Connectivity Options: Multiple Options to Connect
As an all-in-one printer, you get several connection options on this printer, including Ethernet, Wi-Fi, and connecting to a single PC via USB. You also get a couple of mobile connection features, such as AirPrint, Cortado Workplace, Wi-Fi Direct, and near-field communication (NFC).
The Brother brand adds its iPrint&Scan, Office Print, Easy Scan to E-mail, Office Doc Creator, and Creative Center to the mix. Also, the printer has a Web Connect feature which lets you print from and scan to many popular cloud sites. That includes the personal and business versions of Google Drive, Evernote, OneDrive, OneNote, Dropbox, and Box.
Connections need to be secure, and the Brother brand doesn't disappoint with quality features like the Secure Function Lock to modify the level of service for up to 200 users. You can use it to restrict access to color printing.
Users can also scan and print from USB thumb drives through a port on the left side of the chassis, under the output tray. There's a control panel consisting of a number pad and several buttons to configure and manage these features. A configurable 5-inch color touch screen anchors it.
Some of the configurations on the panel include displaying several different layouts for users and tasks. You'll get the corresponding icons of some features across the bottom of the screen. Another option is to configure this printer through the built-in secure Web server that you can access from virtually any Internet connection.

– Setup and Software: Smart and Easy to run
It's not easy to lift a printer that weighs more than 63 pounds. While it's no easy task, the Brother brand gives you some relief by packing the machine in a box that reveals the printer before you lift it.
Further, a thick bag is used to seal the printer, and this bag is durable enough, so you can lift the printer using it rather than holding the printer directly. When you've figured that out, the installation comes next, and it's pretty straightforward to complete after taking off some seals or packing materials.
Asides from that, Brother includes a simple procedure to get your MFC-L8900CDW up and running.
The drivers function well with the Nuance PaperPort SE for Windows and Brother's ControlCenter2 for Mac. Two of them are document management programs that allow you to scan to multiple destinations, including email, HTML, USB, SharePoint, FTP, SFTP, etc. Other file formats for different applications also help you make the most out of this printer.
– Output Quality: Good Overall Print Quality
With this Brother multifunction laser printer, you get an excellent text print. However, the normal or somewhat below-average graphics and print quality let the printer down. Were it not for these factors, the MFC-L8900CDW would be sitting at the top with some other printers.
Our review team likes the print text quality to typesetter quality even to the smallest size four for common serif and sans-serif fonts.
Decorative texts are part of the process and our testing, and these too were of high quality and suitable for all business and regular applications. Graphics quality won't be a major standout, but it isn't bad even though other models offer more.
For the photo output, you shouldn't expect so much. The MFC-L8900CDW isn't as bad here, but it leaves much to be desired with okay colors. The colors are neither bright, vibrant, nor detailed like other printers.
However, you can focus on the bedrock of the printer, which is print texts. Our tests for colors on images came somewhat dark and not as reliable for continuous printing.
– Performance: Robust and Efficient
The Brother MFC-L8900CDW is rated at 33 pages per minute (ppm) by the brand, both for monochrome and color pages. Over the Ethernet, it will print well because the printer is efficient on all fronts.
If it's not as fast as others, the printer below you saves ink or toner. For example, the black TN-433 cartridge for this printer will yield up to 4,500 pages.
The printer will print at an average of 18 seconds for snapshots, making it a slow printer. If you're not in a hurry, that won't matter, thanks to how efficient it is on many fronts.
– Special Features: Unique Additions
This printer comes with a big paper tray capable of holding 250 sheets. You can use it to run a bunch of copies or go through a whole ream in two runs.
What's more, users will appreciate the automatic duplex printing that comes with the device- a feature that comes in handy for better color flyers and documents.
You can also print wirelessly using a Wi-Fi connection and over an Ethernet or USB connection. This printer has a five-inch color touchscreen to round things up, which is large and exceptional.
– Running Costs: Saves Your Cash
The Brother brand has high-yielding cartridges (cyan, magenta, yellow, and black), rated at 6,500 pages. With the brand's advertised prices for those cartridges and the cost of replacing the image drum every 30,000 pages, we calculated this Brother laser printer cost per page at 1.9 cents for black and 10.6 cents for color pages. For many printers in the class of the MFC-L8900CDW, this printer offers the lowest per-page toner costs.

– Overview
The Brother MFC-L8900CDW is a fast enough color laser multifunctional printer with low running costs ideal for budget users. It will make perfect sense to have this printer in an office setting with robust and efficient output performance.
Conclusion
The Brother MFC-L8900CDW device is an all-in-one printer that delivers excellent quality text, decent graphics, and not-so-impressive photo print. It also comes with several modern features, including a single-pass duplexing ADF and integrated NFC ID security.
The best part is its running costs, which are the lowest among several competing color laser models. Its only fault is not being fast enough and offering modest graphics and photos.
If you think about the print quality, especially for text, ease of setting it up and use, this printer is worth getting for your large home or small to medium-sized office. The running costs associated with the Brother MFC-L8900CDW make it the ideal choice for you on a budget.